By Danielle Daniels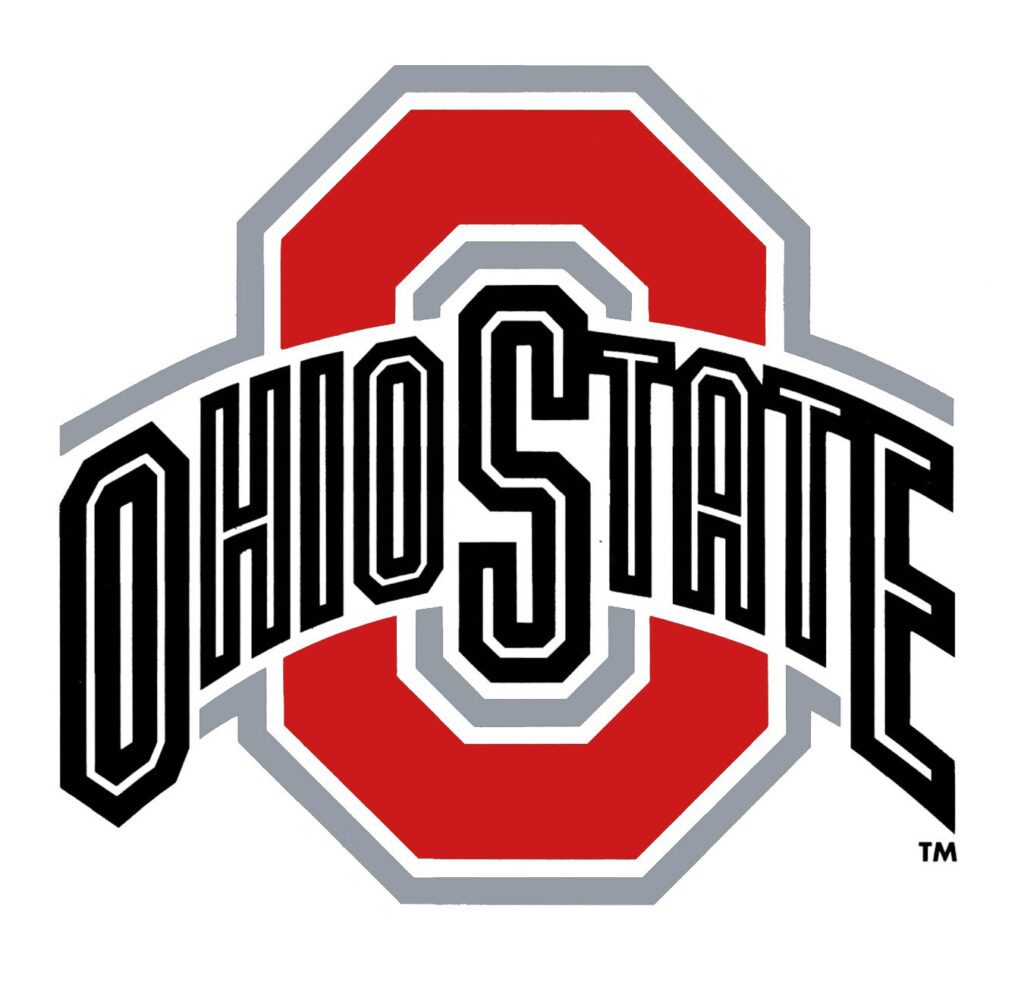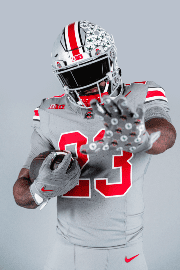 July 21, 2023
All-gray alternates will dazzle with scarlet numerals and accents
COLUMBUS, Ohio – The Ohio State University football team will host the Michigan State Spartans Nov. 11 at 7:30 p.m. on NBC wearing an alternate, all-gray uniform with scarlet accents, including numbers, and a traditional striping pattern. This will be the first alternate uniform combination of all gray with scarlet accents.
Ohio State has worn various alternate versions of its uniform 33 times since 2009, including jersey/pant combinations of white/gray, scarlet/gray, white/white, black/black, gray/gray and scarlet/scarlet.
The newest alternate uniform will feature steel-gray jersey and pants, a slightly darker shade than the traditional uniform pants, and will feature Ohio State's home stripe pattern on the sleeves and pants. The jerseys pop with scarlet numbers and white edging on the front, back and shoulders, in addition to scarlet Big Ten and Nike logos, and the primary Ohio State logo at the crest of the chest.
All-gray socks will complete the look. The team will wear its traditional helmet.
Ohio State is 26-7 wearing an alternate uniform with seven consecutive wins in them at Ohio Stadium. The Buckeyes are 15-2 all-time wearing alternates at Ohio Stadium.
Single Game Tickets Available
Single game football tickets remain available for purchase at http://go.osu.edu/fbtix. Where available, single game ticket prices will start as low as $41 and will vary across price zones and opponents.
Verified Resale Tickets
Single game tickets for some games will sell out. However, verified resale tickets are available at ticketmaster.com and via the Ohio State Buckeyes app or Ticketmaster app. The Department of Athletics firmly encourages fans to protect themselves from potential fraud by utilizing these sites for purchasing resale tickets over any other resale ticket options.
Fans should be aware that tickets purchased from other resale marketplaces are not guaranteed as valid for entry into the venue. Fans purchasing tickets from unauthorized sources assume the risk that tickets purchased are counterfeit or the barcodes have been invalidated.
2023 Ohio State Football Schedule
Sept. 2 – at Indiana (3:30 p.m.; CBS)
Sept. 9 – Youngstown State (12 noon; BTN)
Sept. 16 – Western Kentucky (4 p.m.; FOX)
Sept. 23 – at Notre Dame (7:30 p.m.; NBC & Peacock)
Sept. 30 – Off
Oct. 7 – Maryland/Homecoming (12 noon/3:30 p.m./4 p.m.; TBD)
*Oct. 14 – at Purdue
*Oct. 21 – Penn State
*Oct. 28 – at Wisconsin
*Nov. 4 – at Rutgers
Nov. 11 – Michigan State (7:30 p.m; NBC)
*Nov. 18 – Minnesota
Nov. 25 – at Michigan (12 Noon; FOX)
Dec. 2 – Big Ten Championship Game (8 p.m.; FOX)
*Game times announced during the in-season 12-/6-day selection process
#GoBucks
The People. The Tradition. The Excellence.
COURTESY OSU ATHLETIC COMMUNICATIONS