By Kim McGuire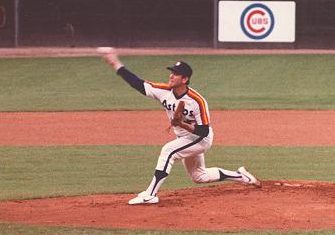 FROM WIKIPEDIA COMMONS
Lynn Nolan Ryan Jr. (born January 31, 1947), nicknamed "the Ryan Express", is an American former professional baseball pitcher and sports executive. Over a record 27-year playing career in Major League Baseball (MLB), Ryan pitched for the New York Mets, California Angels, Houston Astros, and Texas Rangers. After his retirement in 1993, Ryan served as chief executive officer (CEO) of the Texas Rangers and an executive advisor to the Houston Astros. He was inducted into the Baseball Hall of Fame in 1999, and is widely considered to be one of the greatest MLB pitchers of all time. Ryan was a right-handed pitcher who consistently threw pitches that were clocked above 100 miles per hour (161 km/h). He maintained this velocity throughout his pitching career. Ryan was also known to throw a devastating 12–6 curveball at exceptional velocity for a breaking ball.
Ryan had a lifetime win–loss record of 324–292 (.526) and was an eight-time All-Star. He has 5,714 career strikeouts, an MLB record that is 839 more than runner-up Randy Johnson. Similarly, Ryan's 2,795 bases on balls lead second-place Steve Carlton by 962 – walking over 50% more hitters than any other pitcher in MLB history. Ryan's lifetime batting average against of .204 is also a major league record. Ryan, Pedro Martínez, Randy Johnson, Trevor Hoffman, and Sandy Koufax are the only five pitchers inducted into the Baseball Hall of Fame who had more strikeouts than innings pitched. Ryan is one of three players in history to have his number retired by at least three teams, along with Jackie Robinson (whose number was retired by Major League Baseball) and Frank Robinson.
Ryan is the all-time leader in no-hitters with seven, three more than any other pitcher. He is tied with Bob Feller for the most one-hitters, with 12. Ryan also pitched 18 two-hitters. Despite this, he never pitched a perfect game, nor did he ever win a Cy Young Award; both were largely attributed to his high walk rate. Ryan is one of only 29 players in baseball history to have appeared in MLB games in four different decades.
TODAY'S ALMANAC
Question of the Day
I've been using my dehumidifier a lot this summer. How should I clean it?
To prevent fungus from growing in your machine, clean any pans, drains, and filters occasionally with a mixture of 1/2 cup bleach and 1 quart water. If you see mineral deposits, a common problem, scrub them with a mixture of equal parts vinegar and water. Rinse all the dehumidifier's parts well before restarting it.
Advice of the Day
Empty wagons make the most noise.
Home Hint of the Day
Drawers, sliding doors, and double-hung windows are notorious for getting stuck. To lubricate them, you can rub their tracks with a bar of soap or a candle stub or spray them with a product such as 

WD

-40.
Word of the Day
Alektorophobia
Extreme fear of live chickens
Puzzle of the Day
The Mountain State.(Name the 

U.S.

 state!)
Born
Robert the Bruce, King of Scotland

 

– 

John Quincy Adams

 

(6th U.S. president)

 

– 

John Wanamaker

 

(merchant)

 

– 

George William Norris

 

(politician)

 

– 

E.B. White

 

(author)

 

– 

Brett Somers

 

(comedienne & actress)

 

– 

Tab Hunter

 

(actor)

 

– 

Giorgio Armani

 

(fashion designer)

 

– 

Leon Spinks

 

(boxer)

 

– 

Sela Ward

 

(actress)

 

– 

Lisa Rinna

 

(actress)

 

– 

Greg Grunberg

 

(actor)

 

– 

Michael Rosenbaum

 

(actor)

 

– 
Died
George Gershwin

 

(composer)

 

– 

Sir Laurence Olivier

 

(actor)

 

– 

Lady Bird Johnson

 

(U.S. First Lady)

 

– 
Events
The U.S. Marine Corps was reestablished

– 

U.S. Marine Band established

– 

U.S. Vice President Aaron Burr fatally shot Alexander Hamilton in a duel

– 

The Waterloo railway station in London opened

– 

A Tale of Two Cities by Charles Dickens was published

– 

Confederate General Jubal Early's army reached Frederick, Maryland

– 

Wilfrid Laurier became prime minister of Canada

– 

Babe Ruth made his major league baseball debut with the Boston Red Sox

– 

Fred Baldasare used scuba gear to become the first person to swim the English Channel underwater

– 

Last slide rule manufactured in the United States.

– 

U.S. space station Skylab, in orbit since 1973, returned to Earth and disintegrated over the Indian Ocean

– 

Houston Astros pitcher Nolan Ryan became the first major league pitcher to strike out 4,000 batters

– 

According to the United Nations, the world population crossed the 5,000,000,000 mark

– 

35-pound chum salmon caught in Edye Pass, British Columbia

– 
Weather
Strong winds and a thunderstorm collapsed a circus tent injuring 44 people, Howard, Wisconsin

– 

Colorado was battered by baseball-size hail causing more than $600 million in damage from Estes Park to Colorado Springs

– 
COURTESY www.almanac.com