By Kim McGuire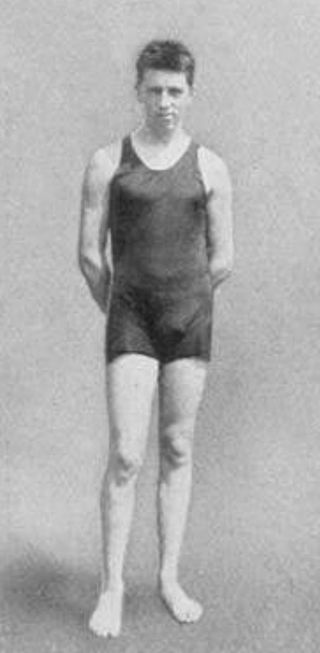 FROM WIKIPEDIA COMMONS
George Ritchie Hodgson (October 12, 1893 – May 1, 1983) was a Canadian competition swimmer of the early 20th century, and considered by many to be the greatest swimmer in Canadian history. Hodgson won the two longer freestyle swimming gold medals at the 1912 Olympics, the only categories in which he competed. He also competed at the 1920 Summer Olympics.
TODAY'S ALMANAC
Question of the Day
Late summer always brings black spot to my roses. Any suggestions?
Try a homemade solution. Combine 1 tablespoon baking soda and 1 gallon water in a spray bottle. Spray the plants regularly, and always after a rainstorm, to keep them constantly coated with baking soda. To help with next year's crop, be sure to rake up all your rose leaves in the fall and compost or dispose of them. Black spot likes to spend the winter on fallen leaves and then resurface the following spring.
Advice of the Day
To avoid dying, never drive a nail after sunset.
Home Hint of the Day
To remove stubborn brown stains on old china, rub on a solution of equal parts vinegar and salt, then rinse.
Word of the Day
December
From the Latin word decem, "ten," because this had been the tenth month of the early Roman calendar.
Puzzle of the Day
The Equality State.(Name the 

U.S.

 state!)
Born
John Calvin

 

(theologian)

 

– 

Camille Pissarro

 

(painter)

 

– 

Jan Neruda

 

(poet)

 

– 

James McNeill Whistler

 

(painter)

 

– 

Adolphus Busch

 

(brewery executive)

 

– 

Marcel Proust

 

(novelist)

 

– 

Carl Orff

 

(composer)

 

– 

Mildred Wirt Benson

 

(original author, under the pen name Carolyn Keene, of the Nancy Drew mystery books)

 

– 

Joe Shuster

 

(cartoonist, co-creator of Superman comic)

 

– 

David Brinkley

 

(reporter & commentator)

 

– 

Eunice Kennedy Shriver

 

– 

Jake LaMotta

 

(boxer)

 

– 

Fred Gwynne

 

(actor)

 

– 

Arthur Ashe

 

(tennis player)

 

– 

Virginia Wade

 

(tennis player)

 

– 

Arlo Guthrie

 

(folk singer)

 

– 

Roger Craig

 

(football player)

 

– 

Jessica Simpson

 

(singer)

 

– 

Adam Petty

 

(NASCAR driver)

 

– 
Died
Henry II of France

 

– 

Jelly Roll Morton

 

(jazz musician)

 

– 

Arthur Fiedler

 

(orchestra conductor)

 

– 

Mel Blanc

 

(voice of Bugs Bunny and other characters)

 

– 

Aaron Lapin

 

(businessman)

 

– 

Omar Sharif

 

(actor)

 

– 

Roger Rees

 

(actor)

 

– 
Events
Vice President Millard Fillmore was inaugurated as the 13th President of the United States following the death of Zachary Taylor

– 

Wyoming admitted into the Union as the 44th state

– 

His Master's Voice trademark (showing the dog Nipper and a gramophone) was registered in the United States

– 

George Hodgson became Canada's first double Olympic gold medalist for swimming

– 

Howard Hughes set a new record by completing a 91 hour airplane flight around the world

– 

Telstar, an experimental communications satellite privately owned and developed by AT&T, was launched from Cape Canaveral, FL

– 

The Bahamas gained full independence within the British Commonwealth

– 

At a Sotheby's auction, Peter Paul Rubens' painting The Massacre of the Innocents sold for $76.2 million

– 
Weather
Greenland Ranch, Death Valley, California, recorded a temperature of 134 degrees F

– 

Thunderstorms brought severe weather to Bullfrog, Utah, where 3 boats sank on Lake Powell

– 

The northeastern U.S. was hit by 17 tornadoes

– 

Homer, Alaska, experienced a record high temperature of 81 degrees F due to offshore winds

– 
COURTESY www.almanac.com