Posted by J.Y. Mortimer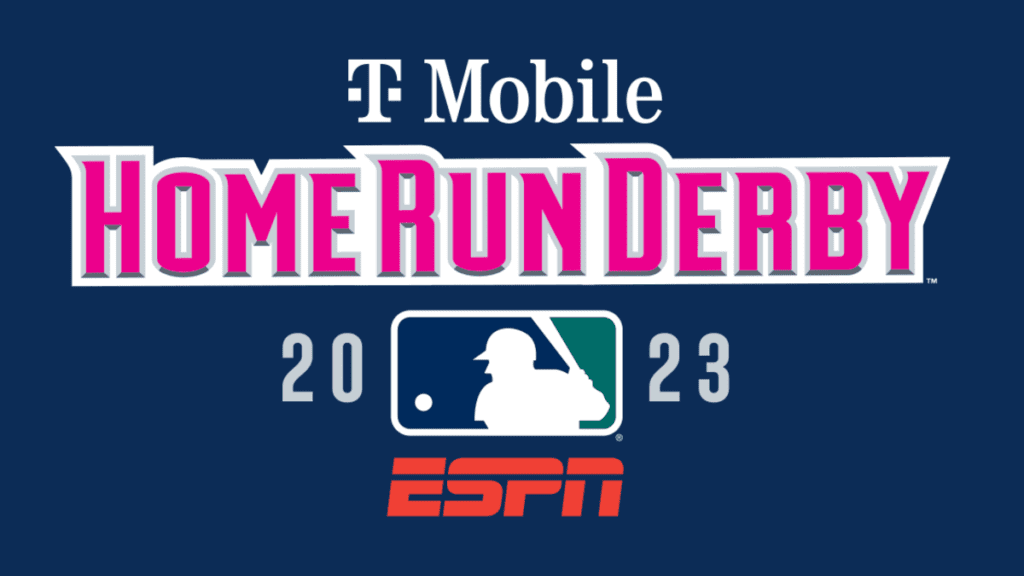 Two-time champion Pete Alonso returns for fourth consecutive Derby; hometown slugger Julio Rodríguez to compete for second time after finals run in 2022; six-time All-Star, two-time World Series champion & 2018 AL MVP Mookie Betts among five players to make Derby debut; Randy Arozarena, Adolis García, Vladimir Guerrero Jr., Luis Robert Jr., Adley Rutschman round out field
July 5th, 2023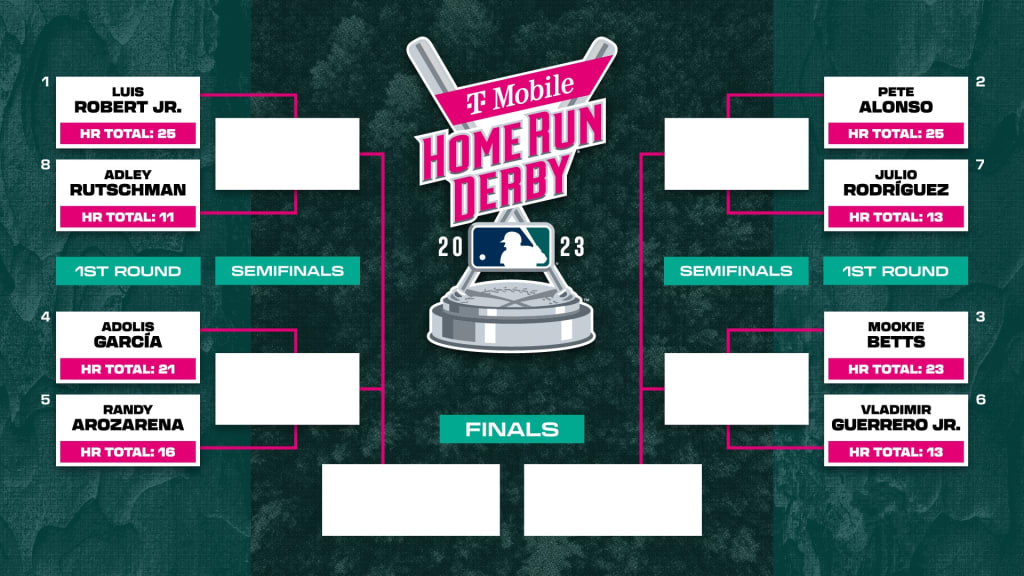 Two-time T-Mobile Home Run Derby champion Pete Alonso of the New York Mets, hometown star Julio Rodríguez of the Seattle Mariners and perennial All-Star, two-time World Series Champion and 2018 AL Most Valuable Player Mookie Betts are among the eight participants in the 2023 T-Mobile Home Run Derby, which will be held on Monday, July 10th at T-Mobile Park in Seattle, and broadcast live by ESPN beginning at 8:00 p.m. (ET)/5:00 p.m. (PT). The matchups and official bracket were announced earlier this evening on ESPN's Home Run Derby Bracket Show.
The Derby also features Randy Arozarena of the Tampa Bay Rays; Adolis García of the Texas Rangers; Vladimir Guerrero Jr. of the Toronto Blue Jays; Luis Robert Jr. of the Chicago White Sox; and Adley Rutschman of the Baltimore Orioles.
In the opening round, the top-seeded Robert Jr. (25 home runs through Tuesday) will match-up against the number eight seed Rutschman (11 home runs); Alonso (25 home runs) will be the two seed and square off against the seventh-seeded Rodriguez (13 home runs); Betts (23 home runs), the number three seed, will face the number six seed Guerrero Jr. (13 home runs); and the fourth-seeded García (21 home runs) will meet the number five seed Arozarena (16 home runs). Seeding was determined by each participant's home run total through Tuesday's games with ties being broken by total home runs since June 15th. See the accompanying file for the full 2023 T-Mobile Home Run Derby bracket.
Alonso, who is competing in the event for the fourth time in his career (also 2019, 2021-22), is attempting to join Hall of Famer Ken Griffey Jr. as just the second player in Derby history to win the event on three occasions (1994, 1998-99). Alonso, who won the 2019 Derby in Cleveland and the 2021 competition in Colorado, is one of only three back-to-back champions in the history of the event, joining Griffey (1998-99) and Yoenis Céspedes (2013-14). Alonso remains one of five Mets players to partake in the Derby, joining 1986 co-winner Darryl Strawberry (also 1990); Howard Johnson (1989, 1991); Bobby Bonilla (1993); and David Wright (2006, 2013). Finally, the 28-year-old Alonso will become the 10th player to participate in the event at least four times, joining Griffey (8), Mark McGwire (7), Barry Bonds (6), Prince Fielder (6), Sammy Sosa (6), Albert Pujols (5), Lance Berkman (4), Robinson Canó (4) and David Ortiz (4).
Rodríguez will take part in the Derby for a second consecutive year following an appearance in the final round last year in Los Angeles against eventual champion Juan Soto. The 22-year-old native of the Dominican Republic will become just the third player in Mariners history to compete on multiple occasions, joining Griffey (1990, 1992-94, 1997-99) and Bret Boone (2001 and 2003). Other Mariners to participate in the Derby include Jay Buhner (1996); Alex Rodriguez (1998); Hall of Famer Edgar Martinez (2000); and Canó (2016). Last season, Rodríguez became the 13th rookie to take part in the Derby.
Guerrero Jr. will also participate for a second time following his appearance in the 2019 Derby at Cleveland, where he advanced to the final round before being outhomered by Alonso. The 24-year-old, who was the Ted Williams All-Star Game Most Valuable Player at the 2021 Midsummer Classic, is one of 11 Blue Jays players to take part in the Derby and this will mark the 17th appearance overall by a Toronto slugger, matching Baltimore (17 this year with Rutschman) for the most in the history of the event. Other Jays to participate include Jesse Barfield (1986); George Bell (1987); Joe Carter (1991-92, 1996); Shawn Green (1999); Carlos Delgado (2000, 2003); Troy Glaus (2006); Alex Rios (2007); Vernon Wells (2010); José Bautista (2011-12, 2014); and Josh Donaldson (2015).
Betts will take part in his first career Derby and is set to become the 10th player in Dodgers history (13th appearance) to compete in the event. The 13 appearances by Dodgers in the Derby rank second among NL teams behind Chicago (14) and Colorado (14). Other Dodgers to slug their way through the Derby include Hall of Famer Mike Piazza (1993-94); Raul Mondesi (1995); Hee-Seop Choi (2005); Matt Kemp (2011-12); Yasiel Puig (2014); Joc Pederson (2015, 2019); Corey Seager (2016); Cody Bellinger (2017); and Max Muncy (2018).
Rutschman, a Pacific Northwest native, will compete in the Derby for the first time in his career. The 25-year-old, who played his high school ball in Sherwood, Oregon and was the number one overall pick in the 2019 Draft out of Oregon State University, will become the 10th different catcher (12th appearance) to hit in the Derby, joining Hall of Famer Carlton Fisk (1985); Ozzie Virgil (1987); Mickey Tettleton (1989); Piazza (1993-94); Javy Lopez (1998); Hall of Famer Iván Rodríguez (2000, 2005); Joe Mauer (2009); Gary Sánchez (2017); and Salvador Perez (2021). Overall, Rutschman will be the 12th Orioles player take part in the Derby (17th appearance), joining Hall of Famer Eddie Murray (1985); Hall of Famer and 1991 winner Cal Ripken Jr. (also competed in 1985, 1992); Brady Anderson (1996-97); Rafael Palmeiro (1998, 2004); B.J. Surhoff (1999); 2004 winner Miguel Tejada (also competed in 2006); Chris Davis (2013); Adam Jones (2014); Manny Machado (2015); Mark Trumbo (2016); and Trey Mancini (2021).
A trio of first-time Cuban-born competitors will attempt to join two-time Derby Champion Céspedes as the only Cuban natives to win the event. Arozarena, the 2021 AL Jackie Robinson Rookie of the Year Award winner and the 2020 ALCS Most Valuable Player, will become only the third Rays hitter to compete in the event. The 28-year-old native of La Habana will join former Rays Evan Longoria (2008) and Carlos Peña (2009). The 30-year-old García, who hails from Ciego de Avila, will become the 11th Rangers slugger (12th appearance) to participate in the Derby, joining 1989 co-winner Ruben Sierra; 1993 winner Juan Gonzalez; Iván Rodriguez (2000); Alex Rodriguez (2001-02); Hank Blalock (2004); Mark Teixeira (2005); Josh Hamilton (2008); Nelson Cruz (2009); Prince Fielder (2015); Joey Gallo (2021); and Corey Seager (2022). The 25-year-old Robert Jr., also a native of Ciego de Avila, will be the sixth White Sox hitter (seventh appearance) to contend in the annual showcase, joining Fisk (1985); Hall of Famer and 1995 winner Frank Thomas (also competed in 1994); Paul Konerko (2002); Jermaine Dye (2006); and Todd Frazier (2016).
MLB All-Star Week includes the MLB All-Star Game presented by Mastercard (July 11th), Gatorade All-Star Workout Day featuring the T-Mobile Home Run Derby (July 10th), All-Star Saturday featuring the SiriusXM All-Star Futures Game and the All-Star Celebrity Softball Game presented by Corona (July 8th), the MLB Draft presented by Nike (July 9th-11th), the HBCU Swingman Classic presented by T-Mobile (July 7th), and Capital One All-Star Village, which includes Capital One PLAY BALL PARK (July 8th-11th). The 93rd Midsummer Classic will be televised nationally by FOX Sports; in Canada by Rogers Sportsnet and TVA Sports; and worldwide by partners in 209 countries. FOX Deportes will provide Spanish language coverage in the United States. ESPN Radio will provide exclusive national radio coverage of the All-Star Game, while Univision will provide Spanish language coverage on radio. MLB Network, MLB.com and SiriusXM also will provide comprehensive All-Star Week coverage. For more information about MLB All-Star Week, please visit All-StarGame.com and follow @MLB on social media.
COURTESY MLB MEDIA RELATIONS & MLBpressbox.com