Posted by J.Y. Mortimer
Jésus Sánchez of the Marlins Earns Play of the Week with Game-Saving Grand Slam-Robbing Grab
Los Angeles Angels two-way superstar Shohei Ohtani has been selected the American League Player of the Wee**k presented by Chevrolet**, and Atlanta Braves outfielder Michael Harris II has been named the National League Player of the Week presented by Chevrolet.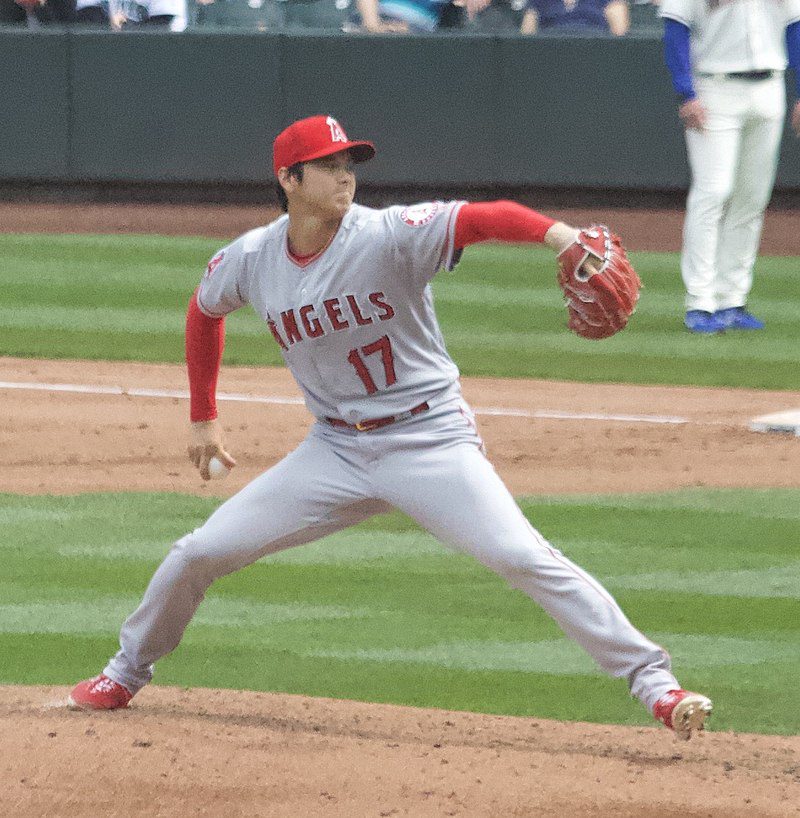 Ohtani picked up his fifth career weekly award and his first since July 6, 2021 (also April 9, 2018; September 10, 2018; and June 21, 2021).  He became the first Angels winner since his teammate Reid Detmers on May 16th of last season following his May 10th no-hitter against the Tampa Bay Rays.  Harris II claimed his first weekly honor and joined his teammate Sean Murphy (May 8th) as Braves to win this season.  Additionally, Harris II is the first Braves outfielder to win the award since Ronald Acuña Jr. in April 2021.
The 28-year-old hit .435 (10-for-23) with six homers, 12 RBI, two doubles, nine runs, one stolen base, a 1.304 slugging percentage and a .588 on-base percentage last week.
The 2021 AL MVP also won his lone start of the week on the mound, improving to 6-2 with a 3.29 ERA on the season after permitting two runs on six hits with one walk and three strikeouts over 6.0 innings pitched in a 5-3 win at the first-place Texas Rangers
The Oshu, Japan native led the AL last week in home runs, RBI, slugging, on-base percentage, runs scored, walks (10) and total bases (30); tied for fourth in hits; and ranked fifth in batting average.
The Major League home run leader, who registered at least one hit in each of his seven games and at least one RBI in five games, opened his award-winning week with a two-homer, four-RBI performance in a 9-6, 12-inning victory over Texas before going deep in back-to-back contests twice: on Wednesday and Thursday at Texas, and on Saturday and Sunday at Kansas City.
The two-time All-Star enters play today with active MLB-best streaks of 15 straight games with a hit, 22 consecutive games reaching base safely and seven straight contests with an extra-base hit.  Ohtani currently leads the Angels in runs, hits, homers, walks, RBI, stolen bases, batting average, on-base percentage, slugging, OPS, wins, ERA and strikeouts.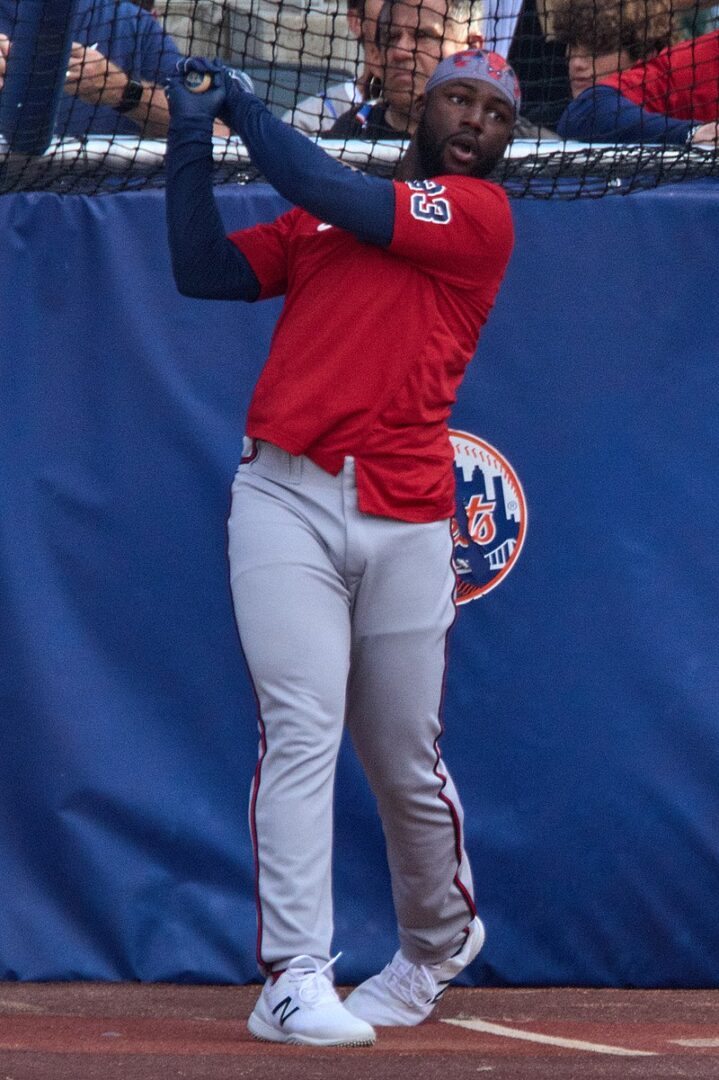 The 22-year-old hit .556 (15-for-27) with three home runs, nine RBI, two doubles, eight runs scored, two stolen bases, a .963 slugging percentage and a .536 on-base percentage in seven games played last week, leading the Braves to a 6-1 mark.
The 2022 NL Jackie Robinson Rookie of the Year Award winner led the NL in batting, hits and total bases (26); tied for second in home runs; tied for third in runs scored; ranked fourth in slugging; was fifth in on-base percentage; ranked sixth in RBI; tied for seventh in stolen bases; and tied for eighth in doubles.
The Georgia native registered three hits with a home run in his first game of the week on Monday in a losing effort at Detroit before registering a 4-for-4 contest with a home run and four RBI in the first game of a doubleheader on Wednesday in Atlanta's first of six straight victories.
The dynamic outfielder, who hit safely in six of seven games, closed out his award-winning week with a 5-for-5 performance, including a double, homer, three RBI and three runs scored in a 14-6 victory over the visiting Colorado Rockies as Atlanta secured a four-game series sweep.  Led by Harris, the Braves scored 40 runs in the four-game set with Colorado, marking Atlanta's third-most runs ever in a four-game series.
Other noteworthy AL performances last week included shortstop Corey Seager (.429, 3 HR, 6 RBI, 4 2B, 6 R, 1 SB, .893 SLG) of the Texas Rangers; designated hitter/infielder Justin Turner (.385, 2 HR, 10 RBI, 3 2B, 7 R, .731 SLG) of the Boston Red Sox; starting pitcher Bryce Miller (2-0, 1.38 ERA, 2 GS, 13.0 IP, 3 BB, 12 SO) of the Seattle Mariners; outfielder Austin Hays (.480, 1 HR, 3 RBI, 3 2B, 6 R, .720 SLG) of the Baltimore Orioles; starting pitcher Lance Lynn (franchise record-tying 16 SO at Seattle on Sunday) of the Chicago White Sox; infielder Andy Ibáñez (.455, 2 HR, 3 RBI, 3 2B, 6 R, .864 SLG) of the Detroit Tigers; and outfielder Kyle Tucker (.455, 1 HR, 3 RBI, 2 2B, 6 R, 3 SB, .500 OBP) of the Houston Astros.
Other noteworthy NL performances for the week included Harris' teammates Eddie Rosario (.381, 5 HR, 11 RBI, 9 R, 1.095 SLG, .519 OBP) and Ozzie Albies (.423, 3 HR, 10 RBI, 2 2B, 7 R, 1 SB, .846 SLG) of the Braves; catcher J.T. Realmuto (.409, 3 HR, 7 RBI, 2 2B, 2 3B, 8 R, 1 SB, 1.091 SLG, .519 OBP) and starting pitcher Zack Wheeler (2-0, 0.75 ERA, 2 GS, 12.0 IP, 3 BB, 11 SO) of the Philadelphia Phillies; infielder/outfielder Christopher Morel (.429, 3 HR, 10 RBI, 1 2B, 1 3B, 6 R, 1.000 SLG) of the Chicago Cubs; infielder Ryan McMahon (.476, 2 HR, 4 RBI, 2 2B, 1 3B, 6 R, .952 SLG, .593 OBP) of the Rockies; first baseman Christian Walker (.423, 3 HR, 10 RBI, 4 2B, 3 R, .923 SLG, .500 OBP) of the Arizona Diamondbacks; starting pitcher Blake Snell (1-0, 0.00 ERA, 1 GS, 6.0 IP, 3 BB, 12 SO) and closer Josh Hader (0.00 ERA, 3 G, 3 SV, 2 H, 0 BB, 7 SO) of the San Diego Padres; and starting pitcher Logan Webb (2-0, 3.21 ERA, 2 GS, 14.0 IP, 2 BB, 11 SO) of the San Francisco Giants.