Posted by Esmerelda Emerald Espino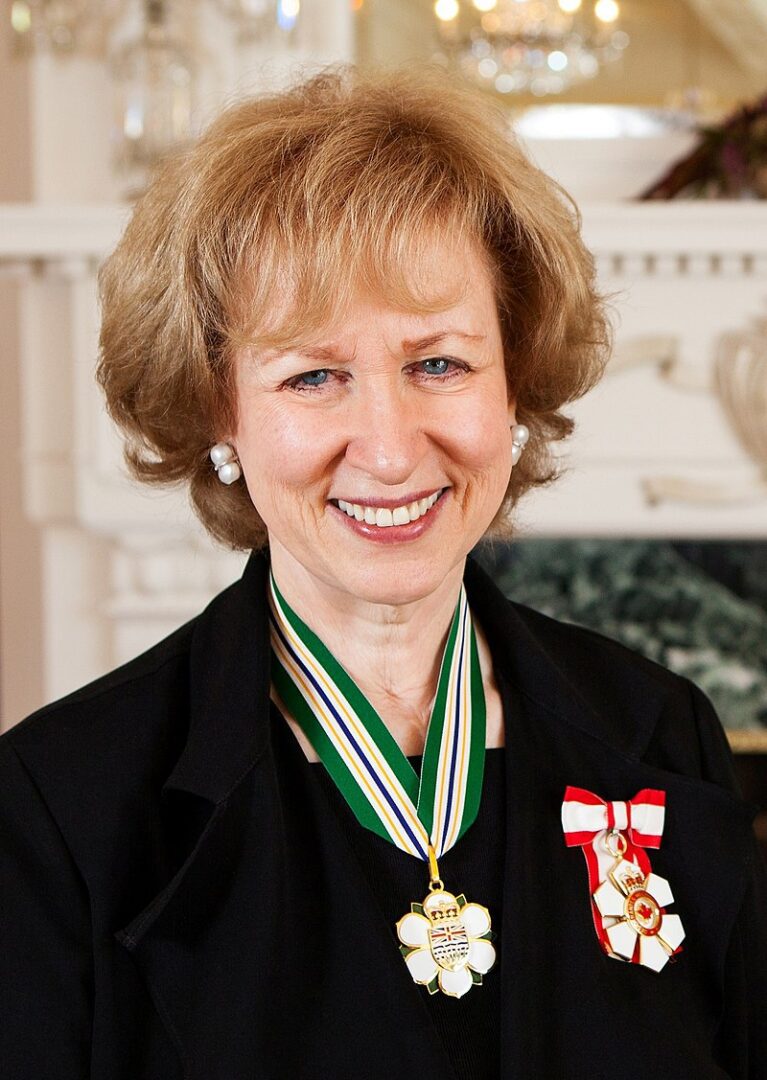 FROM WIKIPEDIA COMMONS
Avril Phaedra Douglas "Kim" Campbell PC CC OBC KC (born March 10, 1947) is a Canadian politician, diplomat, lawyer, and writer who served as the 19th prime minister of Canada from June 25 to November 4, 1993. Campbell is the first and so far only female prime minister of Canada. Prior to becoming the final Progressive Conservative (PC) prime minister, she was also the first woman to serve as minister of justice in Canadian history and the first woman to become minister of defence in a NATO member state.
Campbell was first elected to the British Columbia Legislative Assembly as a member of the British Columbia Social Credit Party in 1986 before being elected to the House of Commons of Canada as a PC in 1988. Under Prime Minister Brian Mulroney, she occupied numerous cabinet positions including minister of justice and attorney general, minister of veterans affairs and minister of national defence from 1990 to 1993. Campbell became the new prime minister in June 1993 after Mulroney resigned in the wake of declining popularity. In the 1993 Canadian federal election in October of that year, the Progressive Conservatives were decimated, losing all but two seats from a previous majority, with Campbell losing her own. Her 132-day premiership is the third-shortest in Canadian history.
Campbell was also the first baby boomer to hold the office, as well as the only prime minister born in British Columbia. She is the chairperson for the Canadian Supreme Court advisory board.
TODAY'S ALMANAC
Question of the Day
What causes the greenish gray color around the yolks of hard-boiled eggs?
This is a harmless compound of iron and sulfur called ferrous sulfide, which forms when an egg is heated. To prevent its formation, boil the egg only as long as is necessary to set the yolk, then plunge it into cold water and peel it promptly.
Advice of the Day
Use a little mineral oil on a cotton ball to polish patent leather shoes.
Home Hint of the Day
Moss or sorrel in lawns is a sign of poor drainage and acidity. You can improve the situation by aerating the lawn and spreading lime on it.
Word of the Day
Puzzle of the Day
A confection and a cluster. (Use these clues to find the two words that, when combined, form the name of a flower.)
Born
Eric Arthur Blair

 

(better known by the pen-name George Orwell)

 

– 

Joe O'Brien

 

(harness racing driver)

 

– 

June Lockhart

 

(actress)

 

– 

James Meredith

 

(political activist)

 

– 

Carly Simon

 

(musician )

 

– 

George Michael

 

(singer, songwriter)

 

– 

Angela Kinsey

 

(actress)

 

– 

Linda Cardellini

 

(actress)

 

– 
Died
Stanford White

 

(Famous architect; killed by Henry K. Thaw on the roof of Madison Square Garden)

 

– 

Warren Burger

 

(U.S. Supreme Court chief justice)

 

– 

Jacques-Yves Cousteau

 

(oceanographer)

 

– 

John Fiedler

 

(actor; best known for providing the voice of Piglet in Winnie the Pooh cartoons)

 

– 

Farrah Fawcett

 

(actress)

 

– 

Michael Jackson

 

(musician)

 

– 

Patrick Macnee

 

(actor)

 

– 
Events
Five English monks saw flaming torch spew fire, hot coals, and sparks on Moon

– 

Massachusetts Bay Colony Governor John Winthrop introduced the fork to American dining

– 

Virginia ratified the Constitution and was admitted as the 10th state

– 

Sitting Bull defeated General George Custer at the Battle of the Little Bighorn, which became known as Custer's Last Stand.

– 

A 19-year-old cellist in the orchestra of the Rio de Janeiro Opera House in Brazil picked up the baton and conducted the orchestra in a performance of Aida when the regular conductor failed to make an appearance. The cellist name: Arturo Toscanini. (His success prompted him to abandon his cello for a conductor's career)

– 

4-day dedication ceremony for Mackinac Bridge began, Michigan

– 

Kim Campbell was chosen as leader of the Progressive Conservative Party of Canada and became the first female Prime Minister of Canada

– 

Final episode of Another World aired

– 

An alligator attacked a golfer who was retrieving a ball from a pond, Venice, Florida

– 
Weather
Hailstones shaped like Saturn fell in Guildford, England

– 

It was 86 degrees F in Anchorage, Alaska

– 

Virginian Roy C. Sullivan was struck by lightning for the seventh time.

– 

121 degrees F, Willow Beach, Arizona

– 

On June 25 and 26, a late snow fell in Newfoundland and Labrador.

– 
COURTESY www.almanac.com