EA SPORTS NHL 23 World Championship
Julie Young | NHL Public Relations
May 23, 2023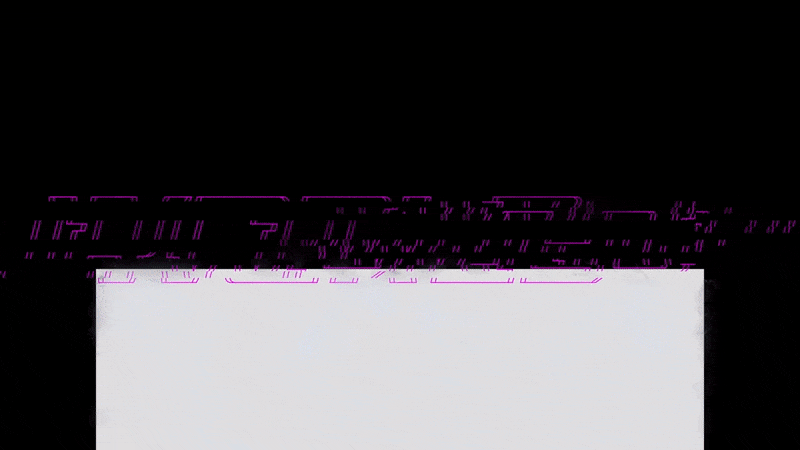 Issue No. 16
CHEL Intel is the weekly newsletter that keeps tabs on the latest 2023 EA SPORTS™ NHL 23 World Championship™ news. For more news on the NHL's premier global esports competition, fans can visit www.nhl.com/gaming and follow the conversation using social hashtag #NHL23WC.
FYI: The next issue of CHEL Intel — World Championship Preview — will be published on Tuesday, June 20.

EA SPORTS NHL 23 North American Championship
The EA SPORTS NHL 23 North American Championship took place at District E Powered by Ticketmaster in Washington, D.C., on Saturday, May 20.
Samuel 'CadCooks' Landry, who represented the Chicago Blackhawks,won his first NHL 23 North American title in a high-scoring, back-and-forth affair that was decided in Game 3 of the best-of-three series. The 21-year-oldfrom Sainte-Julie, Que., added $15,000 USD to his career earnings and took home the Championship trophy as well as a ticket to the World Final.
Joseph 'Jos x 10' Olmstead (Detroit Red Wings representative), who was also a top 4 North American finalist in 2022, took the runner-up honor. Both players will represent North America in the EA SPORTS NHL 23 World Championship taking place on Tuesday, June 27, in Nashville, Tenn.
To learn more about the competition, check out the Championship Press Release.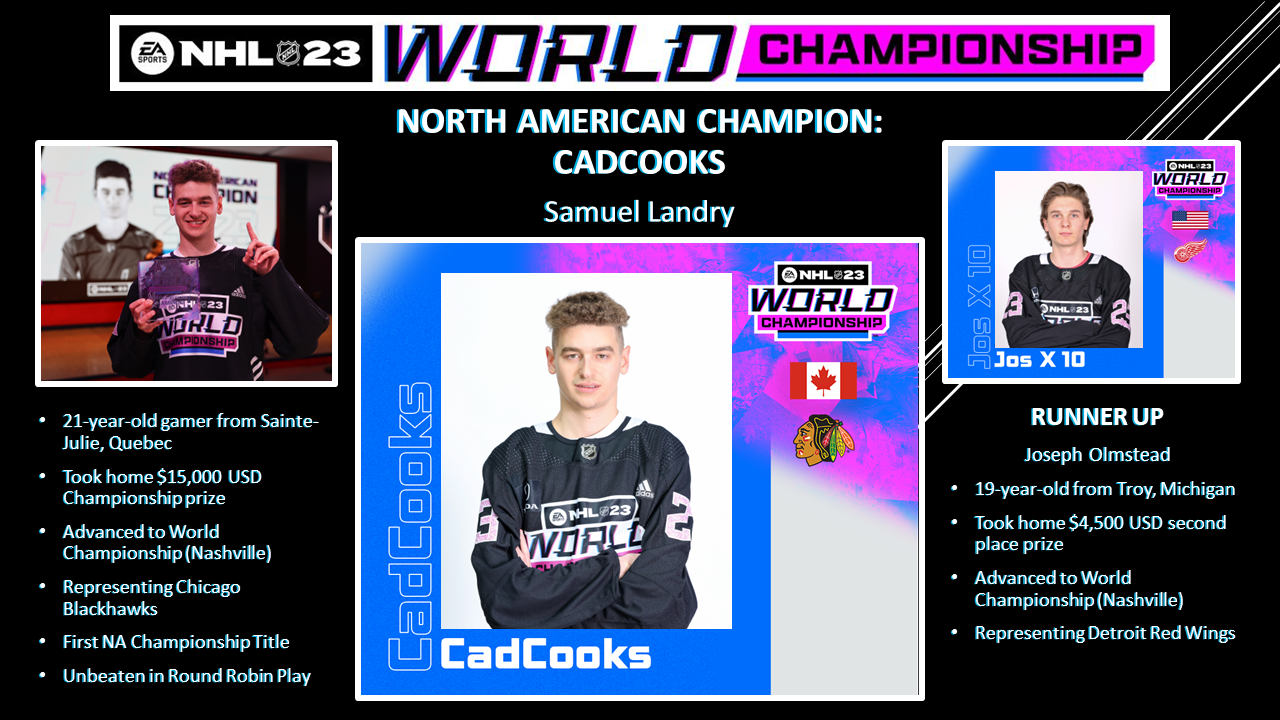 * * * * *
EA SPORTS NHL 23 NORTH AMERICAN CHAMPIONSHIP RESULTS
Round Robin
DunkinDeli (New Jersey Devils) 3, CadCooks (Chicago Blackhawks) 13
Sky Is Taken (Philadelphia Flyers) 1, Jos x 10 (Detroit Red Wings) 4
Jos x 10 (Detroit Red Wings) 1, DunkinDeli (New Jersey Devils) 6
CadCooks (Chicago Blackhawks) 4, Sky Is Taken (Philadelphia Flyers) 3 (OT)
DunkinDeli (New Jersey Devils) 7, Sky Is Taken (Philadelphia Flyers) 6
Jos x 10 (Detroit Red Wings) 4, CadCooks (Chicago Blackhawks) 5
* * * * *
Standings after Round Robin
CadCooks, CHI (3-0-0) 6 pts (*automatically advanced to Final)
DunkinDeli, NJD (2-1-0) 4 pts
Jos x 10, DET (1-2-0) 2 pts
Sky Is Taken, PHI (0-2-1) 1 pt (*did not advance)
* * * * *
Semifinal (best-of-three)
Game 1: DunkinDeli, NJ 3 vs. Jos x 10, DET, 2 (OT)
Game 2: DunkinDeli, NJ 3 vs. Jos x 10, DET, 4 (OT)
Game 3: Jos x 10, DET, 7 vs. DunkinDeli, NJ 3
Jos x 10 wins series 2-1
* * * * *
Final (best-of-three)
CadCooks (CHI) vs. Jos x 10 (DET)
Game 1 Scoring Summary:
Period 1 – CAD (Johnny Gaudreau, CBJ); JOS (Matthew Tkachuk, FLA)
Period 2 – JOS (Connor McDavid, EDM); CAD (Gaudreau, CBJ); CAD (Gaudreau, CBJ); JOS (Nic Dowd, WSH)
Period 3 – JOS (McDavid, EDM)
*Jos x 10 Wins 4-3
Game 2 Scoring Summary:
Period 1 – CAD (Shea Theodore, VGK); CAD (Jared McCann, SEA); JOS (Tyler Toffoli, CGY); CAD (Gaudreau, CBJ)
Period 2 – JOS (McDavid, EDM); JOS (Alex Ovechkin, WSH)
Period 3 – CAD (Sidney Crosby, PIT); JOS (McDavid, EDM); CAD (William Nylander, TOR); CAD (Nathan MacKinnon, COL); CAD (Gaudreau, CBJ); JOS (Quinton Byfield, LAK)
*CadCooks Wins 7-5
Game 3 Scoring Summary:
Period 1 – JOS (McDavid, EDM); CAD (Kevin Fiala, LAK)
Period 2 – CAD (Fiala, LAK); JOS (Ovechkin, WSH); CAD (McCann, SEA); JOS (Ovechkin, WSH); CAD (Fiala, LAK); CAD (Gaudreau, CBJ)
Period 3 – JOS (Jordan Kyrou, STL); CAD (Nylander, TOR); JOS (Kyrou, STL); JOS (Kyrou, STL); CAD (Crosby, PIT); CAD (Crosby, PIT); CAD (Jonathan Drouin, MTL)
*CadCooks Wins 9-6; Wins series 2-1; Wins Championship
* * * * *
Samuel Landry (CadCooks) Road to North American Championship Title:
Championship Series vs. Jos x 10 (2-1 series win)
Round Robin vs. DunkinDeli (13-3 win)
Round Robin vs. Sky Is Taken (4-3 OT win)
Round Robin vs. Jos x 10 (5-4 win)
Gen 5 Final vs. Sky is Taken (2-0 series win)
Gen 5 Semifinal vs. Focus TF (2-0 series win)
Gen 5 Quarterfinal vs. Gren-35- (2-1 series win)
Gen 5 Round of 16 vs. AyeKeeks (2-0 series win)
Gen 5 Round of 32 vs. Temp-433031 (2-1 series win)
Gen 5 Round of 64 vs. I-Hawks-I (2-0 series win)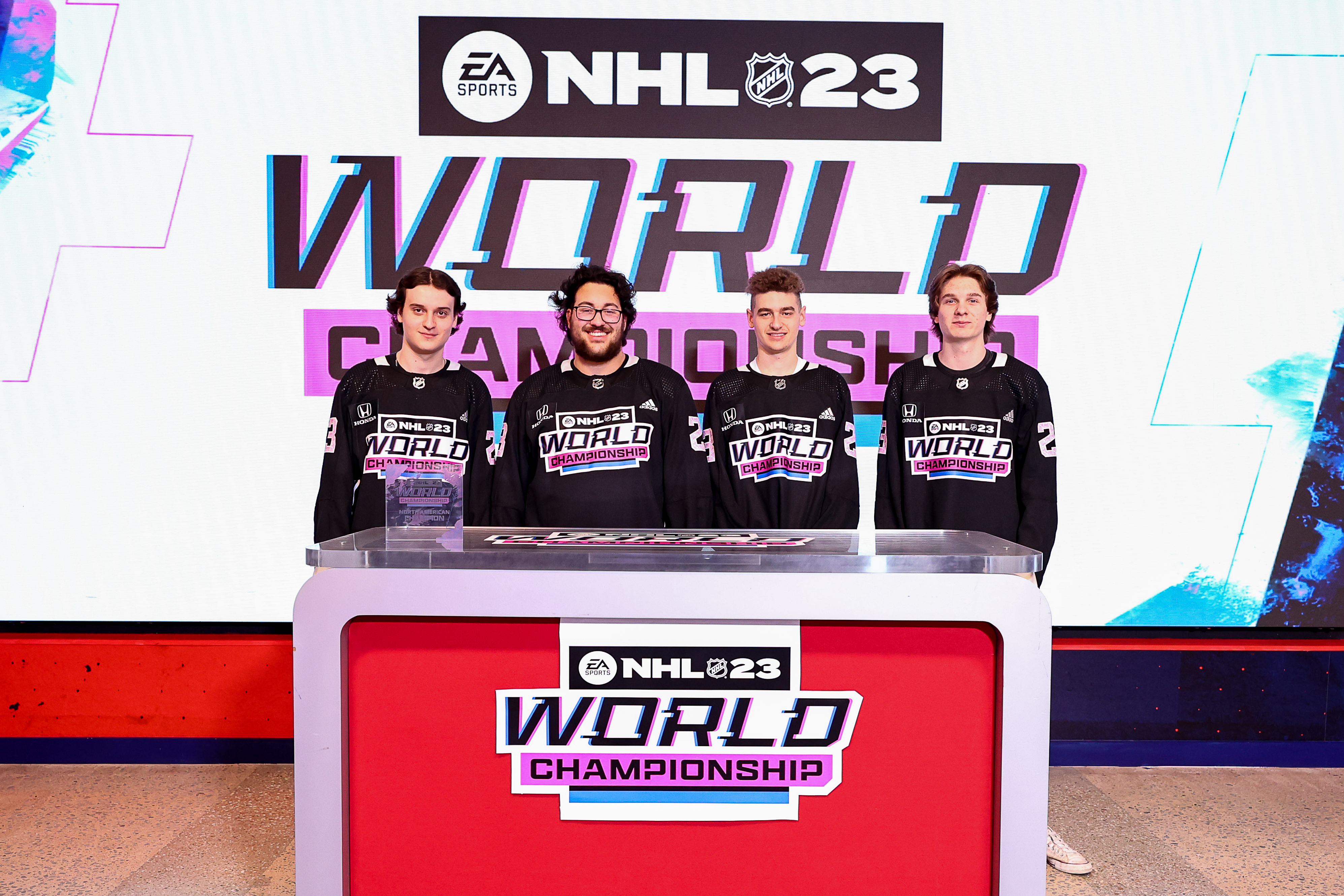 EA SPORTS NHL 23 NORTH AMERICAN FINAL STANDINGS
CadCooks, Chicago Blackhawks ($15,000 USD)
Jos x 10, Detroit Red Wings ($4,500 USD)
DunkinDeli, New Jersey Devils ($3,500 USD)
Sky Is Taken, Philadelphia Flyers ($2,000 USD)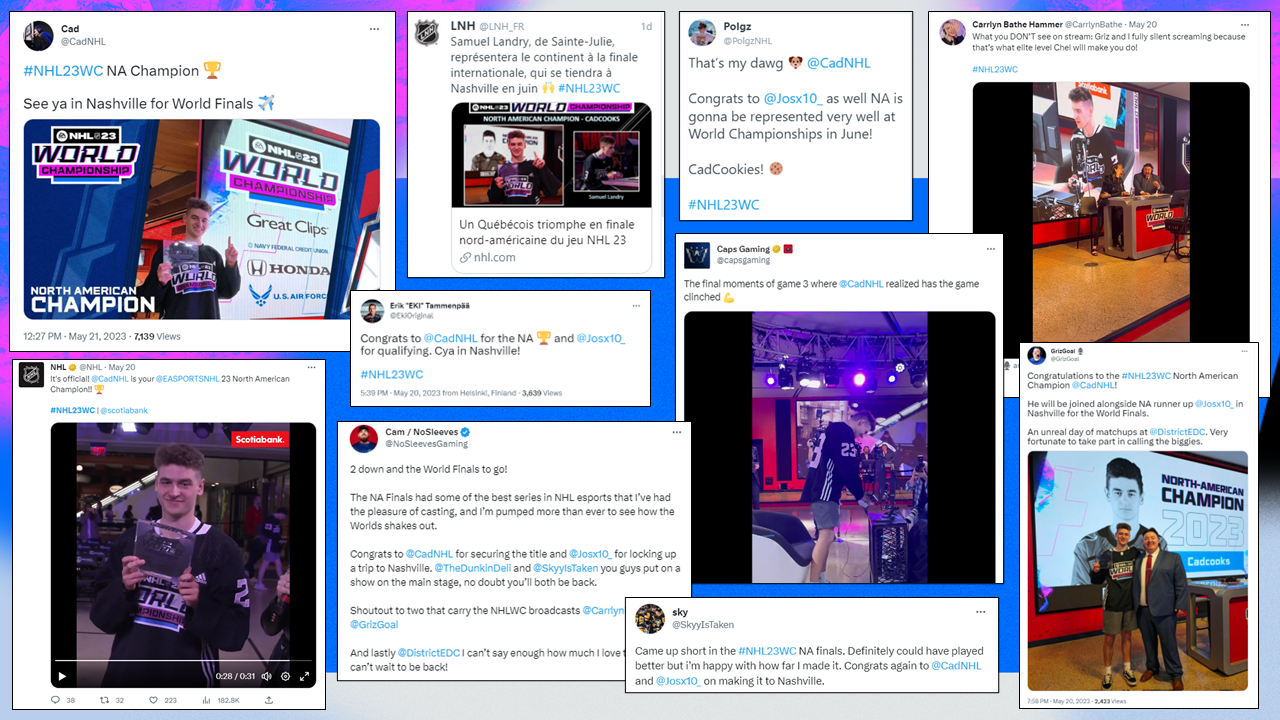 EA SPORTS NHL 23 World Championship streams:

COURTESY NHLmedia.com