NHL Public Relations
May 19, 2023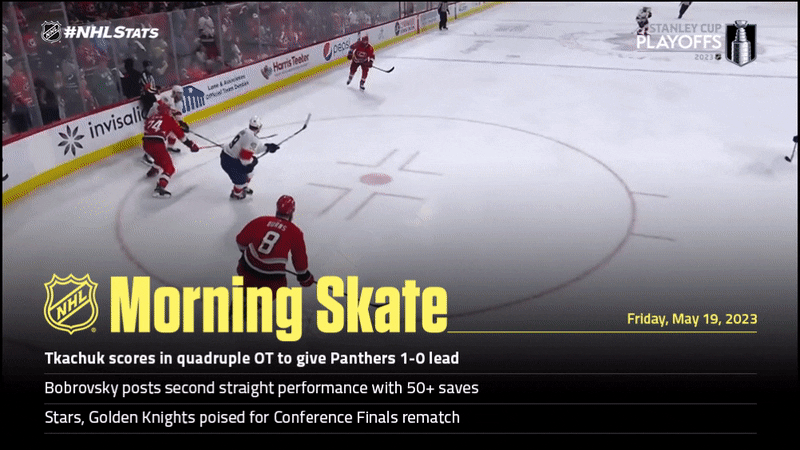 * Matthew Tkachuk scored with 13 seconds remaining in quadruple overtime to lift the Panthers to victory in the sixth-longest game in NHL history.

* Sergei Bobrovsky made 63 saves and became just the third goaltender on record with 50 or more saves in consecutive playoff games.
* The Golden Knights and Stars are ready to renew their rivalry, meeting in the penultimate round of the Stanley Cup Playoffs for the second time in four years.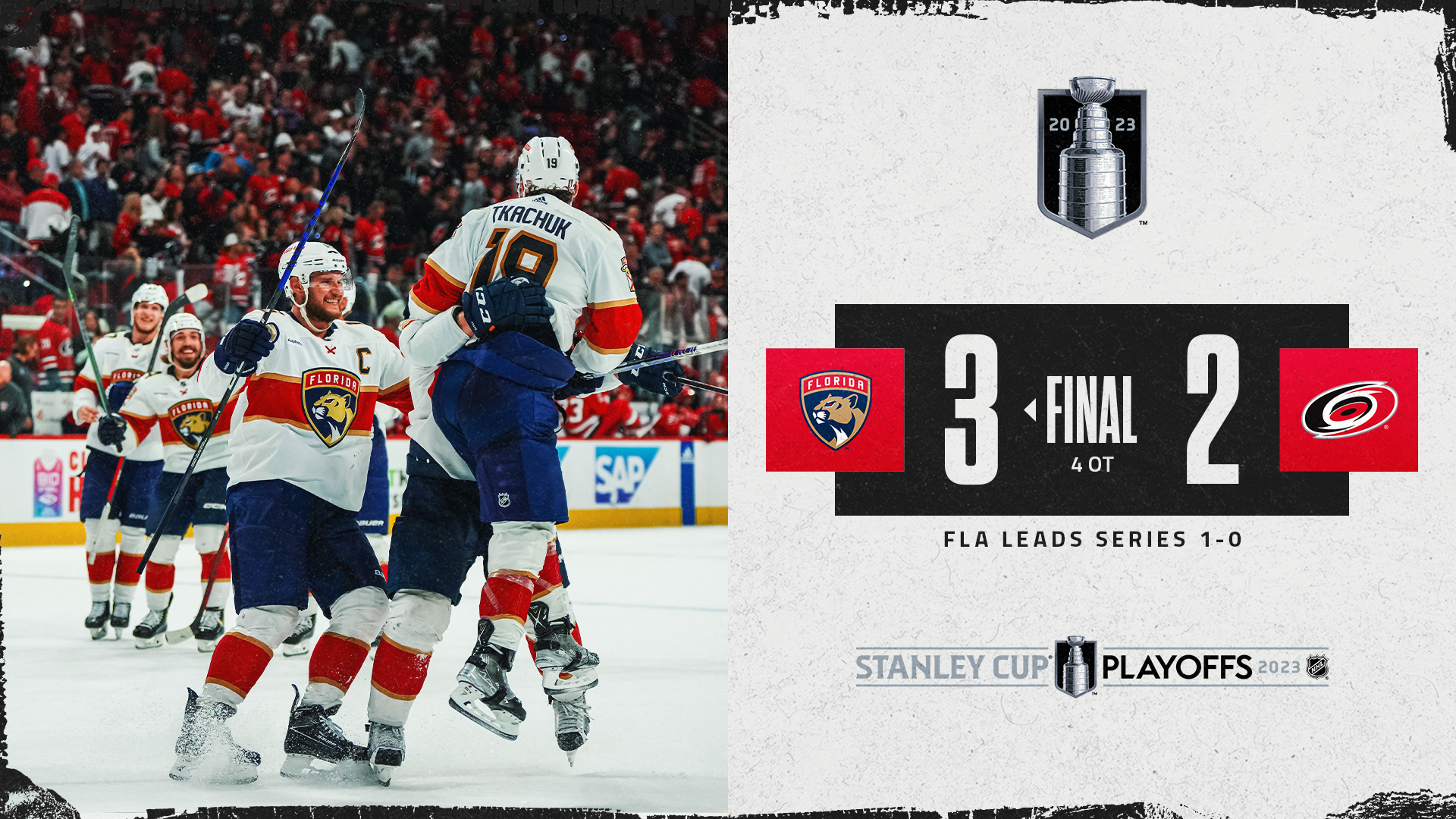 PANTHERS SURVIVE QUADRUPLE OT TO TAKE CONFERENCE FINALS OPENER
The Panthers and Hurricanes traded game-tying goals in regulation before Matthew Tkachuk (1-0—1) scored the winner with 13 seconds remaining in the fourth overtime period to cap the lengthiest game ever contested by either franchise.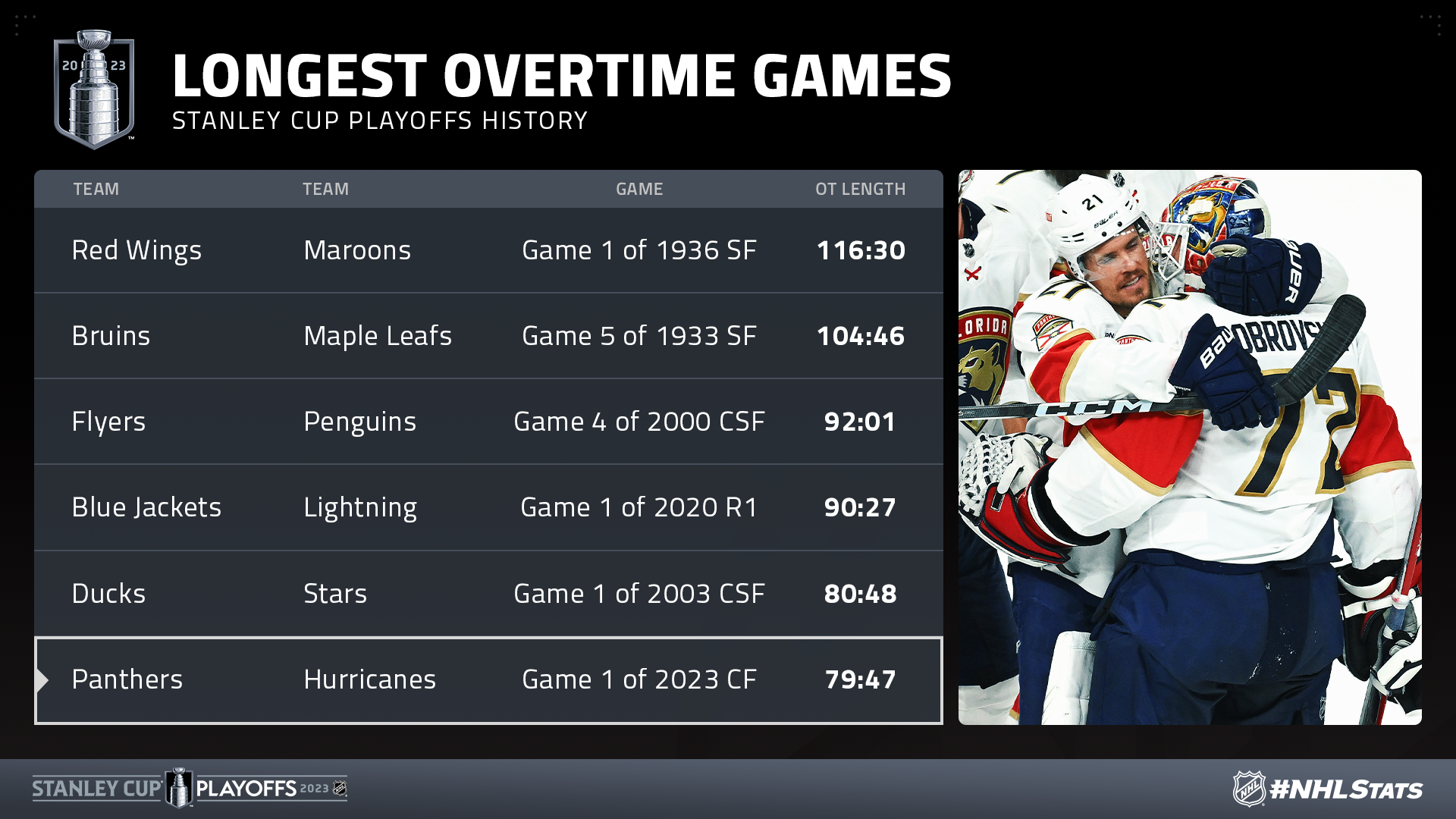 * The Panthers, who became the third team in NHL history to win each of their first five contests that required overtime in a single postseason, are 8-0 in overtime playoff games dating to the 2021 First Round. Florida also became the fourth team in League history to win eight consecutive overtime games (spanning postseasons) joining Montreal (14 GP from 1993-1998), NY Islanders (8 GP from 1987-1993) and Edmonton (8 GP from 1985-1990).

* Four of five Panthers overtime victories have come on the road following Games 5 and 7 of the First Round (at BOS) and Game 5 of the Second Round (at TOR). Only two teams in Stanley Cup Playoffs history have captured more overtime wins as the visitor in a single playoff year: 1993 Canadiens (6) and 1980 Islanders (5).

* Florida, which entered the 2023 Stanley Cup Playoffs as the lowest-seeded team, has not dropped a road contest since Game 1 of the First Round. The stretch has witnessed the club defeat the Bruins, Maple Leafs and Hurricanes – who combined for 89 home victories during the regular season.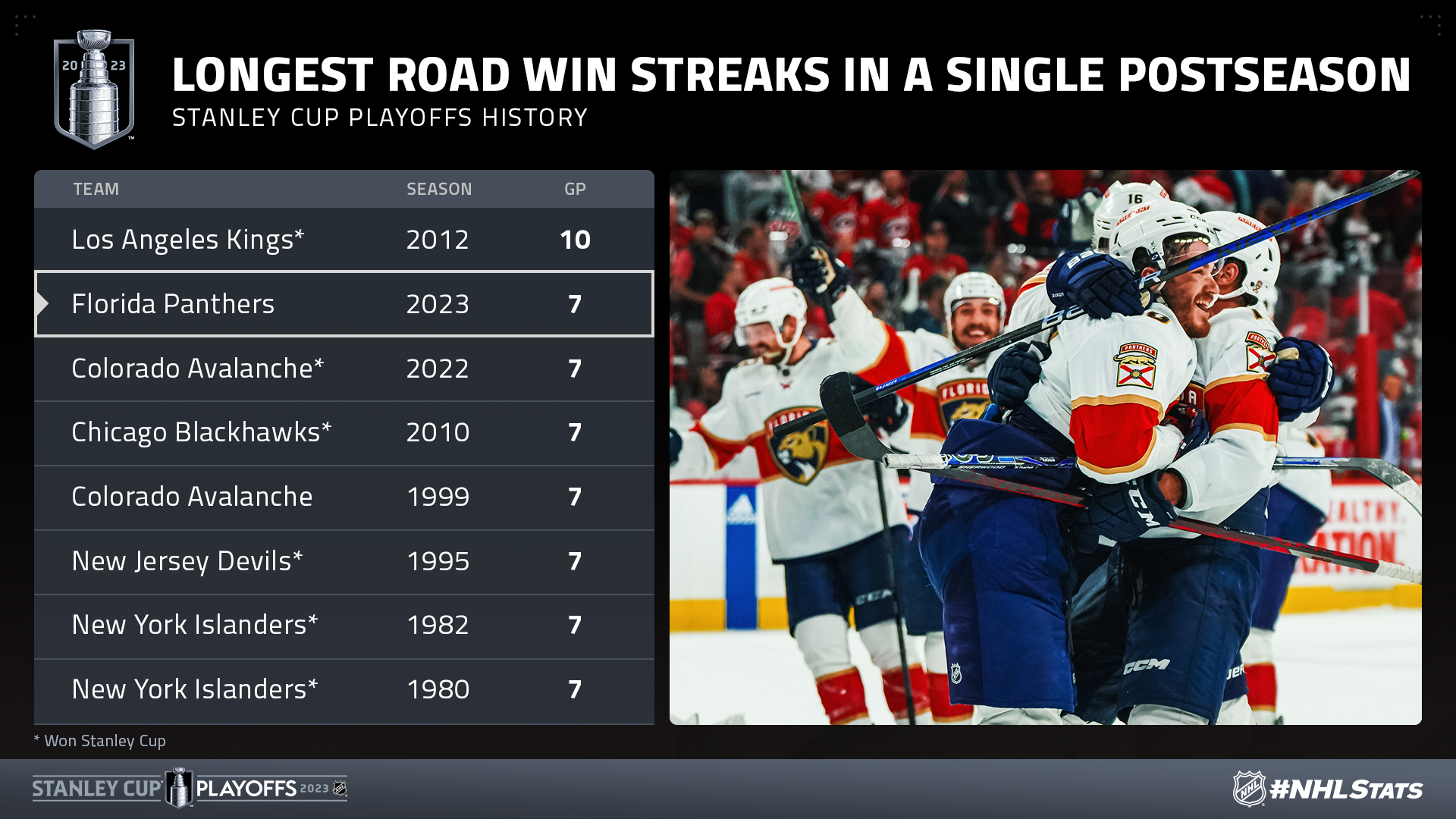 MORE NOTABLE PERFORMANCES FROM SIXTH-LONGEST GAME IN NHL HISTORY
A handful of names produced significant performances as the Panthers and Hurricanes rose to the occasion in both player and team categories:

* Sergei Bobrovsky (63 saves), who finished with a franchise record for saves in a playoff game, finished tied for the 10th most in any postseason game on record (since 1955-56). His Game 1 outing in the Conference Finals comes on the heels of a 50-save performance in a series-clinching win against Toronto. He joined Juuse Saros (Game 3 & Game 4 of 2021 R1) – who accomplished the feat against the Hurricanes – and Curtis Joseph (Game 1 & Game 2 of 1993 DF at TOR) as just the third goaltender on record with consecutive 50-save outings in the postseason.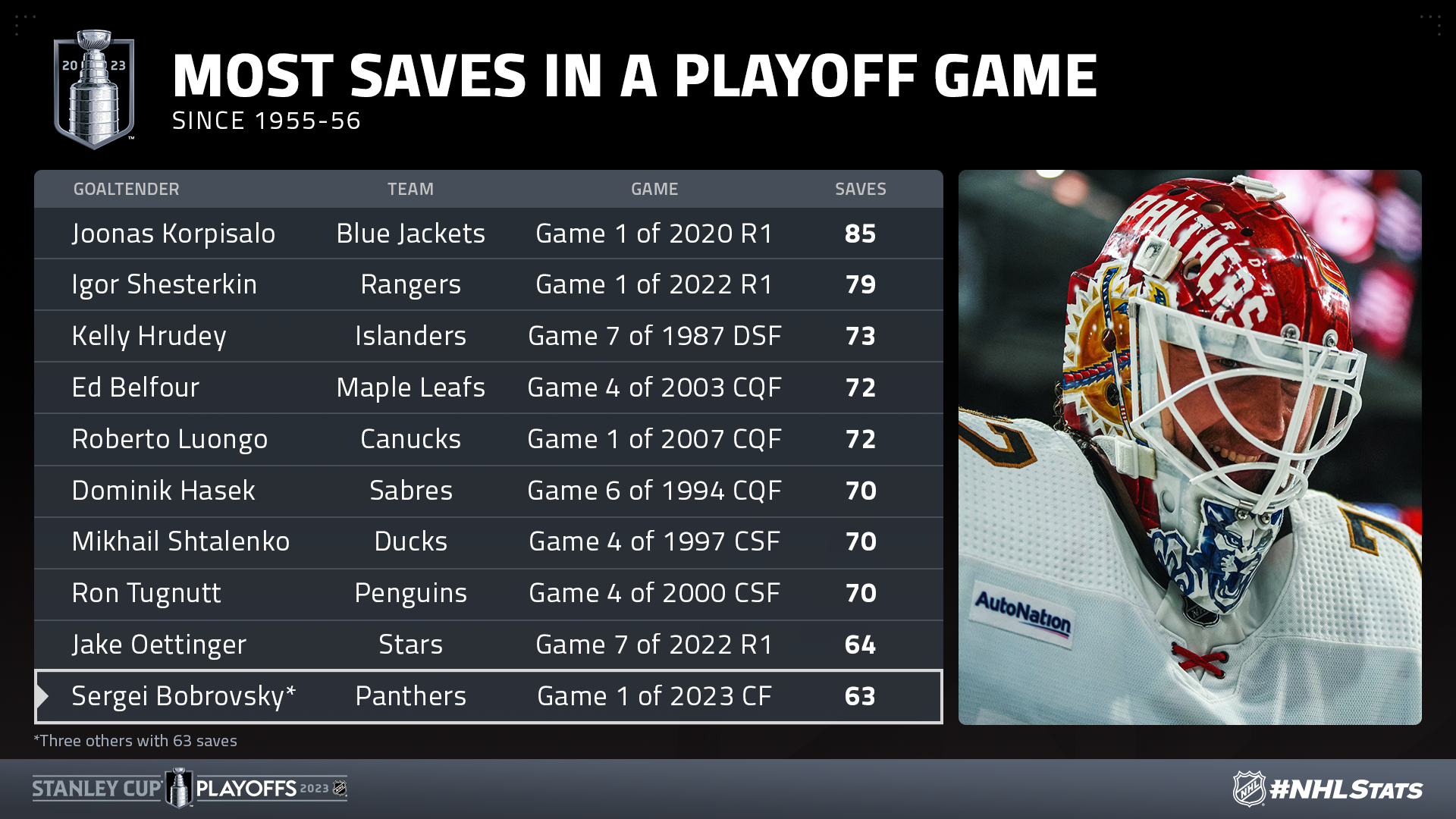 * Frederik Andersen made 57 saves to establish a franchise record for most in a playoff game, besting the previous mark of 53 set by Hartford's Frank Pietrangelo in Game 7 of the 1992 Division Semifinals.

* The Panthers and Hurricanes combined for 125 shots on goal – one of seven instances on record to reach the mark.

* Matthew Tkachuk's second overtime goal of the 2023 Stanley Cup Playoffs boosted his postseason totals to 6-11—17, tying Dave Lowry (10-7—17 in 1996) for the most points in a playoff year in Panthers history. Tkachuk now sits one overtime goal shy of tying the most in a single postseason in NHL history.
* Brandon Montour (57:56), Gustav Forsling (55:41), Brent Burns (54:43), Aaron Ekblad (52:10) and Jaccob Slavin (51:41) each logged at least 50 minutes of ice time – with Montour and Burns finishing with the highest single-game total by a skater for their franchise since 1997-98 when time on ice was first officially tracked (FLA; CAR).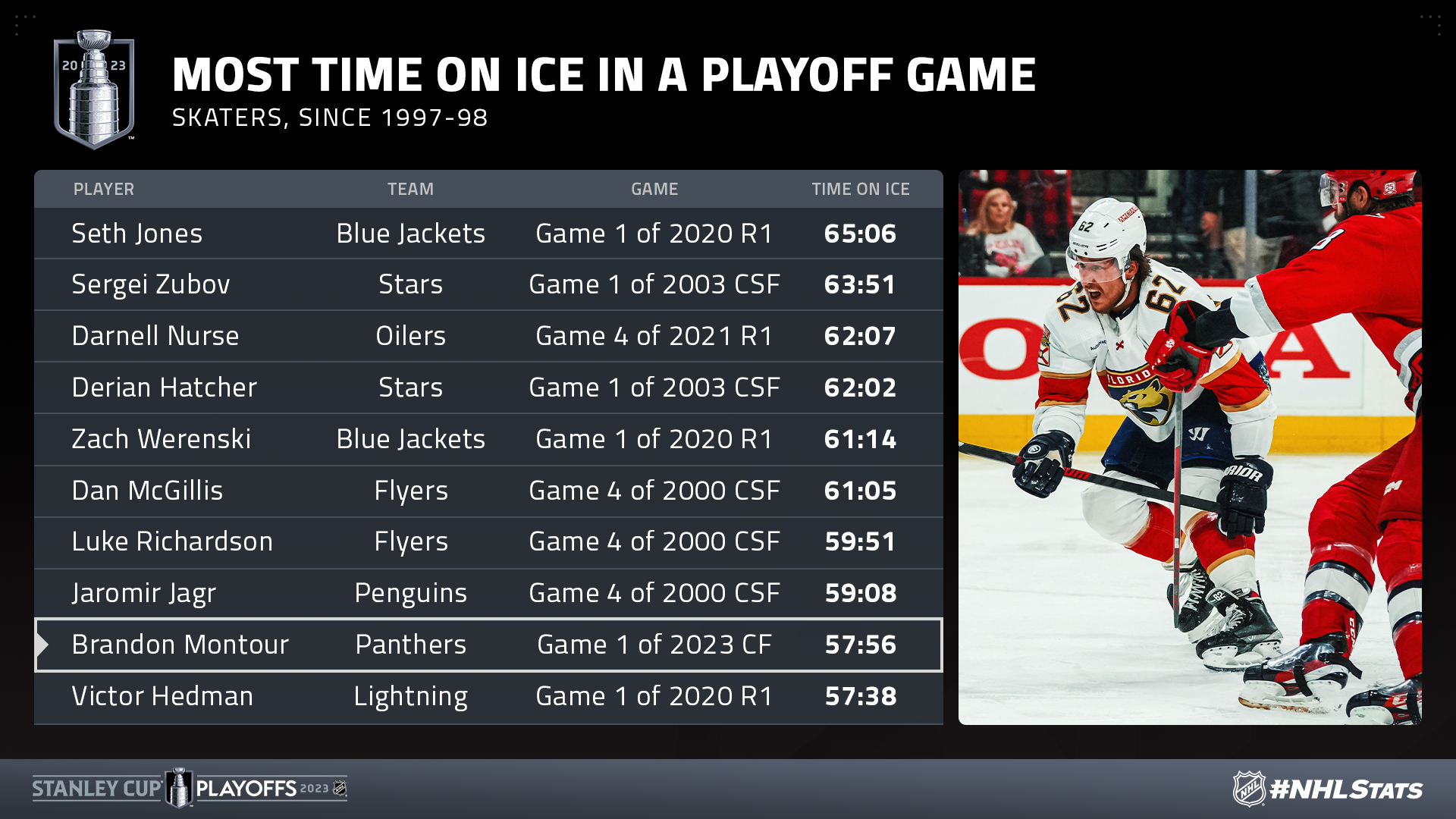 FAMILIAR FOES FACE NEW FACES IN GAME 1 OF WESTERN CONFERENCE FINAL REMATCH
The Stars and Golden Knights are set to face off at T-Mobile Arena for Game 1 of their rematch of the 2020 Western Conference Final. Joe Pavelski and Roope Hintz, familiar foes of Vegas, will look to repeat history by helping the Stars advance past the club en route to their second Stanley Cup Final in three years while new faces Alex Pietrangelo and Jack Eichel aim to turn the tables in favor of the Golden Knights.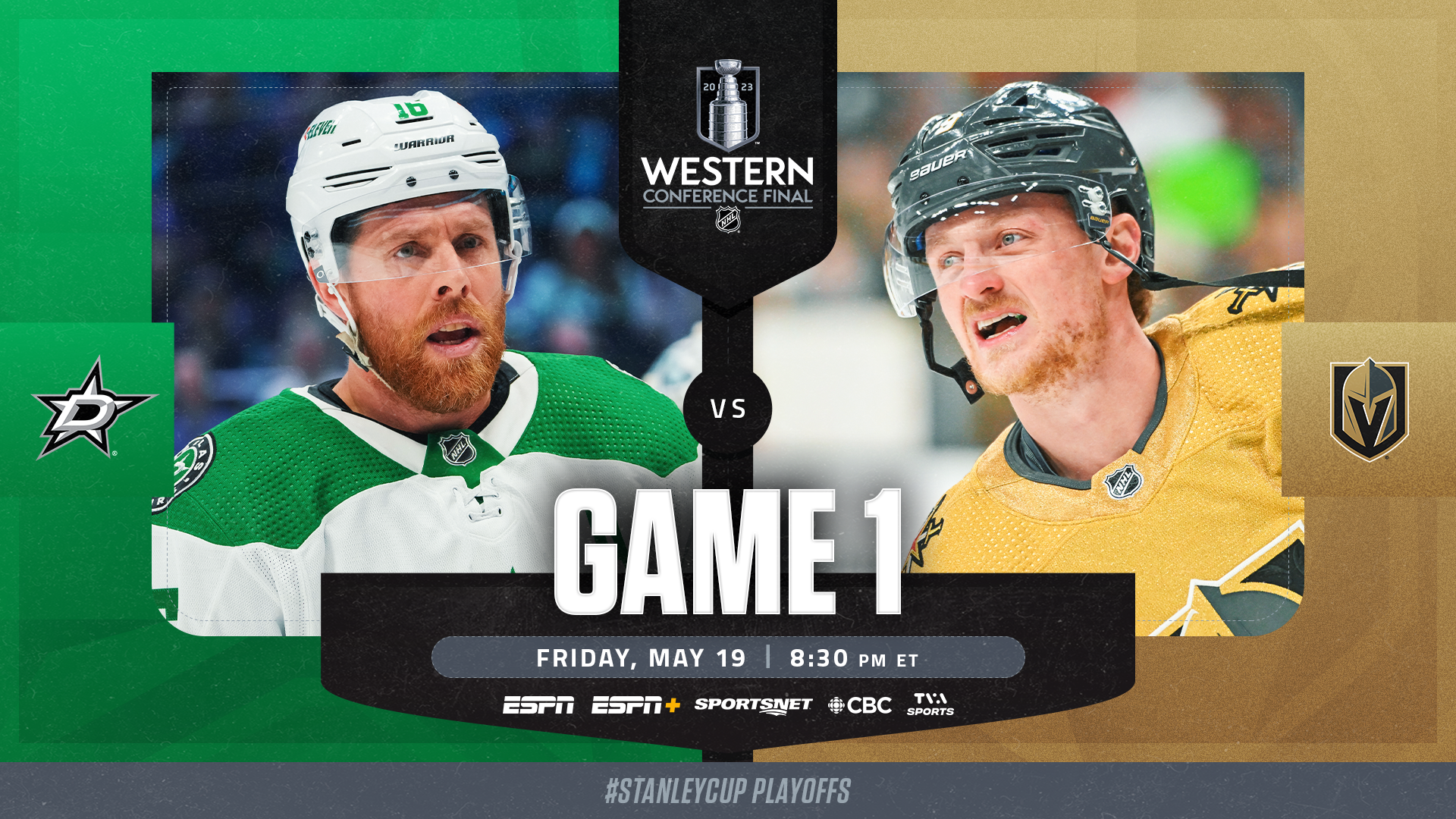 * Pavelski (8-2—10 in 8 GP) enters the game with eight goals in the 2023 Stanley Cup Playoffs. Should he score twice in Game 1, Pavelski would become the fifth player in 30 years to reach 10 goals in nine games or fewer in a single postseason – he would join Leon Draisaitl (7 GP in 2023), Joe Sakic (9 GP in 1996), Jaromir Jagr (9 GP in 1995) and Ray Ferraro (9 GP in 1993).

* Roope Hintz (9-10—19 in 13 GP) needs one point to tie Connor McDavid (8-12—20 in 12 GP) for the most during the 2023 postseason. Hintz can become just the fourth player in Stars/North Stars history to reach the 20-point mark in 14 or fewer games – he would join Steve Payne (13 GP in 1981), Brian Bellows (14 GP in 1991) and Bobby Smith (14 GP in 1981).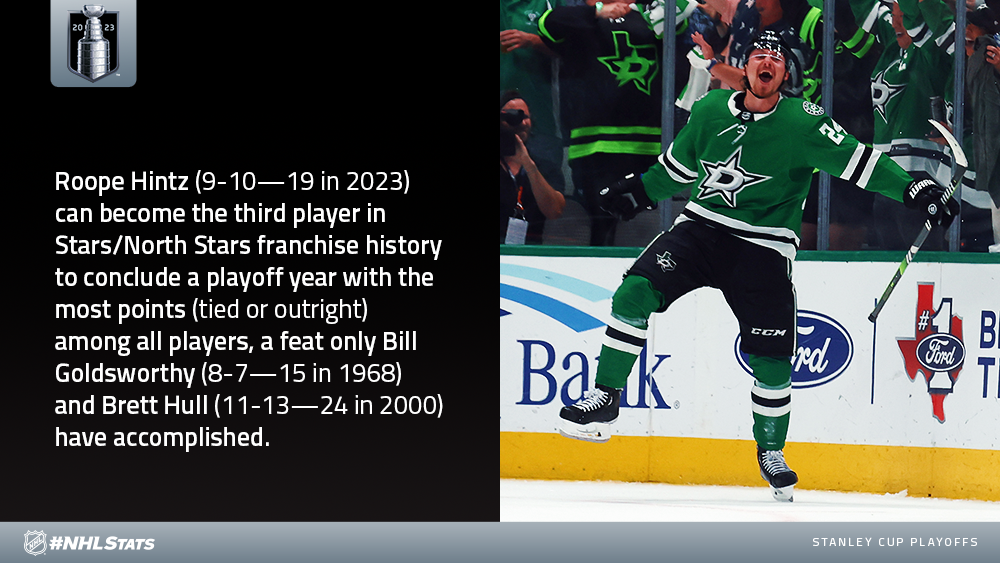 * Pietrangelo, who signed with Vegas a month after its Western Conference Final loss in 2020, has experience facing Dallas in the postseason – he was captain of the Blues when they defeated the Stars en route to their first-ever Stanley Cup in 2019 (4-3 W in R2). The veteran led all defensemen in points during the 2019 postseason and scored the Stanley Cup-clinching goal against the Bruins in Game 7.

* Eichel (6-8—14 in 11 GP) leads Vegas in goals (tied), assists and points this postseason after also finishing the regular season with the team lead in points. The only players in Golden Knights franchise history with more goals than Eichel in a single playoff year are Alex Tuch (8 in 2020), Jonathan Marchessault (8 in 2018), Shea Theodore (7 in 2020), William Karlsson (7 in 2018) and Mark Stone (7 in 2020).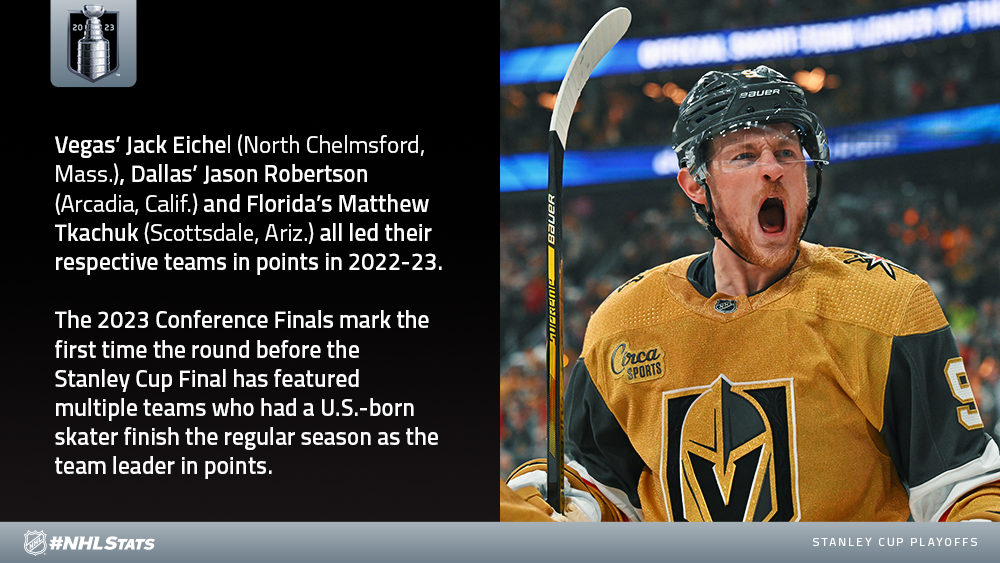 CONFERENCE FINALS TRENDS
* Florida captured the NHL's 43rd win by the road team in the 2023 Stanley Cup Playoffs. Only five postseasons in League history have featured more victories by the visitors: 2012 (47), 1987 (46), 2016 (45), 2018 (44) and 1999 (44).
* Teams that take a 1-0 lead in a best-of-seven series in the round before the Stanley Cup Final go on to win the series 68% of the time (110-53, .675 W%).
* At least one lower-seeded team has won Game 1 of the penultimate round of the Stanley Cup Playoffs seven times since the NHL realigned in 2014: NY Islanders (2021), Dallas (2020), Washington (2018), Ottawa (2017), Nashville (2017), Tampa Bay (2016) and NY Rangers (2014). The Stars, Capitals, Predators and Rangers were the only ones to advance to the Final.

* In every postseason since 2014, at least one series in the penultimate round of the Stanley Cup Playoffs has required six or more games. Only five years through that span have had both series require six-plus contests: 2021, 2017, 2016, 2015 and 2014.
STANLEY CUP PLAYOFFS RESOURCES BY #NHLSTATS
* 2023 Stanley Cup Playoffs Information Guide (updated through Second Round)
* #NHLStats Round Recaps: First Round | Second Round
* MATCHUPS: #NHLStats Matchup Notes for the 2023 Stanley Cup Playoffs
* #NHLStats: Water Cooler Questions Entering 2023 Stanley Cup Playoffs
* CLINCHED: #NHLStats Packs for Teams in the 2023 Stanley Cup Playoffs
QUICK CLICKS
* May 18 Edition of #NHLStats: Live Updates
* Panthers get support from South Florida teams as playoff run continues
* Rod Brind'Amour coaches son, kids day before Eastern Conference Final
* NHL Sun Belt teams in spotlight, making history in Conference Finals
* 'Quest For The Stanley Cup' continues with remaining 4 teams
COURTESY NHLmedia.com