NHL Public Relations
April 29, 2023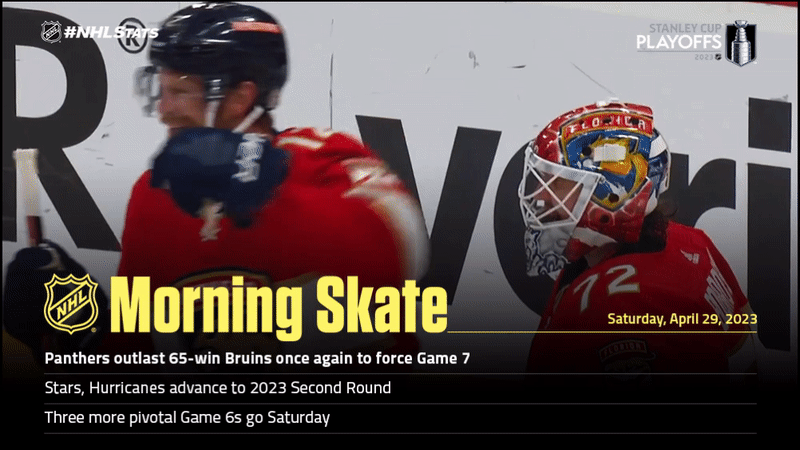 * Florida found a way to defeat the Presidents' Trophy winners once again and forced the first Game 7 of the 2023 Stanley Cup Playoffs. The Avalanche also avoided elimination on Friday and will contest a winner-take-all showdown of their own against the Kraken.

* The 2023 First Round will feature at least 49 games, and that total could increase to as many as 52 if each of the Lightning, Rangers and Kings evade elimination Saturday. The only other rounds in Stanley Cup Playoffs history to feature 49 or more contests were during the 1992 Division Semifinals (54 GP), 2022 First Round (51 GP), 1991 Division Semifinals (51 GP), 2011 Conference Quarterfinals (49 GP), 2010 Conference Quarterfinals (49 GP), 1995 Conference Quarterfinals (49 GP) and 1990 Division Semifinals (49 GP).

* The Stars and Hurricanes advanced to the Second Round, with Carolina contesting the 12th overtime game of the postseason. Only eight rounds in Stanley Cup Playoffs history have featured more overtime contests, with the full list featured in Friday's edition of #NHLStats: Live Updates.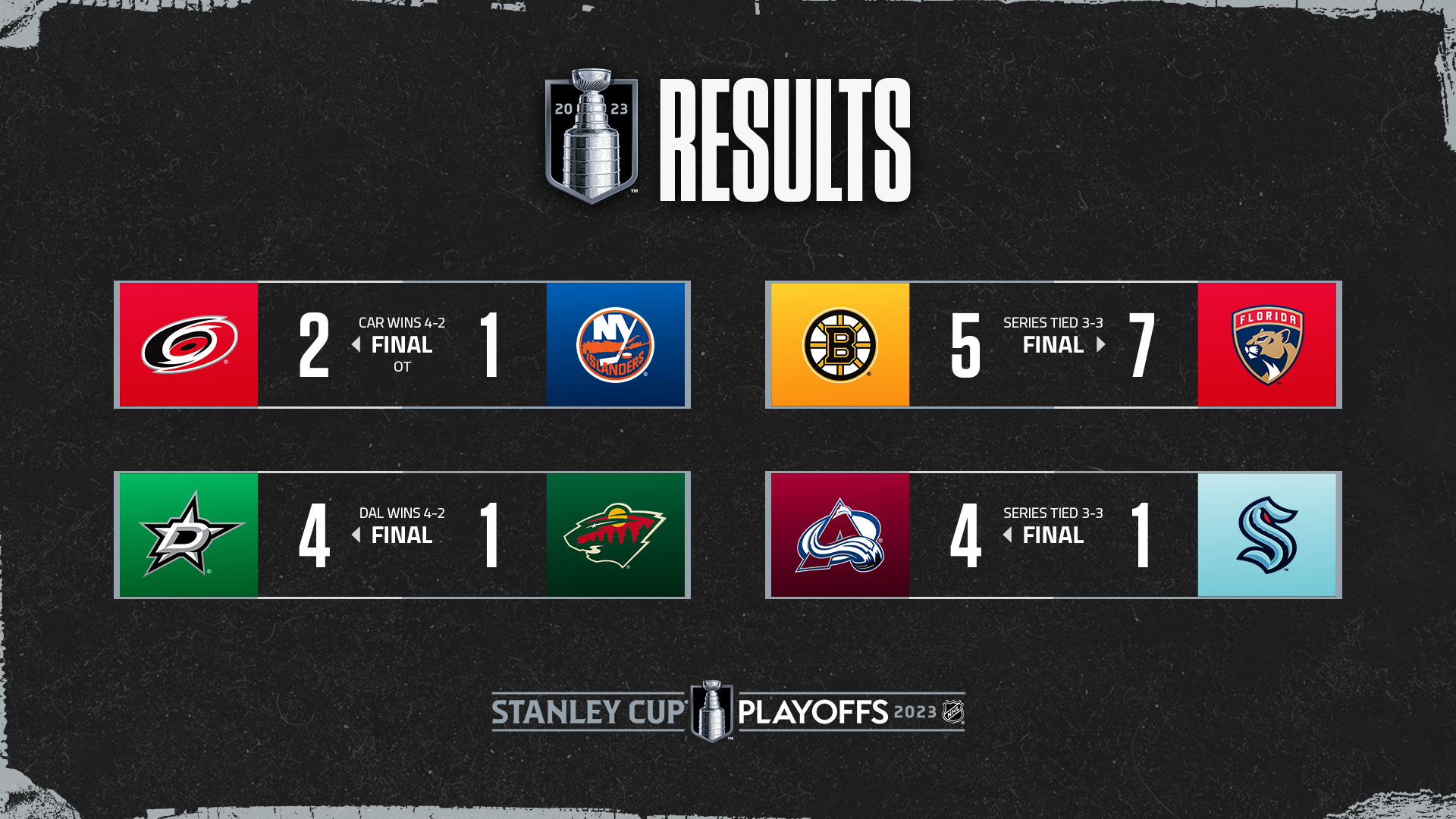 PANTHERS OUTLAST 65-WIN BRUINS IN HIGH-SCORING DUEL TO FORCE GAME 7
Florida pulled ahead with less than six minutes remaining regulation after accounting for two of the contest's five tying goals as the Panthers outlasted the Presidents' Trophy winners once again and forced a Game 7 in their First Round series.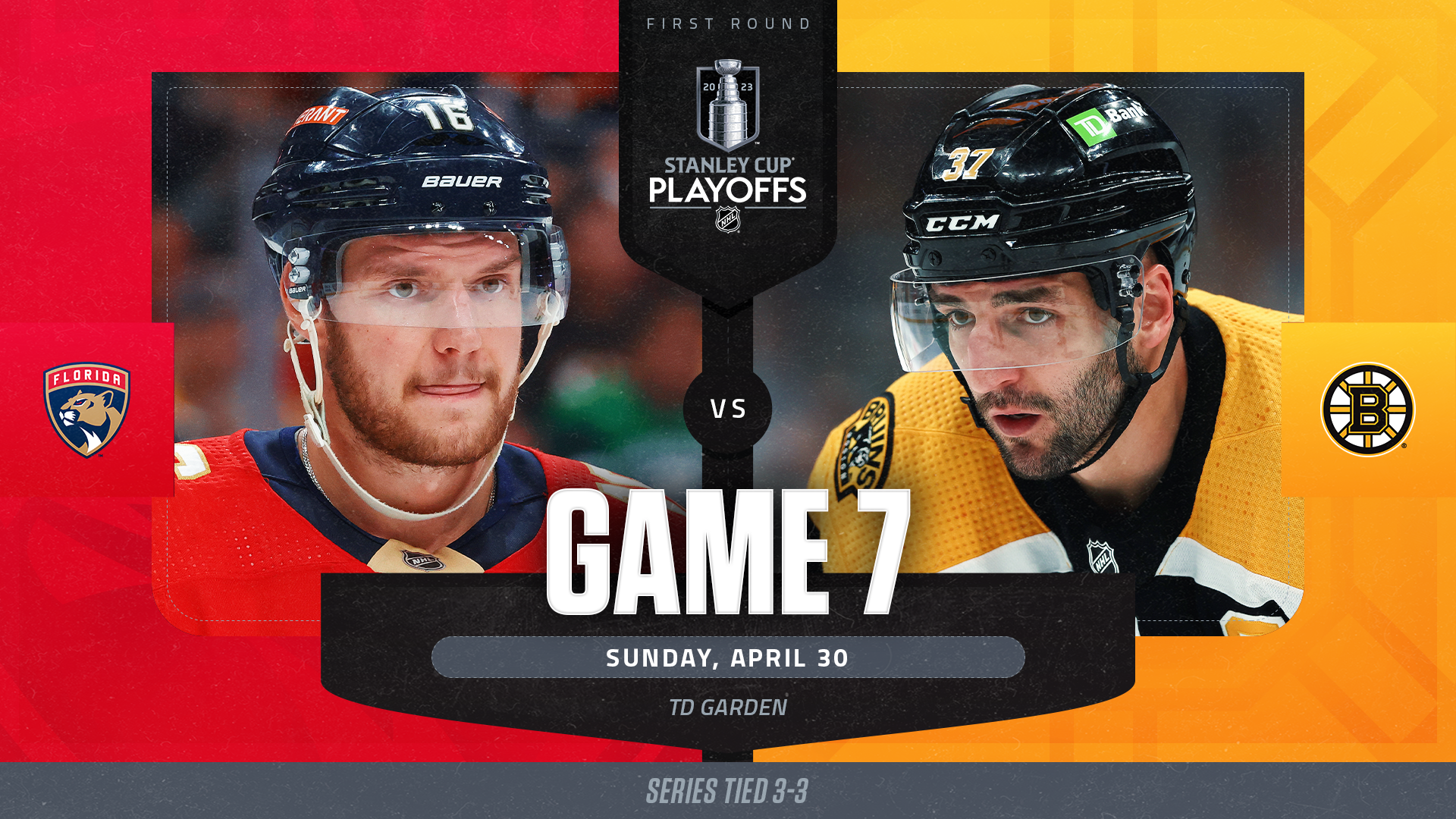 * This is the seventh time the Presidents' Trophy winner will play a Game 7 in the opening round and first in a dozen years (it happened in back-to-back years, 2010 & 2011). The No. 1 seed advanced in four of the previous six instances: Vancouver in 2011 (vs. CHI), NY Rangers in 1992 (vs. NJD), Boston in 1990 (vs. HFD) and Calgary in 1989 (vs. VAN). The two lower-ranked clubs to win those Game 7s were Montreal in 2010 (vs. WSH) and San Jose in 2000 (vs. STL).

* Friday marked the 11th playoff game in NHL history to feature five or more tying goals and just the third in a potential elimination/clinching contest. The other two were between the Black Hawks and Minnesota North Stars in Game 6 of the 1985 Division Finals as well as between the Black Hawks and Canadiens in Game 5 of the 1973 Stanley Cup Final.

* Matthew Tkachuk (2-1—3) had a team-leading three points for Florida, which scored seven goals in a game for the first time in franchise playoff history. Tkachuk (5-5—10 in 6 GP) matched Jonathan Huberdeau (2-8—10 in 2021 R1) for the second-most points in a series by a Panthers player and now trails only Carter Verhaeghe (6-6—12 in 2022 R1).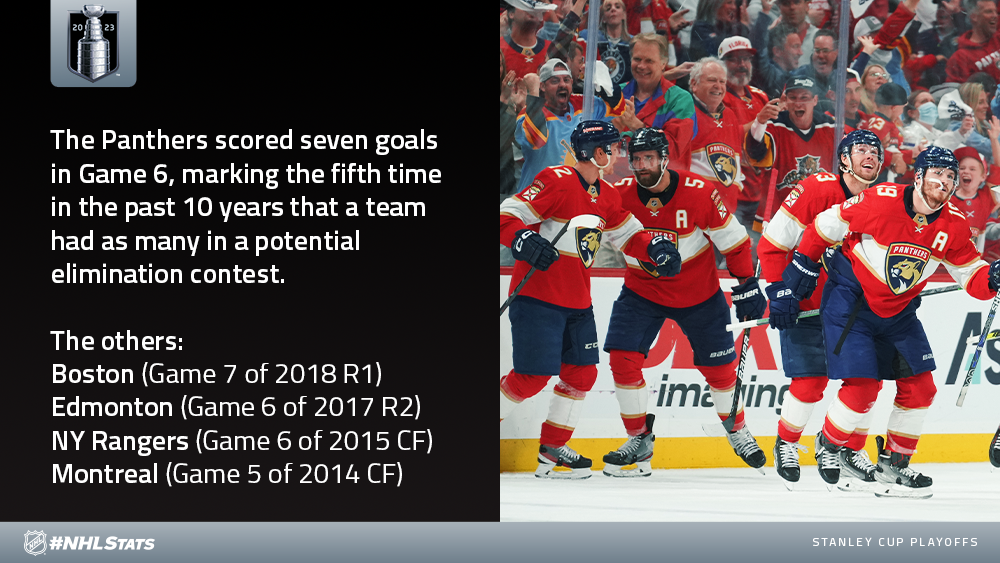 JOHNSTON BECOMES SIXTH-YOUNGEST PLAYER TO CLINCH A SERIES
Wyatt Johnston scored his first career playoff goal – which stood as the series clincher – and Jake Oettinger stopped 23 of 24 shots faced as the Stars became the second Western Conference team to punch their ticket to the Second Round. Dallas, which advanced past the opening round for the 19th time in franchise history and 11th since relocating to Texas, await its opponent which will be the winner of the Avalanche-Kraken series.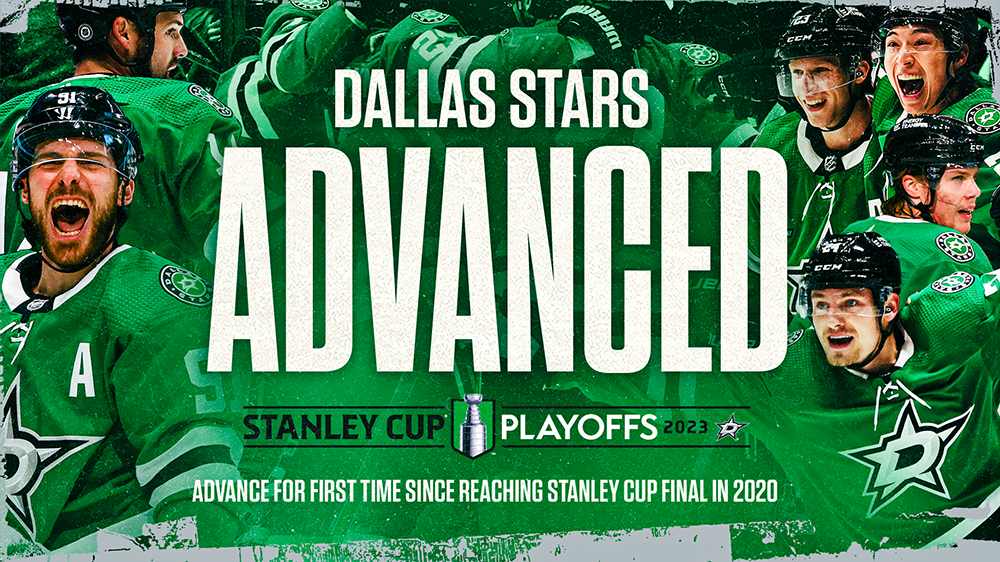 * This is the fourth time that Peter DeBoer has advanced past the opening round in his first postseason behind the bench with a franchise (also 2012 w/ NJD, 2016 w/ SJS & 2020 w/ VGK). He became the third head coach in NHL history to accomplish that feat, joining Alain Vigneault (1998 w/ MTL, 2007 w/ VAN, 2014 w/ NYR & 2020 w/ PHI) and Roger Neilson (1978 w/ TOR, 1981 w/ BUF, 1982 w/ VAN, 1990 w/ NYR).

* Oettinger (Lakeville, Minn.), whose hometown is 30 miles outside of St. Paul, earned his first postseason series win against the team he grew up cheering for and did so in front of his parents, grandparents and friends who were all in attendance Friday. The storylines run deeper – as a kid, Oettinger had a wall decoration of his favorite player, Marc-Andre Fleury, and chose his No. 29 because of him.

* Johnston, who finished tied atop the NHL in goals by rookies during the regular season, became the second-youngest player in Stars/North Stars franchise history with a series clincher behind Brad Palmer in Game 6 of the 1981 Semifinals.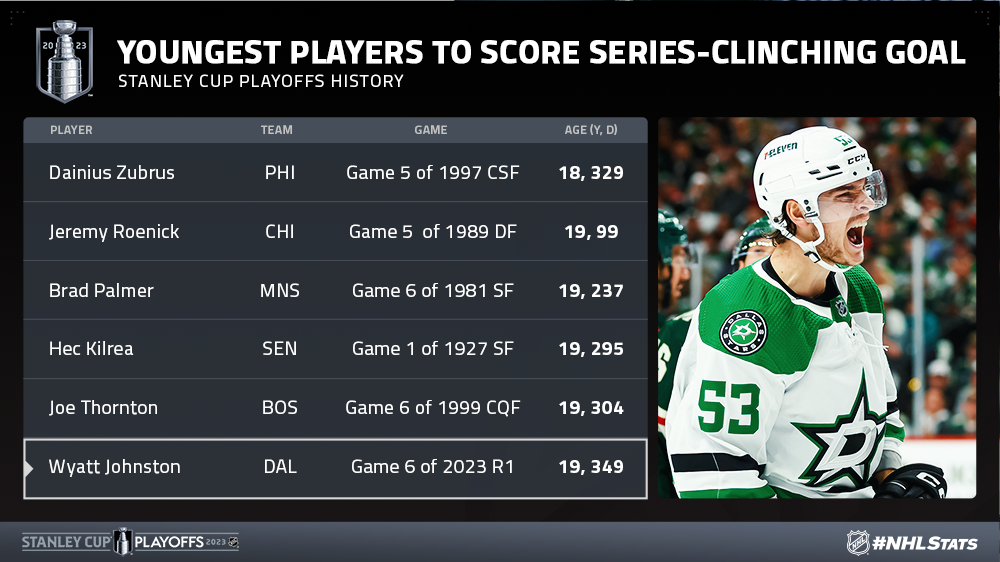 STASTNY SCORES SERIES CLINCHER IN OT AS HURRICANES ADVANCE TO SECOND ROUND
Paul Stastny scored the clinching goal in overtime after Sebastian Aho pulled Carolina even at 9:24 of the third period as the Hurricanes earned their sixth series win over the last five years and advanced to the Second Round for a third straight postseason.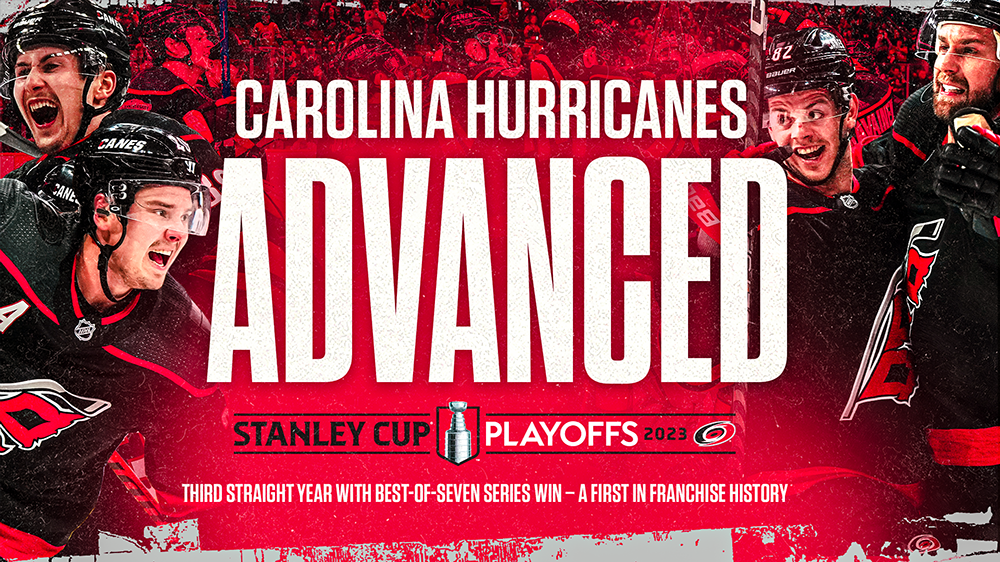 * The Hurricanes will face either the Devils or Rangers in the Second Round. Carolina owns an all-time series record of 3-1 against New Jersey after winning the 2009 Conference Quarterfinals (4-3 W), 2006 Conference Semifinals (4-1 W) and 2002 Conference Quarterfinals (4-2 W). This would mark the third time the franchise would meet the Rangers, with the two instances to date coming in the last three seasons: Carolina swept their best-of-five in the 2020 Stanley Cup Qualifiers and New York claimed a Game 7 victory during in the 2022 Second Round.

* The Hurricanes' run of six series wins over the last five years dates to 2019, when Rod Brind'Amour and Aho made their postseason debut as a head coach and player, respectively. Brind'Amour joined Pat Burns (6) and Toe Blake (5) as the third bench boss in NHL history to win a playoff series in each of his first five seasons behind a bench, while Aho ascended to the top of the franchise's all-time playoff goals, assists and points lists in that span.

* Stastny scored his third career overtime goal in the Stanley Cup Playoffs (also Game 2 of 2021 R1 w/ WPG & Game 1 of 2014 R1 w/ COL) and matched the total that his father, Peter, has during his NHL career. The Stastnys six postseason overtime goals mark the highest combined total by a father-son duo in League history.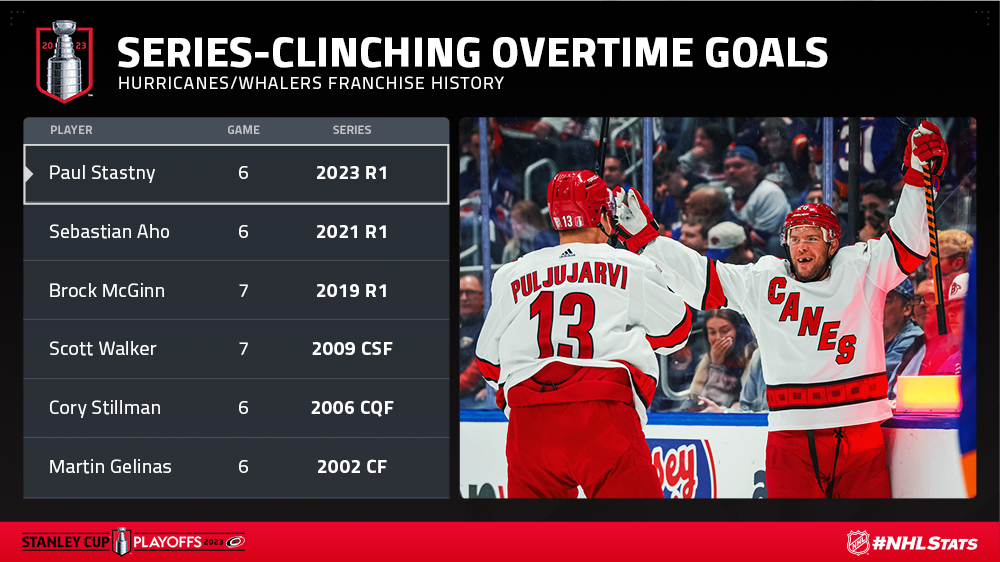 UNSUNG HERO JOHNSON SCORES WINNER AS AVALANCHE FORCE GAME 7
Erik Johnson's first goal of the season stood as the winner as Colorado avoided elimination for the first time in over two years and forced Game 7 in its First Round series with Seattle.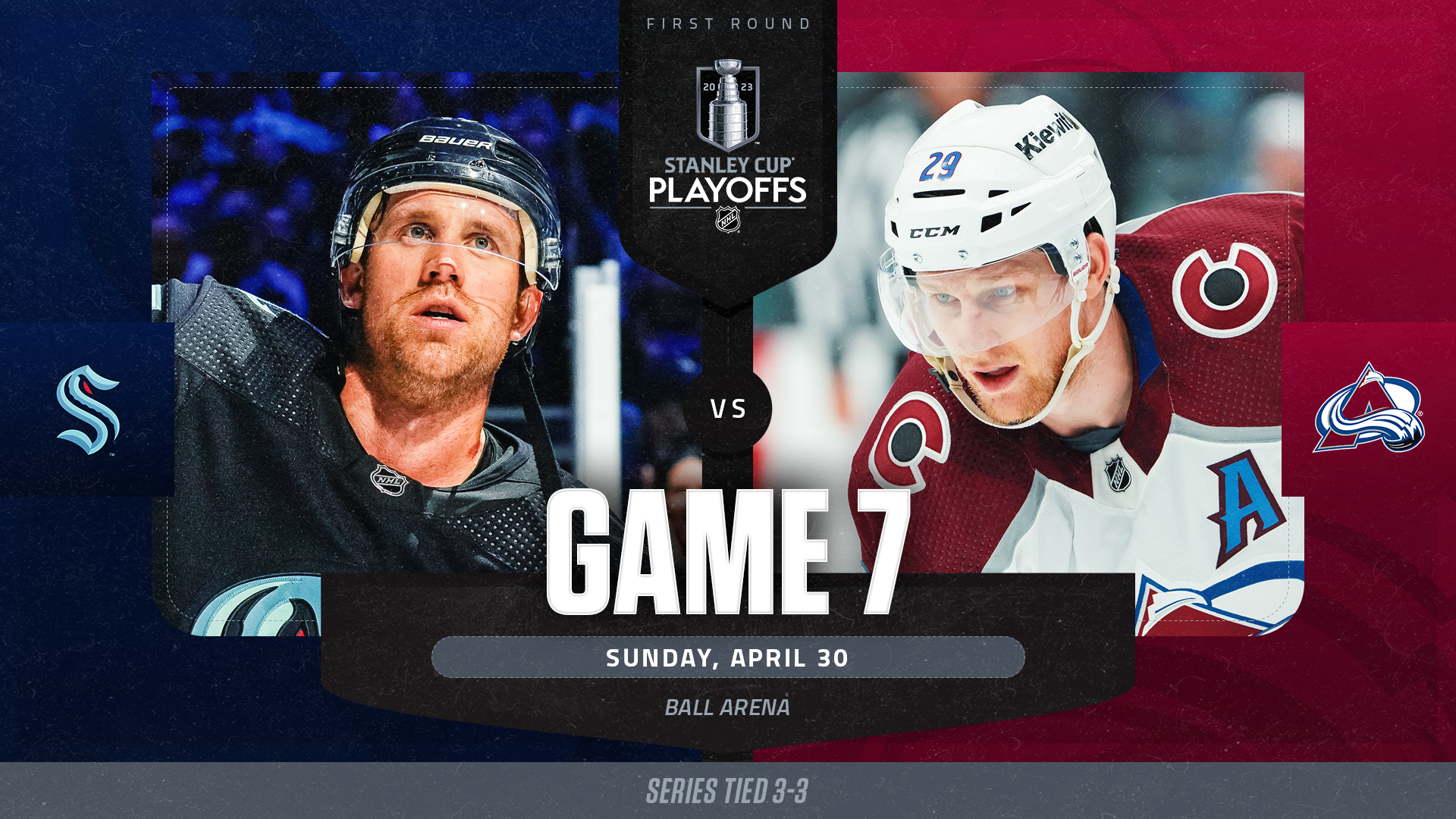 * This will mark the second straight year and 15th time overall that the reigning Stanley Cup champion will play a Game 7 in its opening series. The opposing clubs own an 8-6 edge in the previous 14 such Game 7s; the only times the Cup winners won were in 1964 (TOR in SF), 1976 (PHI in QF), 1991 (EDM in DSF), 1992 (PIT in DSF), 2002 (COL in CQF) and 2022 (TBL in R1).

* The Kraken are the 10th franchise in NHL history to require a Game 7 in their first-ever playoff series and first since the Wild against the Avalanche in the 2003 Conference Quarterfinals – Minnesota won that series, one of five times a club has won its first-ever series in Game 7. Seattle can become the 18th team in NHL history to eliminate the reigning champion in a Game 7, a feat last achieved by Carolina in 2019 (R1 vs. WSH).

* Johnson (1-8—9 in 69 GP) became the second player in NHL history to score the winner in a potential elimination contest with the goal being his first of the season (min. 50 GP, regular season & playoffs combined). He joined Canucks defenseman Garth Butcher (1-21—22 in 84 GP), who beat Flames goaltender Mike Vernon in Game 6 of the 1989 Division Semifinals.

QUICK CLICKS

* Thursday's doubleheader on ESPN2 delivered impressive viewership
* Panthers' strong self-belief on display in Game 6 of Eastern 1st Round
* Mariners support Kraken with jerseys on statues ahead of Game 6
* David Pastrnak serves up sweet between-the-legs power-play goal
* Famous Fans: Actor Kevin Connolly mic'd up for Islanders Game 6

THREE MORE FIRST ROUND GAME 6s GO SATURDAY
Toronto, Edmonton and New Jersey can advance to the Second Round of the 2023 Stanley Cup Playoffs while Tampa Bay, Los Angeles and New York can force more winner-take-all showdowns as three pivotal Game 6s go Saturday. The Devils-Rangers is carried on ABC and ESPN+ in the U.S., while the Maple Leafs-Lightning and Oilers-Kings will be on TBS – each contest will be showcased on Sportsnet and TVA Sports programming in Canada.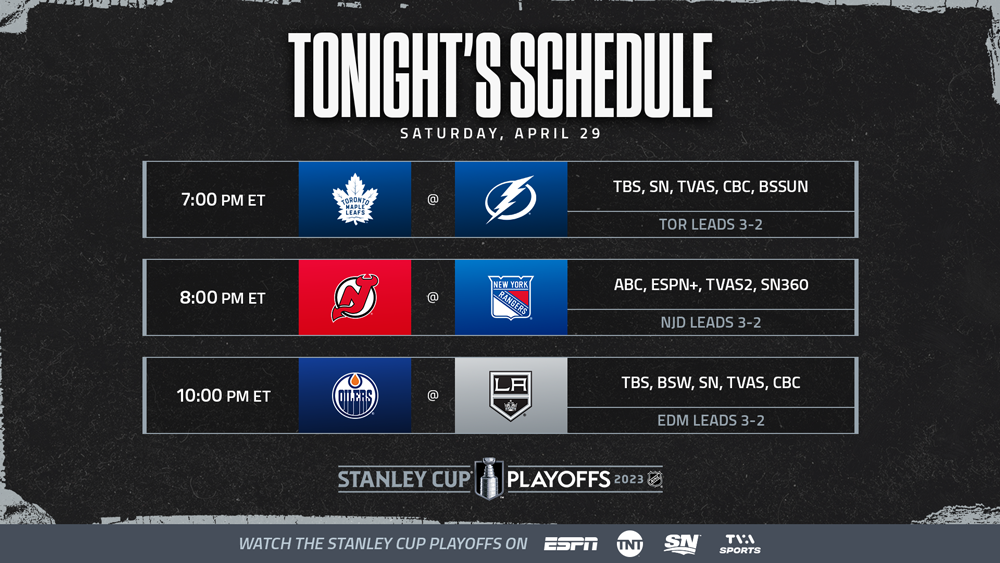 * The Maple Leafs will have another opportunity to advance as the First Round shifts back to AMALIE Arena, where Toronto earned consecutive wins to take a 3-1 series lead thanks to overtime goals by Morgan Rielly and Alexander Kerfoot. The Lightning have forced a Game 7 after facing a 3-1 series deficit once in franchise history, doing so against the Penguins in the 2011 Conference Quarterfinals before earning a 1-0 victory in the winner-take-all showdown to advance – Steven Stamkos and Victor Hedman appeared in all seven contests during that round.

* Leon Draisaitl (6-4—10 in 5 GP) enters Saturday with at least one goal in four of the Oilers' five contests against the Kings, who hope to stave off elimination and send their First Round series against Edmonton to Game 7 for a second straight year. Anze Kopitar (7-9—16 in 13 GP) has 16 career points in potential elimination games, which are tied with Wayne Gretzky (8-8—16 in 10 GP) for second place on the franchise's all-time list behind Luc Robitaille (9-13—22 in 18 GP).

* Akira Schmid and the Devils aim to secure a fourth straight win and close out their First Round series with the "No Quit in New York" Rangers, who earned wins in each of their first five potential elimination games last year. Chris Kreider (15-4—19 in 27 GP) needs one goal to tie the NHL record for most when facing elimination, which is held by former New York captain Mark Messier (16-12—28 in 24 GP) – Messier had three of his 16 against New Jersey in Game 6 of the 1994 Conference Finals when he famously delivered on his guarantee that the Rangers would earn a win.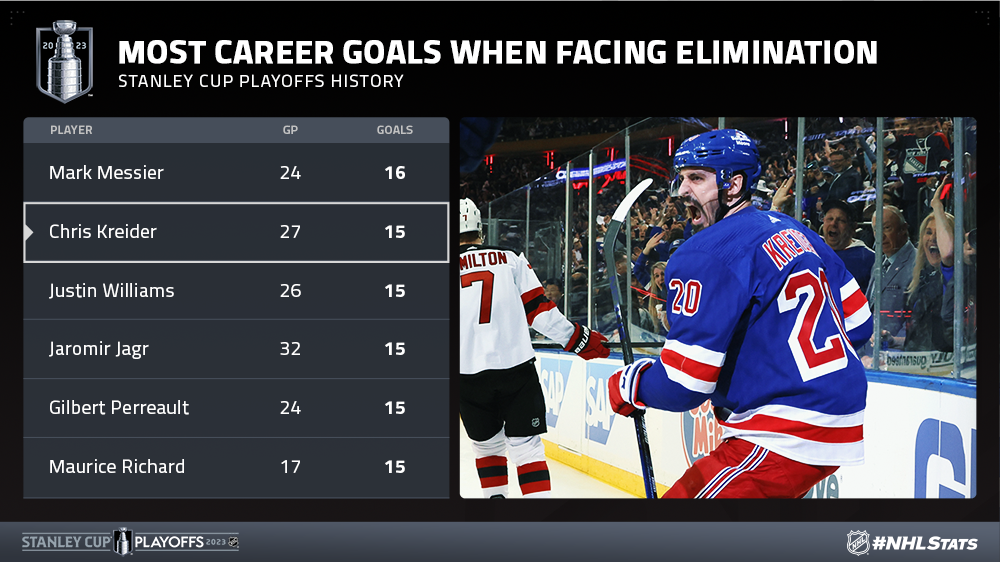 COURTESY NHLmedia.com