NHL Public Relations
April 28, 2023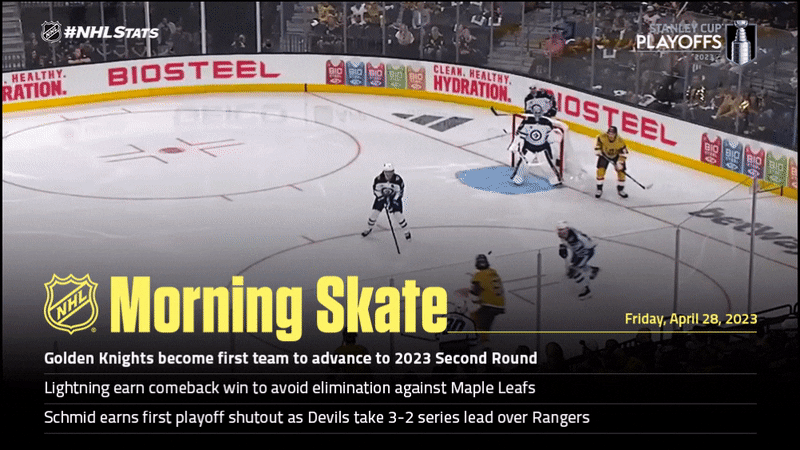 * Vegas bested Winnipeg in five games to become the first team to clinch a berth in the 2023 Second Round. The Golden Knights await the victor of the Oilers-Kings series, which will be decided either Saturday or Monday.

* Nicholas Paul scored the game winner to help the Lightning earn their third straight win in a potential series-elimination game versus the Maple Leafs dating to Game 6 of the 2022 First Round.

* Akira Schmid made 23 saves to record his first career postseason shutout and help the Devils win their third straight game against the Rangers to take a 3-2 series lead.

* Every game from here on out in the First Round is an elimination contest, including four tonight – Friday could mark the second day in Stanley Cup Playoffs history to feature four teams forcing a Game 7.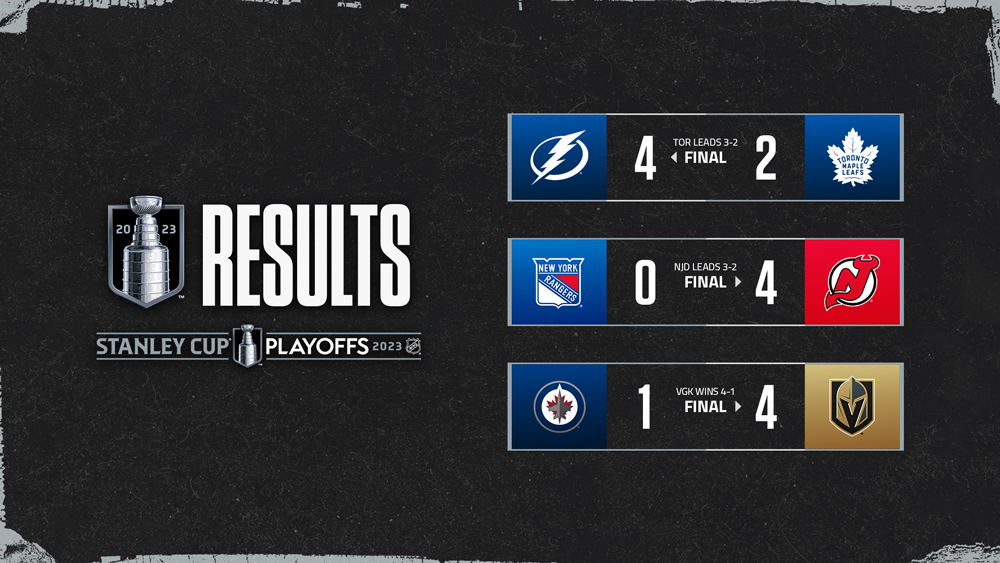 GOLDEN KNIGHTS OUTDUEL JETS TO ADVANCE TO SECOND ROUND
Chandler Stephenson (2-0—2) opened the scoring just 50 seconds into Game 5 en route to his fourth straight multi-point outing while Mark Stone (1-2—3) recorded his second three-point performance of the 2023 Stanley Cup Playoffs to help the Golden Knights defeat the Jets in five games and become the first team to advance to the Second Round.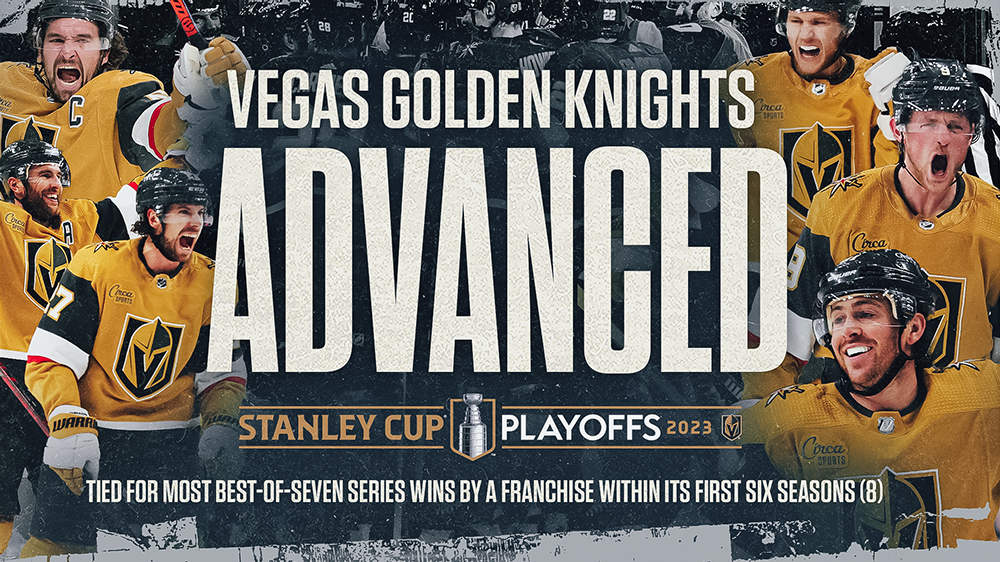 * Stephenson (0:50 of P1) and Stone (0:42 of P2) found the back of the net in the first minute of the first and second frame, respectively, marking the fourth time in the past 10 years that a team has recorded opening-minute goals in each of the first two periods of a playoff game. The other instances were accomplished by the Flames (Game 1 of 2022 R2), Golden Knights (Game 3 of 2019 R1) and Lightning (Game 5 of 2018 CF).

* Vegas improved to 8-5 in 13 playoff series since entering the NHL in 2017-18 – its eight series wins since 2018 rank second among all teams behind Tampa Bay (13) and just ahead of Colorado (7). The Golden Knights also became just the third franchise to win at least eight rounds within its first six seasons in the NHL (regardless of series length), following the Oilers (12 of 16 series from 1979-80 to 1984-85) and Rangers (8 of 13 series from 1926-27 to 1931-32).
* The Golden Knights await the winner of the Oilers-Kings series, which will be decided either Saturday (with an EDM victory) or Monday (should it extend to Game 7). Vegas has never faced Edmonton in the postseason, but its first-ever playoff series came against Los Angeles – a 4-0 sweep in the 2018 First Round (their only meeting to date).

LIGHTNING EARN COMEBACK WIN, AVOID ELIMINATION
After the Maple Leafs took a 1-0 lead, the Lightning rallied with three straight goals – including the game winner by Nicholas Paul – and Andrei Vasilevskiy made 28 saves to help his club stave off elimination and head home with the chance to even the series. Tampa Bay overcame a deficit to win a playoff game when facing elimination for the fourth time in franchise history and the second time against Toronto (Game 6 of 2022 R1 vs. TOR, Game 6 of 2011 CF vs. BOS & Game 6 of 2011 CQF vs. PIT).

* Paul, who also netted the winner against Toronto in Game 7 of the 2022 First Round, has scored three career goals in potential series-elimination games with Tampa Bay. Only three players in Lightning history have more: Steven Stamkos (5), Brad Richards (5) and Ondrej Palat (4).

* Vasilevskiy,whoearned his 65th career playoff win and tied Dominik Hasek for 12th place on the NHL's all-time list, boasts a 5-1 record in potential series-elimination games since 2020 (1.59 GAA, .944 SV%). Only two other goaltenders have as many wins as Vasilevskiy when facing elimination over that span: New York's Igor Shesterkin (5-2) and Montreal's Carey Price (5-2).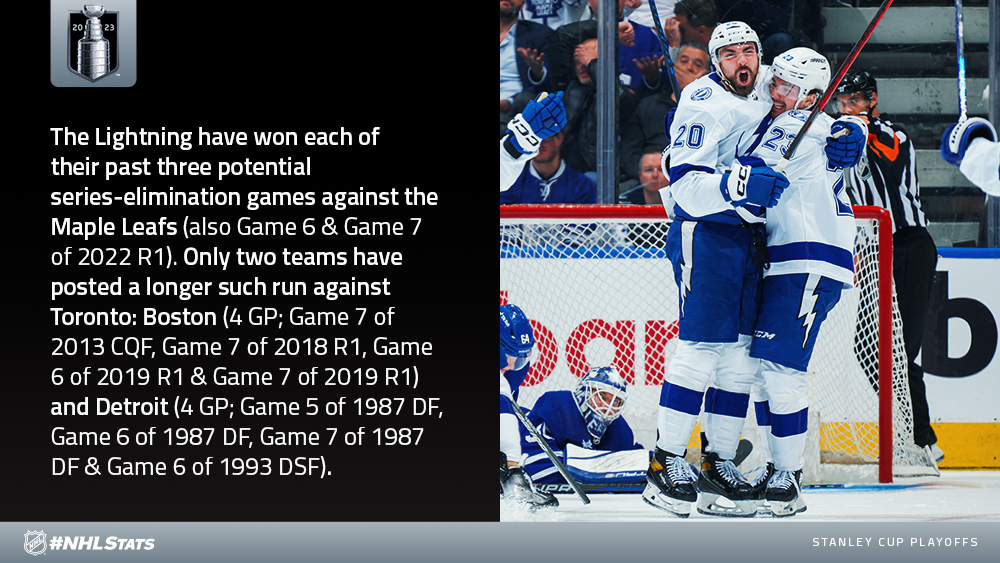 SCHMID POSTS SHUTOUT AS DEVILS TAKE SERIES LEAD
After Ondrej Palat (1-0—1)scored just 39 seconds into the game, Dawson Mercer (1-1—2) kept New Jersey's momentum going by factoring on its next two goals while Akira Schmid (23 saves) recorded his first playoff shutout in just his third postseason game to help the Devils earn their third straight win to take a 3-2 series lead.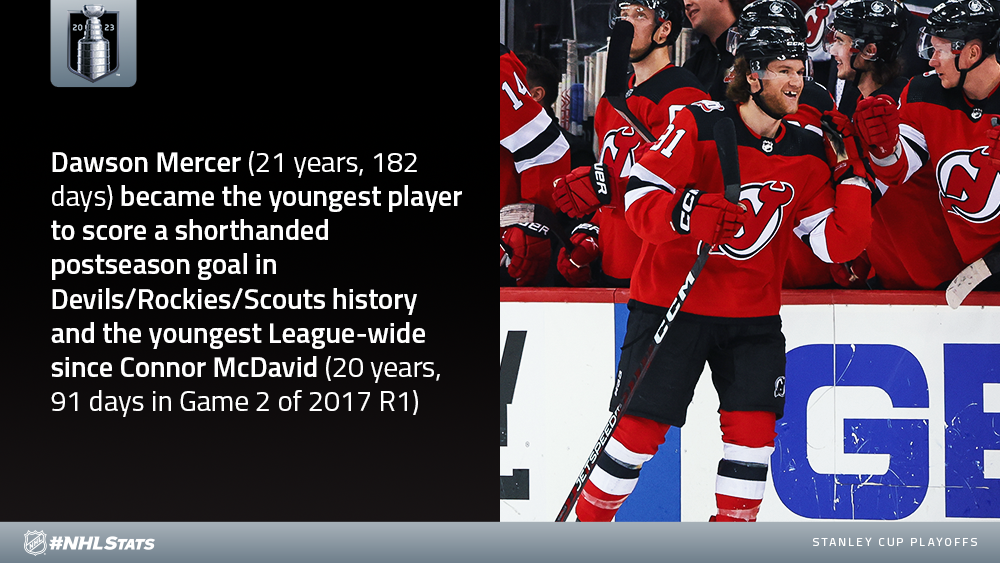 * Mercer became the third player in franchise history to score his first career postseason goal in shorthanded fashion, joining Denis Pederson (Game 4 of 1998 CQF) and Claude Loiselle (Game 2 of 1988 DSF).

* Schmid (3 GP), who has helped New Jersey claim three straight wins since Game 3, required the second-fewest appearances in Devils/Rockies/Scouts history to earn his first career postseason shutout, behind only Sean Burke (2 GP; Game 3 of 1988 DSF).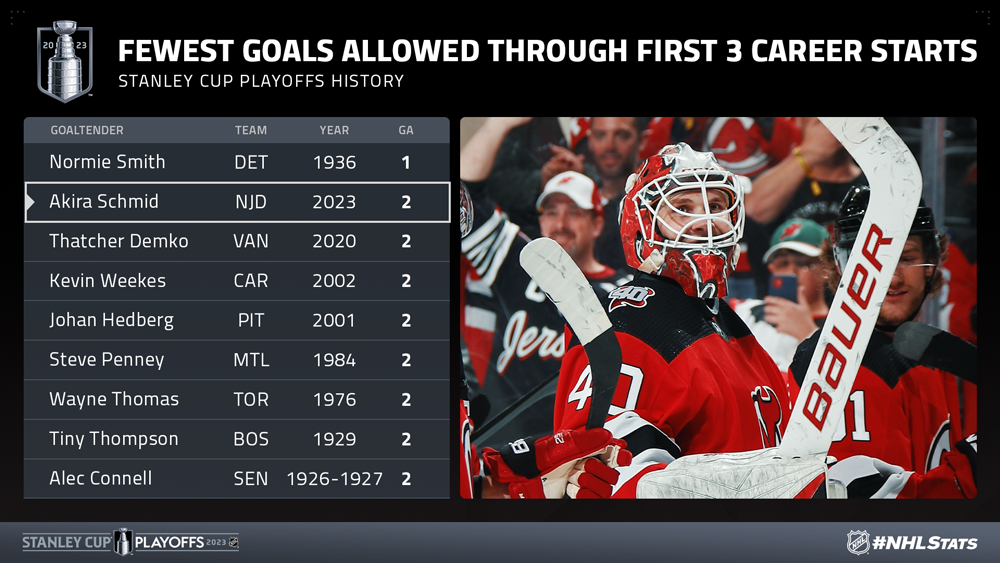 2023 PLAYOFF TRENDS FEATURED IN #NHLSTATS: LIVE UPDATES
Every contest from here on out in the First Round is an elimination game, with the potential for 14 to be played between Friday and Monday. A look at some of the trends heading into the next set of potential series-clinching contests is included below as well as in the latest edition of #NHLStats: Live Updates.

* Only four rounds in Stanley Cup Playoffs history have featured seven or more series of six-plus games: the 1991 Division Semifinals (8), 1992 Division Semifinals (8), 2010 Conference Quarterfinals (7) and 2022 First Round (7).

* Road teams are 24-16 to date (40 GP). The 24 such victories are tied with 2012 and 2011 for the most through the first 40 games of a single postseason.

* There have been 92 opening-minute goals in the regular season and playoffs combined. The only seasons with more such tallies are 1992-93 (98) and 2017-18 (96).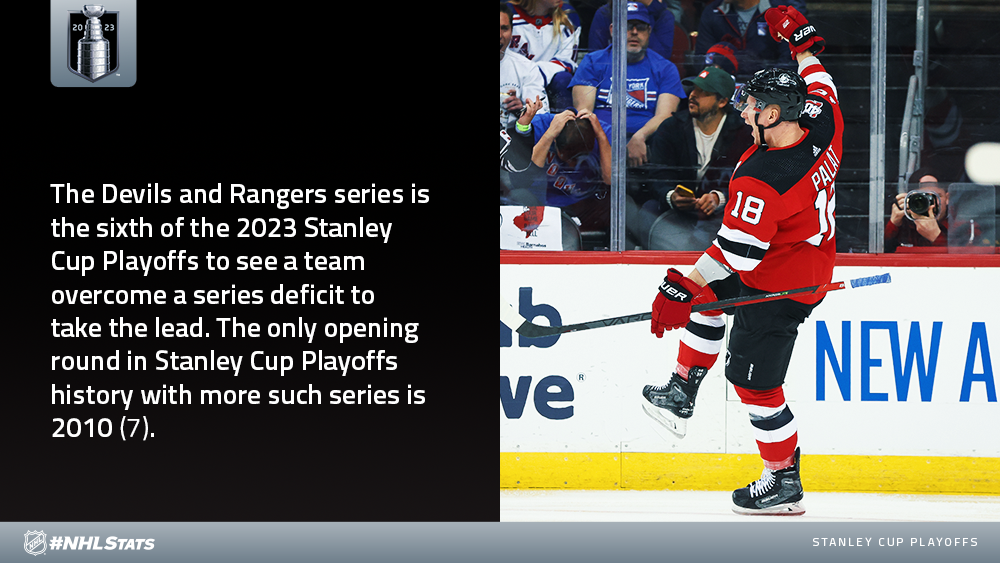 QUICK CLICKS

* Tye Kartye, parents each take long road to his NHL debut in Game 5 for Kraken
* Panthers-Bruins and Kraken-Avalanche Game 5s deliver impressive viewership results on ESPN
* Start times announced for Stanley Cup Playoff games on April 29
* Joe Pavelski game-time decision for Stars in Game 6 of First Round series
* NHL launches dynamic metaverse experience on Roblox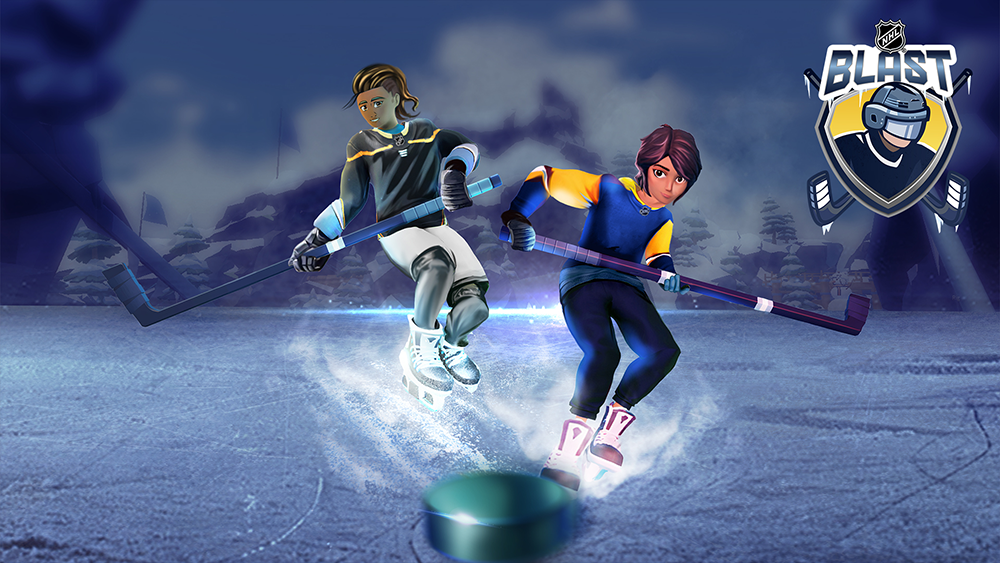 FRIDAY FEATURES FOUR FIRST ROUND GAME 6s
The Hurricanes, Bruins, Stars and Kraken can advance to the Second Round of the 2023 Stanley Cup Playoffs while the Islanders, Panthers, Wild and Avalanche can force this postseason's first winner-take-all showdowns as four pivotal Game 6s go Friday. Each contest is carried on TNT and TBS in the U.S. as well as on Sportsnet and TVA Sports programming in Canada.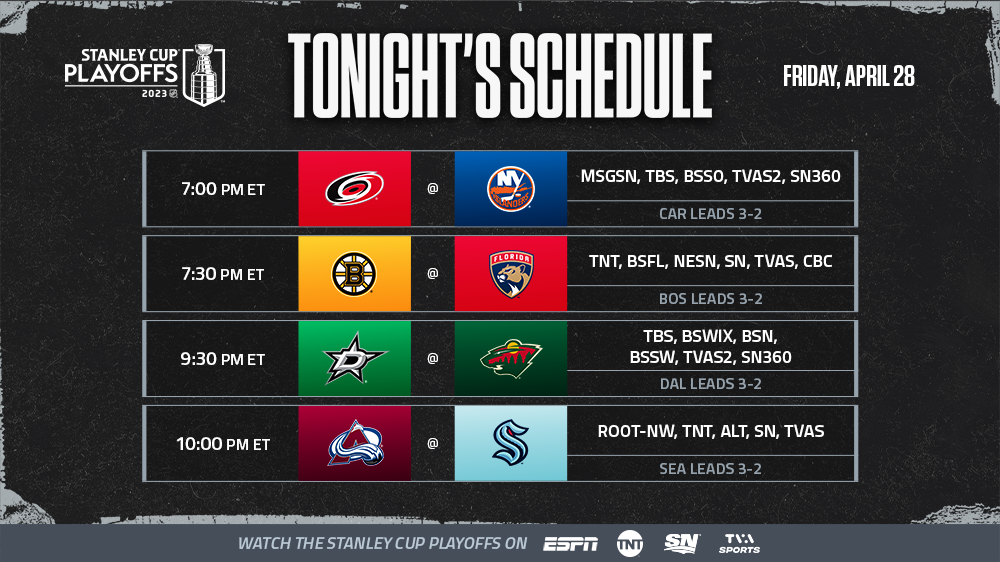 * Carolina will take another crack at earning its sixth series win over the last five years as the First Round between the Hurricanes and Islanders shifts back to UBS Arena, with the hosts contesting their first-ever potential elimination game at the venue. New York, which can force a Game 7 after facing a 3-1 series deficit for the fifth time in franchise history (also 1987 DF, 1987 DSF, 1975 SF & 1975 QF), owns the NHL's highest winning percentage in potential elimination games as the home team (17-6; .739 W%).

* Boston, which had its plans to advance foiled by Florida in Game 5, is headed back to Sunrise where they went 2-0 earlier in the First Round series and extended their active road winning streak to 10 contests (regular season & playoffs combined). The Bruins can earn wins during each of their first three road contests in a postseason for the second time in franchise history (also 4-0 in 1972), while the "Comeback Cats" look to stave off elimination once more and force their first Game 7 in over 11 years.

* Dallas blanked Minnesota in Game 5 and will look to close out its First Round series at Xcel Energy Center, where the hosts earned a shutout win of their own during the Wild's last potential elimination contest at the venue (Game 6 of 2021 R1). Minnesota has forced a winner-take-all showdown after facing a 3-2 series deficit four times in franchise history (2021 R1, 2014 R1, 2003 CSF & 2003 CQF) and earned its Game 6 win on home ice in each instance.

* Seattle returns to Climate Pledge Arena and will aim to secure a clinching win against Colorado, which never trailed a series during its Stanley Cup run last year and faces elimination for the first time since Game 6 of the 2021 Second Round. The Kraken, who joined the Blue Jackets (2009 CQF), Capitals (1983 DSF), Hartford Whalers (1980 PRLM) and New York Americans (1929 QF) as the fifth NHL franchise to contest their first-ever playoff round against a reigning champion, can become the first club in that group to win the series.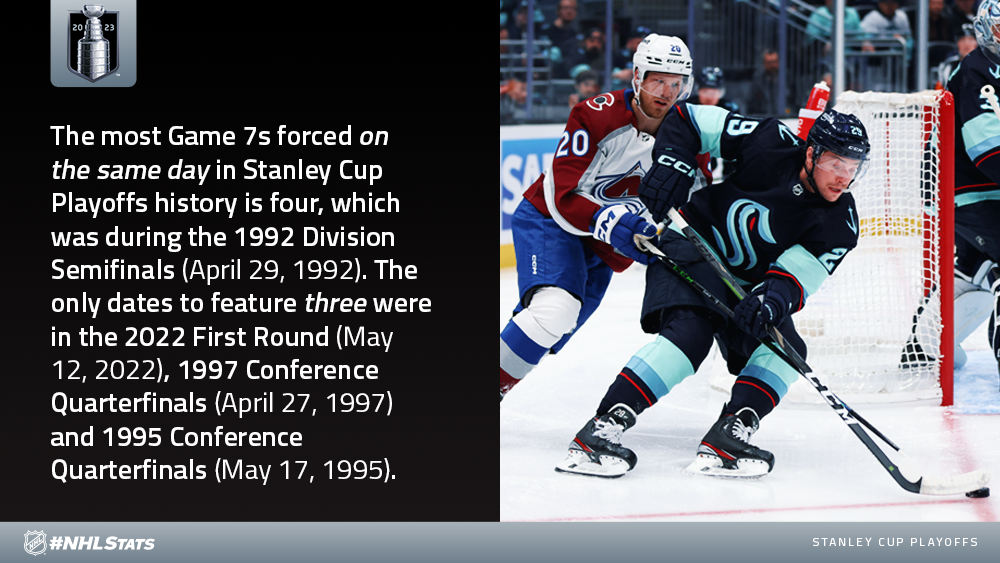 COURTESY NHLmedia.com