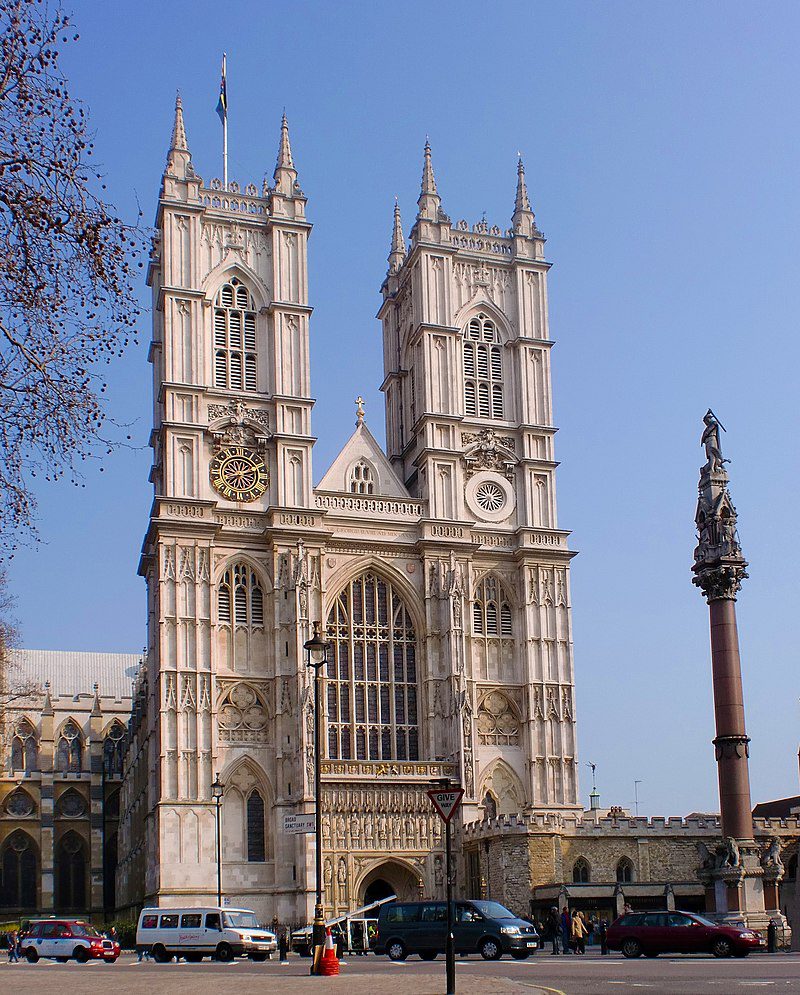 FROM WIKIPEDIA COMMONS
Westminster Abbey, formally titled the Collegiate Church of Saint Peter at Westminster, is an historic, mainly Gothic church in the City of Westminster, London, England, just to the west of the Palace of Westminster. It is one of the United Kingdom's most notable religious buildings and, since Edward the Confessor, a burial site for English and, later, British monarchs. Since the coronation of William the Conqueror in 1066, all coronations of English and British monarchs have occurred in Westminster Abbey.[5][6] Sixteen royal weddings have occurred at the abbey since 1100.
According to a tradition first reported by Sulcard in about 1080, a church was founded at the site (then known as Thorney Island) in the seventh century, at the time of Mellitus, Bishop of London. Construction of the present church began in 1245 on the orders of Henry III.
The church was originally part of a Catholic Benedictine abbey, which was dissolved in 1539. It then served as the cathedral of the Diocese of Westminster until 1550, then as a second cathedral of the Diocese of London until 1556. The abbey was restored to the Benedictines by Mary I in 1556, then in 1559 made a royal peculiar—a Church of England church responsible directly to the sovereign—by Elizabeth I.
The abbey is the burial site of more than 3,300 people, usually of prominence in British history: at least 16 monarchs, eight prime ministers, poets laureate, actors, scientists, military leaders, and the Unknown Warrior.
TODAY'S ALMANAC
Question of the Day
With the holidays here and pounds gained, how many calories do you have to burn to lose a pound of fat?
It takes about 3,500 calories to gain or lose a pound of fat. To give you an idea of how much energy it takes to "burn" a calorie, here are a few activities with the number of calories they burn per minute, per pound of body weight: fast ax chopping (or cross-country skiing uphill), 0.135; forking straw bales (or playing basketball), 0.063; window cleaning (or playing croquet), 0.026. So a 150-pound person forking straw bales burns 9.45 calories per minute, which means he or she must fork bales for six hours to lose one pound. (Though not listed, the one exercise guaranteed to burn calories is pushing one's chair away from the table!)
Advice of the Day
A whispering grove tells of a storm to come.
Home Hint of the Day
Clean rust spots off a countertop by rubbing in toothpaste (not the gel type) with your finger. Rub until the stain is gone, then rinse and wipe dry.
Word of the Day
Cryophobia
Fear of extreme cold, frost, or ice
Puzzle of the Day
What is that which everyone likes to have but wants to get rid of as soon as possible after he gets it?
A good appetite
Born
Woodrow Wilson (28th U.S. president) – 1856
Stan Lee (comic book writer) – 1922
Nichelle Nichols (American actress ) – 1932
Maggie Smith (actress) – 1934
Denzel Washington (actor) – 1954
Sienna Miller (actress) – 1981
Mackenzie Rosman (actress) – 1989
Maitreyi Ramakrishnan (actress ) – 2001
Died
Theodore Dreiser (American writer) – 1945
Sam Peckinpah (filmmaker) – 1984
John D. MacDonald (writer) – 1986
William L. Shirer (journalist) – 1993
William X. Kienzle (author) – 2001
Jerry Orbach (actor) – 2004
Debbie Reynolds (actress) – 2016
Events
Westminster Abbey in London was consecrated– 1065
Benjamin Franklin's paper, The Pennsylvania Gazette, ran an ad for the first issue of Franklin's own Poor Richard's Almanack– 1732
Vice President John Calhoun, having serious disagreements with President Andrew Jackson, resigned from office. He was the first U.S. vice president to do so.– 1832
Iowa admitted to the Union as the 29th state– 1846
Second chewing gum patent went to William Semple, a dentist in Mt. Vernon, Ohio– 1869
H. L. Mencken published A Neglected History bathtub hoax– 1917
First sudden-death overtime game in NFL, Baltimore Colts vs. N.Y. Giants– 1958
President Nixon signed the Endangered Species Act of 1973 into law. It provided broad protection for threatened species of fish, wildlife, and plants.– 1973
The Endangered Species Act was signed into law by President Nixon– 1973
Endangered Species Act approved– 1973
U.S. patent #4,000,000 was issued– 1976
Weather
Temperatures throughout Iowa hovered near 24 degrees below zero F– 1924
83 inches of snow on the ground in Bathurst, New Brunswick– 1978
A severe snowstorm with periods of near-zero visibility resulted in an incredible 1,000 traffic accidents in Michigan– 1987
31.5 inches of snow fell in 24 hours in Victoria, British Columbia– 1996
COURTESY www.almanac.com