NHL Public Relations
December 21, 2022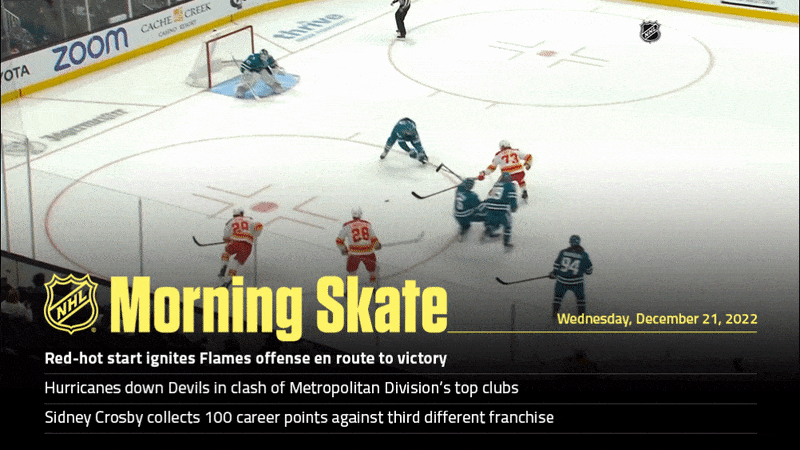 * The Flames scored a season-high seven goals, including two in the opening 30 seconds. Only four teams in NHL history have scored two faster goals to begin a game than Calgary did Wednesday.

* Streaking players continued their strings of success as Pyotr Kochetkov, Kyle Connor and Josh Morrissey led their teams to victory, which also included the Hurricanes ousting the Devils in a clash with their Metropolitan Division rival.

* Sidney Crosby posted a multi-point game and became the only active player with 100 or more points against three franchises as the Penguins defeated the Rangers.
* New Jersey is back in action on a seven-game Wednesday, with Jack Hughes looking to become the fourth Devils player since 2000 to post 80-plus points in a calendar year.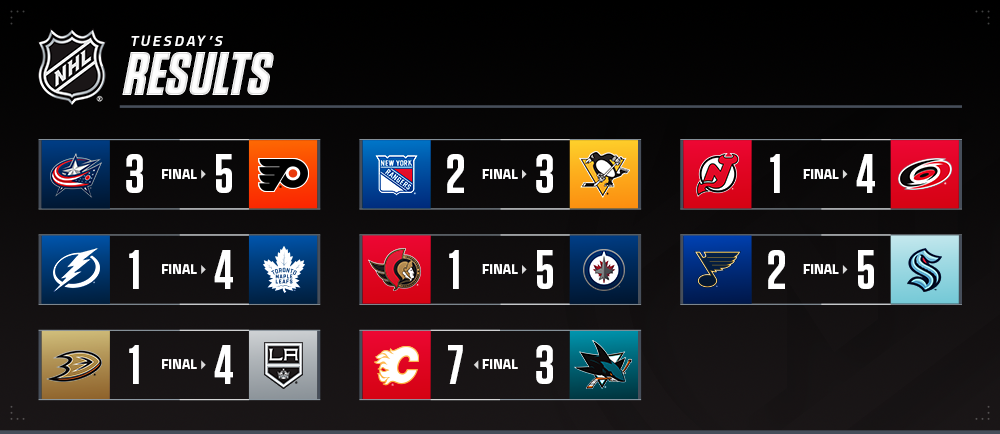 HOT START IGNITES FLAMES OFFENSE IN SEVEN-GOAL VICTORY
After a pair of goals in a span of 19 seconds helped the Flames down the Sharks on Dec. 18, Tyler Toffoli (0:15) and Dillon Dube (0:30) each scored within the opening 30 seconds Tuesday as Calgary's seven goals propelled the club to its second victory at SAP Center in as many contests. Only four teams in NHL history have scored two faster goals to begin a game.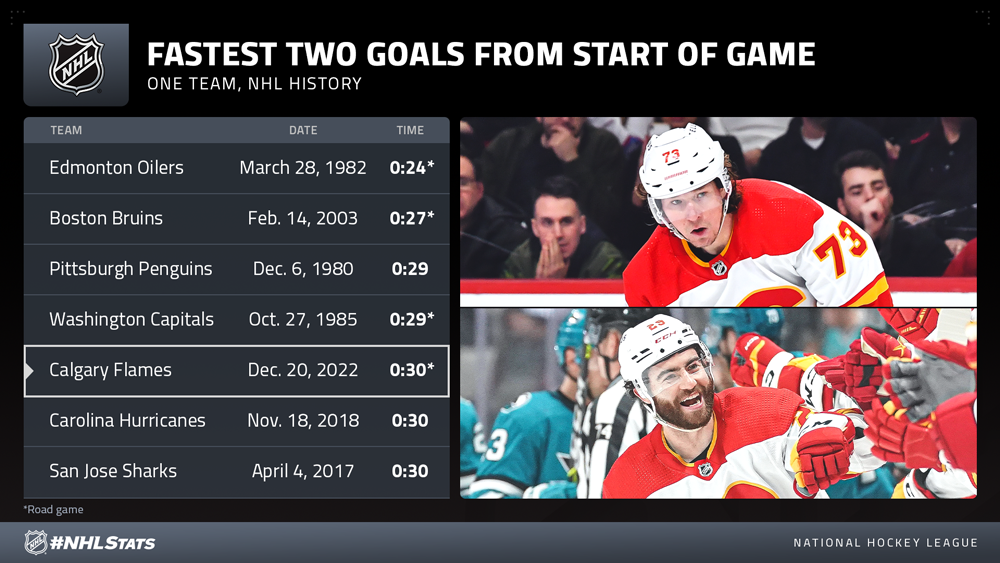 * The Flames were one of three teams to score in the first 25 seconds of a game Tuesday (also NYR: 0:22 & CAR: 0:20), marking just the second day in NHL history to feature three teams accomplish the feat (also WSH: 0:25, NYI: 0:19 & CBJ: 0:14 on Nov. 7, 2019).

* Jonathan Huberdeau (0-3—3) factored on three of his team's four goals in the final frame – his most points in a game since he joined the Flames – and fell one shy of the franchise record for most assists in any period (Gary Suter: 0-4—4 in P2, April 4, 1986). It also marked Huberdeau's ninth outing with at least three assists dating to 2021-22, tied with Nikita Kucherov and Roman Josi for the most among all players through that span.

HURRICANES, KOCHETKOV JUST KEEP ON STREAKING ON. . .
Pyotr Kochetkov saved 37 of 38 shots he faced to extend his point streak to 10 games (8-0-2), backstopping the Hurricanes to their sixth straight win and helping them stretch their point streak to 12 contests (10-0-2). Carolina (20-6-6, 46 points) earned a pivotal regulation win against New Jersey (21-9-2, 44 points) to maintain first place in the Metropolitan Division.

* The Hurricanes extended their winning streak to six games – the longest active run in the NHL – and have posted a longer run just seven times. Their 12-game point streak is now tied for the second longest in franchise history (also 12 GP in 2005-06), one shy of the most (13 GP in 2020-21 & 2016-17).

* Kochetkov, who already holds the franchise record for longest point streak by a rookie goaltender, tied Cam Ward (10 GP, 3x; last: 8-0-2 in 2017-18) for the longest run by a Hurricanes/Whalers netminder. Kochetkov (10-1-4) sits second in wins among rookie goaltenders this season, behind only Logan Thompson (14-8-0).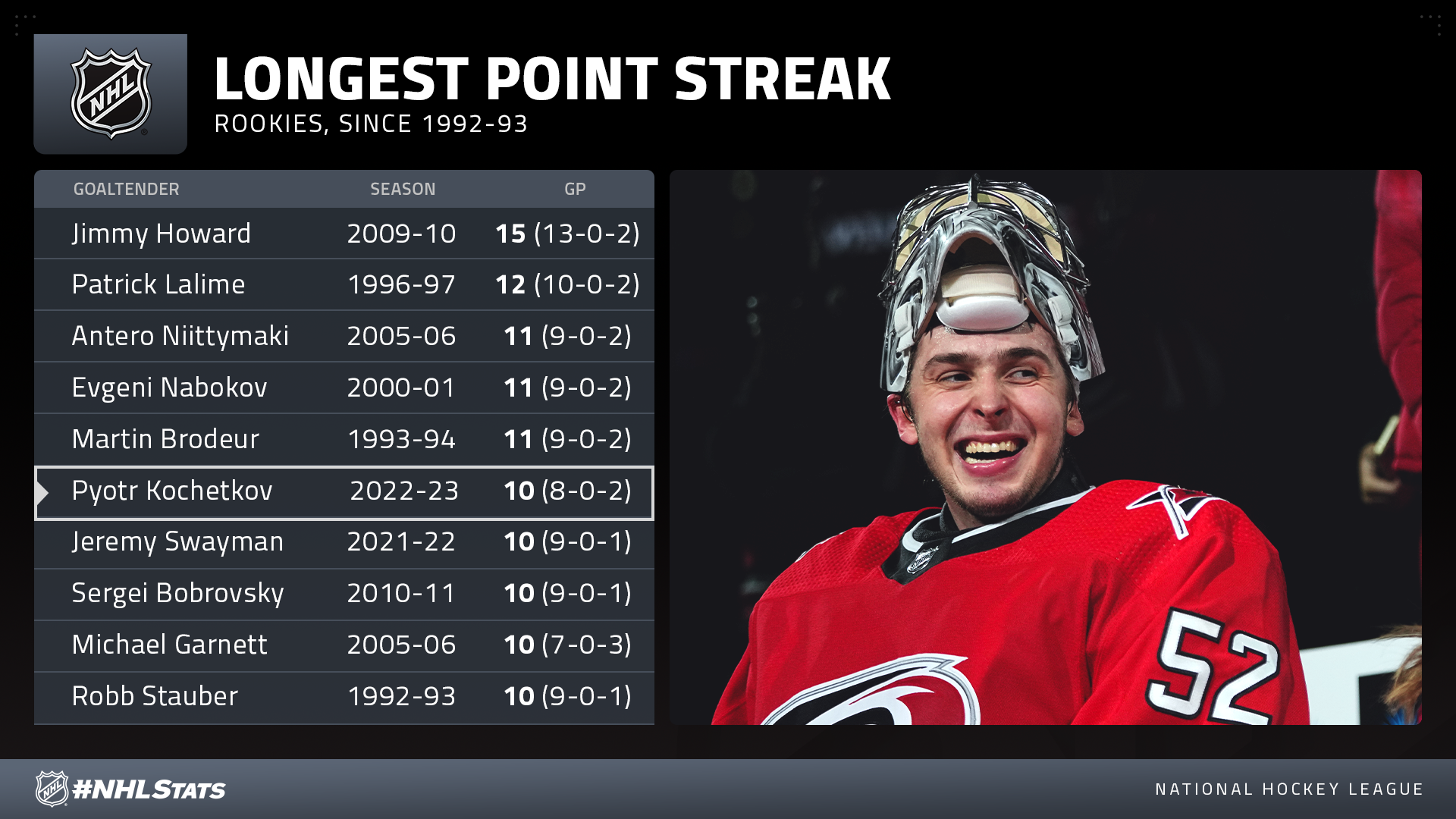 . . . WHILE CONNOR, MORRISSEY HELP JETS SOAR PAST SENATORS
Kyle Connor (2-1—3) and Josh Morrissey (1-1—2) scored three of five Jets goals to each extend their point streaks to 10 games and guide Winnipeg (21-10-1, 43 points) to its 12th home win of 2022-23 – only NHL-leading Boston (17-0-2) has more.

* Connor, who netted his 30th career multi-goal game and second this month (2-1—3 on Dec. 6), has found the back of the net seven times since Dec. 1 (7-10—17 in 11 GP). Tage Thompson (12 in 9 GP), Connor McDavid (10 in 10 GP) and Mikko Rantanen (8 in 10 GP) are the only skaters with more through that span.

* Morrissey (6-32—38 in 32 GP), with four game-winning goals, has found the score sheet in all but five contests this season with the Jets and has collected at least one assist in all but seven. While three defensemen posted a 10-game point streak in 2021-22, Morrissey is one of only nine different blueliners since 1986-87 to post a double-digit assist streak.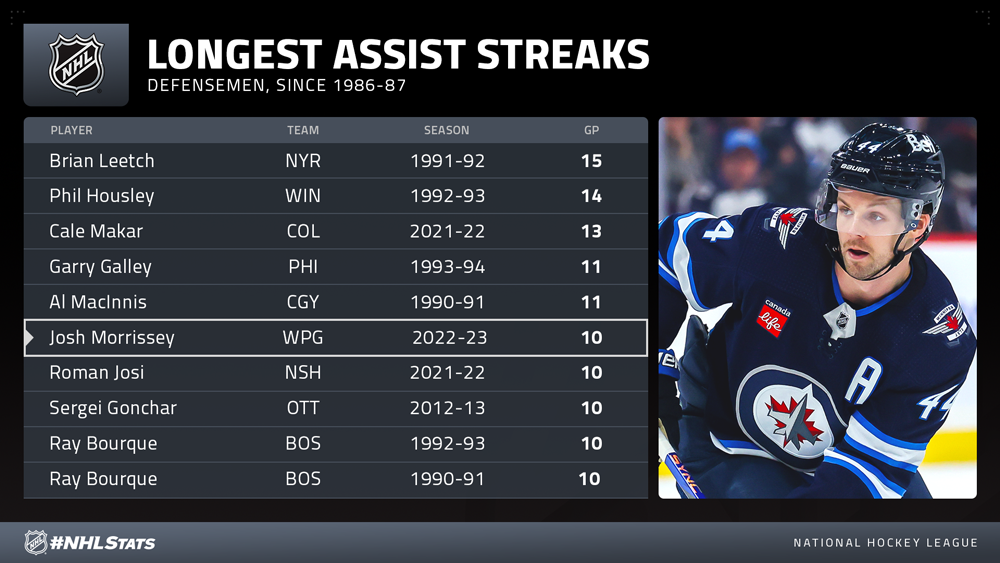 CROSBY PROPELS PENGUINS PAST RANGERS WITH MULTI-POINT PERFORMANCE
In their first meeting since the 2022 First Round, the Rangers took an early lead with a goal 22 seconds into regulation, but the Penguins rallied courtesy of captain Sidney Crosby (1-1—2) scoring the game winner and Tristan Jarry stopping 26 shots to lift Pittsburgh (19-9-4, 42 points) past New York (18-11-5, 41 points) in the Metropolitan Division standings.

* Crosby boosted his career regular-season totals versus the Rangers to 38-62—100 (79 GP) and became the second player in Penguins history with 100 points against the franchise, joining Mario Lemieux (61-71—132 in 70 GP). New York is the third franchise that Crosby has a triple-digit point total against, following the Islanders (40-88—128 in 78 GP) and Flyers (52-69—121 in 81 GP).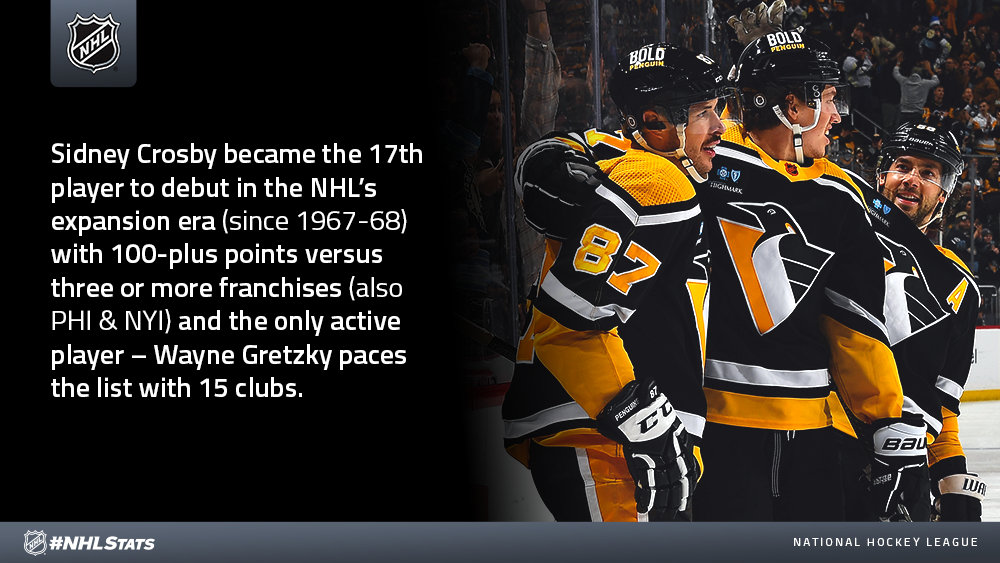 * Jarry extended his point streak to 13 games dating to Nov. 12 (11-0-2), tied with Ken Wregget (13 GP from Jan. 20 – Feb. 16, 1995) for the third longest in Penguins history behind Tom Barrasso (15 GP from March 9 – April 14, 1993) and Marc-Andre Fleury (14 GP from Nov. 12 – Dec. 11, 2010 & 14 GP from Jan. 13 – Feb. 16, 2007).

MARNER AND MATTHEWS HELP MAPLE LEAFS MARCH TO VICTORY IN LIVE UPDATES
The Tuesday edition of #NHLStats: Live Updates featured Mitchell Marner extending his home point streak to 13 games – the longest such run by a Maple Leafs skater since Mats Sundin (16 GP) in 2007-08 – and Auston Matthews scoring his League-leading 57th goal of the 2022 calendar year.

ICYMI: Matthews arrived at Scotiabank Arena sporting his ugly/not ugly Ryan Reynolds holiday sweater and wore matching skates during the game in support of SickKids Foundation. The contest concluded with the jumbotron showcasing all the kids in the stands who also wore the matching sweater Tuesday. Read more about the initiative here.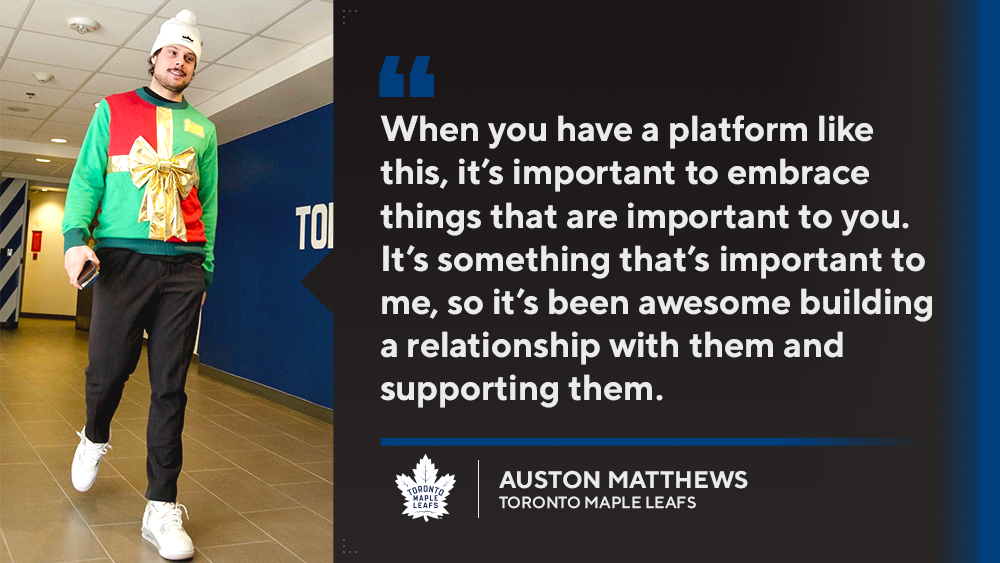 NOT ONE PATH: RADEK FAKSA
Radek Faksa is the most recent player to be featured in the Not One Path series, highlighting various unconventional paths to the NHL. For Faksa, that meant living in a hotel by himself for six years starting at just 11 years of age, paid for by HC Ocelari Trinec to lessen the financial burden for his single mother. Faksa said the experience was a positive one for his future as it helped him become independent.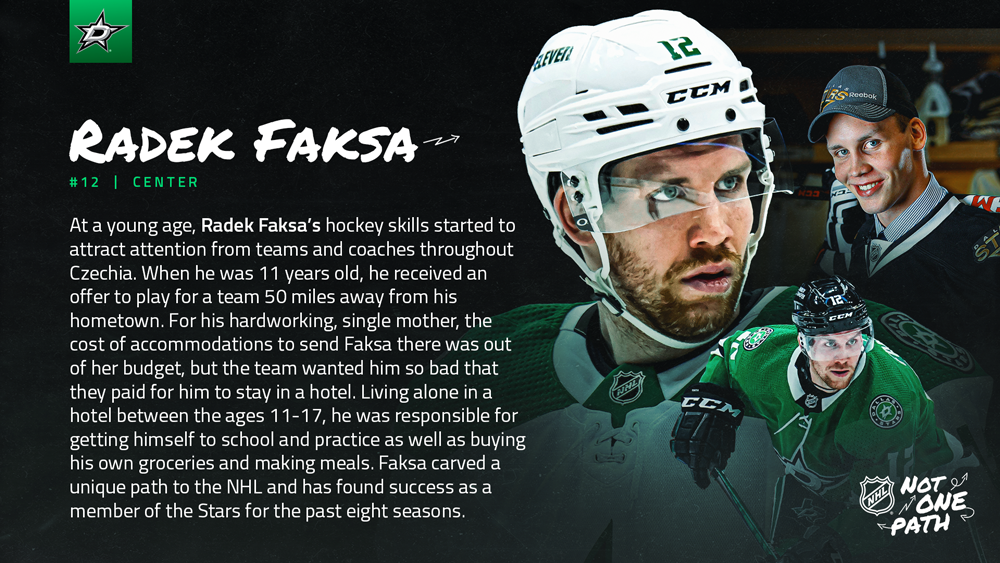 QUICK CLICKS

*Alex Ovechkin's legacy cemented with Capitals approaching next NHL milestone
* NHL signs multiyear Canadian partnership with BET99
* Luke Kunin out rest of season for Sharks after knee surgery
* Stuart Skinner's dream season as Oilers goalie continues with 3-year contract
WEDNESDAY'S TNT DOUBLEHEADER LOADED WITH STAR POWER
A seven-game slate on Wednesday will feature a pair of games on TNT packed with stars and top scorers including Jack Hughes and the Devils visiting Matthew Tkachuk and the Panthers followed by Jason Robertson and the Stars hosting the League's top-two points leaders in Connor McDavid and Leon Draisaitl. The Dallas-Edmonton game will also be seen nationally in Canada (SN1 & TVA Sports).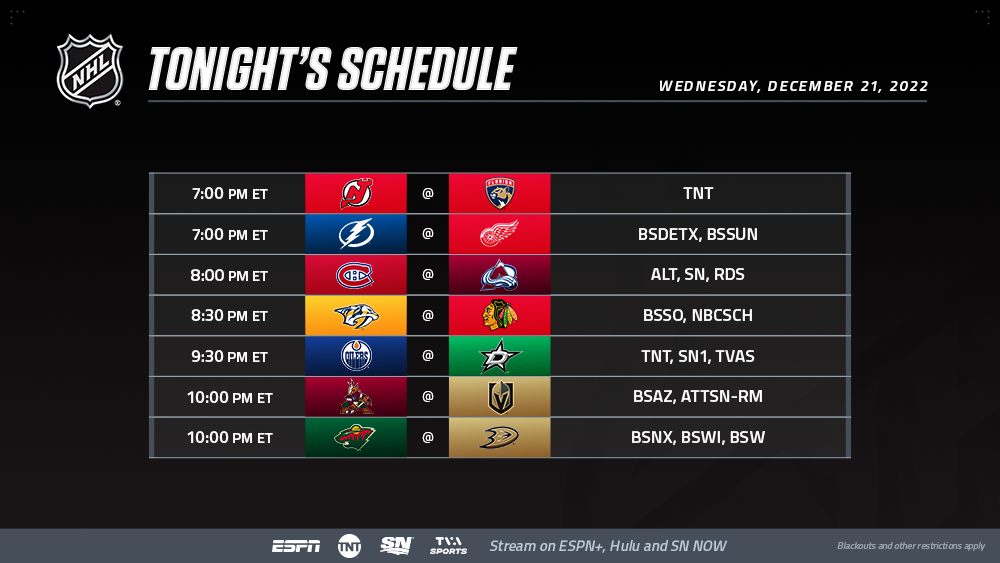 * Hughes (17-20—37 in 32 GP) leads all Devils skaters in goals and points in 2022-23 and has recorded 35-44—79 in 66 GP during the 2022 calendar year (1.20 P/GP). With one more point, he can become the fourth different Devils player since 2000 to post 80+ regular-season points in a calendar year. He would join Taylor Hall (94 in 2018), Zach Parise (92 in 2009) and Patrik Elias (3x; most recently 82 in 2006).

* In his first season with Florida, Tkachuk (14-25—39 in 30 GP) leads all Panthers skaters in assists and points. With a point in tonight's contest, he would become the second fastest to 40 points in a season in franchise history, behind only Pavel Bure (29 GP in 1999-00). Tkachuk (1.30 P/GP) is on pace to post his second consecutive 100-point season and the second ever by a Panthers player – Jonathan Huberdeau, the player he was traded for this past offseason, did so in 2021-22.

* Robertson (24-23—47 in 33 GP), who has been held off the score sheet just seven times in 33 appearances this season, ranks third in the League in goals and fourth (tied) in points. Robertson has recorded 15 multi-point games in 2022-23, tied with Draisaitl (15) for the second most in the NHL this season behind McDavid (19). One of those multi-goal performances included 1-2—3 in a 6-2 W at EDM on Nov. 5.

* McDavid (28-36—64 in 33 GP) and Draisaitl (21-33—54 in 33 GP), who have combined to win the Art Ross Trophy in five of the last six seasons, find themselves in familiar territory holding down the top two positions in the NHL scoring race. McDavid, who enters with the NHL's longest active point streak (12-17—29 in 13 GP), and Draisaitl have ranked Nos. 1-2 in the scoring race for 63% of the season to date (47 of 75 days) including 18 straight days dating to Dec. 3.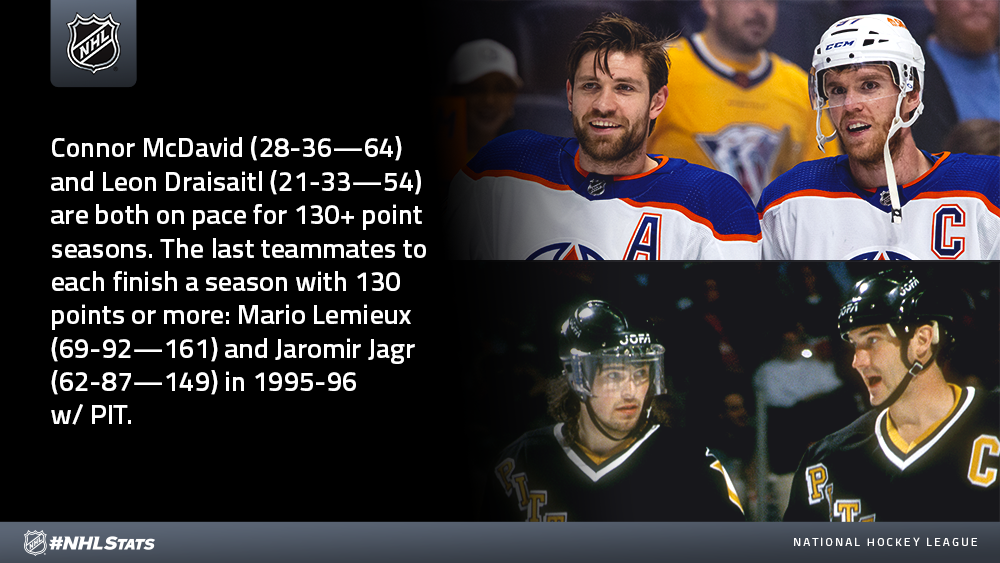 COURTESY NHLmedia.com