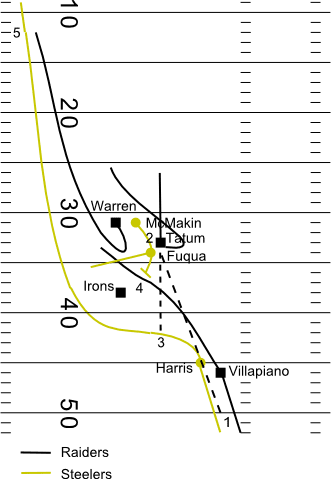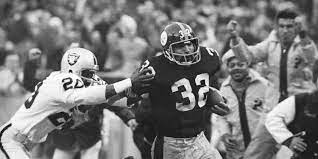 FROM WIKIPEDIA COMMONS
EVENTS OF THE FAMOUS PLAY
Trailing the Oakland Raiders 7–6, the Pittsburgh Steelers faced fourth-and-10 on their own 40-yard line with 22 seconds remaining in the game and no time-outs. Head coach Chuck Noll called a pass play, 66 Circle Option, intended for receiver Barry Pearson, a rookie who was playing in his first NFL game.
Steelers quarterback Terry Bradshaw (1 in diagram), under great pressure from Raiders linemen Tony Cline and Horace Jones, threw the ball to the Raiders' 35-yard line, toward halfback John "Frenchy" Fuqua. Raiders safety Jack Tatum collided with Fuqua just as the ball arrived (2). Tatum's hit knocked Fuqua to the ground and sent the ball sailing backward several yards, end over end.
Steelers fullback Franco Harris, after initially blocking on the play, had run downfield in case Bradshaw needed another eligible receiver. After Bradshaw threw the pass towards Fuqua, Harris recounted the advice of his college football coach Joe Paterno, who always told his players "Go to the ball." Harris, in the vicinity of the deflected pass, scooped up the sailing ball just before it hit the ground (3). Harris ran past Raiders linebacker Gerald Irons, while linebacker Phil Villapiano, who had been covering Harris, was blocked by Steelers tight end John McMakin (4). Harris used a stiff arm to ward off Raiders defensive back Jimmy Warren (5), and went in for a touchdown. The touchdown gave the Steelers a 13–7 lead when Roy Gerela added the ensuing extra point.
TONIGHT'S MATCHUP
COURTESY WIKIPEDIA COMMONS & NFLmedia.com