NHL Public Relations
December 20, 2022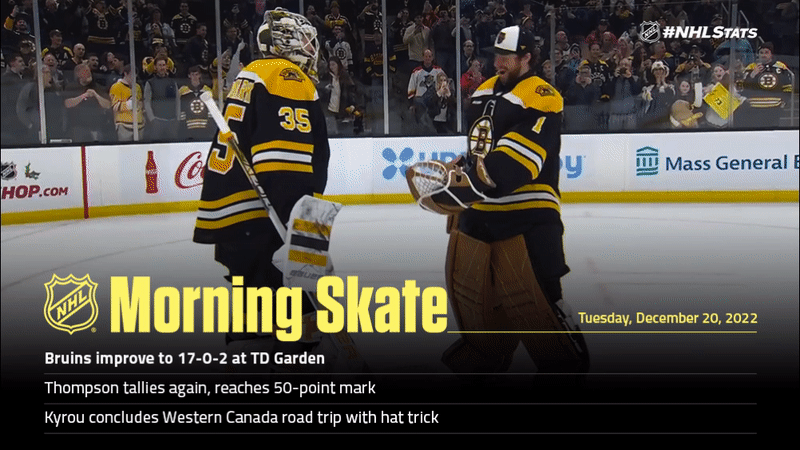 * Patrice Bergeron became the oldest Bruins player with a four-point game since 2012 as several streaks were extended at TD Garden.

* Tage Thompson tallied his 26th goal of the season to move within two of League leader Connor McDavid in the 2022-23 Maurice "Rocket" Richard Trophy race.

* A Capitals veteran with a surname that begins with the letter "O" scored a noteworthy goal to climb an all-time list Monday… but it was Alex Ovechkin's longtime teammate Dmitry Orlov this time!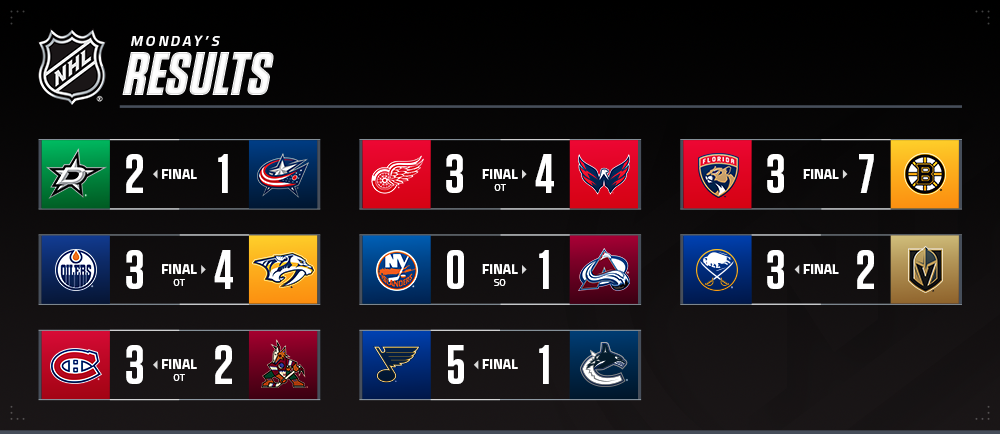 BERGERON HAS FOUR POINTS AS BRUINS, PASTRNAK AND ULLMARK CONTINUE TO ROLL
Patrice Bergeron (2-2—4) factored on four of the League-leading Bruins' season-high seven goals to record his first four-point game of the campaign and help Boston improve to 17-0-2 (36 points) at TD Garden in 2022-23. The Bruins' 19-game season-opening home point streak is two contests shy of the franchise record (19-0-2 in 21 GP from Oct. 10, 1973–Jan. 10, 1974).

* Bergeron (37 years, 148 days) became the oldest Boston player with a four-point game since Brian Rolston over 10 years ago (39 years, 27 days on March 19, 2012). The only other skaters in franchise history with at least one four-point game at age 37 or older are Johnny Bucyk (7x; last: March 11, 1976), Jean Ratelle (4x; last: March 12, 1980), Mark Recchi (April 9, 2009), Ray Bourque (Oct. 28, 1999) and Dit Clapper (Feb. 17, 1945).

* Bergeron provided the primary assist on the winning goal by David Pastrnak (7-4—11 in 9 GP), who extended his point streak to nine games and moved within one of his sixth double-digit run in the NHL. Linus Ullmark (36 saves) also extended a noteworthy streak Monday, improving to 11-0-1 in 13 home appearances this season with a 1.84 goals-against average and .939 save percentage.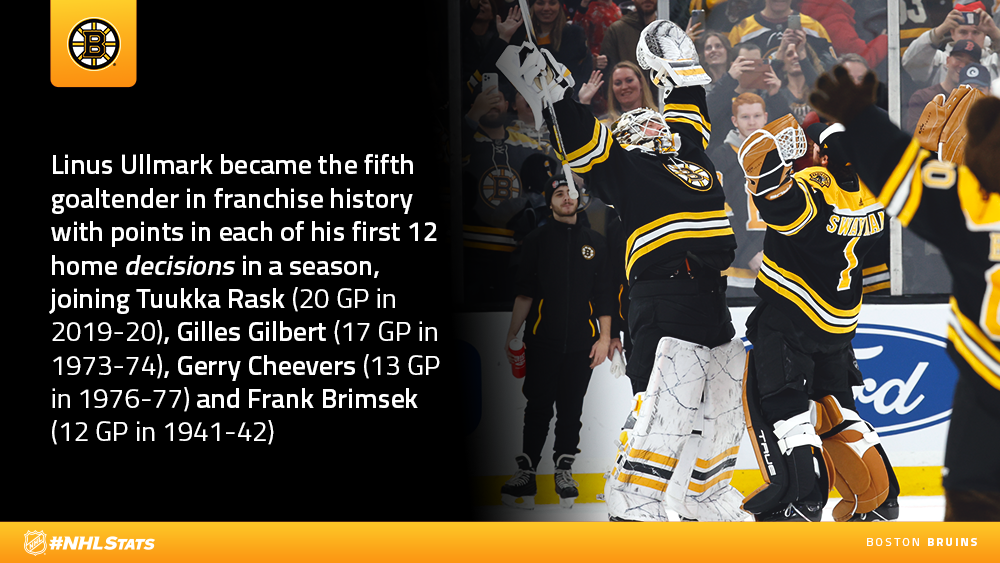 THOMPSON TALLIES 50TH POINT AS SABRES WIN FOURTH STRAIGHT
Tage Thompson (26-24—50 in 32 GP) scored his team-leading 26th goal of the season to reach the 50-point mark and help the Sabres claim their fourth straight victory. Thompson joined Connor McDavid (28-36—64 in 33 GP) and Leon Draisaitl (21-33—54 in 33 GP) as the third NHL player to record 50 points this season.

* Thompson (12-9—21 in 9 GP) has tallied 21 points in nine games since Dec. 1. He matched Gilbert Perreault (December 1976; 8-13—21 in 11 GP)and Rene Robert (December 1972; 11-10—21 in 10 GP)for the second-most points by a Sabres skater in a single month of December, behind only Alexander Mogilny (December 1992; 17-6—23 in 9 GP). Buffalo contests four more games before the New Year.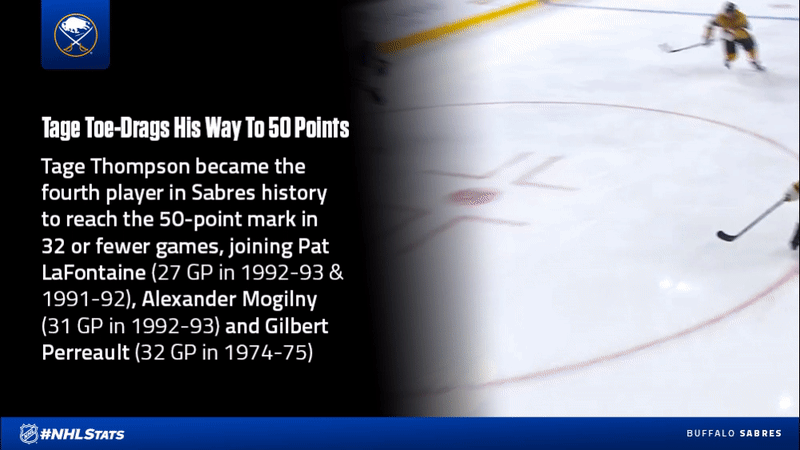 DEFENSEMEN LIFT CAPITALS TO MULTI-GOAL COMEBACK VICTORY VERSUS RED WINGS
Nic Dowd (2-1—3) delivered two tallies in an 11-second span and Erik Gustafsson (1-1—2) also got a game-tying goal as Washington overcame deficits of 2-0 and 3-2 before Dmitry Orlov's overtime winner to complete the comeback.

* Gustafsson (4-1—5 in 2 GP) became the fourth defenseman in franchise history with four goals over a two-game span during the regular season, joining Mike Green (4-1—5 in 2 GP from Feb. 7-11, 2009), Sergei Gonchar (4-1—5 in 2 GP from Jan. 4-6, 2000) and Kevin Hatcher (4-1—5 in 2 GP from Jan. 9-13, 1993). Al Iafrate also achieved the feat with the Capitals in the 1993 Stanley Cup Playoffs.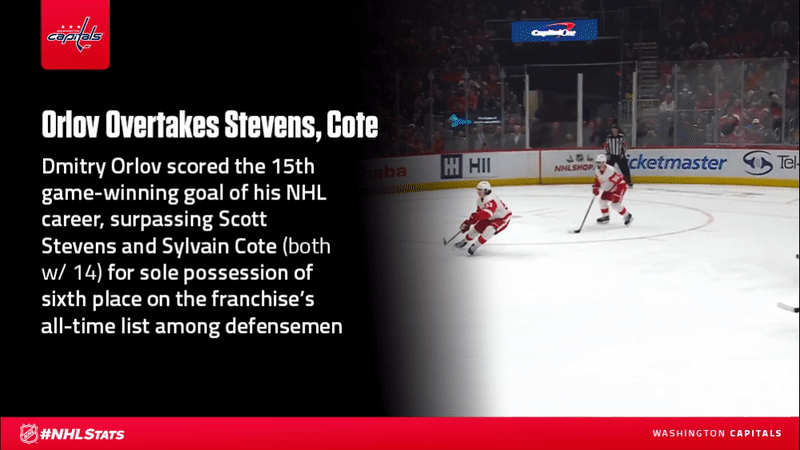 CENTRAL DIVISION CLUBS GOING 4-0-1 FEATURED IN #NHLSTATS: LIVE UPDATES
Monday's edition of #NHLStats: Live Updates featured more notes from the eight-game slate, with all five Central Division teams in action picking up points including the Blues and Stars:

* Jordan Kyrou (6-3—9 in 3 GP) scored the first hat trick of his NHL career and concluded the Blues' Western Canada road trip with six goals and nine points. His six goals marked the most by a St. Louis player during a three-game Western Canada road trip, eclipsing the previous high of five by Brett Hull (5-4—9 in 3 GP from Feb. 12-17, 1991) and Brad Boyes (5-1—6 in 3 GP from March 8-11, 2008).

* Jake Oettinger made 27 saves to backstop the Stars to a one-goal victory while appearing in his 100th career NHL game (54-27-11, 2.44 GAA, .915 SV%). Oettinger's 54 wins are the second most by a Stars/North Stars goaltender prior to their 25th birthday, trailing only Don Beaupre (99 in 224 GP w/ MNS). Of note, Oettinger just celebrated his 24th birthday on Dec. 18.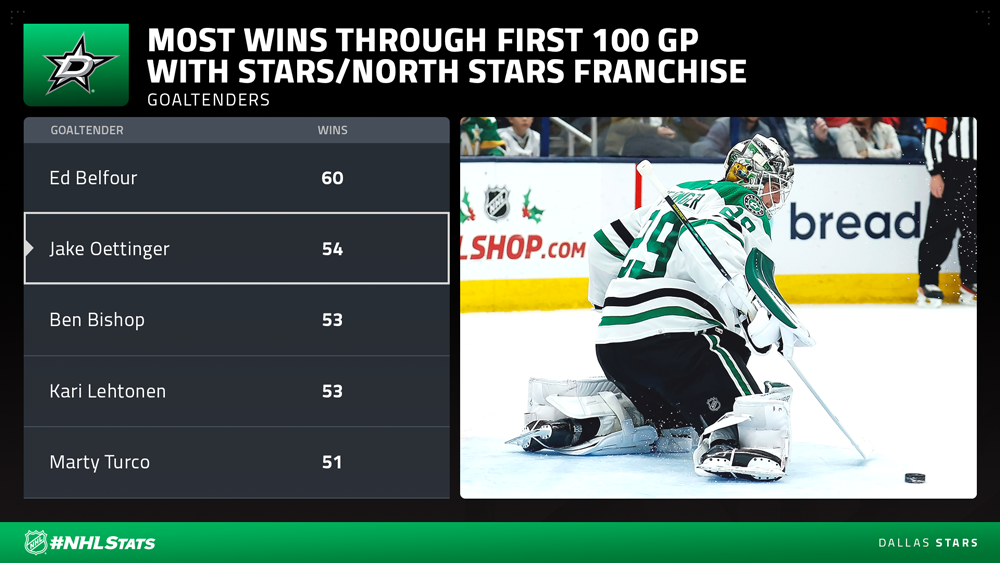 #NHLSTATS: 2022 YEAR IN REVIEW
#NHLStats has released an early edition of the Year in Review as the final days of 2022 wind down – a year that will see the most games in NHL history (1,502 regular season & playoffs combined through Dec. 31). Take a look back on the year that was by clicking here.
All stats are through games completed Dec. 18 and will be updated again on Dec. 31.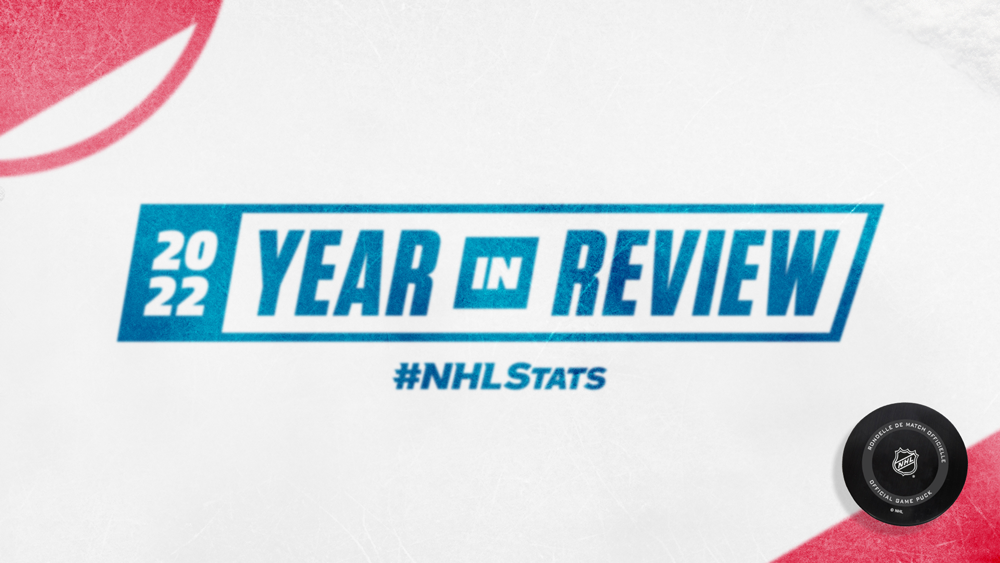 2023 DISCOVER NHL WINTER CLASSIC COVERAGE

* #NHLStats Pack: 2023 Discover NHL Winter Classic
* Winter Classic ice truck arrives at Fenway Park ahead of Bruins-Penguins
* 2023 Winter Classic rendering for Fenway Park unveiled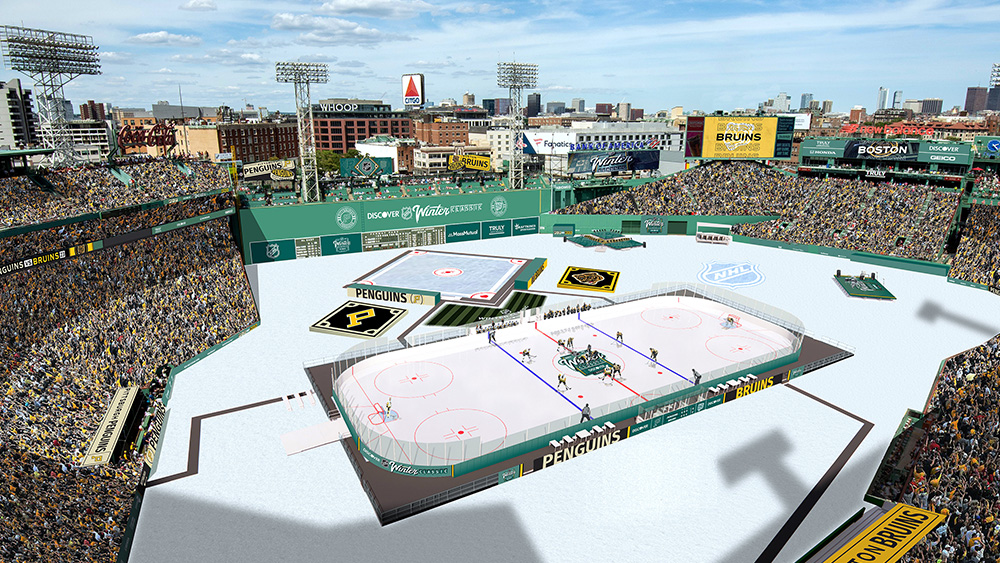 QUICK CLICKS

* Alex Ovechkin, Tage Thompson and Mats Zuccarello named NHL's "Three Stars" for the week
* Tomas Hertl suspended two games for high-sticking
*Hilary Knight talks Dream Gap Tour, 2026 Olympics in Q&A with NHL.com
* Maple Leafs invite children's hospital patients, families to practice
* Women in Hockey: Julie Gamble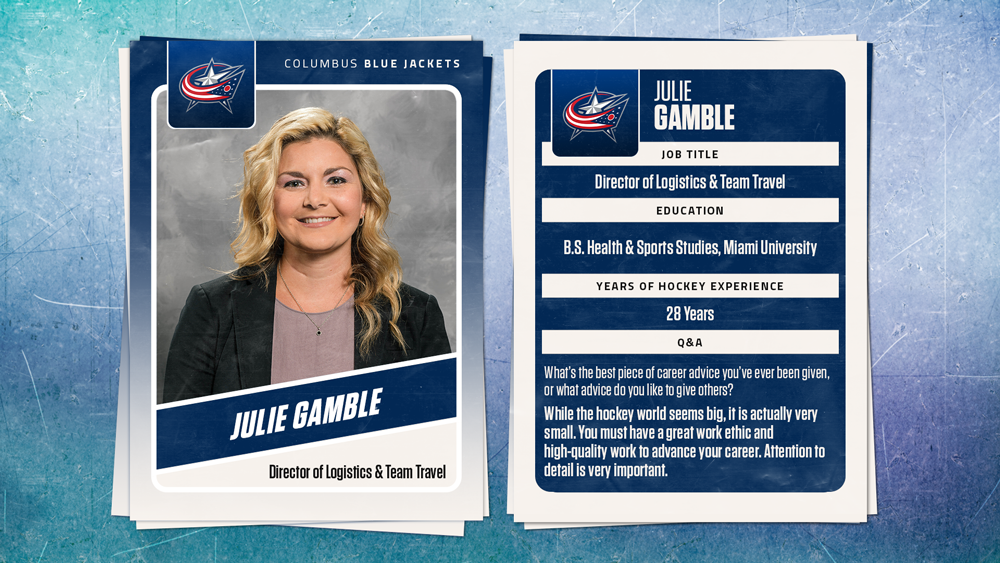 TOP TEAMS IN METROPOLITAN DIVISION SQUARE OFF TUESDAY
The top four teams in the Metropolitan Division are separated by just four points and will all face another team in that grouping as part of Tuesday's eight-game slate: Carolina (19-6-6, 44 points) hosts New Jersey (21-8-2, 44 points) with first place in the division on the line, while the Rangers (18-10-5, 41 points) visit the Penguins (18-9-4, 40 points) as they jockey for third.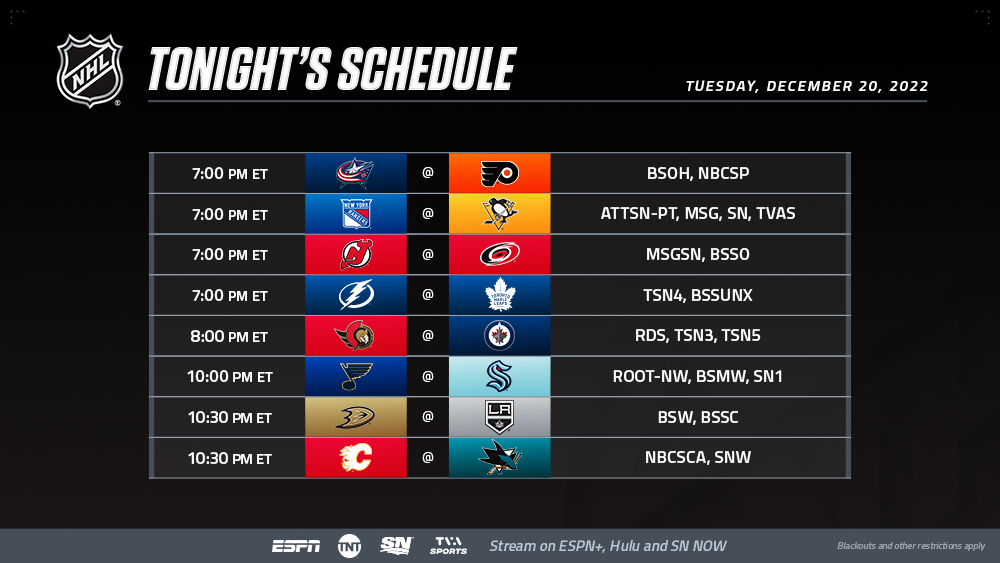 * The Metropolitan boasts the longest winning streak by any team this season (NJD: 13 GP from Oct. 25–Nov. 21), the longest active winning streak (NYR: 7 GP dating to Dec. 5) and the longest active point streak (CAR: 9-0-2 in 11 GP dating to Nov. 25).
* The Rangers aim to register a win streak of eight or more games within a regular season for just the seventh time in franchise history – they have done so just twice in the last 47 years (9 GP in 2015-16 and 8 GP in 2014-15).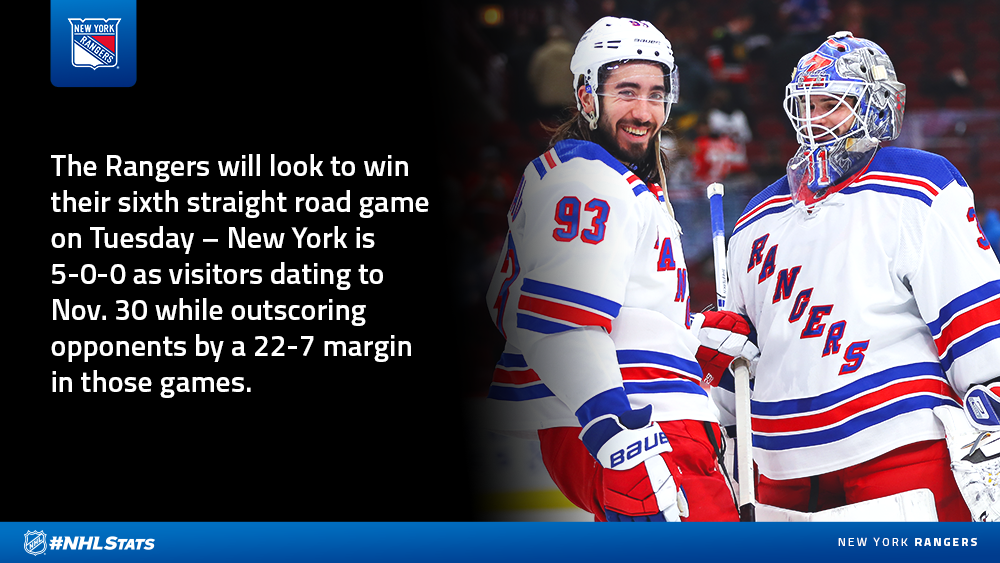 COURTESY NHLmedia.com