FROM WIKIPEDIA COMMONS
The Canadian National Railway Company (French: Compagnie des chemins de fer nationaux du Canada) (reporting mark CN) is a Canadian Class I freight railway headquartered in Montreal, Quebec, which serves Canada and the Midwestern and Southern United States.
CN is Canada's largest railway, in terms of both revenue and the physical size of its rail network, spanning Canada from the Atlantic coast in Nova Scotia to the Pacific coast in British Columbia across approximately 20,400 route miles (32,831 km) of track. In the late 20th century, CN gained extensive capacity in the United States by taking over such railroads as the Illinois Central.
CN is a public company with 22,600 employees, and as of July 2019 it has a market cap of approximately CA$90 billion. CN was government-owned, having been a Canadian Crown corporation from its founding in 1919 until being privatized in 1995. As of 2019, Bill Gates is the largest single shareholder of CN stock, owning a 14.2% interest through Cascade Investment and his own Bill and Melinda Gates Foundation.
From 1919 to 1978, the railway was referred to as "Canadian National Railways" (CNR).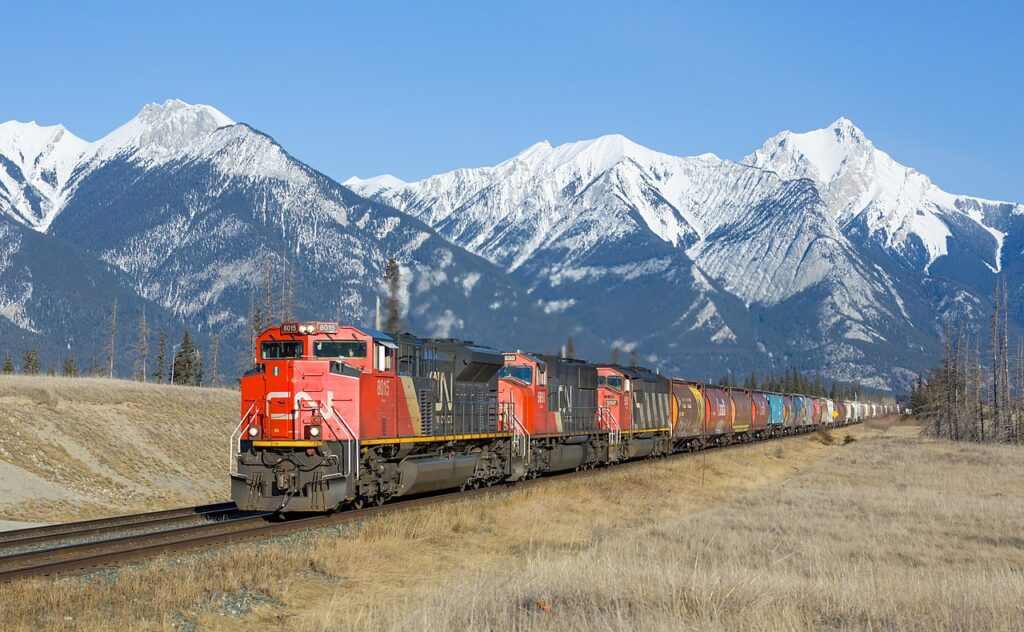 TODAY'S ALMANAC
Question of the Day
When making meringue pie, should refrigerated eggs or room temperature eggs be used?
Use eggs at room temperature next time you make a meringue pie. Cold eggs cause problems in foam and sponge recipes because, when beaten, they do not increase in volume as much as warm eggs do. In general, all ingredients should be brought to room temperature (between 65 and 70°F) before baking.
Advice of the Day
To prevent seasickness, carry a pouch of roasted salt in your pocket.
Home Hint of the Day
To get any part of your project perfectly vertical, hang a plumb line. A plumb line is a heavy object on a string. When the object is at rest, the string is perfectly vertical. For the most accurate readings, use a tool called a plumb bob.
Word of the Day
Alaska
Alaska's name comes from an Aleut word meaning "great land."
Puzzle of the Day
What flowers can be found between the nose and chin?
Tulips (two lips)
Born
Harvey Samuel Firestone (tire manufacturer) – 1868
Irene Dunne (actress) – 1898
George Roy Hill (director of film) – 1922
Nicole DeBoer (actress) – 1970
Jonah Hill (actor) – 1983
JoJo (singer) – 1990
Died
Bobby Darin (singer) – 1973
Arthur Rubenstein (pianist) – 1982
Carl Sagan (astronomer) – 1996
J. Russell Coffey (oldest known U.S. veteran of World War I) – 2007
Robert Mulligan (director) – 2008
Brittany Murphy (actress) – 2009
Steve Landesberg (actor) – 2010
Events
Operation of first successful water-powered cotton spinning mill in U.S. began, Pawtucket, Rhode Island– 1790
Louisiana Purchase finalized– 1803
Missouri imposed a $1 tax on bachelors– 1820
South Carolina seceded from the Union– 1860
Name Canadian National Railways" was authorized"– 1918
24-lb. 8-oz. horse-eye jack caught, Miami, Florida– 1982
California angler caught 230-pound Nile perch in Lake Nasser, Egypt– 2000
Weather
Temperatures in central Illinois dropped from 40 to 0 degrees F in a sudden cold snap that was said to freeze chickens in their tracks– 1836
Snowstorm began in Denver, Colorado, that delivered up to 30 inches of snow– 2006
COURTESY www.almanac.com