NHL Public Relations
December 17, 2022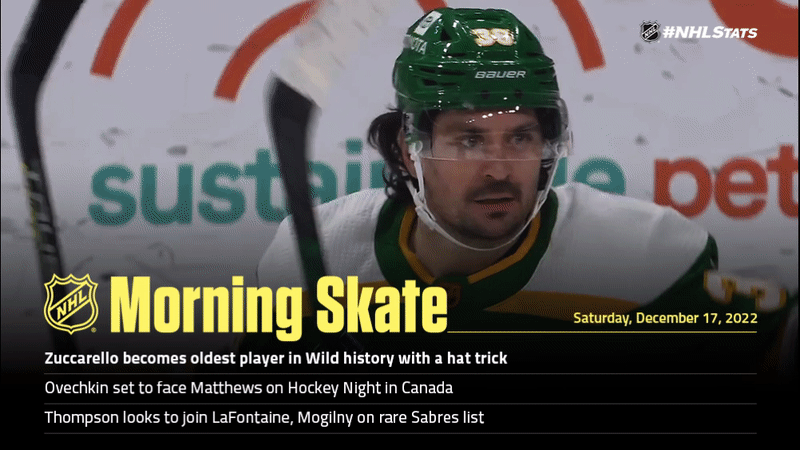 * Will The Great Eight tie Mr. Hockey on the NHL's all-time goals list Saturday? Alex Ovechkin, who sits one back of Gordie Howe, has tallied eight times in head-to-head games with Auston Matthews but will be facing a familiar face who enters the contest with two straight shutouts.

* Saturday's slate is set to feature several other games involving noteworthy players including this season's first head-to-head contest between Connor McDavid and Trevor Zegras, who are likely to find themselves on numerous "Plays of the Year" reels as 2022 comes to a close.

* Wild forward Mats Zuccarello, Coyotes forward Clayton Keller and Blues forward Jordan Kyrou each scored multiple goals in wins Friday.

SATURDAY HIGHLIGHTED BY OVECHKIN VS. MATTHEWS ON HOCKEY NIGHT IN CANADA
Saturday's 13-game slate is highlighted by the 15th regular-season meeting between the NHL's newest member of the 800-goal club Alex Ovechkin and two-time reigning Maurice "Rocket" Richard Trophy winner Auston Matthews as Washington (15-13-4, 34 points) welcomes Toronto (19-6-6, 44 points) to Capital One Arena.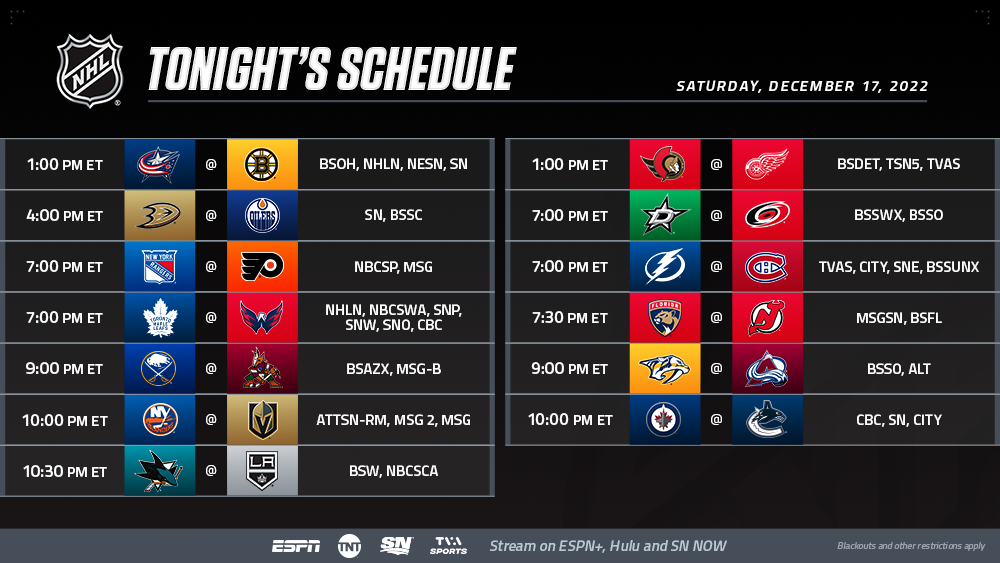 * Ovechkin (800-645—1,445 in 1,306 GP), who needs one tally to tie Gordie Howe (801-1,049—1,850 in 1,767 GP) on the NHL's all-time goals list and two to leapfrog Mr. Hockey for sole possession of second place in League history, has 8-8—16 in his previous 14 head-to-head games with Matthews. Matthews (6-10—16 in 14 GP) owns the edge for both assists and wins in those contests (TOR: 8-4-2, 18 points; WSH: 6-7-1, 13 points).

* Ovechkin is set to contest his second head-to-head game with Maple Leafs goaltender and former teammate Ilya Samsonov (also Oct. 13), who has blanked opponents in each of his last two appearances and owns an active shutout sequence of 152:34 dating to Nov. 30. A total of 165 goaltenders have yielded a regular-season goal to Ovechkin, but Samsonov is not one of them.

THOMPSON CAN REACH 25-GOAL MARK IN RETURN TO ARIZONA
Tage Thompson (24-22—46 in 30 GP) can join Connor McDavid (27-33—60 in 31 GP) as the second NHL player to score 25 goals this season when the Sabres (14-14-2, 30 points) tangle with the Coyotes (10-14-4, 24 points) in Buffalo's first-ever visit to Mullett Arena. Thompson would become the third-fastest player in franchise history to reach the 25-goal mark, behind Pat LaFontaine in 1991-92 (25-23—48 in 26 GP) and Alexander Mogilny in 1992-93 (25-19—44 in 28 GP).

* Thompson was born in Arizona after his father, Brent, played for the Coyotes and IHL's Phoenix Roadrunners during the 1996-97 campaign. The younger Thompson leads all American players in goals and points this season, with Stars forward Jason Robertson (23-20—43 in 31 GP) occupying second place on both lists.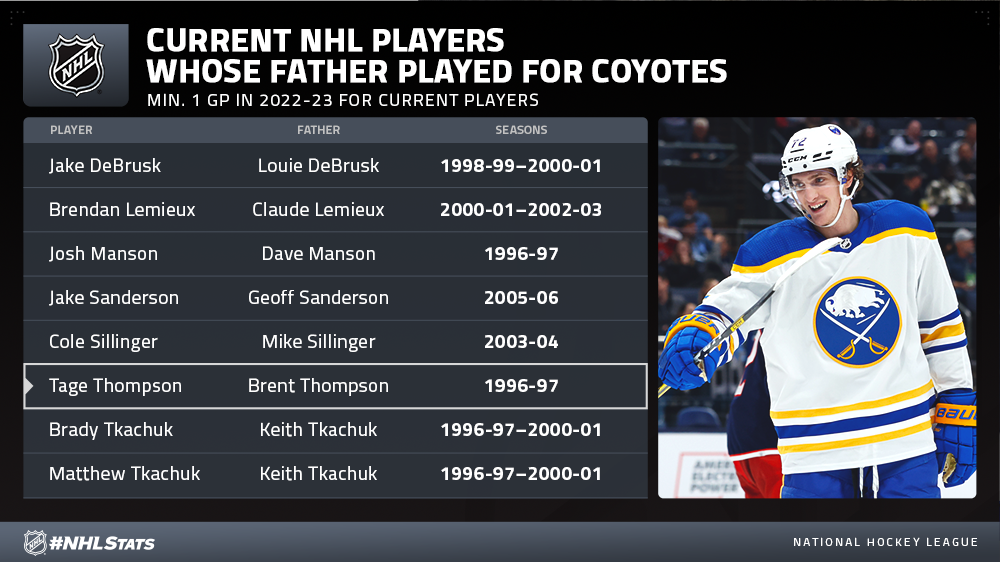 SAMSONOV'S SHUTOUT SEQUENCE NOT THE ONLY NOTABLE STREAK ON THE LINE
Some other noteworthy player and team streaks on the line Saturday:

* Connor McDavid (11-14—25 in 11 GP) can extend the League's longest active point streak to a dozen contests when the Oilers (17-13-1, 35 points) square off with the Ducks (8-20-3, 19 points) at Rogers Place. McDavid's run is one of two active point streaks of at least 10 games in the NHL, with the other one belonging to Maple Leafs forward Michael Bunting (3-9—12 in 10 GP).

* Igor Shesterkin and the Rangers (16-10-5, 37 points) can extend their winning streaks to six games when they take on John Tortorella and the Flyers (10-14-7, 27 points) at Wells Fargo Center. Tortorella, whose longest winning streak as New York's head coach was seven contests (Oct. 3-17, 2009 & Oct. 31–Nov. 15, 2011), needs one victory to tie Pat Quinn (684) for 13th place on the NHL's all-time list.

* Brayden Point (6-1—7 in 5 GP) can extend the League's longest active goal streak to six games when the Lightning (19-9-1, 39 points) travel to Bell Centre for a clash with the Canadiens (14-14-2, 30 points), who are guided by head coach and Tampa Bay franchise icon Martin St. Louis. Point has pocketed the winning goal in three of his last four contests.

* Brent Burns can help the Hurricanes (17-6-6, 40 points) extend their point streak to double digits when they host the Central Division-leading Stars (18-8-5, 41 points) at PNC Arena. It will mark the first head-to-head contest between Burns and Joe Pavelski since the former was traded to Carolina – they played eight seasons together with San Jose from 2011-12 to 2018-19, including four when current Dallas head coach Peter DeBoer was behind the Sharks' bench.

* Johnny Gaudreau and the Blue Jackets (10-17-2, 22 points) visit the League-leading Bruins (23-4-2, 48 points) at TD Garden, where the hosts are 15-0-2 this season. Boston contests three more games at the venue this year (Dec. 19 vs. FLA, Dec. 22 vs. WPG & Dec. 31 vs. BUF) and can match its franchise record for longest season-opening home point streak (19-0-2 in 21 GP from Oct. 10, 1973–Jan. 10, 1974) before hosting Pittsburgh in the 2023 Discover NHL Winter Classic at Fenway Park.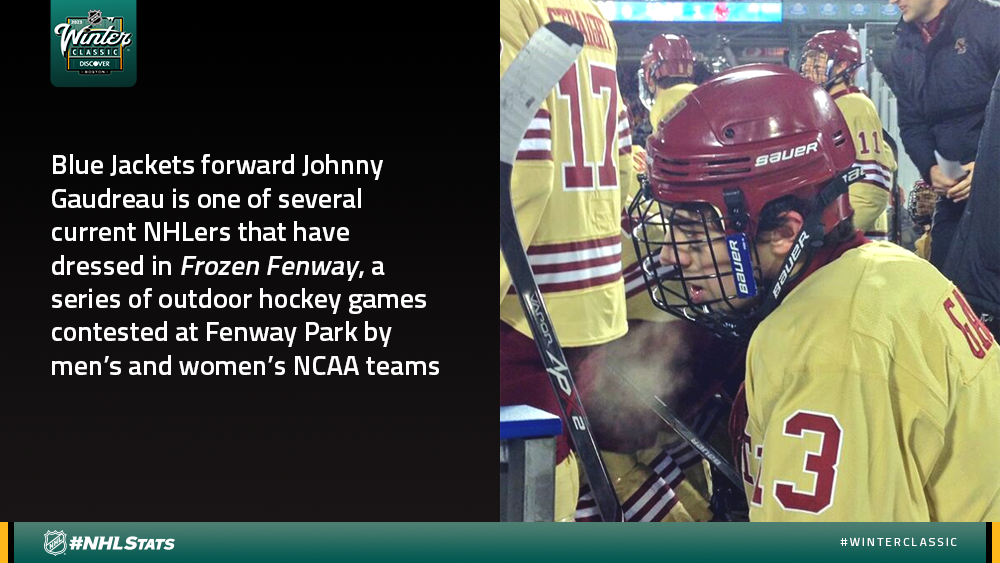 Photo via @BCAlumni

ZUCCARELLO ZIPS THREE GOALS INTO CHICAGO NET FOR SECOND CAREER HAT TRICK
Mats Zuccarello (3-1—4) scored the second hat trick of his NHL career and Kirill Kaprizov (6-13—19 in 11 GP) collected 1-2—3 to extend his home point streak to 11 games as Minnesota (17-11-2, 36 points) moved to 4-0-0 in its last four contests.

* Zuccarello (Oslo, Norway), whose first three-goal performance was more than seven years ago (Oct. 30, 2015 w/ NYR), became the first Norwegian-born player in NHL history with multiple hat tricks. Espen Knutsen (Oslo, Norway) is the only other Norwegian-born skater with one (Jan. 24, 2002 w/ CBJ).

* Zuccarello and Kaprizov have combined on the same goal a total of 26 times this season. That's the second most by a pair of NHL teammates behind the Oilers tandem of Connor McDavid and Leon Draisaitl (32x).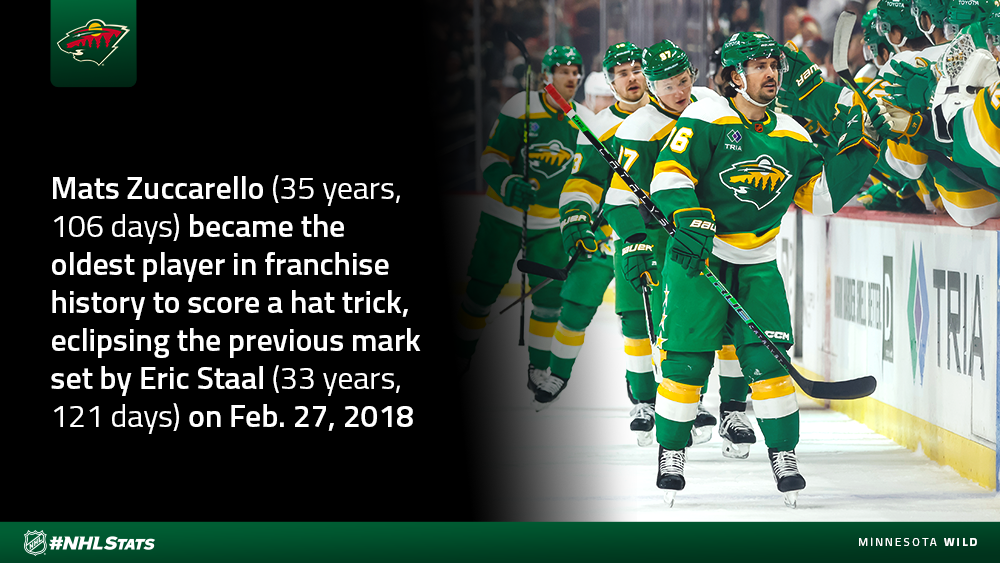 KELLER QUELLS ISLANDERS, KYROU STINGS FLAMES IN #NHLSTATS: LIVE UPDATES
Friday's edition of #NHLStats: Live Updates featured more notes from the three-game slate, including multi-goal efforts in wins by Coyotes forward Clayton Keller and Blues forward Jordan Kyrou:

* Keller scored the first of Arizona's two goals in a 14-second span during the middle frame and added the game winner with 5:11 remaining in regulation. Keller has 5-1—6 in his last three contests, including a hat trick on Dec. 11 and an assist on Dec. 13.

* Kyrou tallied twice after posing for a photo with a young fan in a Sarnia Sting sweater during pre-game warmup. Kyrou skated four seasons with the Sting from 2014-15 to 2017-18 and his brother, Christian, was recently traded to the team from the Erie Otters.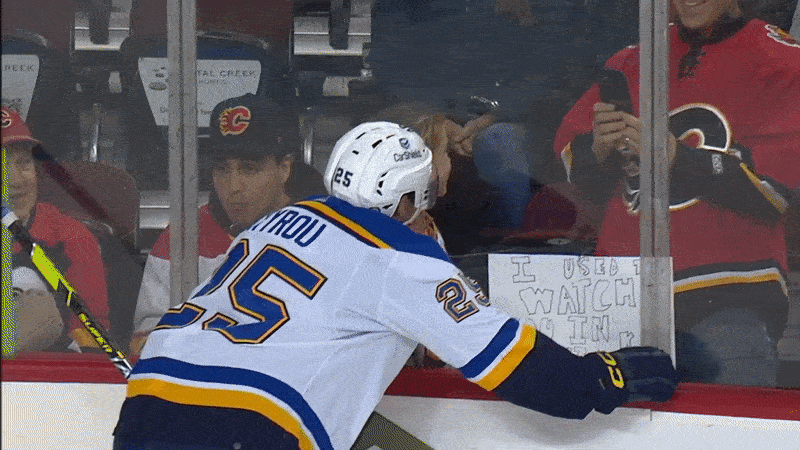 NHL PODCAST WEEKLY ROUNDUP
* NHL Fantasy (Dec. 12): Fantasy waiver wire pickups: Week 10
* NHL Fantasy (Dec. 12): Action Network Collab: Week 10
* NHL @ The Rink (Dec. 14): Tom Gulitti & Brandon Hagel join; Steven Stamkos, Super 16 & more
* The Chirp with Daren Millard (Dec. 14): Barry Trotz on Alex Ovechkin, coaching future & guitars
* La Tasse de café LNH (Dec. 14): Entretien avec Yanni Gourde et spécial poolers
* NHL Fantasy (Dec. 15): Impact of Alex Ovechkin's 800th goal; Week 10 fantasy mailbag

QUICK CLICKS

* Alex Ovechkin bid for goal 801 to tie Gordie Howe finds Ilya Samsonov, Maple Leafs in way
* Linus Ullmark thrives with Bruins years after struggling with dad's alcoholism
* Mason Marchment of Stars fined $2,000 for diving/embellishment
* Phil and Amanda Kessel score goals at nearly the same exact time
* Capitals resume holiday tradition with visit to children in hospital
COURTESY NHLmedia.com