NHL Public Relations
December 14, 2022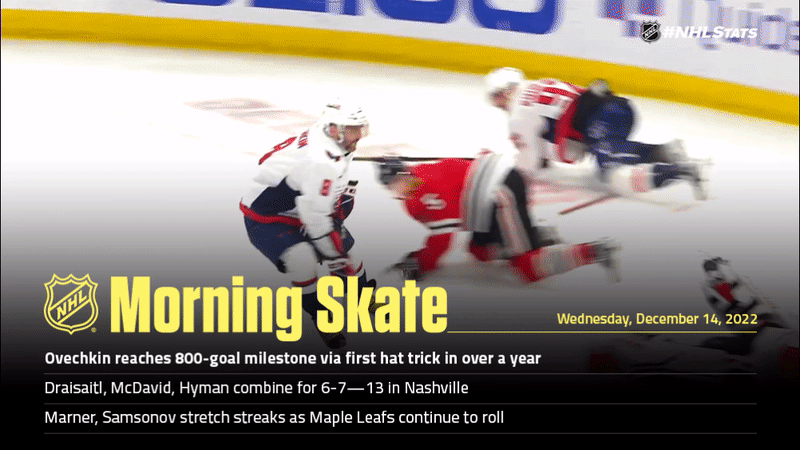 * Three's company in the NHL's 800-goal club! The prestigious cohort features Mr. Hockey, The Great One, and now, The Great Eight, who netted a hat trick Tuesday to join the League's most exclusive goals list.

* With the "Road to 800" behind him, Alex Ovechkin sets his sights on his next stop – sole possession of second place on the NHL's all-time goals list, a feat he is now just two tallies away from achieving.

* A plethora of other players put up big performances Tuesday, including Leon Draisaitl who joined teammate Connor McDavid as the second skater to reach the 50-point mark this season.


THE GREAT EIGHT SCORES HAT TRICK, WRITES HIS NAME ON RARE LIST WITH 800TH GOAL
It's not often you see a standing ovation or hear the name of an opposing player chanted at a team's arena, but that's exactly what happened Tuesday night as Alex Ovechkin (3-1—4) scored a hat trick and became the third player in NHL history to reach 800 career goals, causing "Ovi! Ovi!" chants to echo through the stands at United Center.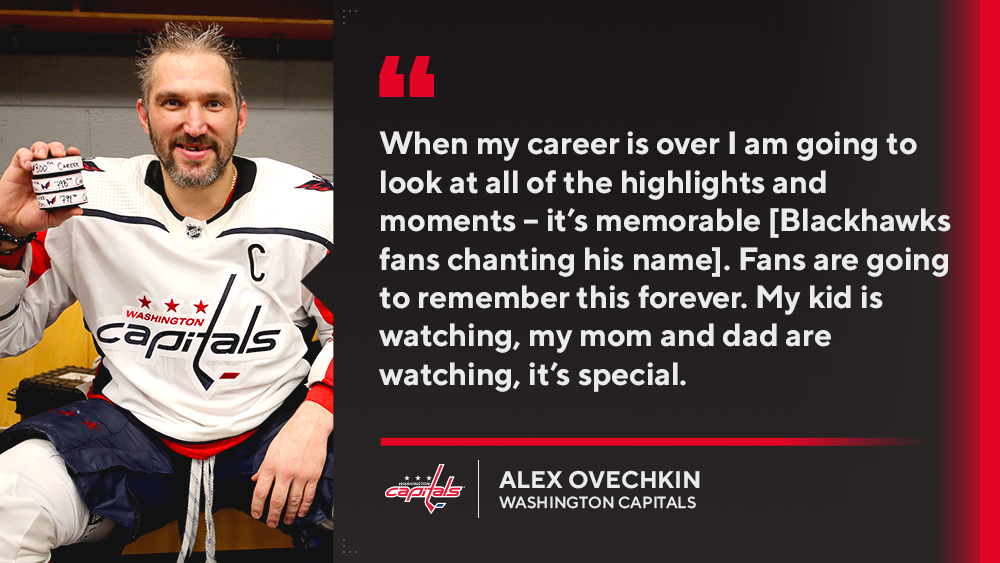 * An #NHLStats Pack on Ovechkin joining Wayne Gretzky (894)and Gordie Howe (801) in the 800-goal club can be found by clicking here, with the document featuring a detailed breakdown of his milestone markers as well as eight #NHLStats for The Great Eight. Some highlights include:

* Ovechkin (162 GP) required the fewest games to go from goal No. 700 to goal No. 800. Gretzky skated in 231 games from Jan. 3, 1991 (700) to March 20, 1994 (800), while Howe played in 256 NHL contests – over the course of more than 11 years – from Dec. 4, 1968 (700) to Feb. 29, 1980 (800). Ovechkin averaged 0.62 goals-per-game from one milestone to the next, compared to 0.44 for Gretzky and 0.39 for Howe.

* Ovechkin has averaged at least 0.60 goals-per-game in his entire NHL career, since he turned 30 and over the course of his jump from 700 to 800 goals. Using that rate as a guide, The Great Eight is on track to overtake The Great One as the all-time goals leader in his next 158 games – or sometime within the first-third of the 2024-25 season. Ovechkin should pass Howe before Christmas.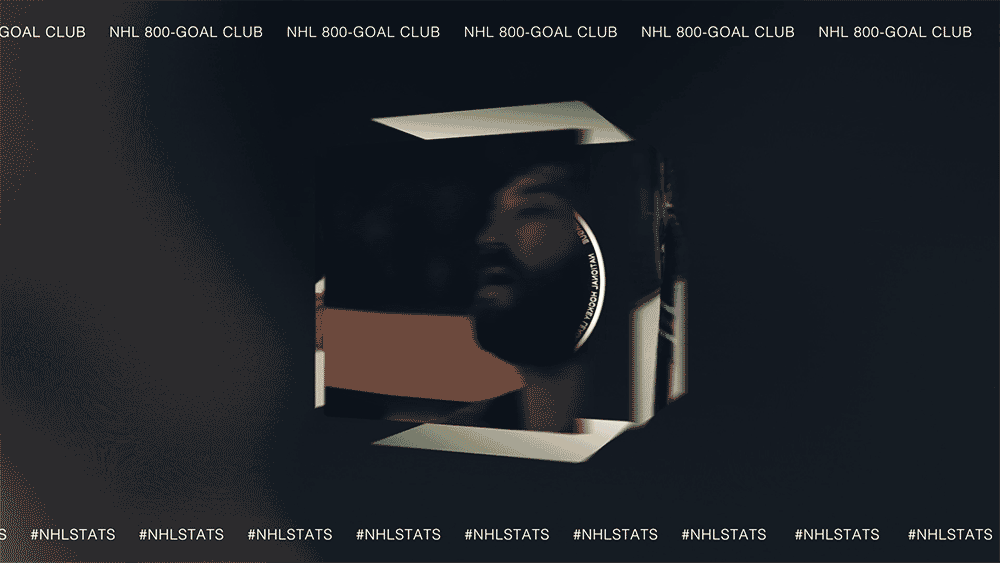 * Ovechkin has scored in 46.4% of his appearances (605 of 1,305 GP). That includes 133 contests with exactly two goals, 25 with exactly three goals and four with exactly four goals – a total of 162 multi-goal performances (second-most in NHL history) and 29 hat tricks (sixth-most in NHL history). Since 2005-06, Ovechkin has 71 more multi-goal games than the next-closest player (Sidney Crosby: 91).

* Ovechkin's hat trick came against Petr Mrazek, with the first of his two opening-frame goals coming just 24 seconds into the game. Mrazek is one of 165 different goaltenders that The Great Eight has scored against throughout his NHL career, while the Blackhawks are one of 24 franchises he has tallied against at least 14 times.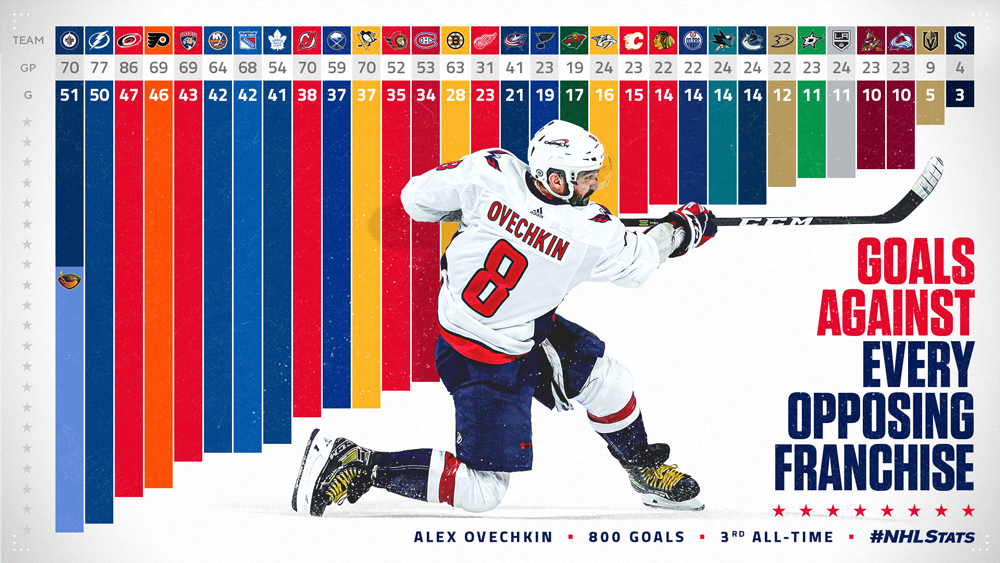 TUESDAY NIGHT WAS OVI NIGHT, BUT MORE #NHLSTATS CAN BE FOUND IN LIVE UPDATES
While the night was dedicated to Alex Ovechkin's historic achievement, there were a number of highlight-worthy performances inside Tuesday's edition of #NHLStats: Live Updates.

* Leon Draisaitl (21-30—51 in 30 GP) and Connor McDavid (26-33—59 in 30 GP) had five and four points, respectively, and became the fifth pair of teammates in NHL history each with at least 20 goals and 30 assists through 30 games in a season.

* Craig Anderson (40 saves) became the second NHL goaltender since 1955-56 (when shots on goal were officially tracked) with a 40-save shutout at age 41 or older, following Johnny Bower who did so twice (Nov. 1, 1967 & Jan. 13, 1966).

* Mitchell Marner (11-21—32 in 23 GP) had two assists to extend his franchise-record point streak to 23 games and become the 12th different player in NHL history with a run of that length.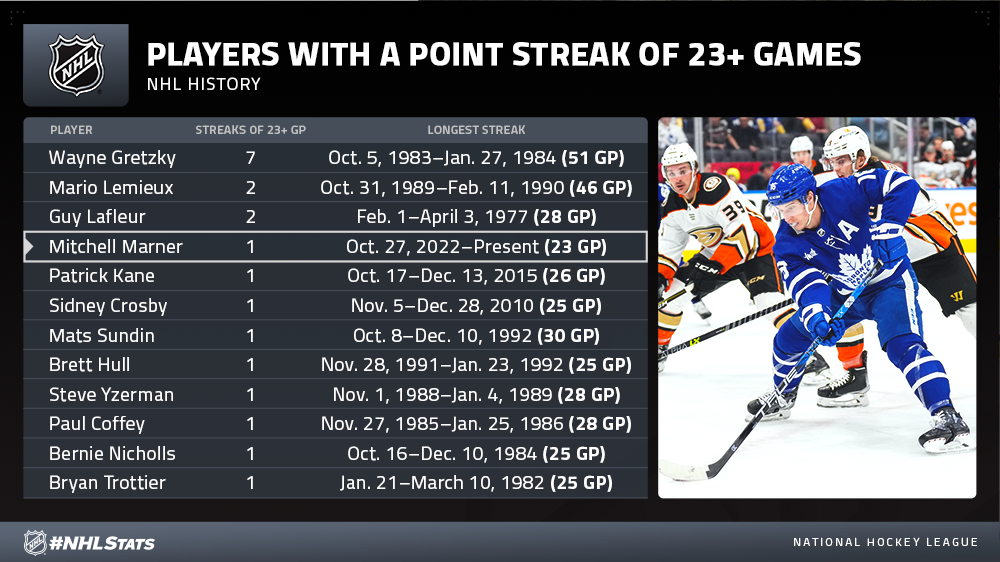 QUICK CLICKS

* 8 #NHLStats about The Great 8
* All 800 of Alex Ovechkin's goals
* Alex Ovechkin career timeline: Draft to 800 NHL goals
*Alex Ovechkin gives young fan the stick he scored goal No. 800 with
* #NHLStats on the Pursuit of 800 Goals (Through Goal No. 793)

WEDNESDAY FEATURES SPORTSNET, NHL ON TNT DOUBLEHEADERS
Wednesday's slate features a pair of national doubleheaders, with Sportsnet carrying the Canadiens-Senators game and NHL on TNT showcasing the Red Wings-Wild contest before both networks cover the Canucks-Flames finale.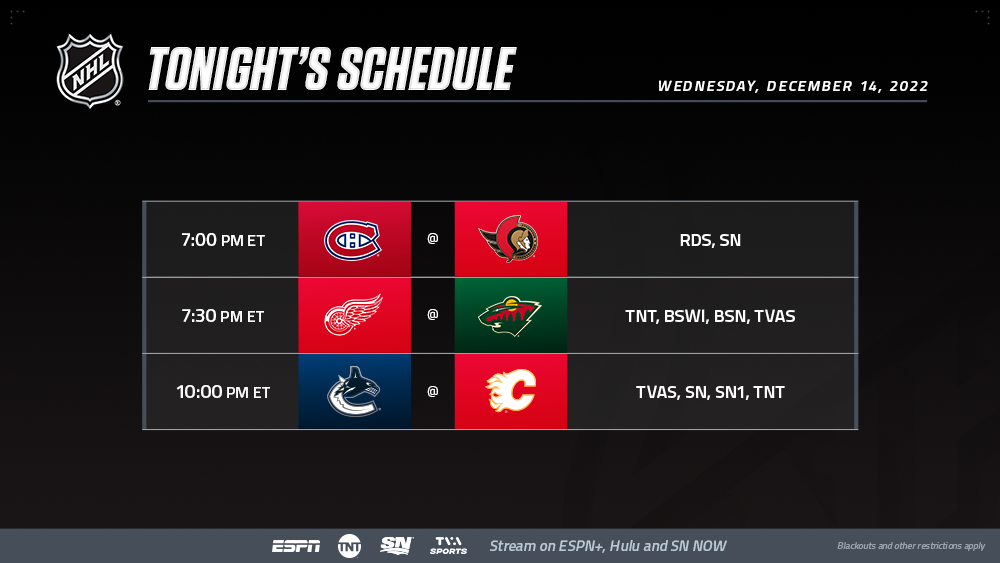 COURTESY NHLmedia.com