NHL Public Relations
December 12, 2022
* Mikko Rantanen and Clayton Keller combined for the third instance in NHL history – and second in the regular season – of two players completing a hat trick with an overtime winner on the same day. The others: March 4, 2022 (Viktor Arvidsson & Jason Robertson) and April 25, 1996 (Joe Sakic & Mike Gartner).

* The Avalanche, Coyotes and Bruins all earned comeback wins Sunday, boosting the 2022 total to 586 (regular season & playoffs combined) – one shy of the most in NHL history in a calendar year behind 2018 (587).
* Jack Roslovic factored on all three of Columbus' second-period goals en route toa four-point outing while Johnny Gaudreau scored the overtime winner to stave off Los Angeles' comeback bid.

RANTANEN COMPLETES HAT TRICK IN OT TO CAP THRILLING FINISH ON ESPN…
Former Avalanche forward Brandon Saad scored a shorthanded goal with less than two minutes remaining in regulation to put the Blues ahead, but Colorado stormed its way to victory thanks to goals by Mikko Rantanen in the final 10 seconds of the third period and first 30 seconds of overtime. Colorado's win marked the fifth time the club has won a game after trailing in the final 10 seconds of regulation and first in more than a decade.
* Sunday marked the first game this season to feature a go-ahead goal in the final two minutes of regulation and then a tying goal. The last such contest also featured the Blues: Feb. 17, 2022, Pavel Buchnevich gave St. Louis a 2-1 lead at 18:41 of the third period before Cole Caufield evened the score with 10 seconds remaining in an eventual 3-2 Montreal victory.
* Rantanen netted all three Avalanche goals to become the fourth player in franchise history – and first in nearly 25 years – to complete a regular-season hat trick in overtime.
* Rantanen's tying goal was the fifth such tally this season in the final 10 seconds of regulation, following equalizers by Blake Wheeler (Nov. 13), Cole Caufield (Nov. 19), Evan Bouchard (Nov. 28) and Mikael Granlund (Dec. 1).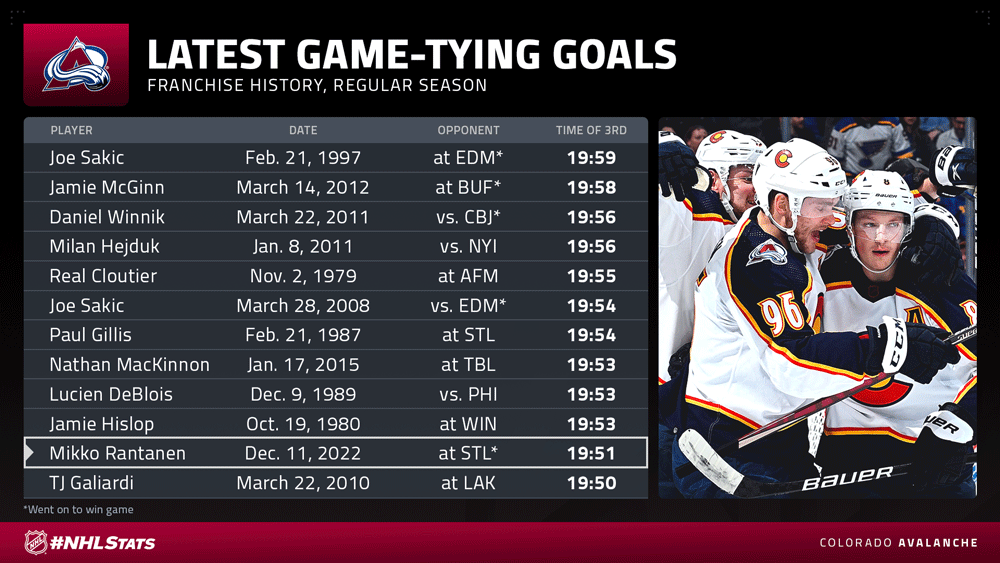 … BEFORE KELLER DOES THE SAME: COMPLETES HAT TRICK IN OVERTIME
Clayton Keller completed his first-ever hat trick by scoring in overtime, just hours after Mikko Rantanen became the first player this season to achieve the feat. Arizona was one of three teams to earn a comeback win Sunday (also COL & BOS) – there have now been 586 comeback victories in 2022 (regular season & playoffs combined), one shy of the most in NHL history in a calendar year behind 2018 (587).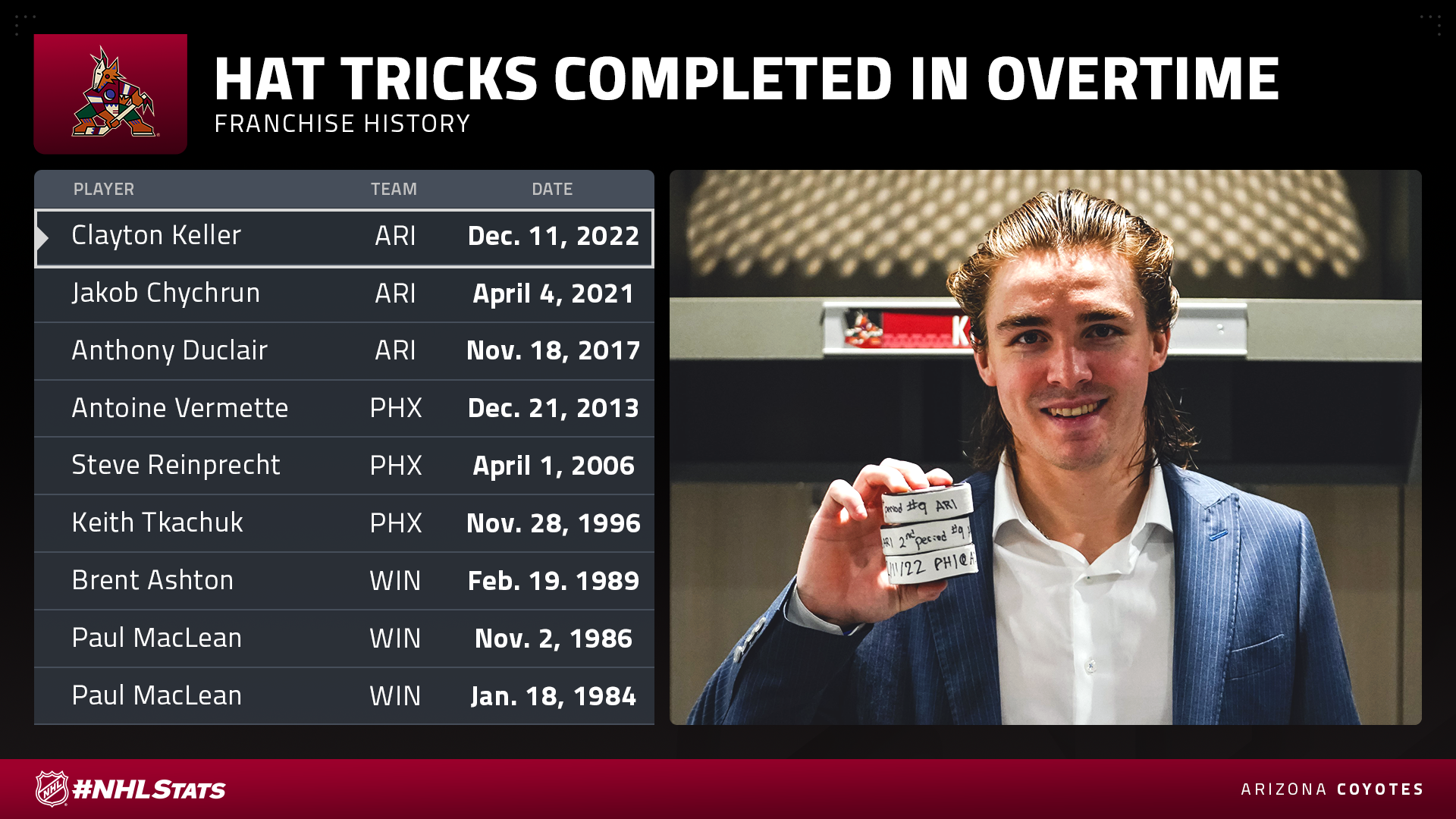 ROSLOVIC RECORDS FOUR POINTS AS GAUDREAU NETS OVERTIME WINNER
After Jack Roslovic (2-2—4) factored on all three of Columbus' tallies during a back-and-forth, six-goal second period and the Blue Jackets withstood two multi-goal comeback rallies by the Kings, Johnny Gaudreau (1-1—2) netted the overtime winner en route to reaching the 30-point mark in 2022-23. Columbus matched its season-high output with six goals (also Nov 17: 6-4 W vs. MTL) and outdueled a high-flying Los Angeles team which ranks tied for second in goals this season (105 GF) behind only Buffalo (108 GF).

* With 1-2—3 in the middle frame, Roslovic matched the Blue Jackets benchmark for most points in a period and became the first Columbus skater to record a four-point outing this season. Roslovic was also the club's last player to post four points in a game (3-1—4 on April 9 at DET).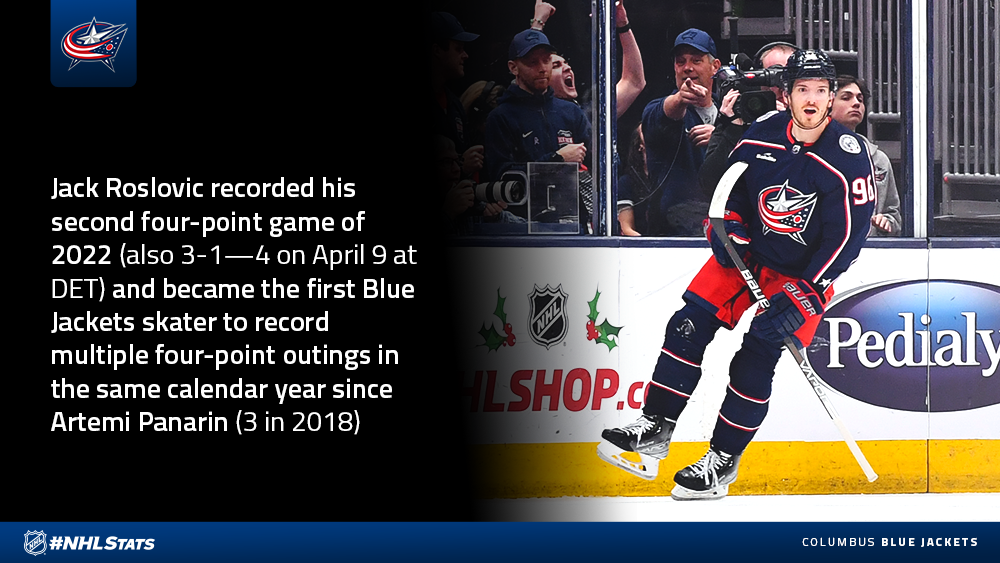 * Gaudreau boosted his season totals to 10-21—31 (27 GP) and joined Cam Atkinson (26 GP in 2018-19) as well as Artemi Panarin (27 GP in 2018-19) as just the third skater in franchise history to tally 30 points in 27 or fewer contests.

SPOTLIGHT SHINES ON JOHANSSON'S SHORTY IN #NHLSTATS: LIVE UPDATES
On the night that Alex Ovechkin recorded his 797th career goal to move one step closer to 800, it was his teammate, Marcus Johansson, who took the spotlight in the latest edition of #NHLStats: Live Updates. Johansson, who scored on a penalty shot to record his first shorthanded goal in nearly 12 years, joined a unique all-time list that coincidentally also features the Capitals captain.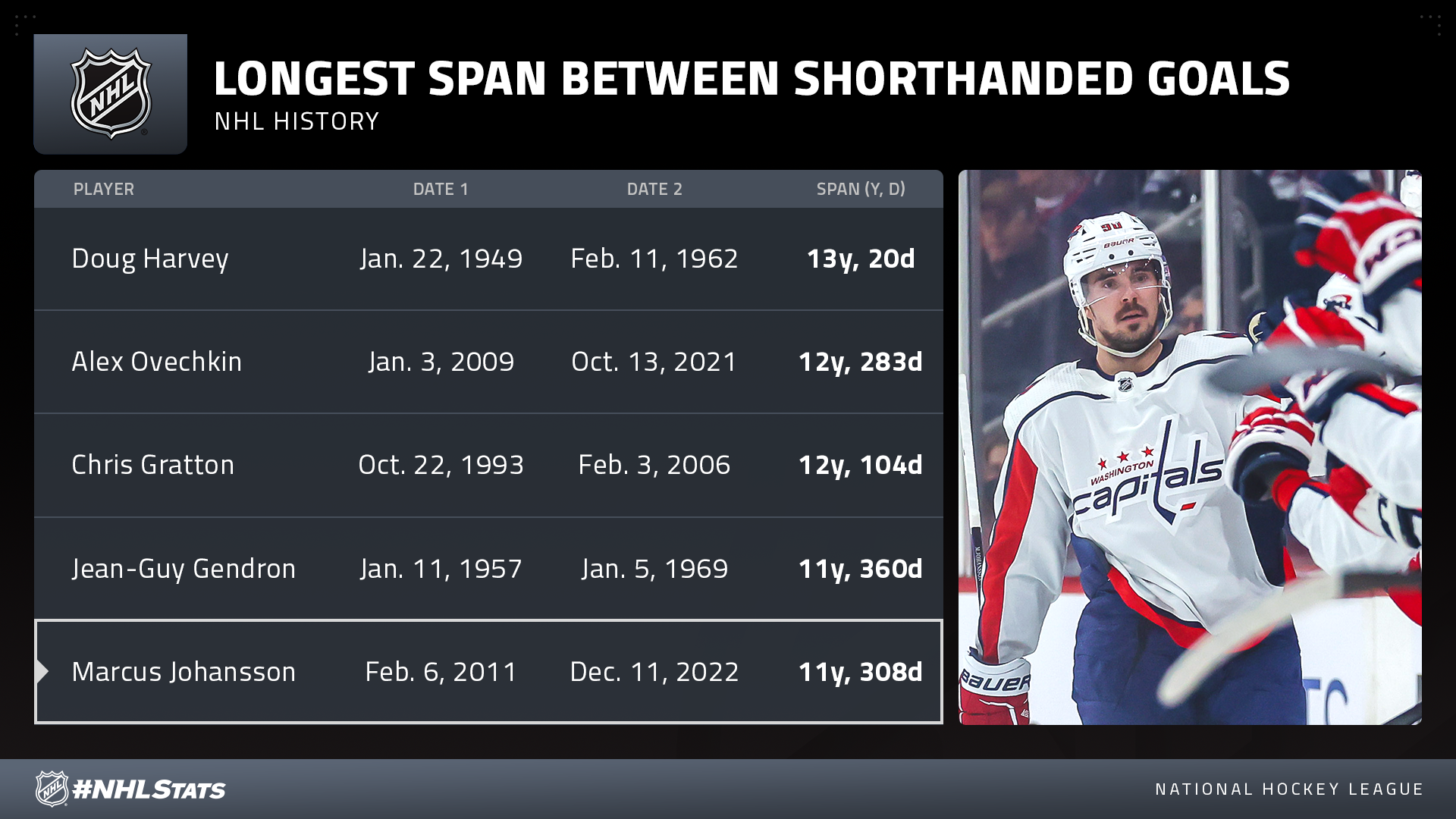 QUICK CLICKS

* Predators' Michael McCarron enters NHL/NHLPA Player Assistance Program
* Sunday marked 30-year anniversary of Gary Bettman being elected first NHL commissioner
* U.S. looking to create identity for World Juniors during selection camp
* Thatcher Demko's pup Delilah wins Canucks competitive dog race
STARTING THE WEEK WITH A SIX-GAME MONDAY
An all-Canadian matchup will be broadcast nationally on Rogers Monday Night Hockey as the Flames (13-11-4, 30 points) and Canadiens (13-12-2, 28 points) face off on Sportsnet to help open the 11th week of the season. Both clubs have been among a group of 15 teams that have sat in a Wild Card position over the past month (7 in West, 8 in East).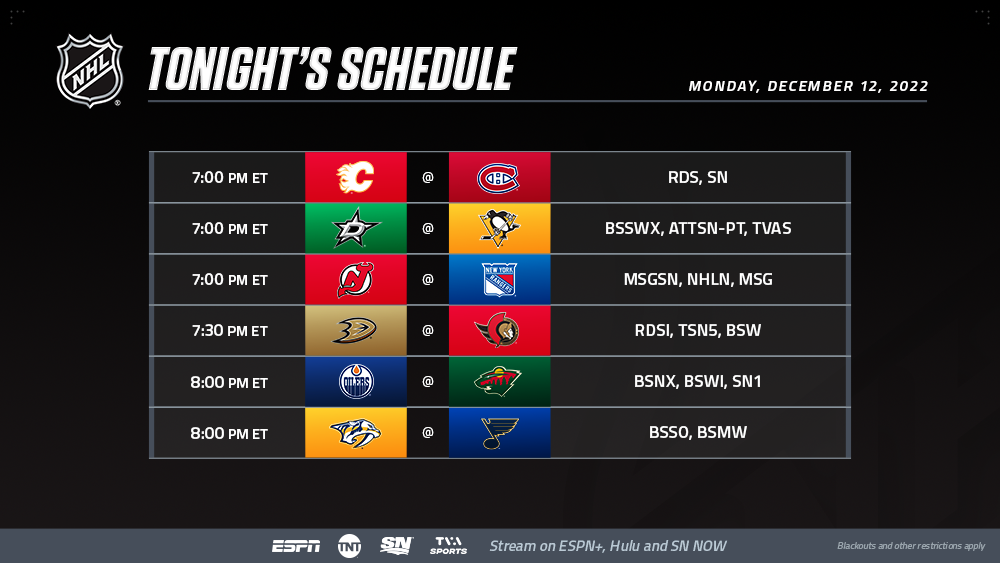 * The Devils will look to tie an NHL record for the longest road winning streak in a season when they head across the Hudson River for a showdown with the Rangers at Madison Square Garden. The Devils/Rockies/Scouts franchise owns a record of 40-64-26 (including 20 ties) in 130 regular-season games at MSG, including a 37-53-23 mark as the Devils (including 17 ties).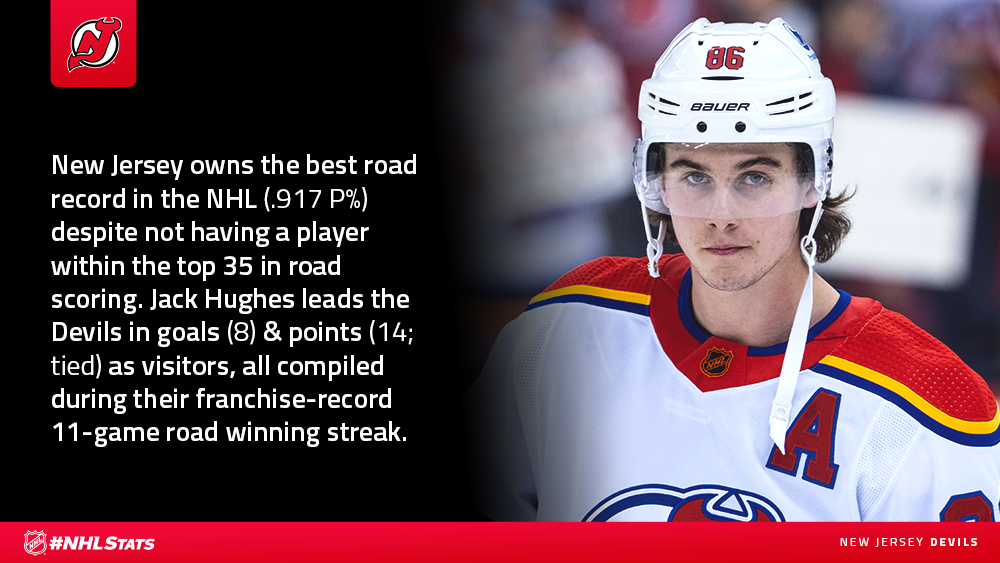 * After extending his goal streak to a career-high seven contests against the Wild on Friday (in the first contest in nearly 40 years between players on six-plus game goal streaks), Connor McDavid (9-9—18 in 7 GP) will look to match the longest goal streak by any active player when Edmonton again faces Minnesota. The only active players who have scored in eight straight games are Nikita Kucherov (2021-22), Elias Lindholm (2021-22), Mitchell Marner (2021-22) and Connor Brown (2020-21). Only three players in Oilers history have achieved the feat, with last run of at least that length coming more than 36 years ago.
COURTESY NHLmedia.com