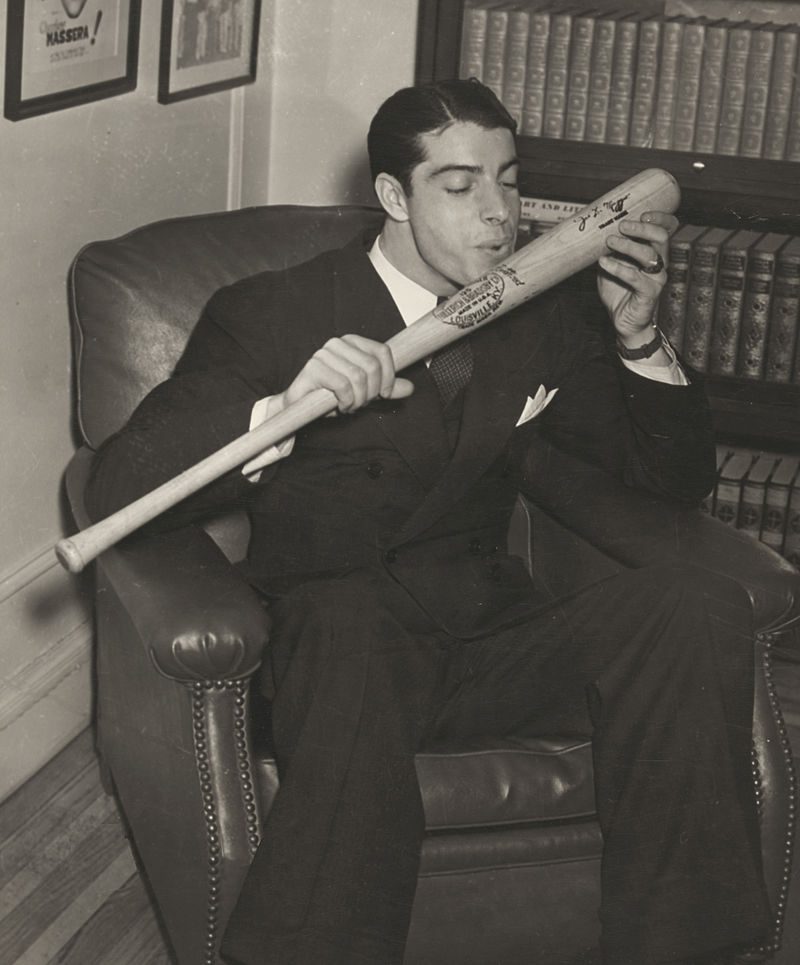 FROM WIKIPEDIA COMMONS
Joseph Paul DiMaggio[a] (November 25, 1914 – March 8, 1999), nicknamed "Joltin' Joe", "The Yankee Clipper" and "Joe D.", was an American baseball center fielder who played his entire 13-year career in Major League Baseball for the New York Yankees. Born to Sicilian immigrants in California, he is widely considered one of the greatest baseball players of all time, and is best known for setting the record for the longest hitting streak in baseball (56 games from May 15 – July 16, 1941), which still stands.
DiMaggio was a three-time Most Valuable Player Award winner and an All-Star in each of his 13 seasons. During his tenure with the Yankees, the club won ten American League pennants and nine World Series championships. His nine career World Series rings is second only to fellow Yankee Yogi Berra, who won ten.
At the time of his retirement after the 1951 season, he ranked fifth in career home runs (361) and sixth in career slugging percentage (.579). He was inducted into the Baseball Hall of Fame in 1955 and was voted the sport's greatest living player in a poll taken during baseball's centennial year of 1969. His brothers Vince (1912–1986) and Dom (1917–2009) also were major league center fielders. Outside of baseball, DiMaggio is also widely known for his marriage and life-long devotion to Marilyn Monroe.
TODAY'S ALMANAC
Question of the Day
How can I remove mold from my bathroom ceiling and keep it from coming back? I've tried bleach and water with no luck.
Buy a commercial cleaner with a mildew remover and clean the area thoroughly. Make sure it dries completely. Then (we hate to say this), you'll have to repaint. Use a paint that contains an additive that fights mildew. A hardware store or paint store can advise you on this. Finally, eliminate the moist and humid conditions that allow mildew to thrive. Make sure your bathroom has adequate ventilation, and install a fan if you don't already have one.
Advice of the Day
When a camel is at the foot of the mountain, then judge his height.
Home Hint of the Day
To stain decorative barn boards, wet the area you want to color and rub in wood ashes until you get the shade of gray you desire.
Word of the Day
Florida
The name Florida comes from a Spanish phrase meaning "Feast of Flowers."
Puzzle of the Day
What is the difference between a professor and a mosquito?
One is a mentor, and the other is a torment.
Born
Annie Jump Cannon (cataloged over 225,000 stars) – 1863
Alexander Solzhenitsyn (novelist) – 1918
Brenda Lee (singer) – 1944
Terri Garr (actress) – 1949
Susan Seidelman (director of film) – 1952
Bess Armstrong (actress) – 1953
William Joyce (author) – 1957
Gary Dourdan (actor) – 1966
Mos Def (actor & rap artist) – 1973
Rider Strong (actor) – 1979
Died
Sam Cooke (singer) – 1964
Benton MacKaye (American conservationist) – 1975
Events
One of earliest recorded sightings of northern lights in North America– 1719
Edward Bevan's venetian blinds patented, London, England– 1769
Indiana is admitted to the Union as the 19th state– 1816
Bijou Theater, first in the United States to be lit by electricity, opened in Boston, Massachusetts– 1882
First public demonstration in U.S. of colored moving pictures, New York City– 1909
Monument to the boll weevil, which had forced farmers to diversify, erected in Enterprise, Alabama– 1919
The Bank of the United States in New York failed, one of many signs of the looming depression– 1930
The Statute of Westminster was the last of the Imperial Acts of the Parliament of Great Britain applicable to all the Dominions. It granted Canada, Newfoundland, New Zealand, Australia, the Union of South Africa and the Irish Free State what amounted to independence– 1931
British King Edward VIII abdicated throne to marry Wallis Simpson– 1936
George VI became King of England after his brother abdicated the throne– 1936
The Chesterfield Supper Club, featuring Perry Como, among others, debuted on the radio– 1944
United Nations International Children's Emergency Fund (UNICEF) was established by the United Nations General Assembly– 1946
Joe DiMaggio retired from baseball after 13 seasons with the NY Yankees– 1951
Weather
2.1 inches rain fell in Vancouver, British Columbia– 1925
Arctic cold took over central and eastern U.S.– 1988
Dec. 11-12: Ice storm hit the Northeast– 2008
COURTESY www.almanac.com