DEC. 9, 2022 II NATIONWIDE ARENA II vs. CALGARY FLAMES
BROADCAST INFORMATION
TV:  Bally Sports Ohio           Jeff Rimer (play-by-play), Jody Shelley (analyst), Dave Maetzold (reporter)              
Radio:  97.1 The Fan              Bob McElligott (play-by-play), Dylan Tyrer (host)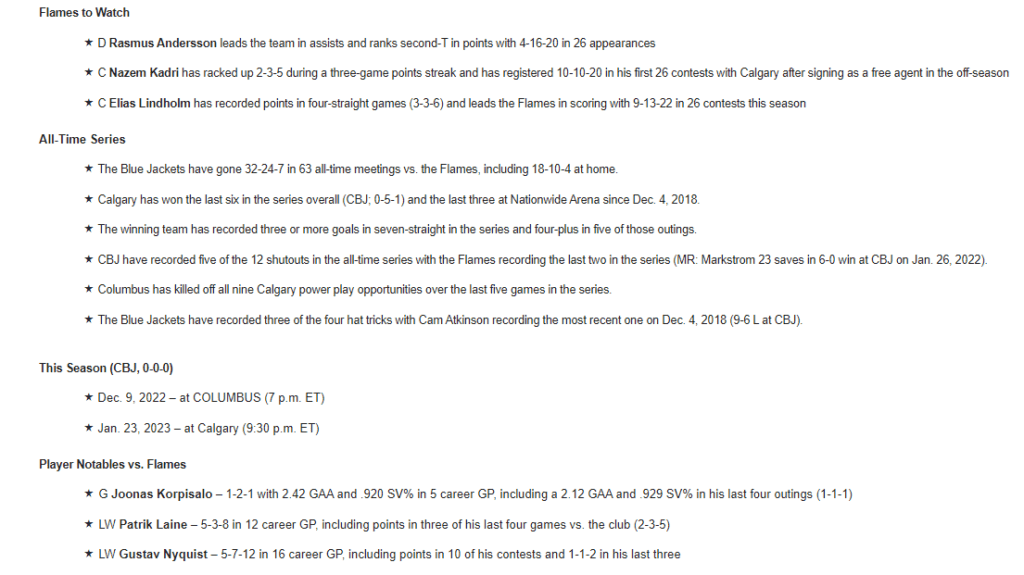 BLUE JACKETS TEAM NOTES
The Blue Jackets fell for a third consecutive game and to 5-6-2 in the last 13 games overall following a 9-4 loss to Buffalo on Wednesday.
The club plays the second contest of a three-game homestand tomorrow before finishing against the Los Angeles Kings on Sunday. The club then plays six-of-eight on the road from December 13-29.
CBJ blueliners have recorded 2-3-5 in the last four games and have collected 13-29-42 in 25 games this season to rank ninth-T in NHL in goals.
Columbus has had 21 different players score a goal this season, trailing only Detroit (22) for the most players on a team with a goal.
Blue Jackets rookies have combined for 10-16-26 in 25 games in 2022-23 and rank fourth-T among NHL team rookies in points and fifth in goals.
CBJ rank 14th in the NHL in power play percentage dating back to November 5 (second game of 2022 Global Series), converting on 8-of-33 power play opportunities (24.2 pct.).
BLUE JACKETS PLAYER NOTES
D Marcus Bjork has collected points in two of his last three games (1-1-2) and has 2-4-6 in his first 12 NHL games. He ranks second among NHL rookie defensemen in points-per-game (.50; min. 5 GP).
RW Yegor Chinakhov, who has 2-4-6 in his last 11 games played, has already set a single-season career high in assists with 4-8-12 in 24 outings this season (7-7-14 in 62 games in 2021-22).
LW Johnny Gaudreau stretched his points streak to a season-high six-straight games (2-8-10) with an assist yesterday. He now has 4-15-19 in the last 13 contests overall and ranks eighth in the NHL in scoring at home this season with 8-14-22 in 17 games. The 29-year-old was selected by the Flames in the fourth round, 104th overall, at the 2011 NHL Draft and ranked fifth on the franchise's all-time list in assists, points and game-winning goals following his first nine NHL campaigns from 2013-22 with 210-399-609, 41 GWG in 602 contests.
D Erik Gudbranson ranks third on the Blue Jackets in hits (47) and blocked shots (39) and has collected 1-5-6 and 17 penalty minutes in his first 24 contests with Columbus this season. He set career highs in goals, assists, points and games played in his lone season with Calgary in 2021-22, finishing with 6-11-17 and 68 PIM in 78 contests.
C Boone Jenner has collected points in four of his last five games (1-4-5) after picking up an assist against Buffalo. He has registered 8-7-15 in his last 15 contests since November 4.
C Kent Johnson has collected 3-4-7 in his last 11 games. He ranks fourth-T among NHL rookies in goals, seventh in points-per-game (min. 10 GP) and eighth-T in points with 6-7-13 in 22 contests (.59 ppg).
LW/RW Patrik Laine notched his second multi-goal game in the last four outings with two goals on Wednesday. He has registered 5-3-8 in his last eight games played.
LW Gustav Nyquist recorded his first multi-goal game of the season with two goals on Wednesday and has collected 3-6-9 in his last 12 contests.
BLUE JACKETS MILESTONES
G Joonas Korpisalo is seven games from 200 for his NHL career (80-72-22, 193 GP).
C Jack Roslovic is six assists from 100 for his NHL career (61-94-155, 331 GP).
OhioHEALTH INJURY REPORT
D Jake Bean (shoulder) is on Injured Reserve (Nov. 17); out 4-to-6 months (10 games)
D Nick Blankenburg (ankle) is on Injured Reserve (Nov. 10); 6-to-8 weeks (12 games)
D Adam Boqvist (broken foot) is on Injured Reserve (Oct. 26); 6-weeks (17 games)
D Jake Christiansen (illness) is day-to-day (2 games)
C/RW Justin Danforth (torn labrum) is on Injured Reserve (Oct. 25); 6 months (19 games)
LW Jakub Voracek (upper body) is on Injured Reserve (Nov. 4); out indefinitely (14 games)
D Zach Werenski (shoulder separation/torn labrum) is on Injured Reserve (Nov. 10); out 6 months (12 games)
TOTAL MAN GAMES LOST: 142
COURTESY BLUE JACKETS COMMUNICATIONS