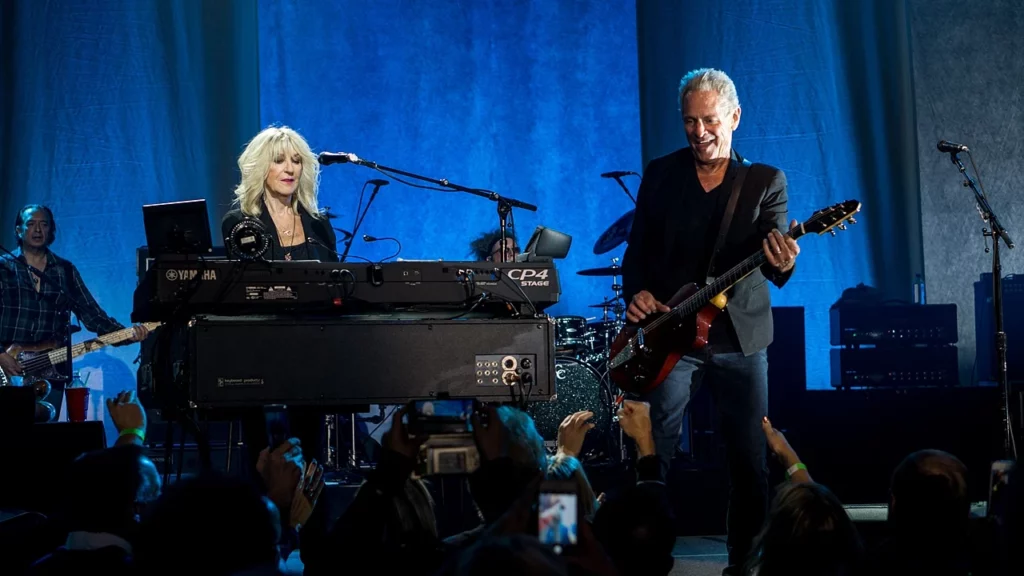 FROM WIKIPEDIA COMMONS
Christine Anne McVie (/məkˈviː/; née Perfect; 12 July 1943 – 30 November 2022) was an English musician and songwriter. She was principally known as a vocalist and keyboardist with the band Fleetwood Mac.
A member of several bands on the mid-1960s British Blues scene, notably Chicken Shack, she began playing with Fleetwood Mac in 1968, initially as a contract session player, before formally joining the band in 1970. She started to emerge as a songwriter by 1971, with her first compositions appearing on her fourth album with the group, Future Games. She would remain with the band through many lineup changes for the next several decades, generally writing and performing lead vocals on about half of the tracks on all of their subsequent studio albums (though she had partially retired in 1998, and only appeared as a session musician on the band's last studio album, Say You Will). She also released three solo studio albums. Steve Leggett of AllMusic described her as an "unabashedly easy-on-the-ears singer/songwriter, and the prime mover behind some of Fleetwood Mac's biggest hits". Eight songs written or co-written by her, including "Don't Stop", "Everywhere", and "Little Lies", appeared on Fleetwood Mac's 1988 Greatest Hits album.
As a member of Fleetwood Mac, McVie was inducted into the Rock and Roll Hall of Fame and received the Brit Award for Outstanding Contribution to Music in 1998. The same year, after almost 30 years with the band, she opted to leave and lived in semi-retirement for nearly 15 years. She released a solo album in 2004. She appeared on stage with Fleetwood Mac at the O2 Arena in London in September 2013, before rejoining the band in 2014 prior to their On with the Show tour.
McVie received a Gold Badge of Merit Award from BASCA, now The Ivors Academy, in 2006. She received the Ivor Novello Award for Lifetime Achievement from the British Academy of Songwriters, Composers and Authors in 2014 and was honoured with the Trailblazer Award at the UK Americana Awards in 2021. She was also the recipient of two Grammy Awards.
DEATH
After a brief illness, McVie died in hospital on 30 November 2022 at the age of 79. Her death was announced by her family through social media. Fleetwood Mac said in a statement following her death that she was "the best musician anyone could have in their band and the best friend anyone could have in their life". Fellow Fleetwood Mac band member Stevie Nicks called McVie her "best friend in the whole world" in a statement following her death.