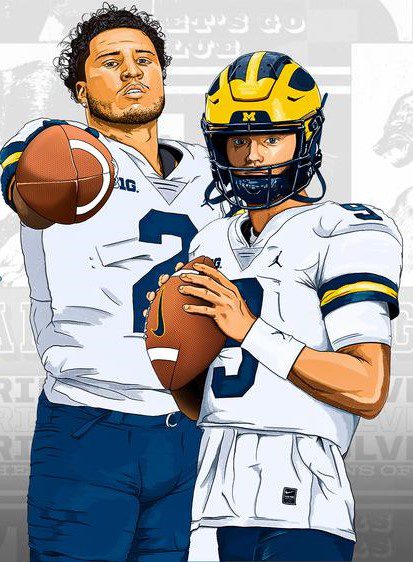 #3 Michigan (11-0, 8-0 Big Ten)
at #2 Ohio State (11-0, 8-0 Big Ten)
Ohio Stadium / Columbus, Ohio
Saturday, Nov. 26 |  Noon
Television: FOX | Radio: Learfield Michigan Sports Network
GAME NOTES
https://mgoblue.com/documents/2022/11/21/20221121-fbl-notes-ohio-state.pdf
What You Need to Know
• Michigan has achieved its first 11-0 start under head coach Jim Harbaugh. 
• Saturday's contest will be the 118th meeting between the two programs; U-M holds a 59-52-6 advantage in the all-time series.
• Michigan is one of two teams ranked in the top 10 in both scoring offense (ninth) and scoring defense (second), along with Ohio State (second, offense, 10th, defense).
• Jake Moody leads the NCAA in points (122) and field goals per game (2.27 avg). 
• Blake Corum is the first player in U-M history with a rushing touchdown in 11 straight games. 
The Game

• The Game was selected as the greatest rivalry in all of sport by ESPN.com in 1999 and ranks tied for the 14th most played rivalries in FBS (Division I-A) history.
• The Game was moved to the final Saturday of the Big Ten season in 1935; since that time, the match-up has had the potential for major impact in the Big Ten standing 48 times.
• Saturday's game will be the 12th time that the rivals square off as top 5 teams and the third time that U-M and OSU meet when both programs are ranked in the top three of the polls.
• There have been 24 occasions where the two schools decided the Big Ten Champion between themselves based on the outcome on that Saturday; for 10 years (1972-81), the outcome decided which of the two teams would repre­sent the Big Ten in the Rose Bowl.
• The two programs played every year from 1918 through 2019 (102 years), a streak that ranked eighth in Division I-A for the longest uninter­rupted series; the 2020 game was cancelled due to COVID issues within the Michigan program.
• The overall series dates back to 1897, when the Wolverines claimed a 34-0 victory over the Buckeyes in Ann Arbor.
Wolverines and Buckeyes

• Saturday's contest will be the 118th meeting between the two programs and the seventh against Ohio State for head coach Jim Harbaugh.
• The Wolverines hold a 59-52-6 advantage in the all-time series with the Buckeyes, and a 27-28-2 record all-time in Columbus, including a 24-24-1 mark at the Horseshoe.
• Michigan has compiled a 22-23-4 record against Ohio State when both teams enter the game ranked in the AP poll.
• The last victory by the Wolverines at Ohio Stadium came during the 2000 season, a 38-26 victory that captured the Big Ten Championship for the program.
Series vs. OSU: Michigan leads 59-52-6
Series Streak: Michigan won 1
Last Meeting vs. OSU: 2021 – #6 U-M 42, #2 OSU 27
Last Michigan Win: 2021
————————————————–
In the Polls

• For the 12th straight week, U-M is ranked in the top five of the national polls.
• The Wolverines list No. 3 in the AFCA Coaches Poll and Associated Press Media Poll following their 19-17 victory against Illinois.
• U-M lists No. 3 in the current College Football Playoff rankings.
• Michigan began the season ranked sixth in the coaches poll and eighth in the AP rankings.
• Michigan has been ranked for all but 13 contests under Harbaugh (97 games). The Wolverines were not ranked the first four games in 2015, four games in 2017 and 2020, and the first two games of the 2021 season.
Game Notes Nuggets

• Michigan has achieved its first 11-0 start under head coach Jim Harbaugh. It's the program's best start since 2006 (11-2) and the third 11-0 start since 1997 (12-0).
• The program's 13-game conference win streak matches one of the same length from 2003-04. It is the program's longest since a 16-game conference win streak spanning 1996-98.
• U-M completed a perfect 8-0 home season last weekend with the win on senior day against Illinois. Dating back to last year, U-M has won 15 consecutive home games, the longest active streak in the Big Ten.
• Quarterback J.J. McCarthy has begun his career as a starter with a 10-0 record, matching Dennis Franklin (1972) for the most wins without a loss to begin a starting quarterback's career in program history.
• U-M is scoring 39.4 points per game and allowing 11.7 points against, on average. Michigan is one of two teams ranked in the top 10 in both scoring offense (ninth) and scoring defense (second), along with Ohio State (second, offense, 10th, defense).
• Ohio State (+29.5), Michigan (+27.6), and Georgia (+26.7) are the only teams in the country with average scoring margins above +25 points per game. That same trio — OSU (+325), U-M (+304), and Georgia (+300) are the only teams to have outscored opponents by 300-plus points cumulatively this year.
• U-M has scored points on its opening possession in nine of 11 games this season (seven touchdowns, two field goals).
• The Michigan defense has forced 43 three-and-outs on the season, including 15 in the last three games. In 11 games, the opponent's first second-half possession has resulted in a change of possession 10 times (five three-and-outs, three punts, one turnover).
• Running back Blake Corum ranks third in the country in rushing yards (1,457), the highest total by a Wolverine since Denard Robinson's 2010 season (1,702 yards) and the most by a U-M back since Mike Hart's junior season of 2006 (1,562 yards).
• Corum is tied-first in the nation in total touchdowns (19). He has picked up 96 first downs for the Wolverine offense, which is the second most in the nation. Corum has registered 22 runs of 15-plus yards (tied-fourth, nationally).
• Across eight Big Ten games in 2022, Corum has 1,222 rushing yards and 12 touchdowns (one receiving) and is averaging 5.8 yards per carry in conference play. Across his last 16 Big Ten games (dating to 2021), Corum has totaled 1,754 yards and 15 rushing touchdowns on 5.78 yards per carry.
• PFFCollege credits Corum with 73 missed tackles forced on 245 carries this season, fifth-most in the country and second-most in the Big Ten (Chase Brown, 74). Corum has 65 fewer carries than Brown.
• The service grades Corum as the highest-rated player in the FBS at any position, offense or defense, (96.1). His current, active streak of eight straight games with 100-plus rushing yards and one-plus rushing touchdown is the longest in the last 25 years at U-M. Additionally, his 18 rushing touchdowns are two shy of the single-season record set by Hassan Haskins last season.
• In the Michigan record book, Corum has cracked the top 10 in single-season rushing yards (ninth). He is 105 yards shy of matching his position coach Mike Hart (2006) for sixth-most, single-season all-time.
• So far this season, the offensive line has paved the way to an average of 5.85 yards per sack-adjusted carry, and 6.4 yards per play overall. U-M (452.6 yards per game) has out-gained opponents (241.3) by more than 200 yards per game, on average.
• Opponents have pressured a U-M passer 25 times (12 sacks, 13 hurries) in 11 games. When the line does allow a sack against starter J.J. McCarthy, it comes on an average of 4.60 seconds to throw, the ninth-most time when considering passers with at least 100 dropbacks.
• When McCarthy starts and finishes a Michigan drive, U-M has produced 38 touchdowns and 21 field goals on 94 possessions, translating to points on 63 percent of drives. In his 10 starts, the team has scored in 47 of 51 red zone trips (92.1 percent) with him on the field, scoring 38 touchdowns.
• Tight end Luke Schoonmaker entered the 2022 season having never caught more than three passes in a game but has four or more catches in four of his last six games played. He has established new career highs in catches (nine at Indiana) and yards (72 vs. Maryland) during conference play.
• U-M's high scoring rates have Jake Moody (122 points) leading the nation in points with Blake Corum (114) tied for second. The next-highest-scoring pair of teammates are Bijan Robinson (103 points) and Bert Auburn (102 points) of Texas.
• The Wolverine defense is ranked No. 1 nationally in total defense and second in scoring defense, rushing defense, and pass efficiency defense while listing third in first downs allowed and fifth in passing defense.
• No team has reached 150 yards on the ground against Michigan this season; nine of 11 teams have been kept below 300 yards of total offense (Maryland, Illinois). U-M has held five of the last seven teams at or below 75 yards rushing with three opponents under 40 yards.
• Mike Morris leads the team in TFLs (10.5) and sacks (7.5) and ranks second in the Big Ten and tied-20th nationally in the latter category. Morris has PFF's No. 3 pass-rush productivity grade (PRP, minimum 65 pass rush snaps) in the Big Ten, a top-30 mark nationally.
• Morris is credited with 35 combined sacks, hits, and hurries in true pass-rush sets — fourth-most in the conference — on 191 pass-rush snaps. The three players with more combined sacks, hits and hurries than Morris have 233, 308, and 344 pass rush snaps, respectively.
• Kris Jenkins ranks second among all FBS defenders with a 16.9 run stop percentage. Run stop percentage is a metric by PFF that measures the percentage of a player's defensive snaps that result in a stuff on a run play. Mazi Smith (13.5 percent) is also a standout in this category (tied-19th), giving U-M the only pair of teammates in the top 20.
• Among punters with at least one punt per game (11), Brad Robbins' 4.27-second hang time is the best in the country, according to PFFCollege. He is one of four punters above 4.2 seconds and the only Big Ten punter above 4.0 seconds. The average among Big Ten punters who meet the same qualifications is 3.74 seconds.
• With Robbins directing the unit, no opponent has registered a punt return of 10-plus yards since U-M played Ohio State in the 2017 season (113 punts).
• Kicker Jake Moody is the third player in Michigan history to record consecutive 100-point seasons, joining Anthony Thomas (1999-2000) and Tom Harmon (1939-40).
• Moody's 122 points this year are three shy of his 14-game total from 2021. Desmond Howard (1991, 138 points) is the single-season record-holder for points scored.
• Moody's 65 career made field goals are a Michigan record. With one more made field goal, Moody would break his tie for the single-season record held by Remy Hamilton (1994, 25 FGM).
• Moody is the second-highest-scoring kicker in program history (330 career points), good for third all-time. Only Anthony Thomas (336 points) and Garrett Rivas (354 points) have scored more points in their respective careers for Michigan Football.
COURTESY MICHIGAN ATHLETIC COMMUNICATIONS