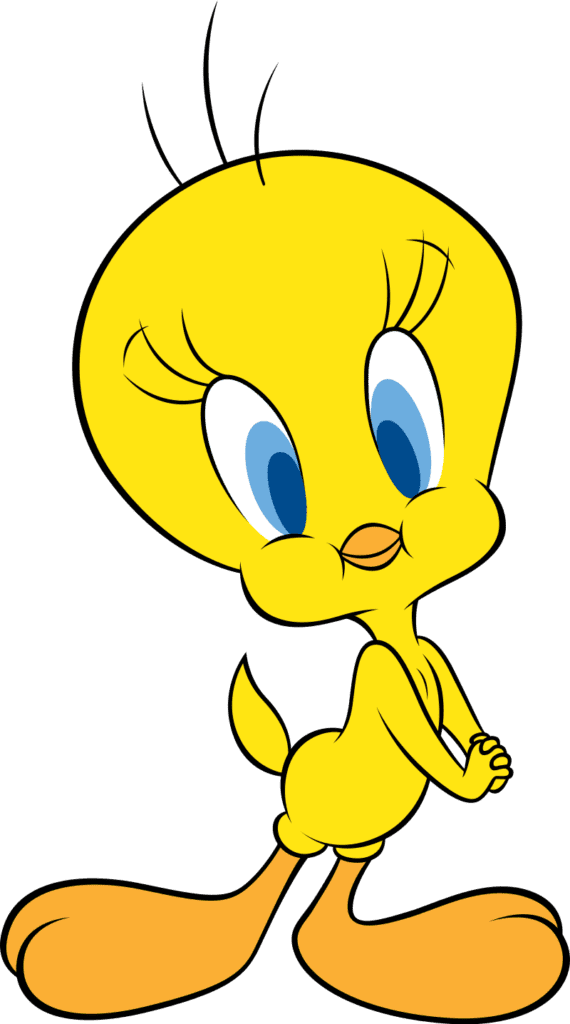 WIKIPEDIA COMMONS
Tweety is a yellow canary in the Warner Bros.Looney Tunes and Merrie Melodies series of animated cartoons. The name "Tweety" is a play on words, as it originally meant "sweetie", along with "tweet" being an English onomatopoeia for the sounds of birds. His characteristics are based on Red Skelton's famous "Junior the Mean Widdle Kid." He appeared in 46 cartoons during the golden age, made between 1942 and 1962.
PERSONALITY AND IDENTITY
Despite the perceptions that people may hold, owing to the long eyelashes and high-pitched voice (which Mel Blanc provided), Tweety is male although his ambiguity was played with. For example, in the cartoon "Snow Business", when Granny entered a room containing Tweety and Sylvester she said: "Here I am, boys!", whereas a 1952 cartoon was entitled Ain't She Tweet [emphasis added]. Also, his species is ambiguous; although originally and often portrayed as a young canary, he is also frequently called a rare and valuable "tweety bird" as a plot device, and once called "the only living specimen". Nevertheless, the title song of The Sylvester & Tweety Mysteries directly states that he is a canary. His shape more closely suggests that of a baby bird, which is what he was during his early appearances (although the "baby bird" aspect has been used in a few later cartoons as a plot device). The yellow feathers were added, but otherwise he retained the baby-bird shape.
In his early appearances in Bob Clampett cartoons, Tweety is a very aggressive character who tries anything to foil Sylvester, even kicking the cat when he is down. One of his most notable malicious moments is in the cartoon Birdy and the Beast, where a cat chases Tweety by flying until he remembers that cats cannot fly, causing him to fall. Tweety says sympathetically, "Awww, the poor kitty cat! He faw down and go (in a loud, tough, masculine voice) BOOM!!" and then grins mischievously. A similar use of that voice is in A Tale Of Two Kitties when Tweety, wearing an air raid warden's helmet, suddenly yells "Turn out those lights!"
Tweety's aggressive nature was toned down when Friz Freleng began directing the series, with the character more consistently played as a cutesy bird usually going about his business, and doing little to thwart Sylvester's ill-conceived plots, allowing them to simply collapse on their own; he became even less aggressive when Granny was introduced, but occasionally Tweety still showed a malicious side when egged on. Despite this, in comparison with other major Looney Tunes protagonists like Bugs Bunny and Foghorn Leghorn, Tweety was not given a complete character arc, instead embodying the "innocent child" role offsetting the motives of his superior Sylvester and their guardian figure.
TODAY'S ALMANAC
Question of the Day
Where did the phrase "mad as a March hare" originate?
This phrase first appeared in Lewis Carroll's Alice's Adventures in Wonderland and is now used to describe anyone behaving in an odd or foolish way. Hares tend to be unusually wild in March, during their breeding season, when they leap, box, and chase each other around the countryside during courtship. They appear mad or, in our common usage, crazy.
Advice of the Day
Tossing out bread crumbs is inviting the ancient curse of famine.
Home Hint of the Day
To remove rust from knives or scissors, soak them in a mild solution of water and ammonia for 10 minutes. Then scrub off the rust with a steel-wool soap pad. Rinse and dry.
Word of the Day
Benny
East Indian annual erect herb; source of sesame seed or benniseed and sesame oil.
Puzzle of the Day
What never asks questions but requires frequent answers?
The doorbell
Born
Voltaire (writer) – 1694
William Beaumont (surgeon) – 1785
Sir Samuel Cunard (merchant and shipowner who founded the first regular Atlantic steamship line) – 1787
Rene Francois-Ghislain Magritte (painter) – 1898
Stan Musial (baseball player) – 1920
Marlo Thomas (actress) – 1937
Goldie Hawn (actress) – 1945
Lorna Luft (actress & singer) – 1952
Nicolette Sheridan (actress) – 1963
Reggie Lewis (basketball player) – 1965
Troy Aikman (football player) – 1966
Ken Griffey, Jr. (baseball player) – 1969
Jena Malone (actress) – 1984
Died
Henry Purcell (composer) – 1695
Florence Kling Harding (U.S. First Lady) – 1924
Robert Benchley (humorist) – 1945
Bill Bixby (actor & director) – 1993
Quentin Crisp (writer) – 1999
Deborah Raffin (actress and audiobook publisher) – 2012
David Cassidy (singer and actor) – 2017
Events
The Mayflower Compact, a preliminary plan of government for the Pilgrims, was signed in the cabin of the Mayflower near what is now Provincetown, Massachusetts– 1620
North Carolina became the 12th state– 1789
HMHS Britannic sank– 1916
William C. Bullitt became the first U.S. ambassador to the U.S.S.R.– 1933
Tweety Bird debuted– 1942
President Harry Truman became the second U.S. president to ride underwater in a submarine. (Theodore Roosevelt was the first.)– 1946
HMCS Labrador achieved the first circumnavigation of North America in a single voyage– 1954
Verrazano-Narrows Bridge between Brooklyn and Staten Island, the the world's longest suspension bridge, formally opened– 1964
3.8 earthquake near Northglenn, Colorado– 1965
Deadly fire at MGM Grand Hotel, Las Vegas, Nevada– 1980
After a summer of asking, Who shot J.R.?, viewers tuned in to see J.R.'s mistress, Kristin Shepard, holding the smoking gun– 1980
Jonathan Jay Pollard arrested for spying– 1985
Weather
The Long Storm dropped 12 inches of snow on New York City– 1798
Snowflakes fell on Orlando, Florida– 2006
COURTESY www.almanac.com