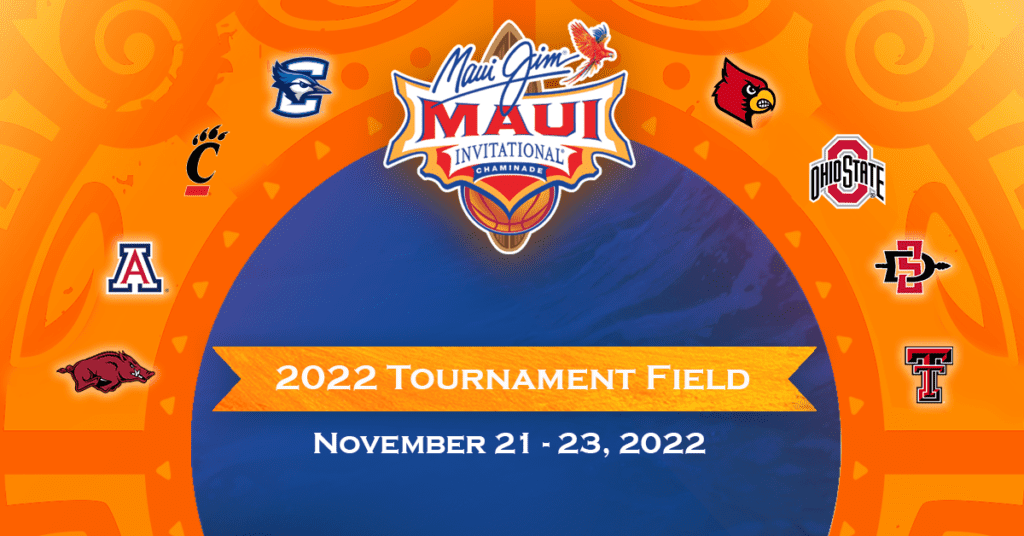 TONIGHT'S GAME NOTES
https://gobearcats.com/documents/2022/11/20/2022-23_Game_Notes_Arizona.pdf
LAHAINA, Hawaii — The Cincinnati men's basketball team is set for a tropical business trip that tips off Monday night at 11:30 p.m. ET (6:30 HT) against No. 12 Arizona.
The Bearcats, who arrived Saturday afternoon for its five-night stay, will face either Ohio State or San Diego State on Tuesday, followed by Texas Tech, Louisville, Creighton or Arkansas on Wednesday.
ESPN2 | Listen (700 WLW) | Live Stats
THE RUNDOWN
Cincinnati shot 53.3 percent from the field and held a four-point lead at the half, but it hit an offensive wall in the second for its first loss of the season, 64-51, at Horizon League favorite NKU on Wednesday night. UC was out-rebounded for the first time this season, but the Bearcats still boast a plus-10.5 margin on the season after being minus-0.3 last year. Head coach Wes Miller has also taken advantage of his Year Two roster personnel to instill a fuller press that has forced four 10-second violations in as many games.
David DeJulius, the AAC's first Player of the Week, leads UC with 18.3 ppg, including an 8-for-15 (.533) clip from deep. He also has just three turnovers over 110 minutes to go with 957 points over his career (13.0 ppg as a Bearcat), including a 24- and 25-point game against top-15 Arkansas and Houston last season. Viktor Lakhin also finished a point and rebound shy of his second double-double in four games to start the season. Rob Phinisee, one of several reserves tasked with filling the injured John Newman III's invaluable leadership and defense in the backcourt, is 19th nationally in assist-turnover ratio at 6.50. Landers Nolley II (14.0 ppg) is one of many Bearcats with Hawaii connections, having made the 2019 All-Maui team (19.7 ppg, 5.7 rpg for Virginia Tech).
Cincinnati is looking to repeat last year's history when it defeated No. 14 Illinois, 71-51, in Kansas City for also its fifth game of the season (Nov. 22). Should Arizona reach the top-10 by gameday, UC would be seeking its first victory over a top-10 team since No. 10 Florida State in the Second Round of the 2011 NCAA Tournament.
SECOND TRIP TO MAUI
Cincinnati is making its second-ever trip to the Maui Jim Maui Invitational, with its last one coming in 2009. The Bearcats defeated No. 24 Vanderbilt and No. 21 Maryland before falling in the title game to Gonzaga.
Yancy Gates was UC's top performer, averaging 14.7 points and 10.0 rebounds. Eventual BIG EAST Freshman of the Year Lance Stephenson scored a game-high 15 points against the Zags.
This is Cincinnati's sixth trip to Hawaii, sporting a 9-6 record overall over three cities. Its 1999 Big Island Invitational (Hilo), in which it swept its three-game set, came while ranked No. 1 in the country. UC also played in the 1975, 1989 and 1994 Rainbow Classics in Honolulu.
NOLLEY SAYS "ALOHA!" AGAIN
Landers Nolley II has achieved the rare status of being a repeat visitor to the Maui Invitational, and he has quite the resume and experiences to boot.
As a redshirt-freshman (2019-20) at Virginia Tech, Nolley averaged 19.7 points and 5.7 rebounds per game to earn All-Maui Invitational honors. His 22 points in the opening win over No. 3 Michigan State included a trey in the final minute that made it a four-point lead.
CINCINNATI COACHES KNOW MAUI
Miller and Mike Roberts, former teammates at New Hampshire's New Hampton Prep, have each won titles as players in the Maui Invitational. Roberts' 2002 Indiana team defeated UMass, Gonzaga and Virginia, while Miller's 2004 North Carolina squad topped BYU, Tennessee and Iowa before ultimately winning the national championship.
TALL TOLENTINO RETURNS HOME
Freshman Sage Tolentino's 7-foot-1 stature matches him for the tallest player in program history. Others include Hayden Koval last year, Chris Vogt (2019-21) and David Nyarsuk (2012-14). Tolentino, however, is the only one to start his career with the Bearcats.
Tolentino, a native of Kane'ohe, Hawaii, is eager for his return to the Maui Invitational as well. Along with Ohio State's Justice Sueing (Cal, 2017), he is the first Hawaiian native on a mainland team in the field since Joshua Ko at Pittsburgh in 2014.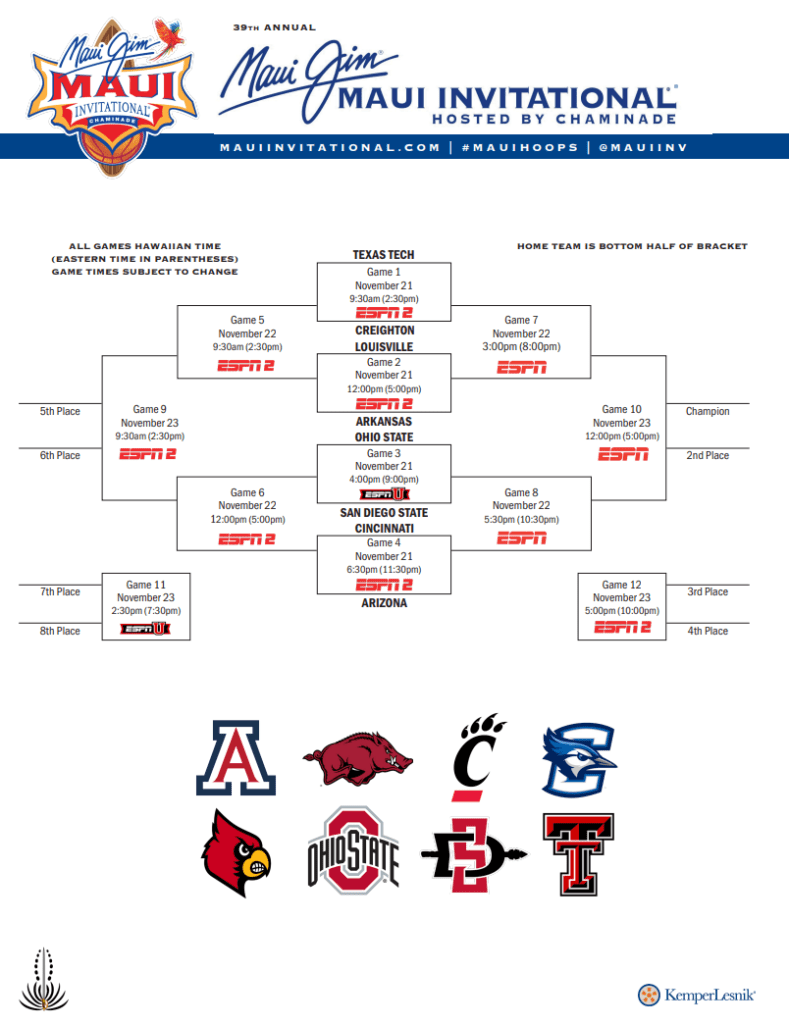 COURTESY UC ATHLETICS AND THE MAUI INVITATIONAL