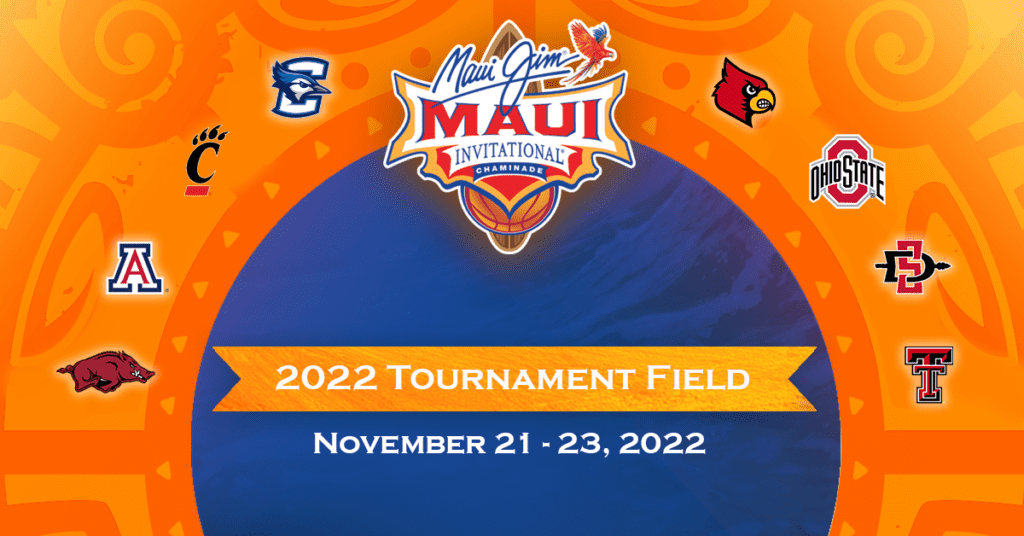 November 20, 2022
Who: #9/10 Arkansas Razorbacks (3-0, 0-0 SEC) vs Louisville Cardinals (0-3, 0-0 ACC)
What: Razorback opener at the Maui Jim Maui Invitational.
When: Monday – Nov. 21 – Noon (HT) / 4:00 pm (CT)
Where: Lahaina, Hawai'i (Lahaina Civic Center)
How (to follow):
– Video: ESPN2 (Dan Shulman and Jay Bilas)
– Online Video Stream: ESPN2
How to Listen Online/Mobile: Razorback Gameday App
– Sirius/XM: 138 (Sirius) or 203 (XM) || SXM App: Channel 966
– Live Stats: Maui Invitational Live Stats
– Arkansas Game Notes: CLICK HERE
– Louisville Game Notes: CLICK HERE
– SEC Notes/Stats: CLICK HERE
– Maui Invitational Official Website: https://mauiinvitational.com/
LAHAINA, Hawaii – The ninth-ranked Arkansas Razorbacks will face the Louisville Cardinals in their first game of the Maui Jim Maui Invitational on Monday (Nov. 21) at Noon (HT / 4 pm (CT). The game will be televised on ESPN2 and will be game two of the tournament on Monday – following the Creighton and Texas Tech contest.
This will be the eighth meeting between Arkansas and Louisville. Louisville owns a 4-3 advantage in the series with five of the meetings coming on neutral courts — the first four during the NCAA Tournament. The teams played a home-and-home series in back-to-back years (1996-97 and 1997-98) with the visiting team winning each time.
This is the fourth time Arkansas has played in the Maui Invitational. The Razorbacks went 2-1 in 1991, falling to Michigan State in the championship. In 2005, Arkansas went 1-2 with a second-day win over Kansas. The last time Arkansas came to Maui was 2013 and the Hogs went 1-2 with a second-day win over Minnesota.
On Tuesday, the winners between Creighton-Texas Tech and Arkansas-Louisville will play on ESPN at 3 pm (HT)/7 pm (CT). The losers of those teams will play at 9:30 am (HT)/1:30 pm (CT) on ESPN2.
For more information on Arkansas Men's Basketball, follow @RazorbackMBB on Twitter.
COURTESY ARKANSAS MEDIA RELATIONS