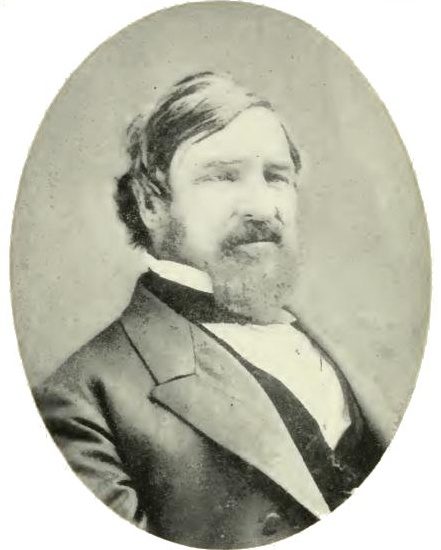 FROM WIKIPEDIA COMMONS
Nathaniel Brown Palmer (August 8, 1799 – June 21, 1877) was an American seal hunter, explorer, sailing captain, and ship designer. He gave his name to Palmer Land, Antarctica, which he explored in 1820 on his sloop Hero. He was born in Stonington, Connecticut, and was a descendant of Walter Palmer, one of the town's founders.
Sealing career and Antarctic exploration
During the 1810s the hides of Antarctic Ocean seals were highly valued as items for trade with China. Palmer served as second mate on board Hersilia's first voyage, during which she became the first American vessel known to reach the South Shetland Islands. As a skilled and fearless seal hunter, Palmer achieved his first command at the early age of 21. His vessel, a diminutive sloop named Hero, was only 47 feet (14 m) in length. Palmer steered southward in Hero at the beginning of the Antarctic summer of 1820–1821. Aggressively searching for new seal rookeries south of Cape Horn, on November 17, 1820, Palmer and his men became the first Americans and the third group of people to discover the Antarctic Peninsula. Larger ships skippered by Fabian Gottlieb von Bellingshausen and Edward Bransfield had reported sighting land earlier in 1820. Along with English sealer George Powell, Palmer also co-discovered the nearby South Orkney Islands archipelago.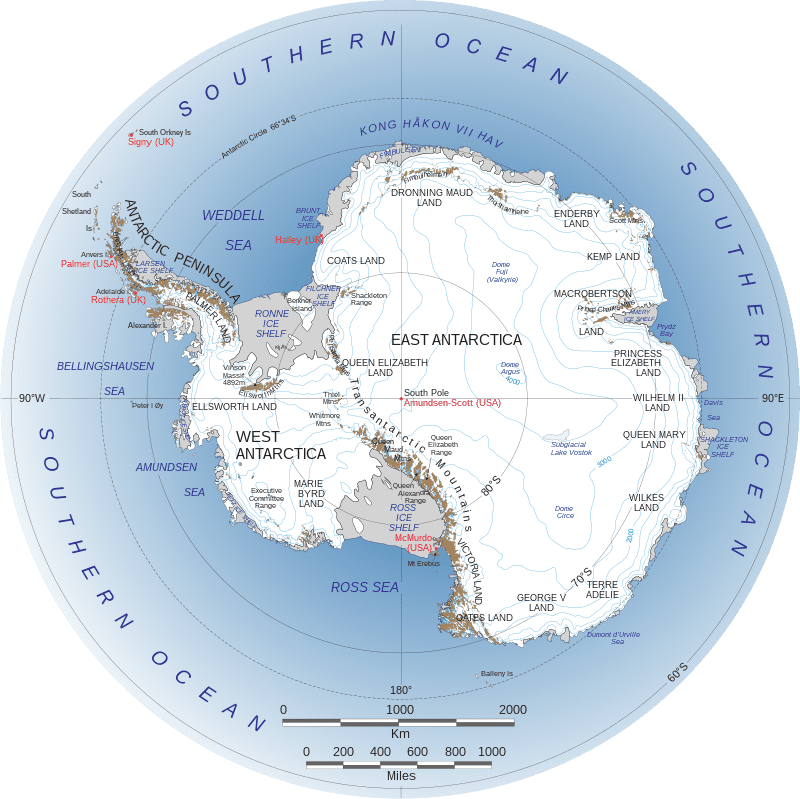 Antarctica (/ænˈtɑːrktɪkə/ (listen)) is Earth's southernmost and least-populated continent. Situated almost entirely south of the Antarctic Circle and surrounded by the Southern Ocean, it contains the geographic South Pole. Antarctica is the fifth-largest continent, being about 40% larger than Europe, and has an area of 14,200,000 km2 (5,500,000 sq mi). Most of Antarctica is covered by the Antarctic ice sheet, with an average thickness of 1.9 km (1.2 mi).
Antarctica is, on average, the coldest, driest, and windiest of the continents, and it has the highest average elevation. It is mainly a polar desert, with annual precipitation of over 200 mm (8 in) along the coast and far less inland. About 70% of the world's freshwater reserves are frozen in Antarctica, which, if melted, would raise global sea levels by almost 60 metres (200 ft). Antarctica holds the record for the lowest measured temperature on Earth, −89.2 °C (−128.6 °F). The coastal regions can reach temperatures over 10 °C (50 °F) in summer. Native species of animals include mites, nematodes, penguins, seals and tardigrades. Where vegetation occurs, it is mostly in the form of lichen or moss.
The ice shelves of Antarctica were probably first seen in 1820, during a Russian expedition led by Fabian Gottlieb von Bellingshausen and Mikhail Lazarev. The decades that followed saw further exploration in French, American, and British expeditions. The first confirmed landing was by a Norwegian team in 1895. In the early 20th century, there were a few expeditions into the interior of the continent. British explorers were the first to reach the magnetic South Pole in 1909, and the geographic South Pole was first reached in 1911 by Norwegian explorers.
Antarctica is governed by about 30 countries, all of which are parties of the 1959 Antarctic Treaty System. According to the terms of the treaty, military activity, mining, nuclear explosions, and nuclear waste disposal are all prohibited in Antarctica. Tourism, fishing and research are the main human activities in and around Antarctica. During the summer months, about 5,000 people reside at research stations, a figure that drops to around 1,000 in the winter. Despite its remoteness, human activity has a significant impact on the continent via pollution, ozone depletion, and climate change.
TODAY'S ALMANAC
Question of the Day
If the 25th wedding anniversary is silver and the 50th is gold, what are the 10th and 11th?
There are two methods of determining this. Under the traditional method, aluminum or tin is the proper gift for a 10th anniversary. In contemporary usage, diamond jewelry is recommended. The 11th is steel, fashion jewelry, or accessories.
Advice of the Day
It's good luck to spill wine on a tablecloth.
Home Hint of the Day
Use an old paint roller to spread glue quickly over large surfaces.
Word of the Day
Argy-bargy
A verbal dispute; a wrangling argument.
Puzzle of the Day
Which is heavier, a half or a full Moon?
The half, because the full Moon is twice as light.
Died
Queen Mary I of England – 1558
Auguste Rodin (sculptor) – 1917
Roger Peckinpaugh (baseball player) – 1977
Immanuel Velikovsky (author) – 1979
Esther Rolle (actress) – 1998
Dick O'Neill (actor) – 1998
Abba Eban (statesman, dominated Israeli diplomacy for decades) – 2002
Irving Brecher (comedy writer) – 2008
Born
George Grote (historian) – 1794
August Wilhelm Ambros (composer) – 1816
Grace Abbott (American reformer) – 1878
Lee Strasberg (director) – 1901
Isamu Noguchi (sculptor) – 1904
Stanley Cohen (biochemist) – 1922
Rock Hudson (actor) – 1925
Bob Mathias (decathlon athlete) – 1930
Gordon Lightfoot (singer) – 1938
Martin Scorsese (director) – 1942
Tom Seaver (baseball player) – 1944
Danny DeVito (actor) – 1944
Sophie Marceau (actress) – 1966
Daisy Fuentes (model & television host) – 1966
Raquel Castro (actress) – 1994
Events
The U.S. Congress met for the first time in the Capitol, Washington, D.C.– 1800
Captain Nathaniel B. Palmer sighted Antarctica– 1820
First U.S. postage stamp of American eagle issued– 1851
Douglas C. Engelbart patented the computer mouse– 1970
A turkey was plucked in 1 minute 30 seconds, setting world record– 1980
Arnold Schwarzenegger inaugurated as Governor of California– 2003
The soap opera All My Children taped its 9,000th episode– 2004
The world's oldest champagne (salvaged from a shipwreck in the Baltic Sea) was uncorked and sampled. Wine experts date the bottles as being from the early 19th century.– 2010
Weather
Remarkable aurora borealis shows were seen throughout the United States– 1835
A tornado touched down in Cass County, Indiana– 1978
COURTESY www.almanac.com