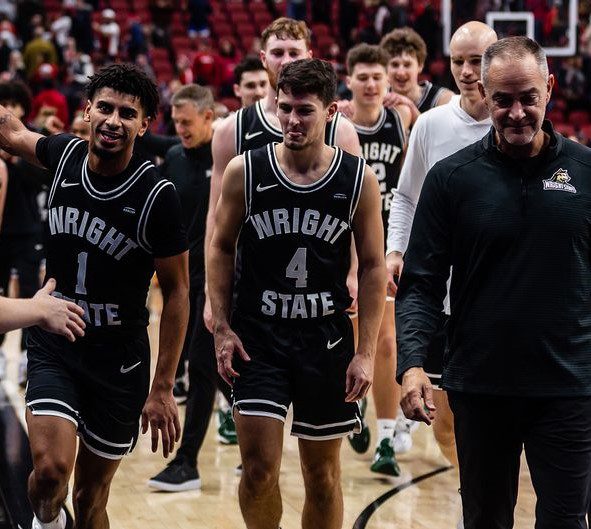 11/12/2022
LOUISVILLE, KY –Trey Calvin's pullup jumper as time expired gave the Wright State men's basketball team a 73-72 victory over Louisville on Saturday afternoon on the road.
The Raiders have now won their last three matchups with ACC opponents, defeating Georgia Tech 85-81 in December 2017 before a 84-70 victory at North Carolina State last December.

Wright State (1-1) led in the first half and was within striking distance of Louisville (0-2) all afternoon, as the Raiders tallied the final six points over the last 63 seconds after being down as many as 10 early in the second half.
An El Ellis jumper with 1:32 to play gave Louisville a five-point lead at 72-67 with what turned out to be the final Cardinal basket of the afternoon. The next Raider possession saw Brandon Noel convert a tip-in off a rebound following Tim Finke's miss to pull Wright State to within three. After the Raiders forced a miss on a contested Louisville three-point attempt late in the shot clock, Noel set a screen and rolled to the basked with less than 15 seconds remaining and dunked it home off a Finke bounce pass to pull Wright State within one.

Following a timeout, Louisville's inbounds pass forced Ellis towards the Raider bench, where he was effectively quadruple teamed by a pair of Raiders, the sideline and baseline. The ball came loose and bodies hit the floor as Wright State tied up the ball and got a chance to win it thanks to the alternating possession.

With 8.4 seconds remaining, Calvin inbounded the ball and immediately got it back, using an AJ Braun screen and defensive switch by Louisville to drive and take a step back jumper from just outside the elbow with 0.2 seconds left that found nothing but the bottom of the net and set off the Raider celebration.
PREGAME NOTES
LAST TIME OUT
Wright State opened the season at home on Wednesday night, battling through two overtime periods before falling to Davidson 102-97. Trey Calvin finished with a career-high 37 points, including 17 in the first half, on trio of three pointers along with four assists, three rebounds and three steals. Amari Davis tallied a double-double in his first game as a Raider, finishing with 17 points and 13 rebounds, while AJ Braun and Tim Finke each just missed double-doubles of their own. Both finished with 11 points as Braun pulled down nine rebounds and Finke added eight rebounds to his stat line.
IN THE CARDS
Louisville also opened its 2022-23 season on Wednesday night, falling at home to Bellarmine 67-66. Louisville went 13-19 last season with a 6-14 ACC mark, falling in the second round of the ACC Tournament to end the season. Former Louisville standout Kenny Payne was named the Cardinals new head coach in mid-March and begins his first season at the helm of his alma mater this fall. Louisville's meeting with Wright State marks the fifth time in the last six seasons the Cardinals have faced a current Horizon League member school (Northern Kentucky 2016-17 (NIT), Robert Morris 2018-19, Youngstown State 2019-20, Detroit Mercy 2021-22. The Raiders and Cardinals have met three times previously, all in Louisville: February 1983, February 1984 and December 1996.
LOUISVILLE LISTING
-Louisville's season-opening loss on Wednesday to Bellarmine snapped a 21-game winning streak in home openers for the Cardinals and was just their second-ever loss in November inside KFC Yum! Center, now sitting at 48-2 in the arena in November since it opened in 2010.
-Jae'Lyn Withers had a team-high 17 points Wednesday against Bellarmine and went 2-for-3 from 3-point range. Across Louisville's two exhibitions and the season opener, Withers has made 9-of-14 three-pointers (64.3%).
CAREER TREY
Trey Calvin's 37 points in the season opener against Davidson was a new career-best for the senior. His first game with 30-plus points, it was just the eighth time in his Raider career that Calvin had scored over 20 points. Calvin's 37 points are tied for the second-most points scored in a single game by a Wright State player in the last four seasons, one shy of former Raider Tanner Holden's 38 points at UIC in January 2022.
AMAR-EDY HOME
Amari Davis dropped 17 points in his Wright State debut against Davidson on Nov. 9, his second-most points in a game since leaving Green Bay following the 2020-21 season. Last season at Missouri, Davis tallied 17 points twice (vs. Wichita St. 11/26 and vs. Utah 12/18) while scoring a season-best 23 points at Ole Miss on Jan. 18. Davis' career-high 35 points came against the Raiders in December 2020 while with Green Bay.
LONG TIME COMING
Redshirt freshman Brandon Noel finally made his Raider debut on Nov. 9, tallying three points and pulling down a pair of rebounds in 19 minutes of action. Noel, a member of the Wright State roster since the 2020-21 season, has spent the last two years working his way back from a knee injury that happened prior to what would have been his freshman season.
COURTESY WRIGHT STATE ATHLETIC COMMUNICATIONS