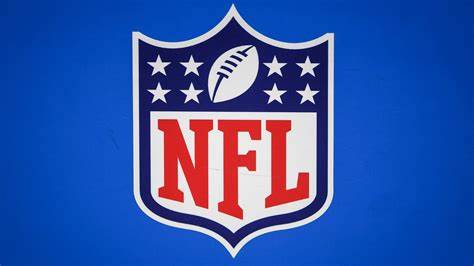 The National Football League reaches a significant milestone in its 103-year history this week, playing its first regular-season game in a fourth country outside the United States.
When the SEATTLE SEAHAWKS (6-3) meet the TAMPA BAY BUCCANEERS (4-5) at Allianz Arena in Munich on Sunday (9:30 AM ET, NFL Network), the NFL will have played regular-season games in Canada, Mexico, the United Kingdom and Germany.
In February, following a competitive application process, the NFL selected Munich as the venue for two of the four International Series games to be played in Germany over the next four years. Frankfurt will also host two games.
This week's Seattle-Tampa Bay contest is one of five international games in 2022, including a Monday Night Football game between San Francisco and Arizona in Mexico City next week, and three already played in the UK.
The Starting 11 entering Week 10…

1. JOHNNY UNITAS' COLTS, 2022 EAGLES COULD SHARE REMARKABLE FEAT: The PHILADELPHIA EAGLES (8-0) lead the NFL in turnover ratio (+15) and takeaways (18) this season. This week, if they can finish their Monday Night Football game (8:15 PM ET, ESPN) with another positive turnover ratio, they'll join the 1958 BALTIMORE COLTS as the only teams in NFL history to open a season with a plus-turnover margin in each of their first nine games. That year, the Colts beat the Giants in the NFL Championship Game, 23-17, in what most have called the greatest game ever played, the first sudden-death overtime contest in league history.
And speaking of close games, the Eagles' opponent this week, WASHINGTON (4-5), is 4-2 in games decided by seven-or-fewer points this season, tied with the Titans (4-2) for the league's second-best record. With a minimum of six games, only the Giants (5-1) have a better mark in those contests.
Through nine weeks this year, 72 NFL games have been decided by seven-or-fewer points, more than any season through Week 9 in league history.
2. NUMBER OF THE WEEK – 100: The number of career NFL sacks the Bosa family could reach this week. JOEY and NICK BOSA's teams meet for the first time since the brothers entered the league when the LOS ANGELES CHARGERS (5-3) visit the SAN FRANCISCO 49ERS (4-4) on Sunday Night Football (8:20 PM ET, NBC), and the family (99.5) needs just one-half sack to reach 100. Joey Bosa has 59.5 career sacks in seven seasons for the Chargers. Younger brother Nick Bosa has 33 career sacks since entering the league in 2019. Their father, JOHN BOSA, registered seven career sacks from 1987-89 with the Dolphins.
Since the individual sack became an official statistic in 1982, the Bosas rank seventh among NFL families in combined sacks, trailing J.J. and T.J. WATT (179.5), CLAY MATTHEWS SR., CLAY MATTHEWS III and CASEY MATTHEWS (163.5), HOWIE and CHRIS LONG (154), JOHN and ERVIN RANDLE (145.5), ARTHUR and CHANDLER JONES (118) and JIM and JACKSON JEFFCOAT (103.5)
3. NFC BEAST: The NFC East division is a combined 9-1 (.900) against the AFC this season, entering the HOUSTON (1-6-1) at NEW YORK GIANTS (6-2) matchup on Sunday (1:00 PM ET, CBS). The Giants and Eagles are each 3-0 against the other conference, while the Commanders are 2-1 and the Cowboys are 1-0.
Since the 1970 league merger created AFC-NFC interconference play, the best single-season winning percentage by one division against the other conference was the 1976 AFC Central, which finished 7-1 (.875) against the NFC.
Since Pro Football Hall of Famer JOE MONTANA embarked on his 1989 MVP season, a division has finished with an .800-or-better interconference record on five occasions. In four of those five seasons, that division has earned a Super Bowl title (San Francisco from the NFC West in 1989, Washington from the NFC East in 1991, New England from the AFC East in 2004 and Seattle from the NFC West in 2013).
4. SPOTLIGHT – INDIVIDUAL MATCHUP: Arizona wide receiver DEANDRE HOPKINS over the past three weeks has 26 receptions, tied with TYREEK HILL for first in the NFL over that span, and ranks second behind Hill with 298 receiving yards. On Sunday at SoFi Stadium (4:25 PM ET, FOX), Hopkins faces a secondary that includes five-time Pro Bowler JALEN RAMSEY, who will play in his 100th NFL game. Since the beginning of 2021, Ramsey has broken up 25 passes. Only TREVON DIGGS (33) and JAMES BRADBERRY (28) have more in that time.

5. SPOTLIGHT – TEAM MATCHUP: DENVER (3-5) at TENNESSEE (5-3) on Sunday (1:00 PM ET, CBS). Coordinator EJIRO EVERO and the Denver defense have the league's best red-zone defense, allowing just five touchdowns in 19 opponent possessions (26.3 percent). Meanwhile, Titans coordinator TODD DOWNING has his unit ranked first in red-zone offense, with 15 touchdowns in 19 possessions (78.9 percent).

6. STREAK SPEAK: The NFL's second-longest active winning streak will be on the line Sunday when the MINNESOTA VIKINGS (7-1) visit the BUFFALO BILLS (6-2) at Highmark Stadium (1:00 PM ET, FOX). Only PHILADELPHIA (8-0) has a longer active winning streak than the Vikings, who've won six in a row. After Sunday, Minnesota gets DALLAS (6-2), NEW ENGLAND (5-4) and the NEW YORK JETS (6-3), all at home.
This season, the Vikings are tied with the Giants for the most wins (four) after trailing in the fourth quarter. Overall in the NFL this year, 42 games have been won or tied by teams that trailed in the fourth quarter. That's more than any prior NFL season through nine weeks.
7. DID YOU KNOW?: Sadly, Pro Football Hall of Fame punter RAY GUY passed away last week at age 72. Honoring the legacy of the three-time Super Bowl champion, those who have followed in his footsteps have collectively performed at an unprecedented level this season. In 2022, NFL punters are averaging 42.1 net yards per punt, the highest mark through Week 9 since 1976, when net punting became an individual statistic. NFL punters also are averaging 47.5 gross yards per punt, the best figure through nine weeks of any season since the 1970 league merger.
When KANSAS CITY (6-2) hosts JACKSONVILLE (3-6) on Sunday (1:00 PM ET, CBS), two of the league's top punters will face off. The Chiefs' TOMMY TOWNSEND leads the NFL with a 47.3 net punting average, while the Jaguars' LOGAN COOKE (44.3) is fourth.
8. UNDER-THE-RADAR STORYLINE: Since entering the league in 2020, Chargers quarterback JUSTIN HERBERT has 19 games with at least 300 passing yards, tied for the most in the league. With 300 passing yards at San Francisco on Sunday Night Football (8:20 PM ET, NBC), Herbert will surpass ANDREW LUCK (19) for the most 300-yard games by a player in his first three seasons in NFL history. Herbert has thrived under offensive coordinator JOE LOMBARDI. The NFL this month is honoring Lombardi, a graduate of the U.S. Air Force Academy who served a four-year tour of active duty, and all of our nation's service members, veterans and their families in the annual Salute to Service initiative. Grounded in deep partnerships with military and veteran support organizations, Salute to Service seeks to honor, empower and connect with our nation's military community. The military is an important part of Lombardi's family. His grandfather, Pro Football Hall of Famer VINCE LOMBARDI, was as an assistant at the United States Military Academy under the legendary Earl "Red" Blaik from 1949-53.
For more information on the NFL's Salute to Service initiative, click here.
For the team-by-team nominees for the 12th Annual Salute to Service Award Presented by USAA, including a new fan voting opportunity, click here.
9. TREND TIME: Including the postseason, the Rams' SEAN MCVAY against Arizona is 11-1 (.917), the best winning percentage by an active head coach against an opponent with a minimum of 10 meetings.

10. THIS WEEK IN NFL HISTORY: Nov. 8, 1987 (35 years ago) – LAWRENCE TAYLOR records two sacks and intercepts the Patriots' STEVE GROGAN at the New York 15-yard line with just over a minute remaining to preserve a 17-10 Giants victory. An eventual Pro Football Hall of Famer, Taylor highlights the first regular-season game in NFL history to air on the new medium of cable television. The ESPN broadcast booth on the historic occasion features Mike Patrick, Roy Firestone and Larry Csonka, with Chris Berman in the studio.

11. AND LAST BUT NOT LEAST: Recent history has proven that every NFL team should have hope. One example: In each of the past five seasons (2018-22) and in 14 of the past 16 (since 2007), at least one club has established or tied its best start in franchise history after eight games. Last week, the PHILADELPHIA EAGLES (8-0) extended the NFL's streak. ARIZONA (2021), BALTIMORE (2019, 2020 and 2021), the LOS ANGELES RAMS (2018), NEW ENGLAND (2019), PITTSBURGH (2020), SAN FRANCISCO (2019), and TAMPA BAY (2020 and 2021) have preceded the Eagles over the past five seasons in that category. And since 2007, 18 of the 32 NFL teams have established or tied their best eight-game starts in franchise history.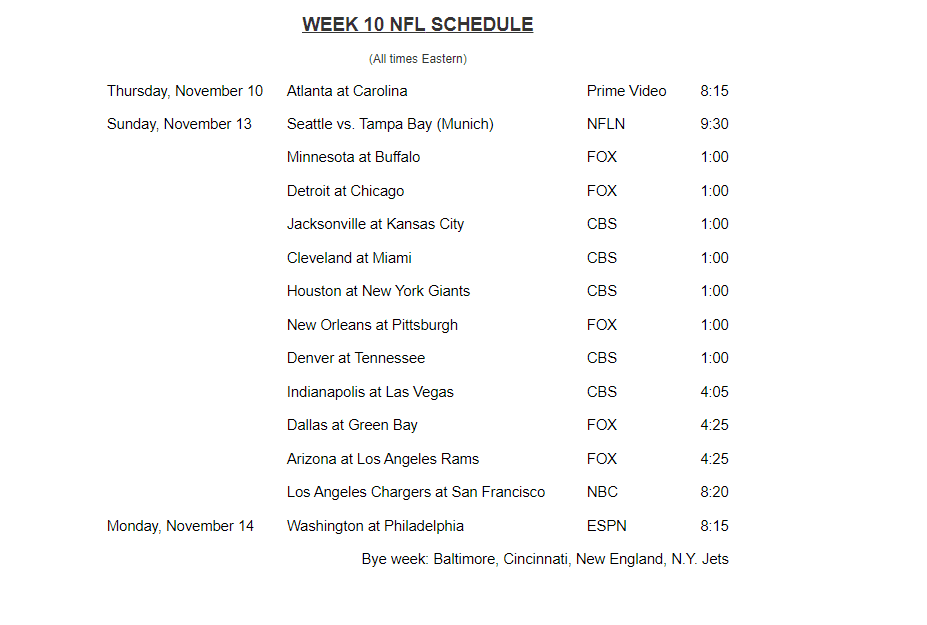 COURTESY NFLmedia.com