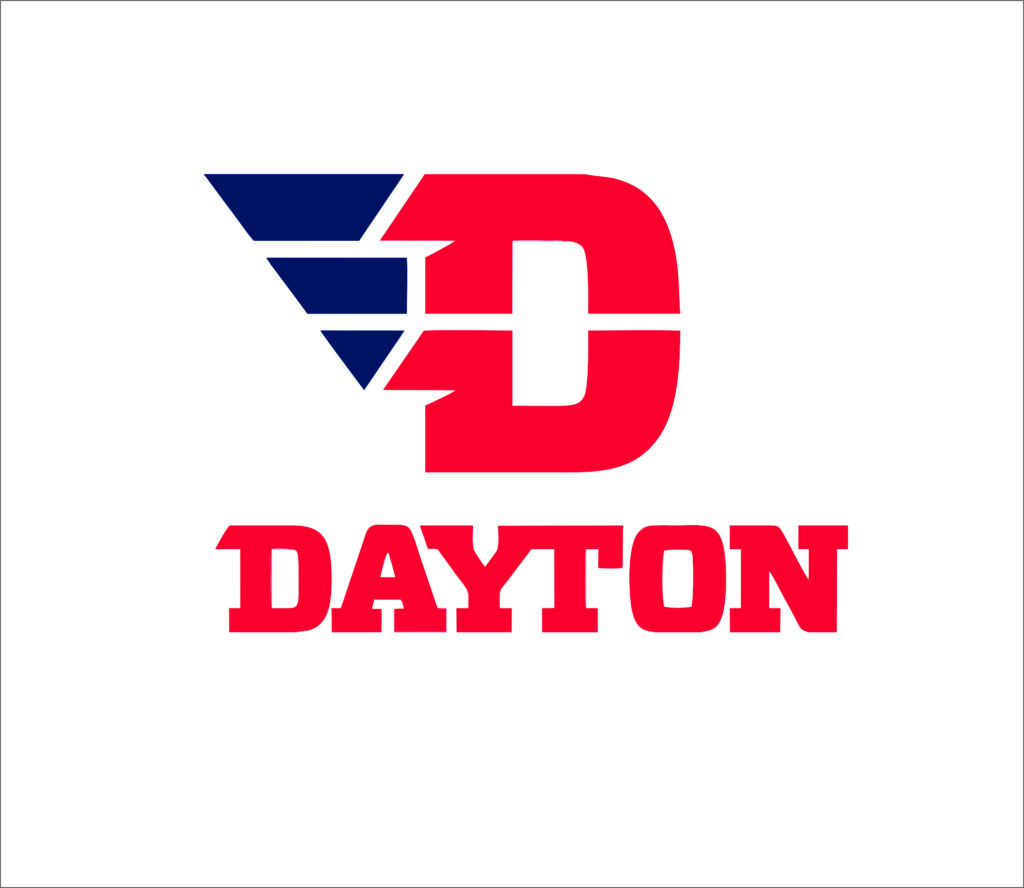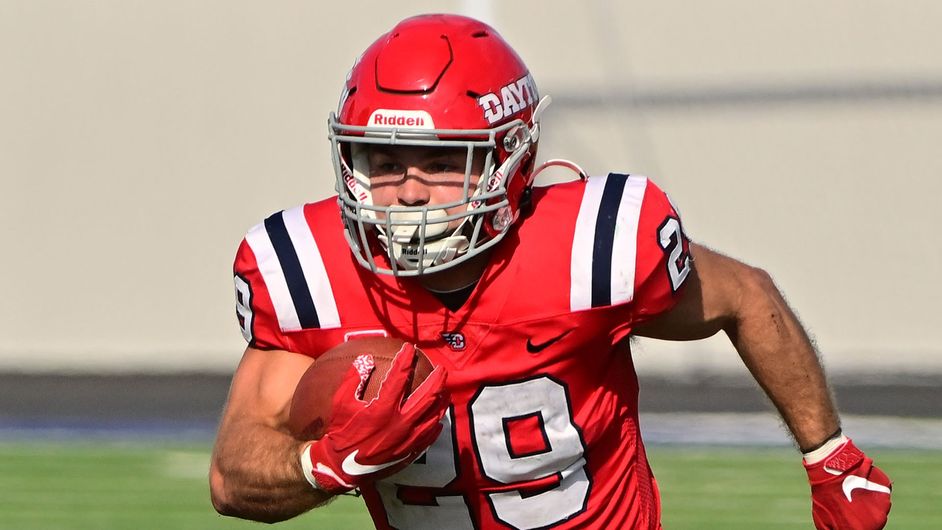 11/5/2022
Jake Chisholm Runs For 156 Yards; Defense Hold PC To -9 Yards Rushing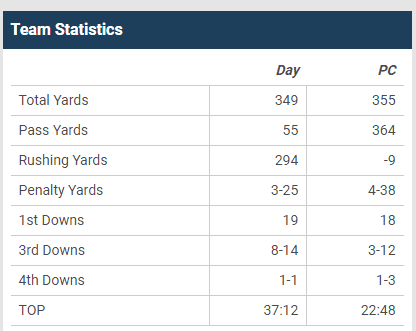 CLINTON, S.C. – The University of Dayton football team scored 28 unanswered points in the first half to grab a 52-28 win at Presbyterian on Saturday.
Jake Chisholm led UD with 156 yards rushing and four touchdowns on the day (3 rushing, 1 receiving).
The Dayton defense held the Blue Hose to -9 yards rushing
The Flyers improve to 7-2 overall and 5-1 in the Pioneer Football League, and are no worse than tied for second with games still going on in the PFL.
1st Quarter – Dayton 21, Presbyterian 7
• Dayton took the opening kickoff and drove 65 yards in 11 plays to open the scoring. Shane Hamm hit Jack Chisholm on a 10-yard pass for the TD.
• Presbyterian needed one play to tie the score, when Nate Hayden hit Dominic Kibby for a 75-yard TD.
• UD got great field position after a 45-yard kickoff return by Luke Brenner and a late-hit penalty, and took full advantage, going 43 yards in five plays. Chisholm scored again, this time on a two-yard run.
• The Dayton defense forced a three-and-out, and then the special teams stepped up. Ty Stylski blocked a punt, and Alex Hirschfield scored his first career touchdown on a 16-yard return.
2nd Quarter – Dayton 35, Presbyterian 14
• After so much early scoring in the first quarter, all the points came in the last five minutes of the second quarter.
• The Flyers used 10 plays to drive 54 yards four their fourth touchdown. Jake Chisholm scored his third of the day on a seven-yard run.
• Drew Robertson forced fumble on a sack was recovered by Joe Durham on the PC 19, setting up a Michal Neel eight-yard TD run with 1:19 to go.
• Three plays later, Kibby struck again, this time from 63 yards away on a toss from Tyler Wesley with 36 second left in the half.
3rd Quarter – Dayton 45, Presbyterian 21
• Presbyterian received the second-half kickoff, but didn't score until Dayton's first possession when AJ Seay intercepted Hamm's out route and returned it 76 yards.
• Dayton answered with a drive that resulted in Sam Webster's 28-yard field goal at the 8:13 mark, and a three-yard Chisholm TD run.
4th Quarter – Dayton 52, Presbyterian 28
• PC scored less than two minutes into the final period, with Kibby grabbing another pass from Wesley for 'just" 31 yards.
• UD scored right away, using five plays to drive 65 yards. Hamm's 47-yard run with 10:11 to go ended the scoring.
BY THE NUMBERS
• Dayton is the ninth team FCS team to reach 700 wins.
• The other eight members of the FCS 700 Win Club are Yale, Harvard, Penn, Princeton, North Dakota State, Dartmouth, Delaware and Lehigh.
• Flyer head coach Rick Chamberlin has been a part of 400 of those wins as a player, assistant coach and head coach.
• Jake Chisholm ran for 100 yards for the second consecutive week.
• He had 24 carries for 156 yards (6.5 avg.).
• Chisholm also scored four touchdowns (3 rushing, 1 receiving) to move him into sole possession of second place in UD's career touchdowns. Chisholm has now has 43, Pat Hofacre has 53.
• Chisholm also moved into third place on the Flyer career rushing list. His 2,967 yards only trail his two immediate predecessors as Dayton's lead back – Tucker Yinger (3,757 yards) and Connor Cacsor (3,581).
• Shane Hamm added 74 yards rushing on 10 carries.
• Nathan Arthur spearheaded the UD defensive effort in holding PC to minus nine yards rushing., Arthur had seven tackles (six solo with two TFL and a sack.
• Joe Durham batted two passes down at the line. He also had a QB hurry and a fumble recovery.
• Logan Dalton intercepted a pass that he returned for 20 yards.
• Six different Flyers had UD's six sacks in the game.
• Dayton special teams were special once again.
• In addition to Ty Stylski's punt block that was taken in for a score by Alex Hirschfield, Sam Bubonics returned four punts for 70 yards (17.5 avg.)
• Luke Brenner returned three kickoffs 103 yards (34.3 avg.).
• Sam Webster was 7-for 7 on PATS and made his only field goal attempt.
• And after Michael Denning's first kickoff was only returned to the 15, the remainder of his nine kickoffs were either touchbacks or fair caught near the goal line.
UP NEXT
•    UD returns home to play Morehead State on Saturday, Nov. 12.
•    Dayton will celebrate Senior Day and at halftime, the Lt. Andy Zulli Memorial Award will be presented to a member of the senior class.  The Zulli award is a character-driven award that is considered the most prestigious honor in the Flyer football program.
•    Game time is 1:00 p.m. ET.
COURTESY DAYTON MEDIA RELATIONS