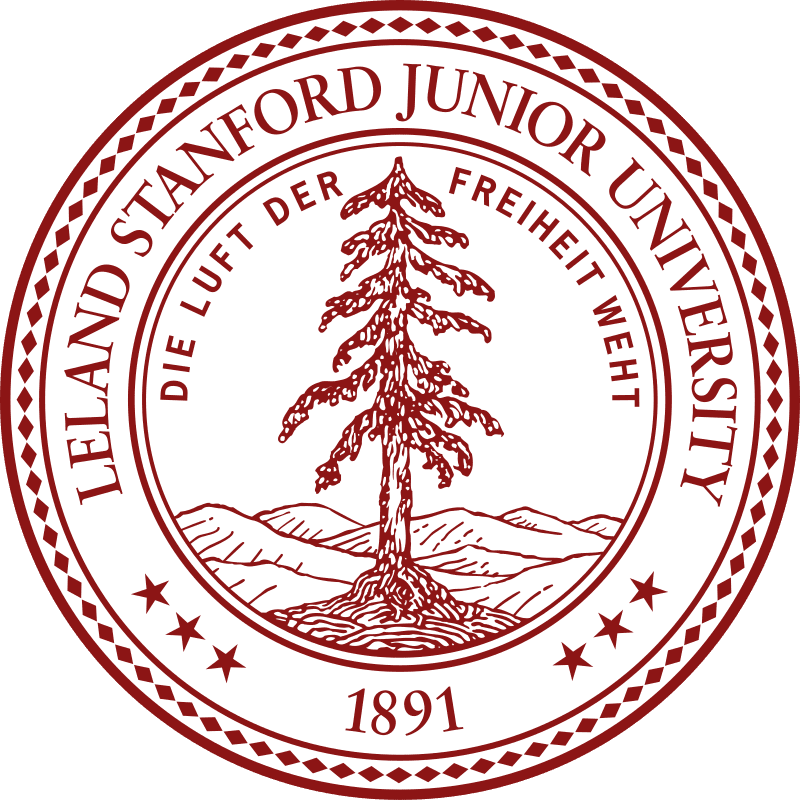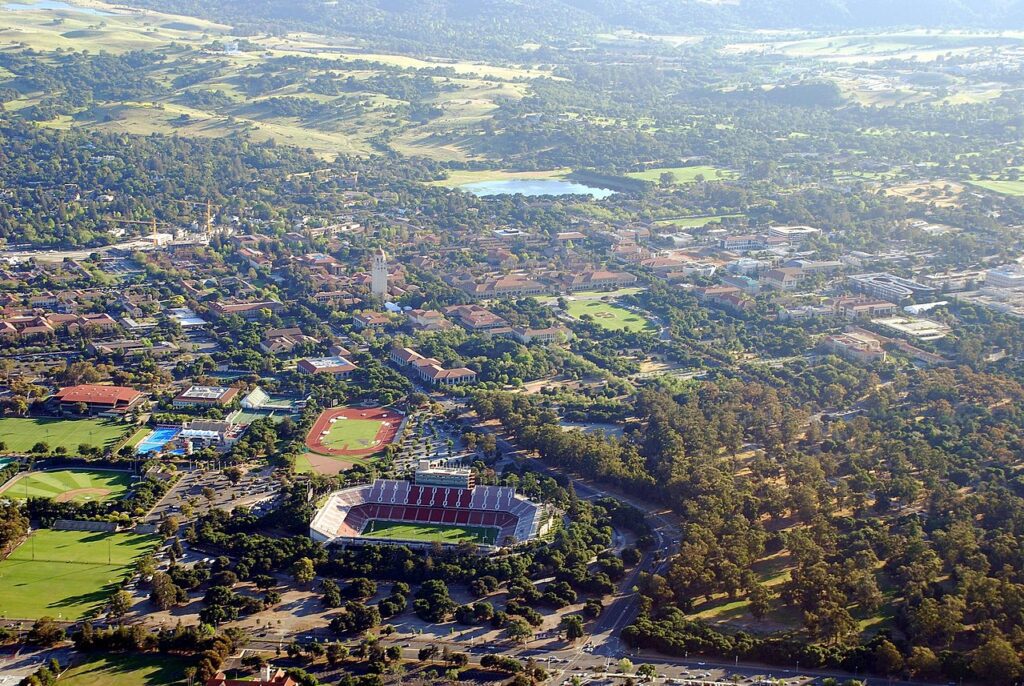 FROM WIKIPEDIA COMMONS
Stanford University, officially Leland Stanford Junior University, is a private research university in Stanford, California. The campus occupies 8,180 acres (3,310 hectares), among the largest in the United States, and enrolls over 17,000 students. Stanford is ranked among the top universities in the world.
Stanford was founded in 1885 by Leland and Jane Stanford in memory of their only child, Leland Stanford Jr., who had died of typhoid fever at age 15 the previous year. Leland Stanford was a U.S. senator and former governor of California who made his fortune as a railroad tycoon. The school admitted its first students on October 1, 1891, as a coeducational and non-denominational institution. Stanford University struggled financially after the death of Leland Stanford in 1893 and again after much of the campus was damaged by the 1906 San Francisco earthquake. Following World War II, provost Frederick Terman supported faculty and graduates' entrepreneurialism to build self-sufficient local industry in what would later be known as Silicon Valley.
The university is organized around seven schools on the same campus: three schools consisting of 40 academic departments at the undergraduate level as well as four professional schools that focus on graduate programs in law, medicine, education, and business. The university also houses the public policy think tank, the Hoover Institution. Students compete in 36 varsity sports, and the university is one of two private institutions in the Division I FBS Pac-12 Conference. As of May 26, 2022, Stanford has won 131 NCAA team championships, more than any other university, and was awarded the NACDA Directors' Cup for 25 consecutive years, beginning in 1994–1995. In addition, by 2021, Stanford students and alumni had won at least 296 Olympic medals including 150 gold and 79 silver medals.
As of April 2021, 85 Nobel laureates, 29 Turing Award laureates, and eight Fields Medalists have been affiliated with Stanford as students, alumni, faculty, or staff. In addition, Stanford is particularly noted for its entrepreneurship and is one of the most successful universities in attracting funding for start-ups. Stanford alumni have founded numerous companies, which combined produce more than $2.7 trillion in annual revenue and have created 5.4 million jobs as of 2011, roughly equivalent to the seventh largest economy in the world (as of 2020). Stanford is the alma mater of U.S. President Herbert Hoover, 74 living billionaires, and 17 astronauts. In academia, its alumni include the current presidents of Yale and MIT and the provosts of Harvard and Princeton. It is also one of the leading producers of Fulbright Scholars, Marshall Scholars, Rhodes Scholars, and members of the United States Congress.
TODAY'S ALMANAC
Remembrance Day in Canada is a day to honor the Canadian men and women who have died in service to their country. Poppies are often worn in remembrance.

The date, November 11, marks the anniversary of the end of World War I in 1918. Traditionally on Remembrance Day, two minutes of silence are observed at 11:00 a.m., the same time when World War I hostilities ended (the eleventh hour of the eleventh day of the eleventh month), according to an armistice agreement signed by Germany and the Allies.
Originally Armistice Day, commemorating the signing of the agreement that ended World War I at 11:00 A.M., November 11, 1918, this federal holiday was changed to Veterans Day in 1954. At that time, it became a day to honor all the men and women who have served in the armed forces of the United States. Each year, special ceremonies are held at Arlington National Cemetery in Virginia. Consider spending some time on-line learning more about our nation's veterans. The Great War Society has developed a Web site devoted to World War I educational materials. The World War II Memorial celebrates the victory of "the greatest generation" with a design that uses moving water to harmonize with its natural surroundings. Visit the Korean War Veterans Memorial online; this moving memorial, dedicated in 1995, is the latest addition to the National Mall in Washington, D.C. See a registry of all the names on the Vietnam Veterans Memorial Wall in Washington. Learn more about the military men and women who are on duty today."
Second Summer (also known as "Indian summer") is a period of warm weather following a cold spell or a hard frost. It can occur between St. Martin's Day (November 11) and November 20, although the Almanac adheres to the proverb, "If All Saints' brings out winter, St. Martin's brings out Indian summer." As for the origin of the name, some say it comes from the Narragansett people, who believed that the condition was caused by a warm wind sent from the court of their southwestern god, Cautantowwit. Learn more about Second Summer.
Question of the Day
How big a turkey should I buy if I'm intending to feed ten people?
You should count on about one pound per person, precooked. This may turn out to be more than necessary, but better safe than without leftovers.
Advice of the Day
Caraway seeds keep pigeons from straying.
Home Hint of the Day
Treat really stubborn stains in marble with fresh hydrogen peroxide and a couple of drops of ammonia. (Peroxide loses strength as it ages — check the expiration date on the label.) Pour the mixture on the stain and let sit for several minutes. Then wash, rinse, and wipe dry.
Word of the Day
Skyscraper
A skysail of a triangular form. A name for the one of the fancy sails alleged to have been sometimes set above the skysail. Hence, anything usually large, high, or excessive.
Puzzle of the Day
If all the letters of the alphabet were asked out to dinner, why could they not all go together?
Because six always go after tea (T).
Born
Abigail Adams (U.S. First Lady) – 1744
Fyodor Dostoyevsky (author) – 1821
Maude Adams (actress) – 1872
George S. Patton, Jr. (army general) – 1885
Pat O'Brien (actor) – 1899
Howard Fast (author) – 1914
Kurt Vonnegut (author) – 1922
Jonathan Winters (actor) – 1925
Carlos Fuentes (author) – 1928
Fuzzy Zoeller (golfer) – 1951
Stanley Tucci (actor) – 1960
Demi Moore (actress) – 1962
Calista Flockhart (actress) – 1964
Leslie Mann (actress) – 1972
Leonardo DiCaprio (actor) – 1974
Christa B. Allen (actress) – 1991
Died
Nat Turner (A deeply religious enslaved man who in August 1831 led a violent rebellion of enslaved people in Southampton County, Virginia ) – 1831
Søren Kierkegaard (philosopher) – 1855
Mary Kay Bergman (voice actress) – 1999
Yasser Arafat (Palestinian leader who sought a homeland for his people) – 2004
Delbert Mann (director) – 2007
Douglas Rain (Canadian actor) – 2018
Events
The founding grant for Stanford University was signed, Palo Alto, California– 1885
Washington admitted to the Union as the 42nd state– 1889
Tomb of the Unknown Soldier dedicated, Arlington, Virginia– 1921
The Vietnam Women's Memorial was dedicated, Washington, D.C.– 1993
George Bowering became the first Parliamentary Poet Laureate in Canada– 2002
Transit of Mercury.– 2019
Weather
Oklahoma City reached a record high temperature of 83 degrees F, before plunging 66 degrees to a record low of 17 degrees F that evening– 1911
The Armistice Day Storm killed more than 100 people and dumped 17 inches of snow on Iowa and nearly 29 inches on Duluth, Minnesota– 1940
COURTESY www.almanac.com