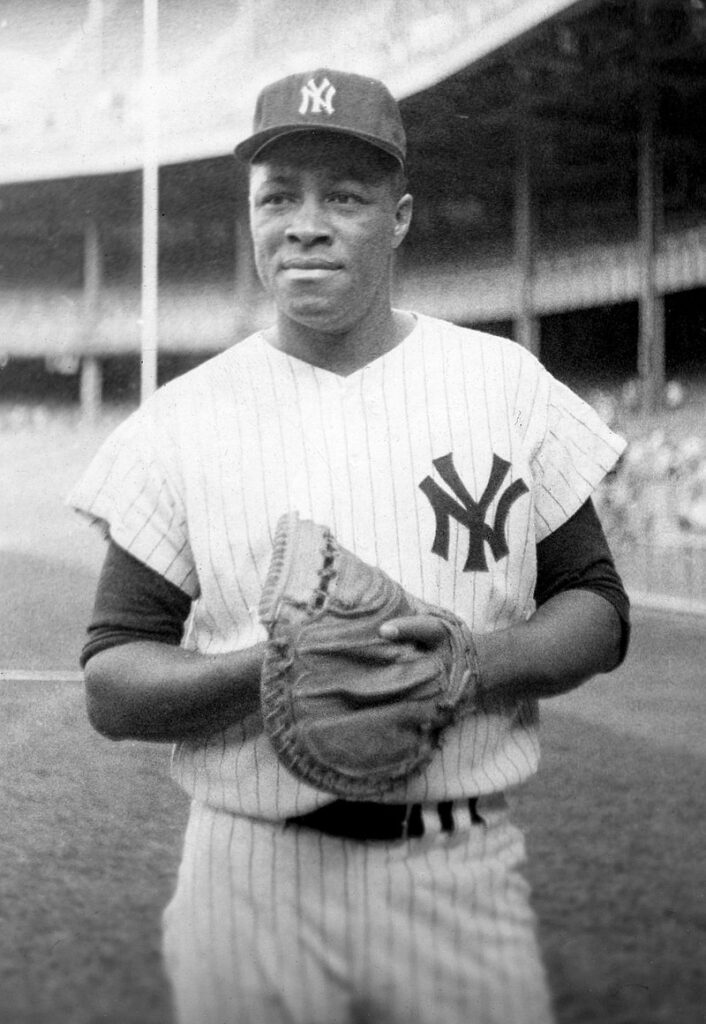 FROM WIKIPEDIA COMMONS
Elston Gene Howard (February 23, 1929 – December 14, 1980) was an American professional baseball player who was a catcher and a left fielder. During a 14-year baseball career, he played in the Negro leagues and Major League Baseball from 1948 through 1968, primarily for the New York Yankees. A 12-time All-Star, he also played for the Kansas City Monarchs and the Boston Red Sox. Howard served on the Yankees' coaching staff from 1969 to 1979.
In 1955, he was the first African American player on the Yankees roster; this was eight years after Jackie Robinson had broken the MLB color barrier in 1947. Howard was named the American League's Most Valuable Player for the 1963 pennant winners after finishing third in the league in slugging average and fifth in home runs, becoming the first black player in AL history to win the honor. He won Gold Glove Awards in 1963 and 1964, in the latter season setting AL records for putouts and total chances in a season. His lifetime fielding percentage of .993 as a catcher was a major league record from 1967 to 1973, and he retired among the AL career leaders in putouts (7th, 6,447) and total chances (9th, 6,977).
TODAY ALMANAC
Question of the Day
What is that wobbly little thing on the turkey's chin called, and what is it made of?
It is the turkey's beard and is made up of keratin bristles. Keratin is the same substance that forms hair and horns on other animals.
Advice of the Day
Tact is the ability to describe others as they see themselves. —Abraham Lincoln
Home Hint of the Day
You create a dust trap when you apply an oil-based polish to a piece of furniture, so use polish sparingly. Buff the piece well to remove as much of the oily residue as possible.
Word of the Day
Scuttlebutt
A report (often malicious) about the behavior of other people.
Puzzle of the Day
Name a bird whose name contains the name of another bird.
Meadowlark
Born
Marie Curie (chemist) – 1867
Dean Jagger (actor) – 1903
Albert Camus (writer) – 1913
Billy Graham (evangelist) – 1918
Al Hirt (musician) – 1922
Barry Newman (actor) – 1938
Johnny Rivers (singer) – 1942
Joni Mitchell (singer) – 1943
Christopher Knight (actor) – 1957
Jeremy London (actor) – 1972
Jason London (actor) – 1972
Died
Alfred Russel Wallace (naturalist) – 1913
Eleanor Roosevelt (U.S. First Lady) – 1962
Gene Tunney (boxer) – 1978
Steve McQueen (actor) – 1980
Howard Keel (actor) – 2004
Joe Frazier (boxer) – 2011
Roy Halladay (baseball player) – 2017
Events
Alexander Mackenzie became the second prime minister of Canada– 1873
In a cartoon by Thomas Nast, the elephant was first used to represent the Republican party– 1874
Last spike of the transcontinental Canadian Pacific Railway driven at Craigellachie, British Columbia– 1885
The state of Colorado granted women residents the right to vote– 1893
Bette Davis became the first woman elected president of the Academy of Motion Picture Arts and Sciences in Hollywood– 1941
President Franklin D. Roosevelt was re-elected for a fourth term– 1944
UN approved United Nations Emergency Force– 1956
Elston Howard won American League's Most Valuable Player award– 1963
Magic Johnson announced his retirement from basketball because he tested positive for the HIV virus– 1991
The first female Speaker of the House of Representatives, Nancy Pelosi, was elected– 2006
A magnitude-6.3 earthquake struck off the coast of Vancouver Island, Canada– 2012
Weather
The "Galloping Gertie" bridge in Tacoma collapsed in a windstorm four months after its grand opening– 1940
98-mph winds recorded at Block Island, Rhode Island– 1953
Thermometers in Islip, New York, read a toasty 77.4F.– 1998
COURTESY www.almanac.com