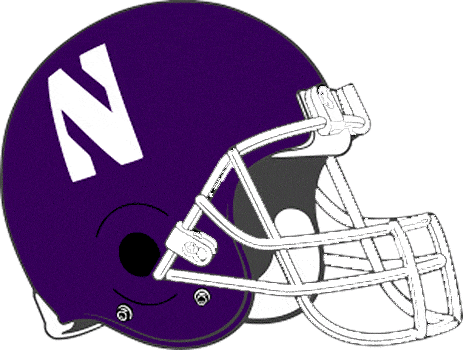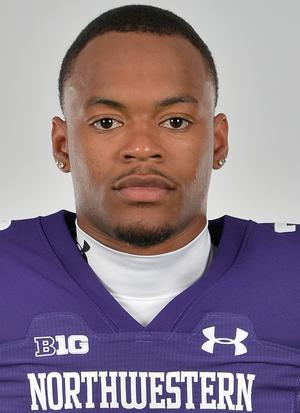 11/5/2022
EVANSTON, Ill. –– Northwestern put together a huge 206-yard output on the ground, including 122 yards from Evan Hull, but fell 21-7 to Ohio State Saturday afternoon on a windy and rainy day at Ryan Field.
The Buckeyes improved to 9-0 on the year and 6-0 in Big Ten Conference play, while NU fell to 1-8 and 1-5 in Big Ten play.
Hull totaled 122 yards to lead Northwestern's ground attack and added one touchdown in the game, picking up 4.1 yards per carry along the way. Brendan Sullivan also tacked on 55 yards on the ground, picking up 4.6 yards per carry. Cam Porter chipped in with 50 yards as well, picking up 4.5 yards per carry.
Malik Washington hauled in six catches for 49 yards.
Xander Mueller had six tackles and 0.5 TFL in the loss.
Northwestern had an impressive showing on the ground, racking up 206 rushing yards while averaging 3.5 yards per carry. Northwestern converted on 45 percent of third-down attempts on the day.
Defensively, Northwestern held up fairly well against the Ohio State offensive attack, holding the Buckeyes to 283 total yards.How It Happened
Northwestern got on the scoreboard first by way of an Evan Hull 16-yard touchdown rush with 6:45 remaining in the first quarter to take a 7-0 lead. That lead held until Emeka Egbuka found the endzone with 2:26 remaining in the first half to even the score. A Miyan Williams 27-yard rushing touchdown in the third quarter put the Buckeyes ahead for good and a 2-yard rushing touchdown extended the lead to 21-7. Game Notes
» Northwestern outgained Ohio State 285-283, including a 79-76 advantage through the air.
» Northwestern converted 9 of 20 third downs while Ohio State was successful on 4 of 15.
» Northwestern didn't allow a sack in the contest.
» Northwestern won the time of possession battle 36:26 to 23:34.
» Sullivan completed 71.4% of his passes on the day, going 10-for-14.
» Northwestern forced a three-and-out on Ohio State's opening drive. It marked the Buckeyes' first opening drive three-and-out this season and the first time they haven't scored on an opening drive since the season opener against Notre Dame.
» Northwestern scored a touchdown in the first quarter, just the third first quarter touchdown Ohio State has allowed all season.
» NU's defense forced a turnover on downs in the first quarter, Ohio State's first unsuccessful fourth down conversion of the year (previously 10-for-10).
» The Wildcat defense did not allow a completion on CJ Stroud's first five pass attempts, forcing the Ohio State QB to start 0-5 passing.
» Northwestern jumped out to a 7-0 lead in the first quarter, just the second time Ohio State has trailed by 7+ points this season.
» Northwestern held Ohio State scoreless in the first quarter, the first time the Buckeyes haven't scored in the first frame since the 2022 Rose Bowl against Utah.
» The Wildcats broke up five passes, their second most this season since defending six against Duke.
» Northwestern forced Ohio State to punt six or more times in a game for the first time since Dec. 28, 2019 against Clemson (six punts).
» The 'Cats forced 16 incompletions, their most since forcing 17 against Nebraska on August 27, 2022.
» Northwestern outgained Ohio State 206-195 through the first three quarters, the first time the Buckeyes were outgained through three quarters since 2018 against Purdue.
» Ohio State's 195 yards through three quarters was its fewest at that mark since the 2016 CFP semifinal against Clemson.
» Northwestern held CJ Stroud to a 38% completion percentage, the lowest of his career and the lowest of any Buckeye Quarterback since Sep. 6, 2014 against Virginia Tech.
» Northwestern's 17 first downs are the most allowed by Ohio State this season.
» Northwestern's 200 rushing yards are the most allowed by Ohio State this season.
» Ohio State produced 80 or fewer passing yards (76) for the first time 2015 against Michigan State (46).
» Today marked the first start in CJ Stroud's career in which he failed to complete a passing touchdown.
» Ohio State did not record a passing touchdown for the first time since the 2020 Big Ten Championship Game vs. Northwestern.
COURTESY NORTHWESTERN ATHLETIC COMMUNICATIONS