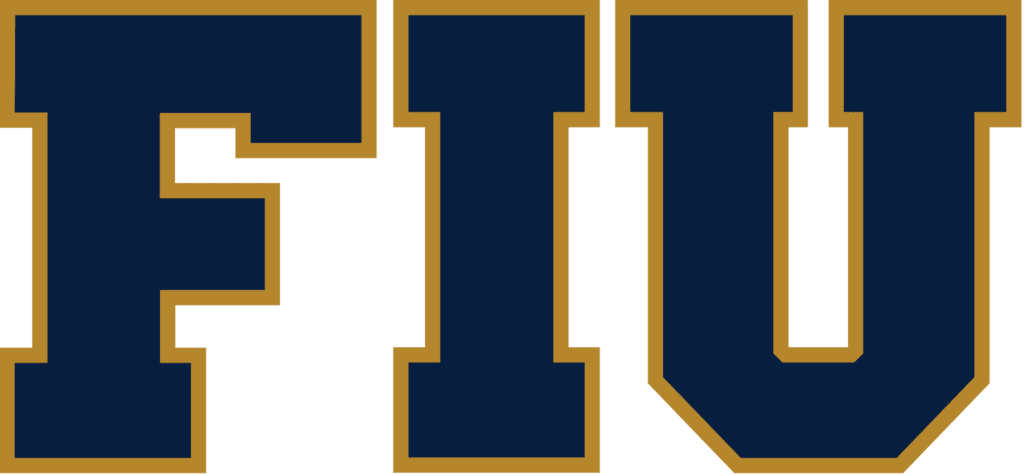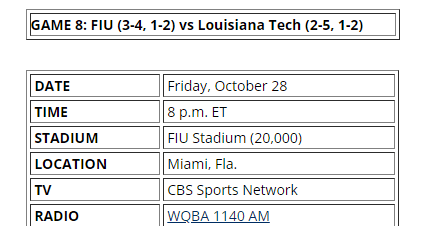 SETTING THE STAGE
FIU is back at "The Cage" for a Friday night showdown with Louisiana Tech, which is slated for an 8 p.m. ET kickoff.
The game will be aired to a national audience on the CBS Sports Network with Carter Blackburn (pxp) and Robert Turbin (analyst) on the call.
The game can also be heard on Miami's WQBA 1140 AM with the voice of the Panthers AJ Ricketts (pxp) and Corey Brooks (analyst) calling the action.
FIU will be looking to string together consecutive wins for the first time since 2019 when they battle the Bulldogs on Friday in Miami – following last week's convincing 34-15 road win at Charlotte – which saw the Panthers score 34 unanswered points and force the most turnovers since 2014.
The Panthers (3-4, 1-2 C-USA) will be in search of their first win in the series with Louisiana Tech after dropping each of the last four meetings – the most recent of which came during the 2019 campaign in Ruston. The Bulldogs and Panthers last played in Miami in 2016.

Louisiana Tech is currently 2-5 overall and 1-2 in C-USA action entering Friday's showdown. The Bulldogs defeated Stephen F. Austin and UTEP and have dropped games against Missouri, Clemson, South Alabama, North Texas and Rice.
HEAD COACH INFO
FIU
Head Coach: Mike MacIntyre (Georgia Tech '89)
Overall Record: 49-69 (10th season)
Record at FIU: 3-4 (1st season)
LA TECH
Head Coach: Sonny Cumbie (Texas Tech)
Overall Record: 4-8 (2nd season)
Record at LT: 2-5 (1st season)
CHAMBERS GOES FOR 100 AGAIN
Senior wide receiver Tyrese Chambers matched a career-high with 10 catches for a total of 143 yards in the Panthers' 34-15 victory at Charlotte on Oct. 22.
The 10 receptions marked the second time he has snagged 10 balls this season – along with the game on Sept. 10 at Texas State.
Chambers now has recorded 100 yards or more four times in his career:

PANTHERS POST CONSECUTIVE ROAD WINS
FIU's 34-15 win at Charlotte on Oct. 22 marked the first time that FIU has posted victories in consecutive road games since the 2018 season when it won road games at UTSA (45-7/Nov. 10) and Charlotte (42-35/Nov. 17).
MOST TURNOVERS FORCED SINCE 2014
The Panthers' defense forced five turnovers (3 INT/2 FR) in their 34-15 win at Charlotte on Oct. 22.
The last time that FIU forced five or more turnovers was on Nov. 15, 2014 vs. Middle Tennessee (3 INT/2 FR).
OUT OF THE GATES FAST AT CHARLOTTE
The Panthers opened up a 27-0 lead after the opening 30 minutes at Charlotte on Oct. 22 as it scored a touchdown on each of its opening four possessions.
FIU last scored a touchdown on each of its opening four possessions on Oct. 10, 2015 vs. UTEP, when it scored a TD on each of its initial six possessions.
DEFENSE SETS TONE IN CHARLOTTE WIN
The Panthers' defense limited the Charlotte offense to just 100 yards of offense in the first half as it shut out an opponent for the opening 30 minutes in its win over the 49ers on Oct. 22.
The last time FIU posted a shutout in the first half for the first time since blanking UMass in the opening 30 minutes on Oct. 5, 2019.
C-USA ROAD SKID SNAPPED
FIU's 34-15 win at Charlotte on Oct. 22 marked its first conference road win since defeating Charlotte on Nov. 17, 2018 by a 42-35 margin – snapping a 10-game stretch.
C-USA STREAK SNAPPED
The Panthers' 34-15 win at Charlotte on Oct. 22 also snapped a 14-game losing streak in Conference USA games for FIU – its first since defeating Old Dominion 24-17 (11/2/19).
LEX JOSEPH FLEXES FOR TWO TDS
Junior running back Lexington Joseph ran for a pair of TDs in the Panthers' 34-15 win at Charlotte on Oct. 22 – the first time he has recorded multiple rushing scores in a contest.
The last time a FIU running back posted multiple scores in a contest was in the 2021 season opener vs. Long Island when former Panther and current member of the Indianapolis Colts, D'Vonte Price posted three.
JAMES TOSSES FIRST 300-YARD GAME/RESPONSIBLE FOR 3 TDS
Sophomore Grayson James was responsible for a total of three touchdowns in FIU's 34-15 win at Charlotte on Oct. 22 – running for a pair and throwing for another.
In addition, James completed 26-of-34 passes for 306 yards – the first 300-plus yard effort of his career.
His two rushing TDs were the most by a FIU signal caller since Kaylan Wiggins notched three vs. New Hampshire on Sept. 14, 2019.
PANTHERS CONTINUE TO GRADE HIGH
FIU linebacker Shaun Peterson Jr. is ranked as the eighth-best pass rusher in the nation through week eight, according to Pro Football Focus.
Peterson posted a strip sack and recovered the fumble in the opening quarter to set up FIU's first scoring drive. He finished with three sacks – both a career-high and tied for the fourth-best single game total in FIU annals.
In addition, fellow linebacker, senior Alex Nobles, was slotted as the fourth-highest rated defender during week eight, regardless of position, by PFF.
PETERSON'S THREE SACKS TIED FOR 4TH-MOST BY A PANTHER
Junior linebacker Shaun Peterson Jr. tabbed a season-high three sacks in the Panthers' win at Charlotte on Oct. 22 – it tied for the fourth-best single game total by an FIU player and the best individual performance since 2015.
JAMES HONORED FOR THIRD TIME
FIU sophomore quarterback Grayson James was honored for the third time this season as a member of the honorable mention list for The Earl Campbell Tyler Rose Award National Player of the Week.
The award recognizes the best college football player each week that played high school in the state of Texas.
James was honored after guiding the Panthers to a 34-15 win at Charlotte on Oct. 22.
The Duncansville, Texas, native completed 26-of-34 passes for a career-best 306 yards and a touchdown – he also ran for a pair of scores and 53 yards.
James was also recognized following wins over Bryant (Sept. 1) and at New Mexico (Oct. 1).
DATON MONTIEL NAMED TO RAY GUY WATCH LIST
Sophomore punter Daton Montiel has been selected to the watch list for the Ray Guy Award, which is presented annually to college football's most outstanding punter by the Augusta Sports Council.

Montiel currently ranks 28th national among NCAA FBS leaders with an average of 43.7 yards over 35 punts this season. The Pompano Beach, Fla., native has boomed 10 kicks over 50 yards this season, including a 64-yarder and has placed a total of 14 punts inside the 20-yard line.

He has totaled 36 punts this season over the initial seven games – totaling 1,573 yards and forcing 18 fair catches.

Montiel is the third player in FIU history to earn mention to the prestigious list – joining former Panthers Stone Wilson and Tommy Heatherly.

The award is named after punter Ray Guy, an All-American for Southern Mississippi and an All-Pro in the National Football League for the Oakland Raiders.

The Ray Guy Award winner is selected by a voting body of Football Bowl Subdivision (FBS) sports information directors, national media and former Ray Guy Award winners.
SCOUTING LOUISIANA TECH
The Bulldogs enter Friday's match up with FIU having dropped each of their last two games – with consecutive conference losses at North Texas and vs. Rice.
Louisiana Tech is 0-4 on the road this season entering Friday with its last road win coming on Dec. 3, 2020 at North Texas (42-31) – a stretch of 10 games.
The Bulldogs are averaging 31.3 points per game, while allowing 39.3 over their initial seven contests – which included games at Missouri and Clemson.
Parker McNeil directs the La Tech offense and has thrown for 1,623 yards and 15 TDs this season – while completing over 60 percent of his pass attempts.
Louisiana Tech features a trio of receivers who have already each tallied over 400 receiving yards – led by Tre Harris, who has tabbed 39 receptions for 597 yards and seven TDs.
LAST TIME VS LA TECH
FIU dropped a 43-31 decision to La. Tech on Sept. 20, 2019 in Ruston in the most recent meeting between the programs.
James Morgan returned under center for FIU on Friday night as the quarterback threw for a career-high 394 yards.
Morgan finished the game with three touchdowns, two in the air and one on the ground, after he threw for 394 yards on 29-of-41 passing.
Austin Maloney earned a career-high 113 yards receiving, while Shemar Thornton (97 yards) and Tony Gaiter IV (87 yards) neared the century mark in receiving.

La. Tech's Justin Henderson led the Bulldogs after earning 141 yards on the ground and scoring three times.
TV DESIGNATION RELEASED FOR NORTH TEXAS
FIU'S road game at North Texas on Saturday, Nov. 5 will be aired on ESPN+ beginning at 4 p.m. ET.

The Panthers and Mean Green will be meeting for the 10th time in history when the battle in Denton, Texas, on Nov. 5. FIU leads the all-time series with North Texas 5-4 and is 2-2 in road meetings.

Additional television designations for future FIU Football games this season will be announced at a later date.
MORE TAKEAWAYS FROM CHARLOTTE
Freshman Demetrius Hill recorded the first interception of his collegiate career at the 8:46 mark of the second quarter.
Junior linebacker Shaun Peterson Jr. posted a strip sack and recovered the fumble in the opening quarter to set up FIU's first scoring drive. It marked his second strip sack and recovery this season after pulling it off against Bryant on the season opener on Sept. 1.
Graduate linebacker Alex Nobles forced a fumble and made the recovery in the second quarter.
Sophomore defensive lineman Jeramy Passmore recorded his first sack of the season in the victory.
FIU leads the all-time series with Charlotte 6-1 and is a perfect 3-0 in road contests in the series.
Sophomore Kris Mitchell finished the game with career-bests in receptions (8) and yards (84).
FIU had a both a field goal and extra point blocked in the first half.
Charlotte was shutout in a half for the first time since 12/6/2020 at Western Kentucky.
Sophomore Andrew Volmar recorded his first career interception at the 1:24 mark of the third quarter.
Senior Dorian Hall recorded his second interception of the season and sixth of his career on the final play of the first half.
FIU's defense forced a season-high five turnovers in Saturday's win at Charlotte.
Linebacker Donovan Manuel led the defense with a team-high 10 tackles – his third game this season with double-digit stops.
FIU's defense finished the game with a season-best five sacks – Shaun Peterson Jr. led all with a career-best three.
COURTESY FIU ATHLETIC COMMUNICATIONS