Close games and comebacks continue to be calling cards of the 2022 campaign. No prior season in NFL history has had more games (84) that have been within one score (eight points) in the fourth quarter or decided by one touchdown or less (49 games in 1999 and 2022) through the first seven weeks. There have also been 34 games this year in which a team came back to win or tie after trailing in the fourth quarter, tied with the 2012 and 1989 seasons for the most ever through Week 7.
Three division leaders return from their bye week looking to resume their momentum as the league heads towards the midway point of the 2022 season.

The NFL's last remaining unbeaten team and NFC East leading PHILADELPHIA EAGLES (6-0) look to match their best start to a season in franchise history (7-0 in 2004). One of the keys to the club's start to the season has been ball control. Philadelphia leads the league in:
Plays per game (70.7), the third-highest mark by a team that began their season 6-0 in NFL history, trailing only the 1977 Dallas Cowboys (73.7) and 2013 Denver Broncos (71.3).

Time of possession (33:59), the fourth-highest average time of possession by a team that won each of their first six games of a season since 1977, trailing only the 1991 New Orleans Saints (35:20), 2007 New England Patriots (35:13) and 2019 San Francisco 49ers (34:46).
The BUFFALO BILLS (5-1), who lead the AFC East and possess the league's top points margin (+95), host the GREEN BAY PACKERS (3-4) on Sunday Night Football (8:20 PM ET, NBC). The Bills are looking for their fourth win this season over a 2021 division winner, having previously defeated the Los Angeles Rams (Week 1), Tennessee (Week 2) and Kansas City (Week 6).
Atop the NFC North, the MINNESOTA VIKINGS (5-1) come off their bye having won four consecutive games, three of which featured a fourth-quarter comeback victory. Quarterback KIRK COUSINS has thrown a touchdown pass in 36 consecutive games and can surpass Pro Football Hall of Famer BRETT FAVRE (36 games from 2002-04) for the sixth-longest such streak in the Super Bowl era.
The Eagles (3-0), Bills (2-0) and Vikings (3-0), who each host a Week 8 game following their Week 7 bye, are the only three teams remaining in 2022 with perfect home records.
Also in Week 8, the third international game of the 2022 season will take place at Wembley Stadium in London between the DENVER BRONCOS (2-5) and JACKSONVILLE JAGUARS (2-5). The Broncos (six games) and Jaguars (five) are two of the nine teams this season who have played in at least five games with a final score margin of eight-or-fewer points.
The Starting 11 entering Week 8…
1. INTRASTATE RIVALRIES: Three games on the Week 8 schedule feature intrastate matchups…
In Pennsylvania (1:00 PM ET, CBS), PITTSBURGH (2-5) visits Lincoln Financial Field to take on PHILADELPHIA (6-0). Each of the five meetings between the two clubs over the past 20 years has been won by the home team. The Eagles are 9-0 in home games against Pittsburgh in the Super Bowl era.

In California (4:25 PM ET, FOX), the SAN FRANCISCO 49ERS (3-4) visit the LOS ANGELES RAMS (3-3) as the NFC West rivals meet for the second time this season. On Monday Night Football in Week 4, the 49ers defeated the Rams, 24-9, as NICK BOSA registered two of the team's season-high seven sacks. San Francisco has won seven consecutive regular-season meetings over Los Angeles dating back to 2019, with the Rams earning a 20-17 win over the 49ers at SoFi Stadium in the NFC Championship game last season en route to the Super Bowl LVI title.

In Ohio on Monday Night Football (8:15 PM ET, ESPN), CINCINNATI (4-3) visits CLEVELAND (2-5) in a battle between AFC North foes. The Browns have won four consecutive meetings between the two clubs, Cleveland's longest winning streak against a division opponent since realignment in 2002.

2. NUMBER OF THE WEEK – 9.33: The average final score margin of 9.33 points this season is the lowest average final score margin through Week 7 since 1970. Only three other seasons since the merger (1982, 1983 and 2016) have had an average score margin of fewer than 10 points through the first seven weeks.

3. NOTE THAT MATTERS: The combined winning percentage by NFC East teams this season is .741 (20-7), the highest winning percentage by a single division through the first seven weeks of a season since 2002. Only on two other occasions since realignment has a division had a winning percentage of .700-or-higher through the first seven weeks, the 2013 AFC West (.704; 19-8) and 2020 NFC West (.704; 19-8).

4. SPOTLIGHT – INDIVIDUAL MATCHUP: When TENNESSEE (4-2) visits HOUSTON (1-4-1) on Sunday (4:05 PM ET, CBS), two of the five running backs with at least 500 rushing yards this season will be in action. Titans running back DERRICK HENRY, who leads the NFL in rushing yards (6,843 yards) since 2017, ranks fourth with 536 rushing yards in 2022 while Houston running back DAMEON PIERCE leads all rookies and ranks fifth among all running backs with 504 rushing yards this season.

Henry looks to continue his rushing dominance over the AFC South since he entered the league in 2016. In 35 career games, Henry has averaged 99 rushing yards per game against the AFC South, the third-highest rushing yards per game average against a single division since 1970 (minimum 20 games). Only Pro Football Hall of Fame running backs BARRY SANDERS (104.7 rushing yards per game against the NFC Central) and ERIC DICKERSON (102.1 rushing yards per game against the NFC Central) have a higher average.

Including 128 rushing yards against Indianapolis last week, Henry has rushed for at least 100 yards in nine of his past 10 division games. He has an NFL-record five career games with at least 200 rushing yards and multiple rushing touchdowns, including each of his past three games against the Texans.

5. SPOTLIGHT – TEAM MATCHUP: The DENVER BRONCOS (2-5) and JACKSONVILLE JAGUARS (2-5) head to Wembley Stadium in London on Sunday (9:30 AM ET, ESPN+) in a matchup that features two of the five AFC defensive units allowing fewer than 20 points per game this season. Each club is led by a first-year defensive coordinator – the Broncos' EJIRO EVERO and the Jaguars' MIKE CALDWELL.

Denver enters Week 8 ranked second in total defense (286 yards allowed per game) and pass defense (173.1 yards allowed per game) and third in scoring defense (16.4 points allowed per game). Jacksonville leads the NFL with 48 passes defensed this season and ranks tied for fourth in the AFC in scoring defense (19.6 points allowed per game). The Broncos and Jaguars are two of three AFC teams (Buffalo) to allow fewer than 14 points in three games in 2022.

6. STREAK SPEAK: Five teams enter Week 8 on a winning streak of at least four games as Philadelphia has opened the season with six consecutive wins and Minnesota, the New York Giants, the New York Jets and Tennessee have each won their past four contests. The last season in which five teams were each on a five-or-more game winning streak at the same time was 2017.

The Giants and Jets have each won their first four games in the month of October, the first time both clubs have been on a four-game winning streak at the same time since 2008 (Weeks 8-12). With victories in Week 8, both clubs can join the 2021 GREEN BAY PACKERS, 2019 SAN FRANCISCO 49ERS, 2017 PHILADELPHIA EAGLES and 2007 NEW ENGLAND PATRIOTS as the only teams since 2002 to go 5-0 in the month of October in a season. Each of the four previous teams to accomplish the feat finished the season as the No. 1 overall seed in their respective conferences.

7. DID YOU KNOW?: Seattle rookie running back KENNETH WALKER is the only player in the NFL this season with two rushing touchdowns of at least 65 yards. His first career rushing touchdown was a 69-yard run in Week 5 and last week, he registered a 74-yard rushing touchdown. Walker is the first rookie with two rushing touchdowns of at least 65 yards since SAQUON BARKLEY (2018). Seattle (4-3) hosts Barkley and the New York Giants (6-1) on Sunday (4:25 PM ET, FOX).

8. UNDER-THE-RADAR STORYLINE: When CLEVELAND (2-5) hosts CINCINNATI (4-3) on Monday Night Football (8:15 PM ET, ESPN), it will be a family affair as BILL CALLAHAN, Cleveland's offensive line coach, and his son, BRIAN CALLAHAN, Cincinnati's offensive coordinator, meet for the fifth time as division rivals since 2020.

The Browns rushing attack under Bill Callahan, who has been Cleveland's offensive line coach since 2020, ranks second in rushing yards per game (149.8) and third in yards per rush attempt (4.98) over the past three seasons. Cleveland is one of five AFC teams to allow one-or-fewer sacks in four games in 2022.

Brian Callahan, Cincinnati's offensive coordinator since 2019, helped the Bengals to a Super Bowl LVI appearance last season as the team ranks fifth in passing yards per game (264.8) and sixth in scoring offense (26.4 points per game) since the beginning of the 2021 season. The Bengals enter Week 8 ranked second in average time of possession (32:25) and third in third down efficiency (49.5 percent; 46 of 93).

9. TREND TIME: Since 2017, head coach SEAN MCDERMOTT's first season with Buffalo, the Bills have won each of their three Sunday Night Football appearances, the only team with multiple wins and no defeats on Sunday night games over the past six seasons.

Buffalo, who is coming off a Week 7 bye, is also a perfect 5-0 under McDermott after their bye week, one of three teams to earn a victory after their bye in each of the past five years. Pittsburgh is also 5-0 after their bye since 2017 and has a Week 9 bye in 2022 following their Week 8 meeting with Philadelphia. Tennessee is 6-0 since 2017 after their bye week, including 5-0 under head coach Mike Vrabel, following their Week 7 victory over Indianapolis. McDermott can become the third head coach ever to win each of his first six games following a bye, joining ANDY REID (first 13 games) and Pro Football Hall of Famer DON SHULA (seven).

Under head coach Matt LaFleur, Green Bay is 16-2 in games with a start time of 7:00 PM ET or later, including 13 consecutive wins in primetime games, the longest such streak since 1970. With their victory on Sunday Night Football in Week 2, the Packers surpassed the Indianapolis Colts (12 consecutive primetime wins from Week 9, 2004 to Week 7, 2007) and Pittsburgh Steelers (12 consecutive primetime wins from Week 9, 2007 to Week 9, 2009) for the longest streak of primetime wins since the merger.

Heading into Sunday Night Football, Buffalo quarterback JOSH ALLEN has the highest passer rating (108.6) among all quarterbacks with at least 300 pass attempts in primetime games since 1970, while Green Bay quarterback AARON RODGERS ranks second (106.5).

10. THIS WEEK IN NFL HISTORY: October 28, 2007 (15 years ago) – The New York Giants defeated the Miami Dolphins, 13-10, at Wembley Stadium in London, England, in the first regular-season game played in London and the first regular-season game played outside of North America. The NFL continues the 2022 international slate in Week 8 as the DENVER BRONCOS (2-5) take on the JACKSONVILLE JAGUARS (2-5) at Wembley Stadium on Sunday (9:30 AM ET, ESPN+). The Jaguars have played in London in eight of the past nine seasons and return to Wembley Stadium for the first time since 2019.

11.  AND LAST BUT NOT LEAST: Monday's matchup between the Browns and Bengals will mark the eighth time since 1970 that the NFL has played a Monday night game on Halloween. 2022 will mark the fifth-consecutive Monday Night Football game on Halloween since 1990 to feature divisional opponents: 2016 (NFC North – Minnesota 10 at Chicago 20), 2011 (AFC West – San Diego Chargers 20 at Kansas City 23), 2005 (AFC North – Baltimore 19 at Pittsburgh 20) and 1994 (NFC Central – Green Bay 33 at Chicago 6).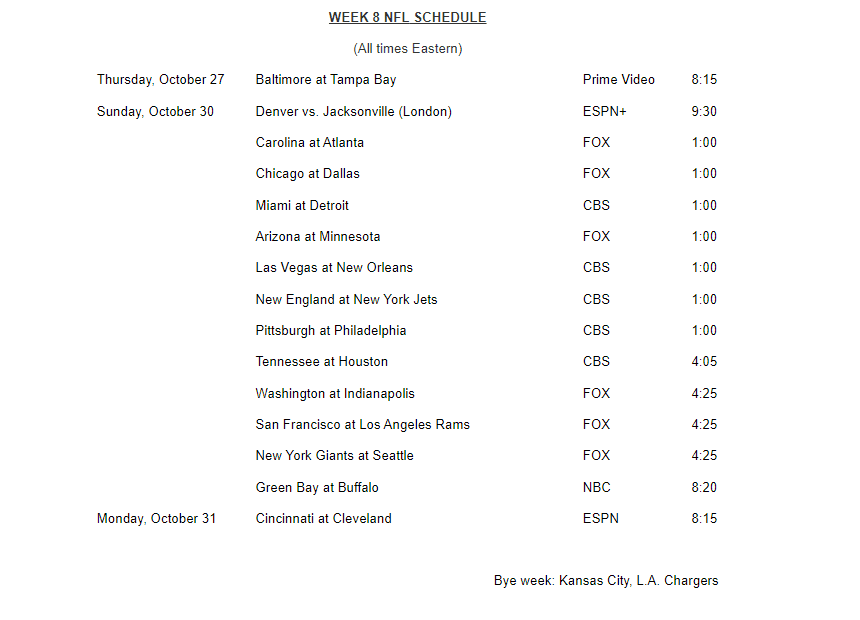 COURTESY NFLmedia.com