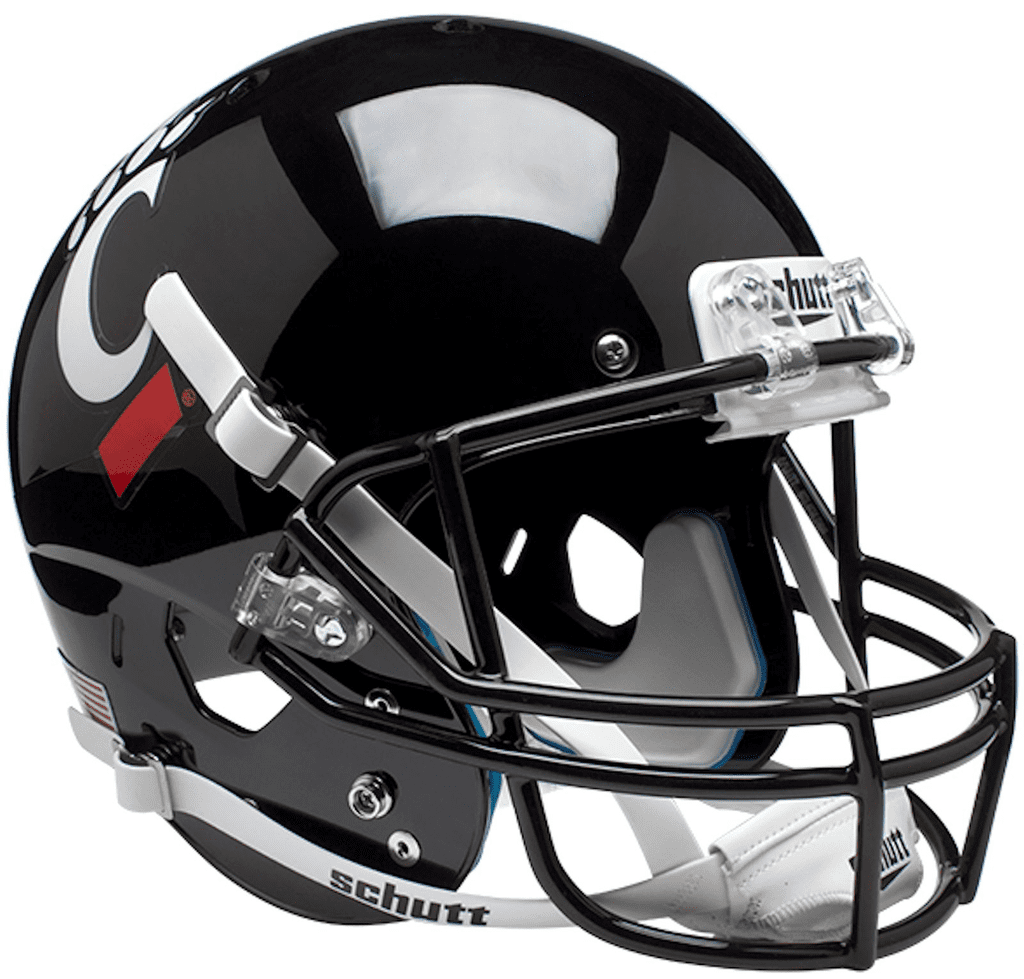 The Bearcats will look to win their 19th straight AAC game in Dallas
October 20, 2022
CINCINNATI – The No. 21/19-ranked Cincinnati football team returned to practice this week following the bye in preparation for a trip to Dallas, Texas to face SMU on Saturday.
The Bearcats (5-1) play the Mustangs (3-3) at 12 p.m. ET (ESPN), and a victory by UC would mark its 19th straight against American Athletic Conference opponents to tie the league record with UCF (2017-19).
SMU broke a three-game losing streak with a 40-34 victory over Navy last Friday. The Mustangs rank fourth in the nation in passing offense (351.8) behind quarterback Tanner Mordecai, who has 15 touchdowns.
Cincinnati is 4-1 coming off a bye in the Luke Fickell era, including last year's massive 24-13 victory at No. 8 Notre Dame.
The win was one of the most memorable of Luke Fickell's 53 victories over the course of nearly six seasons at the helm of the Bearcats. He is currently tied with Rick Minter for the most wins in UC history. He could gain sole possession of first place as the winningest coach ever for the Bearcats on Saturday.
BROADCAST INFORMATION
Cincinnati faces SMU at 11 a.m. CT/12 p.m. ET on Saturday at Ford Stadium in Dallas. The game will be televised live on ESPN with Mark Jones (play-by-play), Robert Griffin III (analyst) and Quint Kessenich (sideline) on the call.
On radio, Dan Hoard (play-by-play) and Jim Kelly, Jr. (analyst) are on the call for the Bearcats Sports Network. The game will be broadcast on 700 WLW. 
A WIN WOULD….
Make Luke Fickell the winningest coach in UC history with 54 wins, breaking a tie at 53 with Rick Minter.
Tie the record for consecutive AAC regular season wins (17) and overall wins against AAC opponents (19) with UCF (2017-19).
Give UC six wins and make the Bearcats bowl eligible for the fifth consecutive season. UC has played in 21 bowls all-time, including back-to-back NY6 bowls in 2020 (Peach) and 2021 (CFP Semifinals at Cotton Bowl). UC is 10-11 in bowl games.
MOST WINS IN CINCINNATI HISTORY
Record Coach
53-63-1 Rick Minter (10 seasons)
53-16 Luke Fickell (six seasons)
FICKELL, BEARCATS COLLECT MIDSEASON HONORS
Head coach Luke Fickell was named to the 2022 Dodd Trophy Midseason Watch List this week. He earned eight national coach of the year awards in 2021, including the prestigious Dodd Trophy after leading the Bearcats to a 13-1 record, College Football Playoff appearance and a second straight AAC crown.
Senior linebacker Ivan Pace Jr. has been named to nearly every organizations' midseason All-America First Team, including the Associated Press, ESPN, The Athletic, and Pro Football Focus.
Redshirt freshman defensive tackle Dontay Corleone was named to the Athletic's Midseason Freshman All-American team, while garnering midseason honorable mention accolades from Pro Football Focus.  
WHYLE NEARS HISTORY
Redshirt senior tight end Josh Whyle has 71 career receptions for 875 yards and 14 touchdowns. His 14 TD catches are tied with former NFL star Brent Celek for the most in Cincinnati history by a tight end.
Celek played for the Bearcats from 2003 to 2006. He made 91 catches for 1,135 yards and 14 scores before going on to an 11-year career with the Philadelphia Eagles.
Other recent notable Cincinnati tight ends:
Travis Kelce (2010-12): 59 receptions, 875 yards, 10 TDs
Josiah Deguara (2015-19): 92 receptions, 1,117 yards, 12 TDs
MORE ON THE MATCHUP AT SMU
The Bearcats have won five straight and are 5-1 overall with a 2-0 mark in the AAC following a 28-24 win over USF.
RB Charles McClelland's career-best 179 rushing yards and two TDs, including the go-ahead 35-yard score in the fourth quarter led the Bearcats past the Bulls. LB Ty Van Fossen added a career-high 16 tackles, while QB Ben Bryant tossed two TDs. Backup QB Evan Prater entered the game in the fourth quarter, following a Bryant injury, to lead UC to victory.
UC is 19-10 on the road under head coach Luke Fickell (since 2017), but 9-1 since the start of 2020 with only loss coming at Arkansas to open the 2022 season. UC last played in the Dallas area for the 2021 CFP Semifinal at the Cotton Bowl.
In UC's last road game, the Bearcats tied an AAC record with 11 sacks in a 31-21 win at Tulsa.
COMING OFF A BYE
UC got a much needed bye week after the USF victory. UC is 4-1 coming off a bye week under Fickell.
Last season, Cincinnati had a bye the week before hitting the road to beat No. 8 Notre Dame, 24-13, on Oct. 2, 2021.
BLACKCATS DEFENSE LEADING THE NATION IN TFLS AND DEFENSIVE TOUCHDOWNS
No defense in the country is wreaking more havoc with big plays than the Bearcats.
Cincinnati leads the nation in TFLs per game (9.67) and defensive touchdowns (4), and ranks third in sacks (3.83/game)
The Bearcats' 11 sacks at Tulsa on Oct. 1 are the most against an FBS team this season and tied the AAC record.
UC's defense is fourth in the nation in yard per play (4.13), sixth in yards per carry (2.84) and No. 19 in total defense (313.2).
RECENT HISTORY VERSUS SMU
The Bearcats have won three straight against the Mustangs and are 3-1 versus SMU overall in the Luke Fickell era.
In 2021, QB Desmond Ridder celebrated Senior Day against the Mustangs by throwing three touchdowns, rushing for a score and catching a TD in a 48-14 win at Nippert Stadium. Ridder tossed a 53-yard TD pass to Tyler Scott on UC's first offensive play, while Wilson Huber blocked a punt and Evan Prater led a late TD drive as UC led 48-0 with 11 minutes left.
Last time in Dallas: Ridder rushed for three TDs, including a 91-yard score, and opened the game with a 7-yard TD pass to Josh Whyle in a 42-13 win in 2020.
UC lost in overtime to SMU (31-28) in Cincinnati in 2017 before taking a 26-20 overtime victory in Dallas in 2018.
MUSTANGS' OFFENSE AMONG NATION'S BEST
SMU stopped a three-game losing streak with a 40-34 win over Navy on Friday night in Dallas. The Mustangs allowed 372 rushing yards to the Midshipmen, but QB Tanner Mordecai had 410 total yards and four scores.
SMU passes for 351.8 ypg (No. 4 nationally) and averages 490.3 total ypg (No. 15). Mordecai leads the AAC in passing (336.0) and his 15 passing TDs are tied with UC's Ben Bryant for the second-most in the league.
LOOKING FOR AAC RECORD WIN STREAK
Cincinnati can tie UCF for the most consecutive AAC regular season wins (17) and most consecutive AAC wins overall, including conference championship games, (19) on Saturday at SMU.
UCF won 17 regular season and 19 overall AAC games from 2017 to 2019. The Knights' streak was snapped on Oct. 4, 2019 at Cincinnati to the Bearcats.
Cincinnati went undefeated in the AAC in 2020 and 2021 and is off to a 2-0 start in 2022. UC hasn't lost an AAC game since losing back-to-back to Memphis to end 2019.
ODDS & ENDS …
Three UC RBs have rushed for 100 yards in a game this season: Charles McClelland (2x), Corey Kiner and Myles Montgomery.
WR Tyler Scott has six TD receptions to rank second in the AAC and 14th in the nation. He had 10 catches for 185 yards and three TDs (all in first half) vs. Indiana en route to AAC Offensive Player of the Week honors.
P Mason Fletcher ranks seventh in the nation in punting average (45.86). He had a punt downed at the 1-yard line versus USF and was named the Ray Guy National Punter of the Week (Week 5) and AAC Special Teams POTW (Week 3) this season.
NUMBERS AND NOTES …
Four-year Cincinnati football student-athletes have a 100% graduation rate under head coach Luke Fickell.
UC has won a league title seven times in the last 14 years and has played in 12 bowl games in the past 15 years.

Cincinnati is 655-596-50 (.523) all-time.

UC is playing its 135th football season in 2022. The Bearcats program dates to 1885 and is one of the 10 oldest in FBS.

Cincinnati is ranked No. 21 in the AP poll and No. 19 in the Coaches Poll. UC has been ranked for three straight weeks and has been ranked in the AP Top 25 poll in 47 of the last 51 weeks.
COURTESY UC SPORTS COMMUNICATIONS