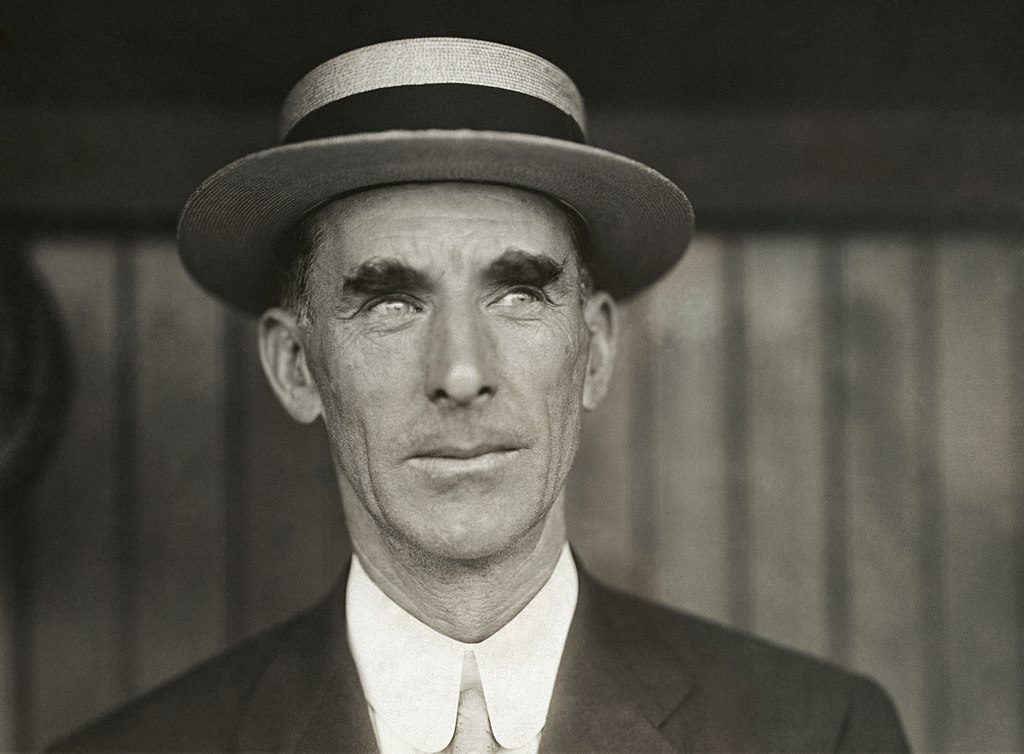 FROM WIKIPEDIA COMMONS
Cornelius McGillicuddy (December 22, 1862 – February 8, 1956), better known as Connie Mack, was an American professional baseball catcher, manager, and team owner. The longest-serving manager in Major League Baseball history, he holds untouchable records for wins (3,731), losses (3,948), and games managed (7,755). Mack's victory total is 829 more than the second highest total, 2,902 wins by Tony La Russa. Mack's lead in career losses is even greater, 1,433 higher than the second highest total, La Russa's 2,515.
Mack managed the Philadelphia Athletics for the club's first 50 seasons of play, starting in 1901, before retiring at age 87 following the 1950 season, and was at least part-owner from 1901 to 1954. He was the first American League manager to lead a team to 100 wins, doing so in 1910, 1911, 1929, 1930, and 1931; his five 100-win seasons are second most in MLB history, with only two other managers surpassing him. He was the first manager to win the World Series three times, and he is the only manager to win consecutive Series on separate occasions (1910–11, 1929–30); his five Series titles remain the third most by any manager, and his nine American League pennants rank second in league history. However, constant financial struggles forced repeated rebuilding of the roster, and Mack's teams also finished in last place 17 times. Mack was elected to the National Baseball Hall of Fame in 1937.
MANAGERIAL CAREER
According to baseball historian Bill James,
Mack looked for seven things in his players–"physical ability, intelligence, courage, disposition, will power, general alertness and personal habits."
As a result of Mack's striving to have his players become better people as well as baseball players, he created a Code of Conduct following the 1916 season:
I will always play the game to the best of my ability.
I will always play to win, but if I lose, I will not look for an excuse to detract from my opponent's victory.
I will never take an unfair advantage in order to win.
I will always abide by the rules of the game—on the diamond as well as in my daily life.
I will always conduct myself as a true sportsman—on and off the playing field.
I will always strive for the good of the entire team rather than for my own glory.
I will never gloat in victory or pity myself in defeat.
I will do my utmost to keep myself clean—physically, mentally, and morally.
I will always judge a teammate or an opponent as an individual and never on the basis of race or religion.
He also looked for players with quiet and disciplined personal lives, having seen many players in his playing days destroy themselves and their teams through heavy drinking. Mack himself never drank; before the 1910 World Series he asked all his players to "take the pledge" not to drink during the Series. When Topsy Hartsel told Mack he needed a drink the night before the final game, Mack told him to do what he thought best, but in these circumstances "if it was me, I'd die before I took a drink."
In any event, his managerial style was not tyrannical but easygoing. He never imposed curfews or bed checks, and made the best of what he had. Rube Waddell was the best pitcher and biggest gate attraction of Mack's first decade as the A's manager, so he put up with his drinking and general unreliability for years, until it began to bring the team down and the other players asked Mack to get rid of Waddell.
Mack's strength as a manager was finding the best players, teaching them well and letting them play. "He did not believe that baseball revolved around managerial strategy." He was "one of the first managers to work on repositioning his fielders" during the game, often directing the outfielders to move left or right, play shallow or deep, by waving his rolled-up scorecard from the bench. After he became well known for doing this, he often passed his instructions to the fielders by way of other players, and simply waved his scorecard as a feint.
TODAY'S ALMANAC
Lovely, summerlike days that occur around October 18 are called Saint Luke's Little Summer in honor of the saint's feast day. Around this time, Saint Luke's feast day, there is a period brief period of calm, dry weather. Of course, it's difficult to generalize today across the vast continent of North America, but the temperature is usually mild and the leaf colors are turning a gorgeous color. It's a good time for a brief vacation or visit to a park. In Venice, Italy, they say: "San Luca, El ton va te la zuca" (Pumpkins go stale on St Luke's Day), but here in North America, pumpkins are enjoying their finest hour. Saint Luke is the patron saint of physicians and surgeons so it seems only fitting that the good doctor give us these calm days. In olden days, St. Luke's Day did not receive as much attention in the secular world as St. John's Day (June 24) and Michaelmas (September 29), so it was to keep from being forgotten that St. Luke presented us with some golden days to cherish before the coming of winter, or so the story goes. Some folks call this Indian Summer, but that officially occurs between November 11 and November 20.
Alaska Day marks the anniversary of the formal transfer of the Alaska Territory from Russia and the raising of the U.S. flag at Sitka in 1867.
Question of the Day
When did people first use fertilizer that wasn't a natural product?
Superphosphate was patented by John Bennet Lawes in England in 1842.
Advice of the Day
Indian Summer-like weather this time of year is called St. Luke's Little Summer.
Home Hint of the Day
To clean severely discolored glass or crystal, soak the item in a solution of ammonia and water for several hours, then wash and rinse.
Word of the Day
St. Luke's Little Summer
A spell of warm weather that occurs about the time of the saint's feast day, October 18, this period is sometimes referred to as Indian summer.
Puzzle of the Day
What small animal is turned into a large one by taking away part of its name?
Fox (ox)
Died
Pope Pius III – 1503
Lucy Stone Blackwell (suffragette) – 1893
Thomas Alva Edison (inventor) – 1931
Walt Kelly (cartoonist) – 1973
Bess Truman (U.S. First Lady) – 1982
Dee Dee Warwick (soul singer) – 2008
Colin Powell (politician, diplomat, and four-star general; served as U.S. secretary of state) – 2021
Born
Pierre Elliot Trudeau (15th Canadian prime minister) – 1919
Jesse Helms (politician) – 1921
Chuck Berry (musician) – 1926
George C. Scott (actor) – 1927
Mike Ditka (football player, coach) – 1939
Lee Harvey Oswald (alleged assassin of President John F. Kennedy) – 1939
Martina Navratilova (tennis player) – 1956
Erin Moran (actress) – 1960
Doug Mirabelli (baseball player) – 1970
Zac Efron (actor) – 1987
Events
The boundary line between Maryland and Pennsylvania, commonly known as the Mason-Dixon Line, was finally settled– 1767
Ostend Manifesto of the US declares that if Spain refuses to sell Cuba to them, then the US will take it by force– 1854
Alaska was transferred from Russia to the U.S.– 1867
The British Broadcasting Company was formed– 1922
Philadelphia Athletics manager Connie Mack announced his retirement– 1950
Weather
An early snowstorm over Lakes Erie and Ontario brought 48 inches of snow to the region just south of Buffalo– 1930
47 inches of snow fell in Gouverneur, New York– 1930
COURTESY www.almanac.com