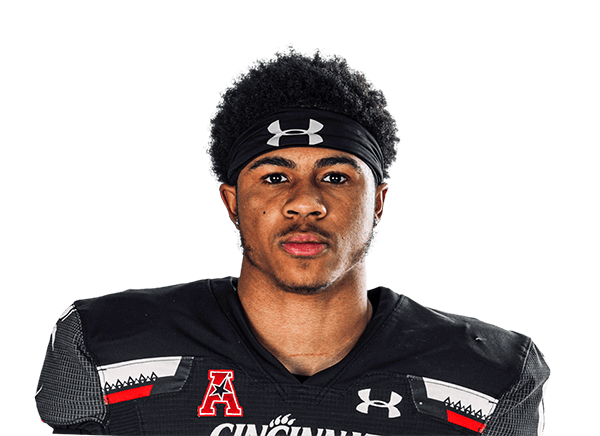 September 24, 2022
The Bearcats won their 29th consecutive game at Nippert Stadium
CINCINNATI – Junior wide receiver Tyler Scott became the first Bearcat player to record three touchdown receptions in a half, and Cincinnati used 21 second quarter points over a four-minute span to turn a one-score game into a 45-24 victory over Indiana at Nippert Stadium on Saturday.
 
Ben Bryant had as many touchdowns as incompletions in the first half, completing 17-of-21 for 314 yards and a career-high four touchdowns.
 
After Indiana cut into the lead 17-10 at the 8:06 mark, the Bearcats erupted for three straight unanswered touchdowns before half. Bryant first connected with Scott for a 35-yard touchdown and then again for a 32-yard score with 32 seconds remaining in the second quarter.  
 
The third straight touchdown occurred when junior defensive end Eric Phillips stripped sacked Indiana quarterback Connor Bazelak 10 seconds later and redshirt sophomore nose tackle Dominique Perry scooped up the fumble and rumbled 14 yards to the end zone for first career touchdown in his season debut. Phillips added four tackles and two tackles for loss.
 
"Ben Bryant played his butt off," said Cincinnati head coach Luke Fickell, who won his 51st game at UC, which is two away from tying the school-record of 53. "Tyler Scott had three touchdowns in the first half, there are some really great things. They are going to give us a chance to win a lot of football games."
 
Bryant tied a career-high 354 passing yards on the afternoon, while Scott set career-highs with 10 receptions, 185 yards and three touchdowns.
 
Senior linebacker Ivan Pace, Jr. led the team in tackles for the fourth straight game with 15 total tackles, 4.5 tackles for loss and two sacks.
 
Cincinnati won its 29th straight game at Nippert Stadium – the nation's second-longest home winning streak – to improve to 3-1 on the season. The Bearcats swept the home-and-home series with the Hoosiers after beating Indiana in Bloomington, 38-24, in 2021.
 
"It is just it's another opportunity for us to play in front of this crowd, another opportunity for us to continue the streak that we have here at home and protect our house," Fickell said. "Since we've been here, there's no difference between us and the teams in the Big Ten, ACC, or Big 12, that we will be facing next year. We have an expectation and in some ways, we expect to play a little bit better."
 
Indiana threw a school-record 66 pass attempts, but completed only 31. Overall, the Hoosiers ran 104 plays, but the Blackcats' defense only allowed 3.3 yards per play.
 
Sophomore safety Bryon Threats added a career-high nine tackles and his first career interception with a 28-yard return in the first quarter, that set up the first score of the game a 24-yard Ryan Coe field goal at the six-minute mark in the first quarter.
 
Indiana responded with a 16-play, 66-yard drive to tie the game 3-3 on a 27-yard field goal from Charles Campbell.
 
On the Bearcats' first play of the next drive, Bryant found Scott for a 75-yard touchdown bomb to make the score 10-3 with a minute left in the first quarter. The Bearcats closed the first quarter with a sack by Ivan Pace, Jr., on third down for a loss of 17 yards.
 
Bryant found Tucker for a 45-yard completion to open the second period. They connected a few plays later on a 5-yard scoring toss to put the Bearcats ahead 17-3 with 12:36 left in the first half. They would connect twice more in record-breaking half for UC's commanding lead.
 
In the second half, Indiana running back Shaun Shivers found the end zone twice to make it a two-score game. The senior hauled in a two-yard touchdown early in a third quarter and added a 47-yard rushing score with a minute into the fourth quarter to make it 24-38.
 
Sophomore running back Corey Kiner recorded the final tally of the game on a 1-yard dive with 1:20 remaining in the game. He has scored a touchdown in every game this season.
COURTESY UC SPORTS COMMUNICATIONS