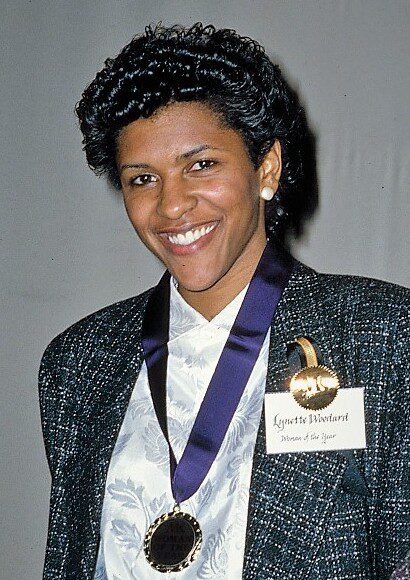 FROM WIKIPEDIA COMMONS
Lynette Woodard (born August 12, 1959) is a retired American basketball Hall of Fame player and former head women's basketball coach at Winthrop University. Woodard made history by becoming the first female member of the Harlem Globetrotters and who, at age 38, began playing as one of the oldest members in the newly formed American women's professional basketball league, the WNBA.
While at Wichita North High School, Woodard won two state basketball titles.
Woodard went on to play college basketball with the University of Kansas (KU) in 1978, playing there until 1981. She was a four-time All-American at KU, and she averaged 26 points per game and scored 3,649 points in total during her four years there, and was the first KU woman to be honored by having her jersey retired. She is major college basketball's career women's scoring leader.
In 1981, she was signed by an Italian team, UFO Schio (Vicenza), to participate in their league.
In 1984, she was a member of the United States' women's basketball team that won the gold medal at the Los Angeles Olympic Games.
In 1985, Woodard became the first woman ever to play with the Globetrotters. Incidentally, Woodard's cousin, Hubert "Geese" Ausbie, also played for the Globetrotters from 1961 to 1985.
In 1989, she was inducted into the National High School Hall of Fame. In 1990, she was inducted into the Kansas Sports Hall of Fame, and was signed by a Japanese women's team to play in their country. She played there until 1993.
In 1997, she was signed by the Cleveland Rockers of the newly founded Women's National Basketball Association (WNBA). The following year, she was selected in an expansion draft by the Detroit Shock. During the WNBA's off-season, she began working as a stockbroker in New York City.[citation needed]
She retired from playing in 1999 and returned to KU serving as Assistant Coach of the women's basketball team. In late January 2004, she was named Interim Head Coach filling for the regular coach Marian Washington, who had retired due to medical reasons. She also served as Athletics Director for the Kansas City, Missouri School District from 1992 to 1994.
In September 2004, she was inducted into the Naismith Memorial Basketball Hall of Fame in Springfield, Massachusetts. In June 2005, she was inducted into the Women's Basketball Hall of Fame in Knoxville, Tennessee.
Woodard also received the 2015 WBCBL Women's Professional Basketball "Trailblazer" Award on August 2, 2015, along with 9 other female basketball Icons including Cynthia Cooper, Nancy Lieberman, Sarah Campbell, E.C. Hill, Geri Kay Hart, Robelyn Garcia, Kandi Conda, Lisa Leslie and Tamika Catchings. The award recognizes some of the most influential people in professional women's basketball, specifically those who helped blaze the trail, shape the overall landscape and pave the way for women's professional basketball.
Woodard became a financial consultant for A.G. Edwards & Sons Inc., in Wichita.
In 2017, she was named the head coach of the Winthrop Eagles women's basketball team.
TODAY'S ALMANAC
Question of the Day
What is the best way to rid a pantry of moths?
Food moths can be pretty tough to get rid of once they've moved into your home. You'll need to dump all pantry staples containing grains and nuts — including pasta, popcorn, crackers, flour, raisins, nuts, and breakfast cereals — since the moths may have already laid eggs in them. Buy new staples and put them directly in the freezer for two days, which will kill all stages of any new moths that may be in them. Then store the foods in glass jars. Any of the remaining moths will head for the hills when they discover nothing to eat in your pantry.
Advice of the Day
Death and proverbs love brevity.
Home Hint of the Day
When nailing drywall, hit the nail just hard enough so that the hammer drives in the nail and creates a dimple in the top surface of the drywall without cutting through it. This makes a place for the joint compound to fill.
Word of the Day
Opposition
The Moon or a planet appears on the opposite side of the sky from the Sun (elongation 180°).
Puzzle of the Day
My first is company; my second shuns company; my third assembles company; my whole amuses company. (What's the word? Each clue is a syllable!)
Co-nun-drum
Born
Henry Rutgers (patriot) – 1745
William Billings (composer) – 1746
James Whitcomb Riley (poet) – 1849
Niels Bohr (physicist) – 1885
Andy Devine (actor) – 1905
Vaughn Monroe (singer & bandleader) – 1911
Walt Whitman Rostow (government official) – 1916
June Allyson (actress) – 1917
Desmond Mpilo Tutu (South African archbishop, Nobel Peace Prize winner) – 1931
Leroi Jones (poet) – 1934
John Mellencamp (singer) – 1951
Yo-Yo Ma (cellist) – 1955
Jayne Torvill (figure skater, Olympic gold medalist; partner was Christopher Dean) – 1957
Simon Cowell (American Idol judge) – 1959
Rachel McAdams (actress) – 1976
Aaron & Shawn Ashmore (actors) – 1979
Died
Edgar Allan Poe (author) – 1849
Oliver Wendell Holmes, Sr. (writer) – 1894
Christy Mathewson (baseball player) – 1925
Mario Lanza (singer) – 1959
Events
Cornell University welcomed its first students– 1868
Georgia Tech defeated Cumberland University in football 222-0– 1916
German troops invaded Romania– 1940
Frank Sinatra's first TV show debuted– 1950
First photos taken of the dark side of the Moon, by Luna 3– 1959
President John F. Kennedy signed nuclear test ban treaty between United States, Britain, and Soviet Union– 1963
Andrew Lloyd Webber's musical Cats opened on Broadway– 1982
Lynette Woodard selected as the first woman to play with the Harlem Globetrotters– 1985
The rose was chosen to be national floral emblem of the U.S. Resolution signed on this day by President Reagan. U.S. Code Title 36, Chapter 3, Section 303– 1986
Adrienne Clarkson became the 26th governor-general of Canada– 1999
A 12-year-old caught a 618-pound bluefin tuna in the Northumberland Strait of Canada– 2014
Weather
A hurricane caused shore damage and snow inland in New England– 1849
Hurricane Daisy produced heavy rains while moving to Canadian waters near Newfoundland. Tide damage occurred in eastern New England and Nova Scotia.– 1962
San Antonio, Texas, received 3.1 inches of rain in 6 hours– 1989
COURTESY www.almanac.com