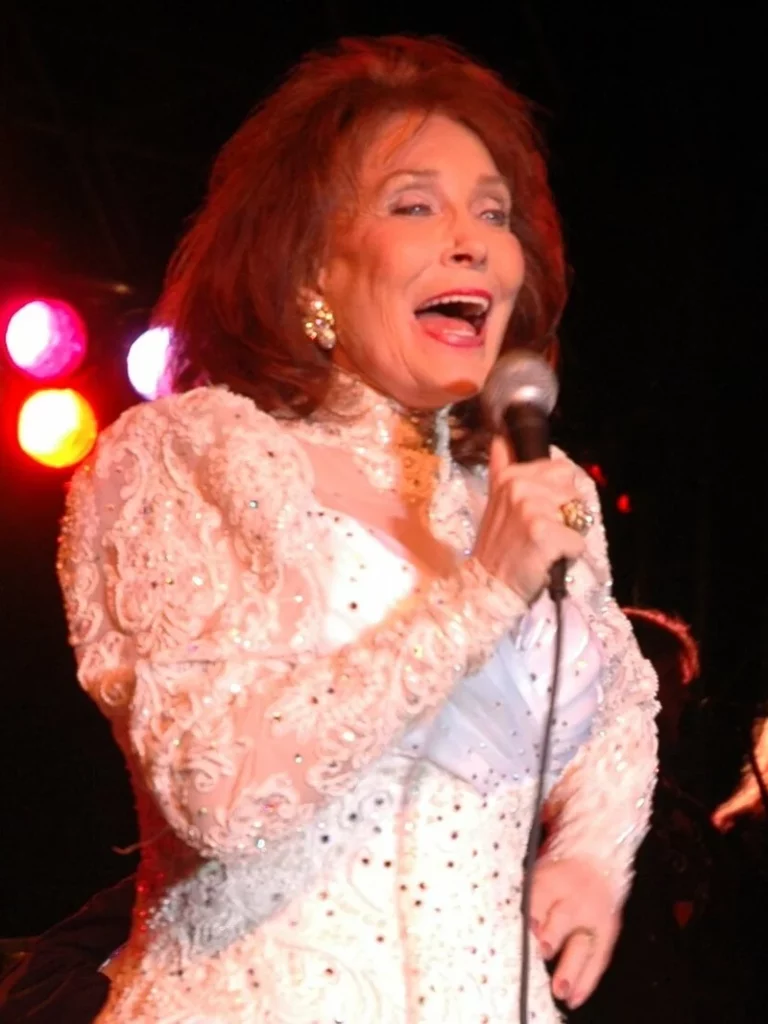 FROM WIKIPEDIA COMMONS
Loretta Lynn (née Webb; April 14, 1932 – October 4, 2022) was an American singer-songwriter. In a career which spanned six decades in country music, Lynn released multiple gold albums. She had hits such as "You Ain't Woman Enough (To Take My Man)", "Don't Come Home A-Drinkin' (With Lovin' on Your Mind)", "One's on the Way", "Fist City", and "Coal Miner's Daughter". In 1980, the film Coal Miner's Daughter was made based on her life.
Lynn received many awards and other accolades for her groundbreaking role in country music, including awards from both the Country Music Association and Academy of Country Music as a duet partner and an individual artist. She was nominated 18 times for a Grammy Award, and won 3 times. As of 2022, Lynn was the most awarded female country recording artist, and the only female ACM Artist of the Decade (1970s). Lynn scored 24 No. 1 hit singles and 11 number one albums. She ended 57 years of touring on the road after she suffered a stroke in 2017 and then broke her hip in 2018.
1932–1960: Early years, marriage and path to stardom
Lynn was born Loretta Webb in Butcher Hollow, Kentucky, on April 14, 1932. She was the eldest daughter and second child born to Clara Marie "Clary" (née Ramey; May 5, 1912 – November 24, 1981) and Melvin Theodore "Ted" Webb (June 6, 1906 – February 22, 1959). Ted was a coal miner and subsistence farmer. The family is part Cherokee. She was named after the film star Loretta Young. The other Webb children:
Melvin "Junior" Webb (December 4, 1929 – July 2, 1993)
Herman Webb (September 3, 1934 – July 28, 2018)
Willie "Jay" Lee Webb (February 12, 1937 – July 31, 1996)
Donald Ray Webb (April 2, 1941 – October 13, 2017)
Peggy Sue Wright (née Webb; born March 25, 1943)
Betty Ruth Hopkins (née Webb; born January 5, 1946)
Crystal Gayle (born Brenda Gail Webb; January 9, 1951)
Loretta's father Ted died at the age of 52 from a stroke four years after relocating with her mother and younger siblings to Wabash, Indiana. He had also been battling black lung disease at the time of his death.
Through her matriline, Lynn was distant cousins with country singer Patty Loveless. The former Miss America, Venus Ramey, who died in 2017, was also her distant cousin.
On January 10, 1948, 15-year-old Loretta Webb married Oliver Vanetta "Doolittle" Lynn (August 27, 1926 – August 22, 1996), better known as "Doolittle", "Doo", or "Mooney". They had met only a month earlier. The Lynns left Kentucky and moved to the logging community of Custer, Washington, when Loretta was seven months pregnant with the first of their six children. The happiness and heartache of her early years of marriage would help to inspire Lynn's songwriting. In 1953, Doolittle bought her a $17 Harmony guitar (equivalent to $172 in 2021). She taught herself to play the instrument, and over the following three years, she worked to improve her guitar playing. With Doolittle's encouragement, she started her own band, Loretta and the Trailblazers, with her brother Jay Lee playing lead guitar. She often appeared at Bob's Tavern in Blaine, Washington, and the Delta Grange Hall in Custer, Washington, with the Pen Brothers' band and the Westerneers. She cut her first record, "I'm a Honky Tonk Girl", in February 1960.
Health and Death
Over the years, Lynn suffered from various health concerns, including pneumonia on multiple occasions and a broken arm after a fall at home. In 2010, Lynn missed a tribute to her from other women of country music due to undergoing knee surgery.
In May 2017, Lynn had a stroke at her home in Hurricane Mills. She was taken to a Nashville hospital and as a result had to cancel all of her upcoming tour dates. The release of her album Wouldn't It Be Great was delayed until 2018. On January 1, 2018, Lynn fell and broke her hip.
Lynn died in her sleep at her home in Hurricane Mills on October 4, 2022, at the age of 90. No cause of death was immediately given.