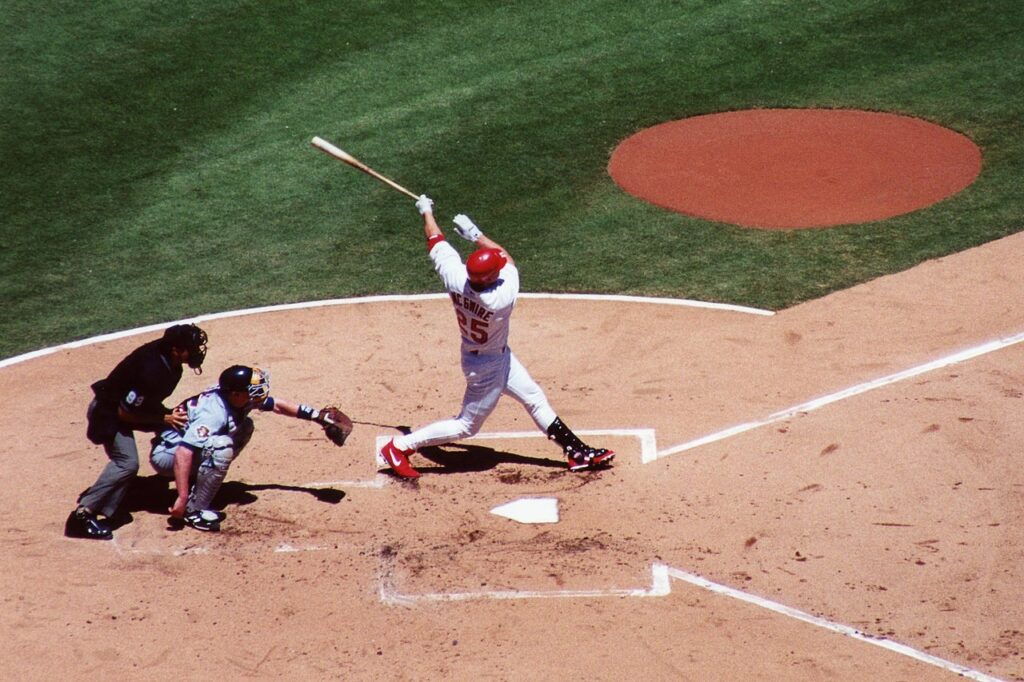 FROM WIKIPEDIA COMMONS
Mark David McGwire (born October 1, 1963), nicknamed "Big Mac", is an American former professional baseball first baseman. His Major League Baseball (MLB) playing career spanned from 1986 to 2001 while playing for the Oakland Athletics and the St. Louis Cardinals, winning one World Series championship each, with Oakland as a player in 1989 and with St. Louis as a coach in 2011. One of the most prolific home-run hitters in baseball history, McGwire holds the major-league career record for at-bats per home run ratio (10.6), and is the former record holder for both home runs in a single season (70 in 1998) and home runs hit by a rookie (49 in 1987).
McGwire ranks 11th all-time in home runs with 583, led the major leagues in home runs in five different seasons and set the major-league record for home runs hit in a four-season period from 1996 to 1999 with 245. He demonstrated exemplary patience as a batter, producing a career .394 on-base percentage (OBP) and twice leading the major leagues in bases on balls. Injuries cut short even greater potential, as he reached 140 games played in just eight of 16 total seasons. A right-handed batter and thrower, McGwire stood 6 feet 5 inches (1.96 m) tall and weighed 245 pounds (111 kg) during his playing career.
With the Cardinals in 1998, McGwire joined Cubs slugger Sammy Sosa in a chase for the single-season home-run record set by Roger Maris in 1961. McGwire surpassed Maris and finished with 70 home runs, a record that Barry Bonds would break three years later with 73. McGwire also led the league in runs batted in, twice in bases on balls and on-base percentage and four times in slugging percentage. Injuries significantly cut into his playing time in 2000 and 2001 and factored into his decision to retire. He finished with 583 home runs, which was fifth all-time when he retired.
McGwire was one of several central figures in baseball's steroids scandal. In 2010, McGwire publicly admitted to using performance-enhancing drugs during a large portion of his career.
TODAY'S ALMANAC
Question of the Day
What would happen if Earth's rotation started to slow down?
Earth is already slowing down and has been doing so for billions of years. At the present time, our planet is slowing down by about .002 second per century. The slowing occurs mainly because of friction between solid earth and ocean tides. Earth's loss of rotational energy is transferred to the Moon, which goes into a wider orbit, thus lengthening the time between successive full Moons.
Advice of the Day
Two sparrows on the same ear of corn are not long friends.
Home Hint of the Day
To clean a dirty television screen, wipe the screen with alcohol on a clean rag.
Word of the Day
Three Chilly Saints
Mamertus, Pancras, and Gervais were three early Christian saints. Because their feast days, on May 11, 12, and 13, respectively, are traditionally cold, they have come to be known as the Three Chilly Saints. An old French saying goes: "St. Mamertus, St. Pancras, and St. Gervais do not pass without a frost."
Puzzle of the Day
On three legs I stand, And when taken in hand, My nose often points to the light. Inside I'm as black as any coal sack, But my outside is polished and bright. (1897) (What is being described?)
Candle snuffer
Born
Samuel Adams (patriot) – 1722
Peter Joseph von Cornelius (painter) – 1783
Thomas Nast (cartoonist) – 1840
Catherine Marshall (writer) – 1914
William Conrad (actor) – 1920
Arthur Penn (director) – 1922
Wilford Brimley (actor) – 1934
Shaun Cassidy (singer) – 1958
Clara Hughes (cyclist) – 1972
Gwyneth Paltrow (actress) – 1972
Avril Lavigne (singer) – 1984
Died
Adelina Patti (opera singer; namesake of the song You're the Flower of My Heart Sweet Adeline) – 1919
Engelbert Humperdinck (German composer) – 1921
Donald O'Connor (song and dance man) – 2003
William Safire (political columnist, language maven) – 2009
Events
Breakthrough in deciphering the Rosetta Stone announced– 1822
SS Arctic and SS Vesta collided in the North Atlantic– 1854
The Tonight Show made its television debut with Steve Allen as host– 1954
The Warren Commission Report on the assassination of President John F. Kennedy issued– 1964
Two men, Jeffrey Petkovich and Peter Debernardi, went over Niagara Falls in a barrel. They were the first pair ever to go over the falls and live. They were charged with unlawfully performing the stunt– 1989
Mark McGwire hit his 69th and 70th home runs– 1998
Dawn spacecraft launched, Cape Canaveral, Florida– 2007
Weather
Unripened corn in much of New England was killed by a severe black frost– 1816
Winds gusted to 115 mph on Long Island; 109 mph in Chatham, Massachusetts; and 100 mph in Milton, Massachusetts– 1985
Hurricane Gloria made landfall near Fire Island, New York, and then crossed the Connecticut coastline– 1985
A rare waterspout was seen in Long Island Sound, New York, off Smithtown Bay– 2006
Los Angeles, California, reached a record high temperature of 113 degrees F– 2010
COURTESY www.almanac.com