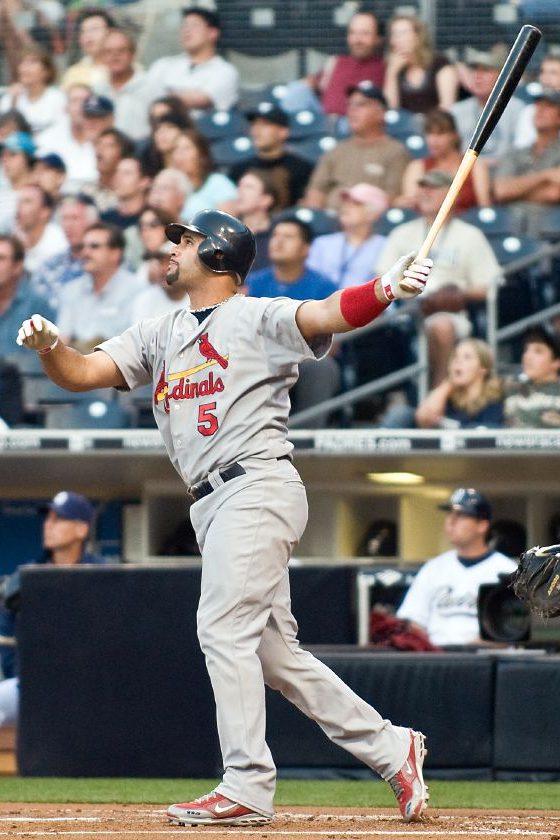 Friday, September 23, 2022 was the day in history for 42-year-old St. Louis Cardinals star Albert Pujols as he blasted two home runs against the Los Angeles Dodgers on Friday night in Dodger Stadium becoming the fourth player in MLB history to hit 700 career homers.
With those two homers on Friday, numbers 699 and 700. Pujols joins Barry Bonds (762), Henry Aaron (755) and Babe Ruth (714) in the 700 home run club. He has 2,208 RBIs for his career, six away from tying Ruth for the second most all-time.
The fan who caught the ball said he wanted to keep the baseball.
The always fan-friendly Pujols has no problem with it.
"Souvenirs are for the fans. I don't have any problem if they want to keep it," Pujols said postgame in his post-game press conference. "If they want to give it back, that's great. But at the end of the day, I don't focus on material stuff."
PUJOLS' COMEBACK 2022 SEASON WITH THE TEAM HE STARTEDS HIS CAREER WITH (FROM WIKIPEDIA COMMONS)
On March 28, 2022, Pujols signed a one-year contract to return to the St. Louis Cardinals and announced that 2022 would be his final season. He said, "There were a lot of teams interested. It took 12 hours, maybe even less, to get a deal done once we received a call from the Cardinals," adding: "We have the best fans in baseball. It feels like I never left." He was the oldest player in the major leagues for the third season in a row.
On May 15, Pujols made his pitching debut, the oldest player to do so since 1929. In a 15–6 blowout win against the San Francisco Giants, he gave up two home runs and four earned runs in the ninth inning. He became the 10th major league player to play 3,000 games on June 4 versus the Chicago Cubs, appearing as an injury replacement for Corey Dickerson. Against the Tampa Bay Rays on June 7, Pujols singled for his 3,320th career hit, passing Paul Molitor for tenth all-time in hits. On July 10, after Philadelphia had shut out St. Louis in three straight games, Pujols made a rare start against a right-handed pitcher, and his three hits, including a home run, helped spark a 4-3 win. The home run was Pujols' 1,377th extra-base hit, tying him for third all-time with Musial.
Pujols was chosen to be on the National League team for the 2022 Major League Baseball All-Star Game by MLB Commissioner Rob Manfred as a "legacy" selection to honor his career achievements. He was also selected to participate in the 2022 Major League Baseball Home Run Derby, where he advanced to the second round and fell one home run short of eventual winner Juan Soto.
On August 20, he passed Stan Musial for second place all-time in total bases, trailing only Hank Aaron. On August 22, he was named the National League Player of the Week alongside teammate Paul Goldschmidt and the Chicago White Sox's Johnny Cueto after hitting .615 with three home runs and seven RBIs. On August 29, Pujols hit a third-inning home run off of Ross Detwiler of the Cincinnati Reds. Detwiler was the 450th unique pitcher to surrender a home run to Pujols, breaking the record set by Barry Bonds.
This could have happened last week in St. Louis, which would have been awesome to me, but to allow it to happen tonight in front of my family and friends and people who really care and love me is special.
―Pujols on hitting his 700th home run in Los Angeles.
On September 10 and 11, Pujols hit his 696th and 697th career home runs at PNC Park against the Pittsburgh Pirates to move into fourth place on the all-time list. On September 14, he became the third player in MLB history to compile 2,200 RBIs in his career. On September 23, Pujols became the fourth player to hit 700 career home runs during an 11–0 victory for the Cardinals at Dodger Stadium. In consecutive at-bats, Pujols hit his 699th career home run off of Andrew Heaney, his 200th home run off a left-handed pitcher, and his 700th career home run off of Phil Bickford, his 500th home run off a right-handed pitcher.