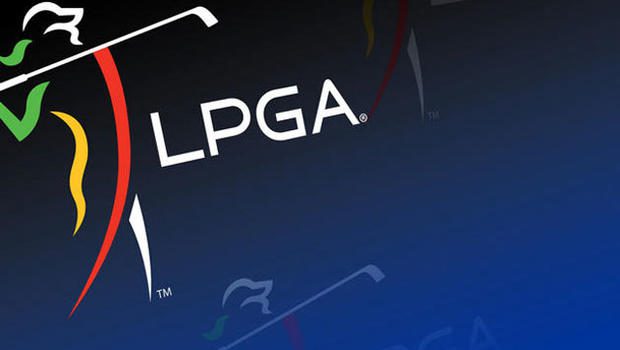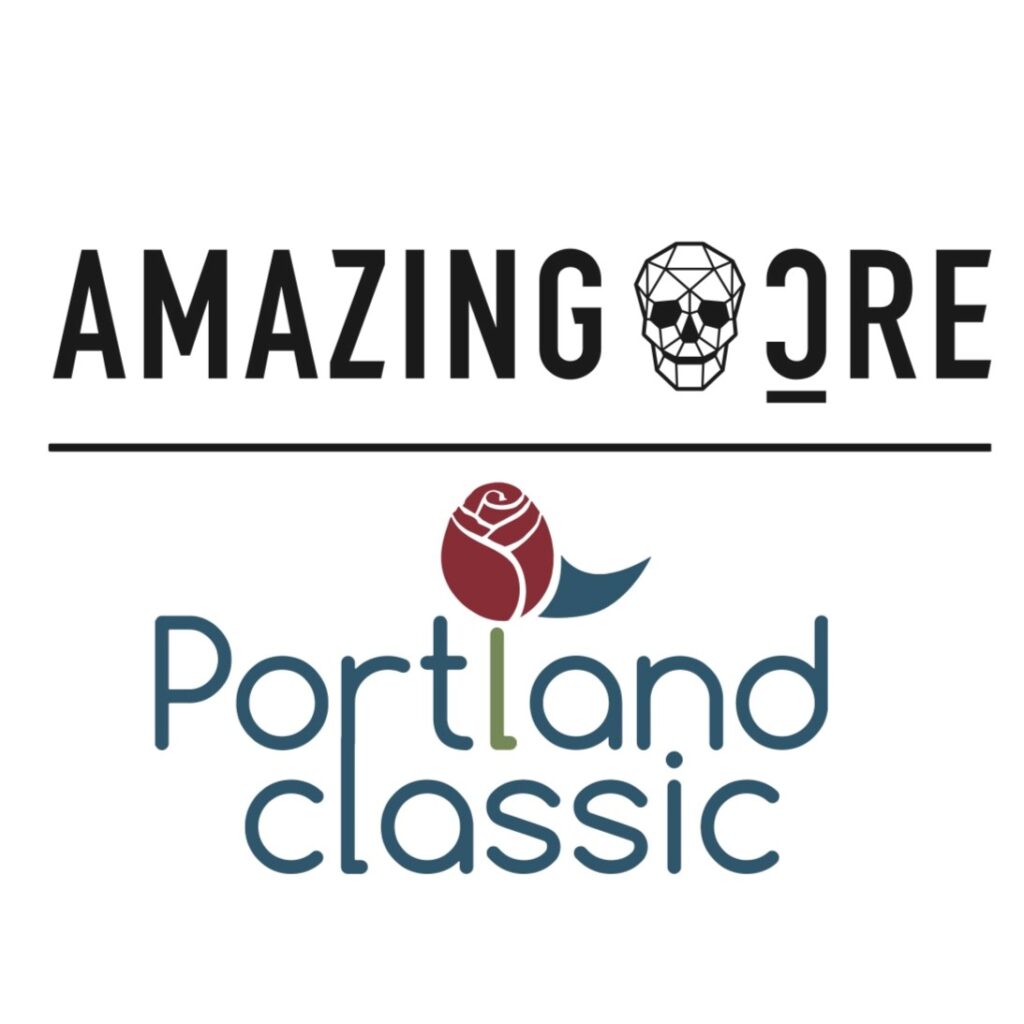 AmazingCre Portland Classic
Columbia Edgewater Country Club | Portland, Oregon | Sept. 15-18, 2022
Fourth-Round Notes
Sept. 18, 2022
Course Setup: 36-36—72, 6,311
Scoring Averages: R1 – 72.341; R2 – 71.542; R3 – 71.085; R4 – 70.476
Weather: Partly cloudy to mostly sunny, then mostly cloudy after 2 p.m.; a high of 80 degrees, with light winds up to 8 mph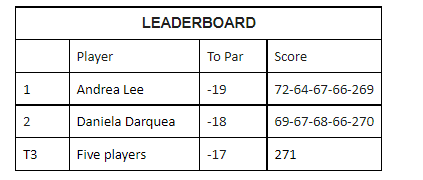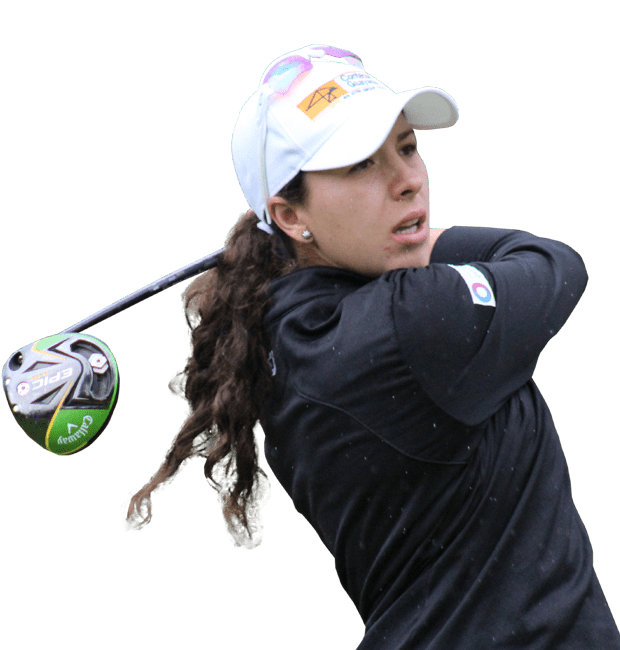 ANDREA LEE CAPTURES FIRST VICTORY AT AMAZINGCRE PORTLAND CLASSIC
It was anyone's tournament going into the final round of the AmazingCre Portland Classic and it remained that way throughout the day at Columbia Edgewater Country Club. With numerous lead changes and a myriad of elite players clawing their way to the top of the leaderboard on Sunday, a clear champion wasn't established until the final putts. That champion is Andrea Lee, who finished at -19 and earned the first win of her LPGA Tour career.
"All the hard work has paid off. It's been my dream to win on the LPGA Tour, and the fact that I accomplished that today is just pretty surreal," the Rolex First-Time Winner said. "Some of the past champions (of the Portland Classic) are legends of the game… I'm extremely honored to join that list of names."
Lee started the day at -13 and in the lead group alongside fellow Epson Tour graduate Lilia Vu and 2022 first-time winner Ayaka Furue. She got off to a rough start with two bogeys in her first three holes but turned it around shortly after with birdies on holes five, six and seven. The American continued the birdie barrage with five on the back nine and took advantage of Columbia Edgewater's four par-5s throughout the round, birdieing every single one.
Lee had a two-stroke lead at -19 going into the final two holes, but she struggled on the par-4 17th after her ball landed in a fairway divot.
"It was a bad break obviously, but nothing you could do about it. I was kind of in between clubs. I was debating whether I should hit a really full 7-iron or choke-up 6-iron, and I went with choke-6 and tugged it a little," Lee explained. "I caught it pretty clean. I think if I aimed it a little bit more right it would've been on the green. But tugged it and went in the bunker. I just had to keep myself calm and try and get it up and down. Hit it to about a foot so that definitely helped calm the nerves."
Lee's spectacular sand save allowed her to maintain the two-stroke lead going into the final hole. Ecuadorian Daniela Darquea, playing one group ahead, put the pressure on Lee with a birdie on No. 18 to reach -18. But Lee said she remained calm, avoided focusing on the leaderboard and finished with a routine par that made her an LPGA champion.
Looking at Lee's final stats, it's easy to see how she became a champion. The Stanford alumna led the field in birdies and hit the most fairways and greens in regulation. Her game is the best it's ever been, she said, but it's been a long journey to reach this point.
"My junior career and my amateur career have always been kind of smooth sailing I would say. I kind of expected a lot out of myself coming into the LPGA and turning professional. Put a lot of pressure on myself to do really well off the bat," said Lee, who is tied for the title of winningest golfer in Stanford history. "That wasn't the case at all. 2020 was a decent year, but then 2021 was a struggle… Just learned from all those experiences last year, and I really have grown as a golfer and really proud of the way that I managed to use all those experiences to get that win today."
Darquea's second-place finish is her best on the LPGA Tour. Her previous best was a tie for fifth at the 2018 Dana Open presented by Marathon. The 27-year-old lost full status on the LPGA Tour coming into 2022 but has used her Epson Tour membership to help improve her game and build her confidence at the five LPGA events she has played this season. In fact, Darquea was debating whether to even play in Portland this week or play on the Epson Tour. She said she made the right choice.
"It was rough at the beginning of the year, losing the card, going back to Epson," said Darquea, who shot seven birdies and a bogey on Sunday to earn her second-place spot. "I know I have the game to be here. I just need to keep the mental game going as it is."
Five players share the third-place position, including third-round co-leaders Furue and Vu, 2019 Portland Classic champion Hannah Green, German golfer Esther Henseleit and Korean Narin An. An's bogey-free 64 allowed her to jump up the leaderboard from T14 to T3. Her -8 round was only bested by Bianca Pagdanganan, whose 9-under 63 was the best 18-hole score of the week at Columbia Edgewater. Making her LPGA Tour membership debut, Maja Stark earned an eighth-place finish with a 6-under final round that saw her in an early lead after five consecutive birdies at holes 4-8.
DANIELA DARQUEA THRILLED BY PORTLAND RUNNER-UP FINISH
There might not be anyone who has ever been happier with a runner-up finish than Daniela Darquea on Sunday in Portland. The 27-year-old native of Quito, Ecuador, has bounced between the LPGA and Epson Tours after a difficult 2021 season that saw her make just five of 18 cuts. In fact, the AmazingCre Portland Classic was just her fifth LPGA Tour start of 2022, with two top-15s and two missed cuts.
"It was rough at the beginning of the year, losing the card, going back to Epson," Darquea said. "Literally I had probably one or two chances in Dow that I started playing pretty good out here. Had a few good events and then all of a sudden I was like, okay, should I pick the Epson? Should I pick the LPGA?"
This week, she chose to make the trip West to Portland. And she made the most of the opportunity. Darquea closed with three consecutives birdies at Columbia Edgewater Country Club to reach -18 and leave with a solo second finish. Her $139,217 paycheck is more than she's ever made in a single season and is nearly half of her career earnings. And though the money is nice, Darquea focused on the confidence boost she will take from her career best finish on the LPGA Tour, remebering the struggles of the past and the promise of the future.
"You have no idea how much I learned this year, this past two years," she said with relief vividly etched onto her face. "Last year was such a struggle, and now being able to stay in the moment, stay calm, like execute the shots, take it one shot at a time, if I get in trouble, get out of trouble quick, it's big. It's very important. Obviously I'm excited for what is to come."
HEARTFELT COMEBACK FOR ANDREA LEE AT AMAZINGCRE PORTLAND CLASSIC
She held it together until the end. Andrea Lee began 2022 carrying her own bag on the Epson Tour hoping that hard work and a start or two would be enough to earn her way back onto the LPGA Tour fulltime.
On Sunday, she became a Rolex First-Time Winner, capturing the AmazingCre Portland Classic by a shot.
"I still can't believe it," Lee said after firing a 66 on Sunday and enduring a champagne shower from friends.
Then she burst into tears, an emotional release after all she has endured since turning pro in late 2019.
For more, visit www.lpga.com/news/2022/heartfelt-comeback-for-andrea-lee-at-amazingcre-portland-classic
WINNER NOTES
Rolex Rankings No. 76 Andrea Lee (72-64-67-66)
She hit 12 of 14 fairways and 13 of 18 greens with 24 putts
This is Lee's 16th event of the 2022 LPGA Tour season; she has three top-10 finishes, with a best result of fourth at the Bank of Hope LPGA Match-Play presented by MGM Rewards
This is Lee's third season on the LPGA Tour; she has five career top-10 finishes, with three coming this year
This is Lee's third appearance in the AmazingCre Portland Classic; her best finish is a tie for 20th in 2021
Won the 2022 Casino Del Sol Golf Classic on the Epson Tour
Reached the World No. 1 ranking in her amateur career on the World Amateur Golf Rankings (WAGR) and won the Mark H. McCormack Medal in August 2019, which recognizes the top player in the WAGR
Played collegiately for Stanford University and is one of the most decorated golfers in school history, tying the school record with eight individual titles
SOCIAL MEDIA – #DriveOn
Tournament: @PortlandClassic (Twitter) @amazingcreportlandclassic (Instagram), #BeAmazing
LPGA: @LPGA, @LPGAMedia (Twitter), @lpga_tour (Instagram)
COURTESY LPGA TOUR COMMUNICATIONS