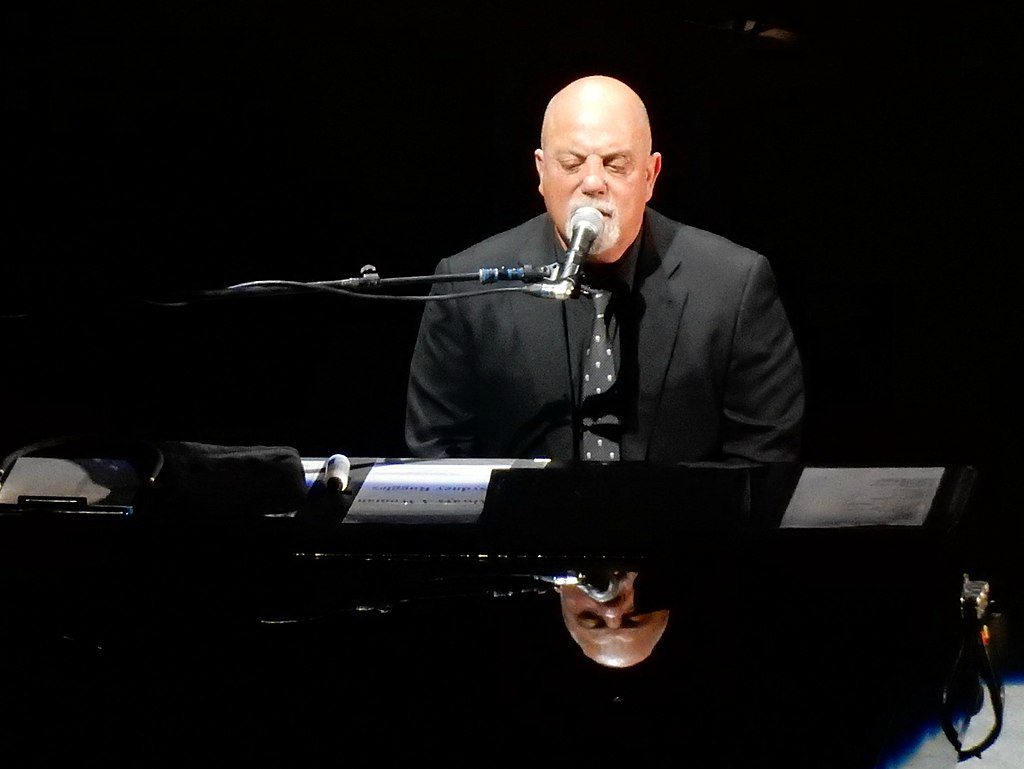 FROM WIKIPEDIA COMMONS
William Martin Joel (born May 9, 1949) is an American singer, pianist, composer and songwriter. Commonly nicknamed the "Piano Man" after his album and signature song of the same name, he has led a commercially successful career as a solo artist since the 1970s, having released 12 pop and rock studio albums from 1971 to 1993 as well as one studio album of classical compositions in 2001. He is one of the best-selling music artists of all time, as well as the seventh-best-selling recording artist and the fourth-best-selling solo artist in the United States, with over 160 million records sold worldwide. His 1985 compilation album, Greatest Hits Vol. 1 & 2, is one of the best-selling albums in the United States.
Born in The Bronx, Joel grew up on Long Island, where both places influenced his music. Growing up, he took piano lessons at his mother's insistence. After dropping out of high school to pursue a music career, Joel took part in two short-lived bands, The Hassles and Attila, before signing a record deal with Family Productions and kicking off a solo career in 1971 with his first release Cold Spring Harbor. In 1972, Joel caught the attention of Columbia Records after a live radio performance of the song "Captain Jack" became popular in Philadelphia, prompting him to sign a new record deal with the company and release his second album, Piano Man, in 1973. After releasing the albums Streetlife Serenade and Turnstiles in 1974 and 1976 respectively, Joel released his critical and commercial breakthrough album, The Stranger, in 1977. This album became Columbia's best-selling release, selling over 10 million copies and spawning several hit singles, including "Just the Way You Are", "Movin' Out (Anthony's Song)", "Only the Good Die Young", and "She's Always a Woman"; another song on this album, "Scenes from an Italian Restaurant", is Joel's favorite of his own songs and has become a staple of his live shows.
Joel's next album, 52nd Street, was released in 1978 and became his first album to peak at No.1 on the Billboard 200 chart. Joel released his seventh studio album, Glass Houses, in 1980 in an attempt to further establish himself as a rock artist; this release featured "It's Still Rock and Roll to Me" (Joel's first single to top the Billboard Hot 100 chart), "You May Be Right", "Don't Ask Me Why", and "Sometimes a Fantasy". His next album, The Nylon Curtain, was released in 1982, and stemmed from a desire from Joel to create more lyrically and melodically ambitious music. An Innocent Man, released in 1983, served as an homage to genres of music which Joel had grown up with in the 1950s, such as rhythm and blues and doo-wop; this release featured "Tell Her About It", "Uptown Girl" and "The Longest Time", three of his best-known songs. After releasing the albums The Bridge and Storm Front in 1986 and 1989 respectively, Joel released his twelfth studio album, River of Dreams, in 1993. He went on to release Fantasies and Delusions, a 2001 album featuring classical compositions composed by Joel and performed by British-Korean pianist Richard Hyung-ki Joo. Joel provided voiceover work in 1988 for the Disney animated film Oliver & Company, in which he played the character Dodger with his song, "Why Should I Worry?", and contributed to the soundtracks to several different films, including Easy Money, Ruthless People, and Honeymoon in Vegas.
Across the 20 years of his solo career, Joel produced 33 top 40 hits in the U.S., all of which he wrote himself, and three of which ("It's Still Rock and Roll to Me", "Tell Her About It", and "We Didn't Start the Fire") peaked at the top of the Billboard Hot 100 charts. Joel has been nominated for 23 Grammy Awards, winning five of them, including Album of the Year for 52nd Street. Joel was inducted into the Songwriters Hall of Fame (1992), the Rock and Roll Hall of Fame (1999), and the Long Island Music Hall of Fame (2006). In 2001, Joel received the Johnny Mercer Award from the Songwriters Hall of Fame. In 2013, Joel received the Kennedy Center Honors for influencing American culture through the arts. Since the advent of his solo career, Joel has had a successful touring career, holding live performances across the globe. In 1987, he became one of the first artists to hold a rock tour in the Soviet Union following the country's alleviation of the ban on rock music. Despite largely retiring from writing and releasing pop music following the release of River of Dreams, he continues to tour; he frequently performs at Madison Square Garden.
TODAY'S ALMANAC
A day to support peace and non-violence throughout the world. Observed on the opening day of the annual regular session of the United Nations.
Question of the Day
What is the best way to stack firewood?
You want to stack wood in a way that permits air to circulate through it. You also want to stack it so that it is stable and does not tip, causing a domino effect. Wooden pallets that lie flat provide a good base for firewood and can keep the wood away from ground moisture.
Advice of the Day
Asters, September's flowers, were once burned to ward off serpents.
Home Hint of the Day
Rule of thumb, Part II: When you're working with hardwood lumber, select nails one penny smaller than the thickness of the nailed piece. For a 3/4 inch (6/8 inch) board, use a 5d nail.
Word of the Day
Apogean Tide
A monthly tide of decreased range that occurs when the Moon is at apogee (farthest from Earth).
Puzzle of the Day
If you a sour fruit transpose, a very sweet one 'twill disclose. (What word fits the first clue, but when rearranged, fits the second?)
Lemon – melon
Born
Louis Joliet (explorer) – 1645
Francis Hopkinson (judge) – 1737
Margaret Taylor (U.S. First Lady) – 1788
Sir Edmund William Gosse (poet) – 1849
H.G. Wells (writer) – 1866
Henry Lewis Stimson (politician) – 1867
Chuck Jones (Bugs Bunny animator) – 1912
Larry Hagman (actor) – 1931
Don Felder (musician) – 1947
Stephen King (author) – 1947
Bill Murray (actor) – 1950
Dave Coulier (actor) – 1959
David James Elliot (actor) – 1960
Cheryl Hines (actress) – 1965
Luke Wilson (actor) – 1971
John Kitna (football player) – 1972
Virginia Ruano Pascual (tennis player) – 1973
Jana Kandarr (tennis player) – 1976
Maggie Grace (actress) – 1983
Died
Sir Walter Scott (poet) – 1832
Florence Griffith Joyner (Olympic gold medalist) – 1998
Alice Ghostley (actress) – 2007
Richard D. Trentlage (American jingle writer) – 2016
Events
The New York Sun's Frank Church replied, Yes, Virginia, there is a Santa Claus.– 1897
Stonehenge was sold to a local landowner for 6,600 pounds– 1915
J.R.R. Tolkien's The Hobbit published– 1937
The NFL's longest punt, 98 yards, came off the foot of Steve O'Neal of the NY Jets– 1969
The NY Jets competed against the Cleveland Browns in the first televised NFL Monday Night Football game– 1970
Belize becomes fully independent from Great Britain– 1981
Canada's toonie" coin unveiled"– 1995
John F. Kennedy, Jr. married Carolyn Bessette– 1996
Singer Billy Joel was honored with a star on Hollywood's Walk of Fame– 2004
Weather
The hurricane that came to be known as the Long Island Express slammed into Long Island at 60 mph– 1938
The Blue Hills Observatory in Milton, Massachusetts, had a sustained wind of 121 mph, with a peak gust of 186 mph– 1938
Hurricane Georges struck Puerto Rico– 1998
Hurricane Igor struck Newfoundland and Labrador– 2010
COURTESY www.almanac.com