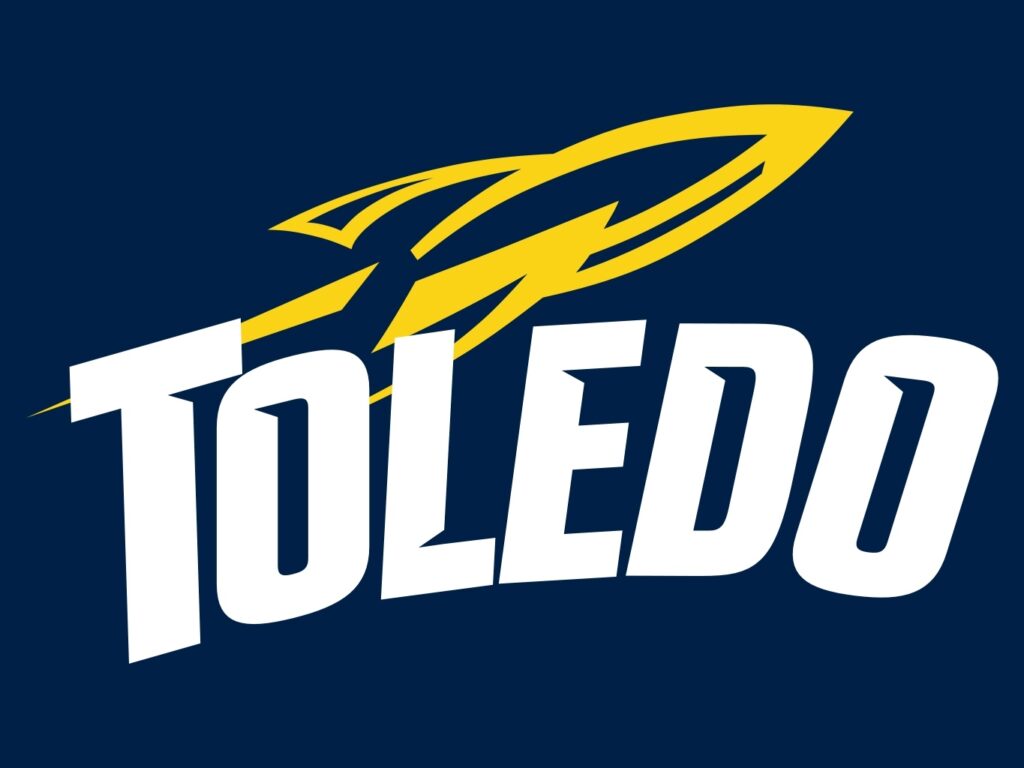 9/12/2022
TOLEDO, Ohio – Following two relatively easy home victories, the Toledo Rockets now travel to Columbus facing what will surely be the steepest challenge of the 2022 season. Toledo (2-0) plays No. 3 Ohio State (2-0) at Ohio Stadium on Saturday, Sept. 17 (7:00 p.m./Fox).
Toledo is coming off a 55-10 win over UMass on Saturday that featured an offensive explosion which matched a dominating defense that shut out LIU 37-0 a week earlier in the season opener.
Sophomore quarterback Dequan Finn threw for a touchdown and ran for two more to lead Toledo vs. the Minutemen. Finn completed 12-of-26 passes for 177 yards and added a team-best 74 yards rushing to lead the offense. He was named MAC West Division Offensive Player of the Week for his efforts. Sophomore Peny Boone added a pair of short yardage touchdowns in the first half, helping the Rockets jump out to a 28-0 lead early in the second quarter.
Toledo's defense held UMass to just 253 yards of total offense, including just 48 yards through the air. Senior defensive tackle Desjuan Johnson led the defensive front with 1.5 tackles for loss.
Ohio State had little trouble with Arkansas State, cruising to a 45-12 win at Ohio Stadium last week. Quarterback C.J. Stroud threw for 351 yards and four touchdowns vs. the Red Wolves. Stroud has completed 69.0 percent of his passes for 574 yards and no interceptions in two games this season.
Toledo vs. Ohio State

• TEAM RECORDS:
Toledo (2-0, 0-0 MAC)
Ohio State (2-0, 0-0 Big Ten)
• SERIES RECORD: Ohio State leads, 3-0. The Buckeyes won the most recent meeting, 27-22, in Columbus in 2011.
• THE COACHES:
Jason Candle, 47-27 (7th year) at Toledo, same overall. 0-0 vs. Ohio State.
Ryan Day, 36-4 in five seasons at Ohio State, same overall. 0-0 vs. Toledo.
• TV/STREAMING: Fox
Play by Play: Tim Brando
Analyst: Spencer Tillman
• ROCKET RADIO NETWORK: Pregame begins at 5:30 p.m.
Play by Play: Brent Balbinot
Analyst: Rhett Boyd
Sidelines: Mike Robinson
• WEB-AUDIO: Free live audio streaming of the UT Rocket Radio Network broadcast on UTRockets.com.
• TWITTER:
@ToledoFB: Regular updates on UT Football, live updates on Game Day.
Rocket Round-Up
    • Toledo is 2-0 for the first time since 2017. The Rockets went 11-3 and won the MAC Championship title that season.
    • Toledo's defense relinquished its first points of the season when UMass scored a touchdown with seven seconds left in the first half of last Saturday's 55-10 victory, snapping a streak of five scoreless quarters. The Rockets shut out LIU last week, 37-0.
    • Toledo's defense ranks tied for second in the nation in points allowed (5.0), passing yards allowed (58.0) and passing efficiency (66.85), and fourth in total defense (183.0).
    • Sophomore quarterback Dequan Finn has completed 61.1 percent of his passes for 393 yards and three TDs. He is also the Rockets' leading rusher with 138 yards and three scores.
    • Toledo is 0-3 all time vs. Ohio State, 6-14 vs. the Big Ten and 9-19 vs. teams ranked in the Top 25.
    • Toledo's most recent meeting with Ohio State was its best chance for a victory in the series, a 27-22 defeat at Ohio Stadium on Sept. 10, 2011. Toledo held a 22-21 lead until late in the third quarter. On their final possession, the Rockets drove down to the OSU 16-yard line before getting stopped on downs with 48 seconds left. 
COURTESY TOLEDO ATHLETIC COMMUNICATIONS