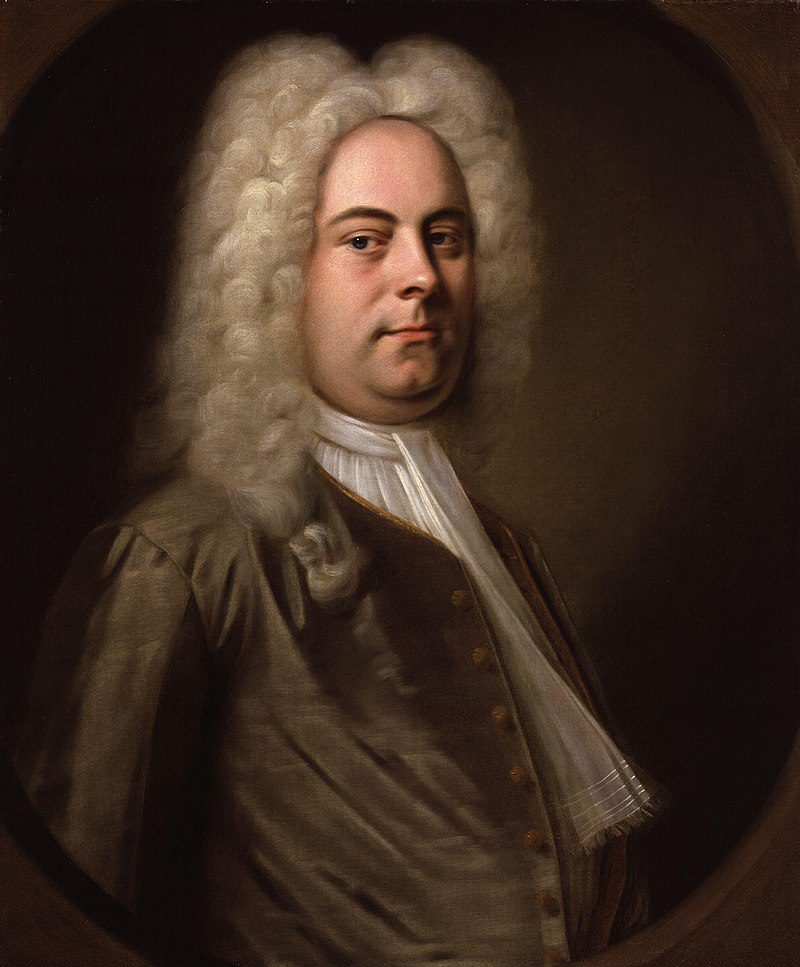 FROM WIKIPEDIA COMMONS
George Frideric (or Frederick) Handel (/ˈhændəl/; baptised Georg Friedrich Händel, German: [ˈɡeːɔʁk ˈfʁiːdʁɪç ˈhɛndl̩] (listen); 23 February 1685 – 14 April 1759) was a German-British Baroque composer well known for his operas, oratorios, anthems, concerti grossi, and organ concertos. Handel received his training in Halle and worked as a composer in Hamburg and Italy before settling in London in 1712, where he spent the bulk of his career and became a naturalised British subject in 1727. He was strongly influenced both by the middle-German polyphonic choral tradition and by composers of the Italian Baroque. In turn, Handel's music forms one of the peaks of the "high baroque" style, bringing Italian opera to its highest development, creating the genres of English oratorio and organ concerto, and introducing a new style into English church music. He is consistently recognized as one of the greatest composers of his age.
Handel started three commercial opera companies to supply the English nobility with Italian opera. In 1737, he had a physical breakdown, changed direction creatively, and addressed the middle class and made a transition to English choral works. After his success with Messiah (1742), he never composed an Italian opera again. His orchestral Water Music and Music for the Royal Fireworks remain steadfastly popular. One of his four coronation anthems, Zadok the Priest, has been performed at every British coronation since 1727. Almost blind, he died in 1759, a respected and rich man, and was given a state funeral at Westminster Abbey.
Handel composed more than forty opere serie over a period of more than thirty years. Since the late 1960s, interest in Handel's music has grown. The musicologist Winton Dean wrote that "Handel was not only a great composer; he was a dramatic genius of the first order." His music was admired by Classical-era composers, including Mozart, Haydn and Beethoven.
TODAY'S ALMANAC
Holy Cross Day is also known as the Exaltation of the Holy Cross, Triumph of the Cross, or Holyrood Day ("rood" meaning "cross". It commemorates the recovery of the Holy Cross on which Jesus was crucified. (It had been taken from Jerusalem by the Persians in a war in A.D. 614. In A.D. 629, Byzantine Emperor Heraclius recovered and returned the Cross to Jerusalem.)
Holy Cross Day is one of four annual markers for the "Ember Days," which occur on the first Wednesday, Friday, and Saturday following Holy Cross Day, Whit Sunday (Pentecost), the first Sunday in Lent, and St. Lucy Day. The Ember Days are special times for prayer, fasting, and the ordination of clergy in certain Christian denominations. The weather on each of the three Ember Days is supposed to foretell the weather for each of the three succeeding months. A Spanish proverb notes, "On Holy Cross Day / Vineyards are gay."
Question of the Day
When was the planet Uranus discovered and by whom?
The seventh planet from the sun was discovered by William Herschel in 1781.
Advice of the Day
Chickens feeding outside in the rain foretell rain for several days.
Home Hint of the Day
Yellow carpenter's glue is best for regluing a chair. Available at hardware stores, it sets up hard and fast. Assemble the pieces immediately after applying the glue.
Word of the Day
Vanishing Tide
A mixed tide of considerable inequality in the two highs and two lows, so that the lower high (or higher low) may become indistinct or appear to vanish.
Puzzle of the Day
Read from the left, I shall be found a portion of all things that are; but change your hand and turn me 'round, I then am nothing but a snare.(What word fits the first clue, but when read backwards, fits the second?)
Part – trap
Born
Ivan Petrovich Pavlov (physiologist) – 1849
Margaret Higgins Sanger (founder of the birth control movement) – 1883
Douglas Kennedy (Lone Ranger" actor") – 1915
Kate Millett (feminist writer) – 1934
Sam Neill (actor) – 1947
Michelle Stafford (actress) – 1965
Kimberly Williams-Paisley (actress) – 1971
Katie Lee Biegel (chef) – 1981
Died
Augustus Welby Northmore Pugin (architect) – 1852
Arthur Wellesley (1st Duke of Wellington) – 1852
Henry Bliss (first American automobile fatality) – 1899
William McKinley (25th U.S. president) – 1901
Princess Grace of Monaco (former actress Grace Kelly) – 1982
Mickey Hargitay (actor & world champion bodybuilder) – 2006
Patrick Swayze (actor) – 2009
Norm Macdonald (comedian) – 2021
Events
The first lighthouse in North America, Boston Light, was lit– 1716
Composer George Handel completed The Messiah– 1741
Francis Scott Key wrote The Star-Spangled Banner""– 1814
Typewriter ribbon patented– 1886
Sound-absorbing material patented– 1915
The world's largest airship, Graf Zeppelin II, made its first flight– 1938
The first helicopter flight was made by Igor Sikorsky– 1939
Zond 5 was launched; 4 days later it became the first spacecraft to circle the Moon and return to Earth– 1968
The Waltons premiered on CBS– 1972
Elizabeth Ann Bayley Seton, the first U.S. born saint, was canonized by Pope Paul VI– 1975
World Series was cancelled due to strike– 1994
Roger Craig, a University of Delaware graduate student, won $77,000 on Jeopardy!. It was the show's highest one-day total ever.– 2010
Crayola announced crayon name Bluetiful""– 2017
Weather
Seattle, Washington, had a high temperature of 92 degrees F– 1937
COURTESY www.almanac.com