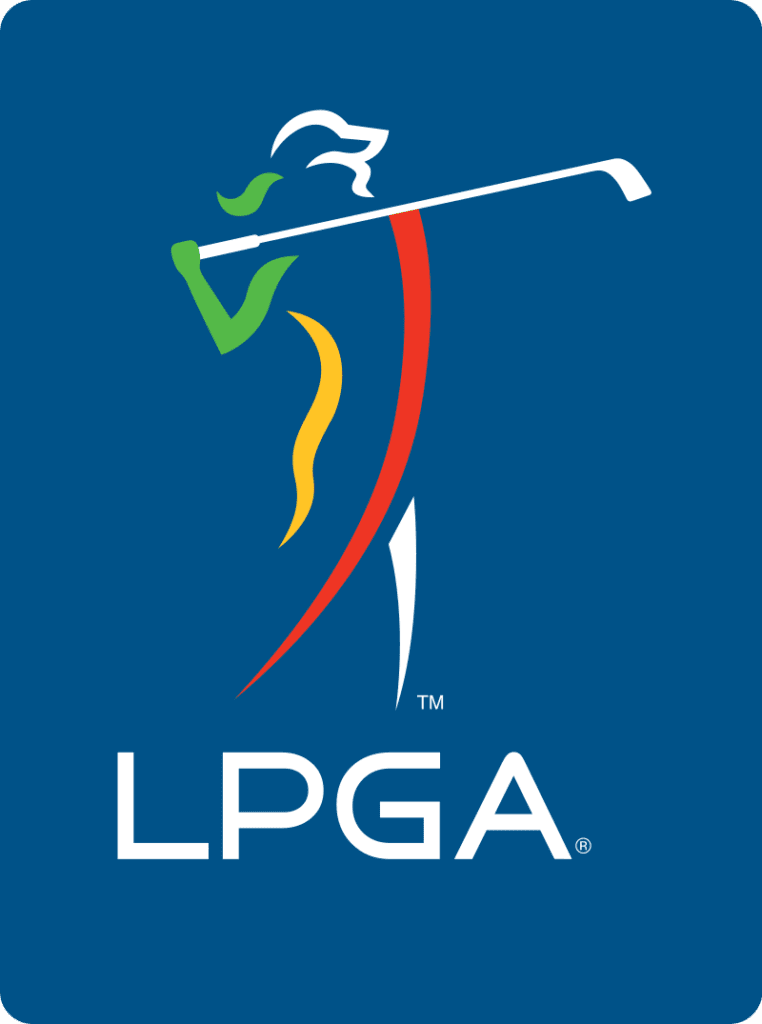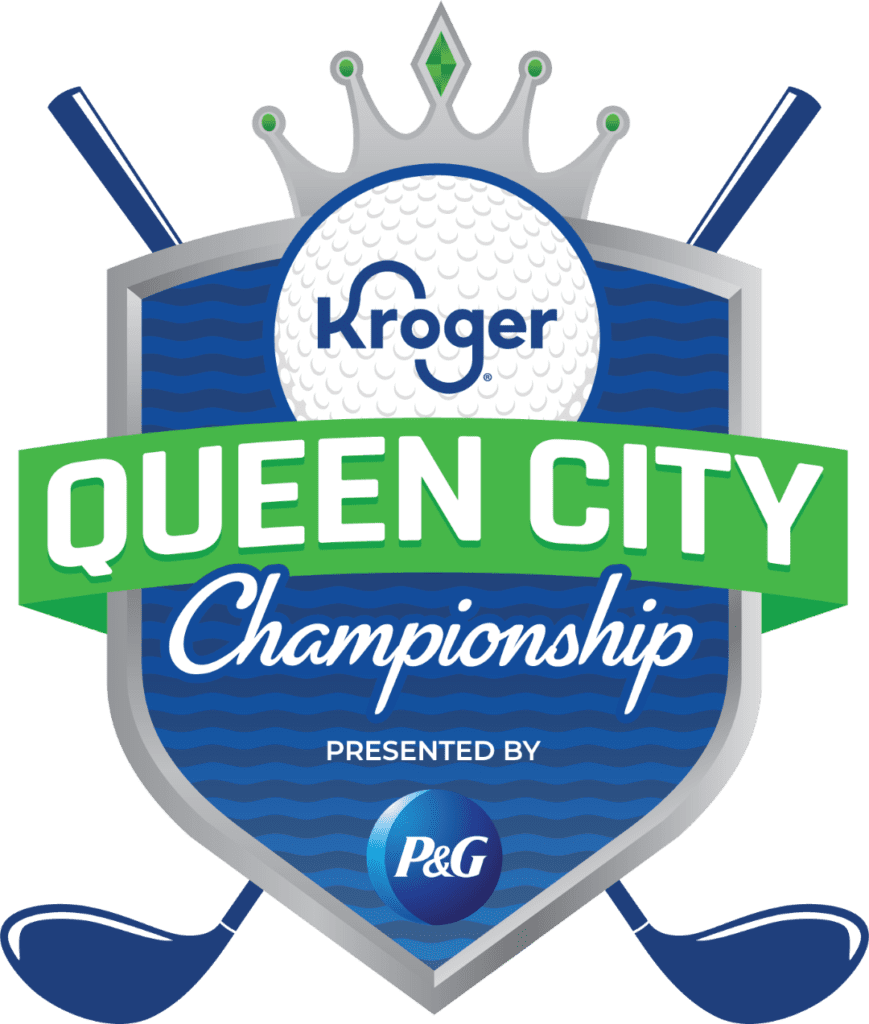 Kroger Queen City Championship presented by P&G
Kenwood Country Club (Kendale Course) | Cincinnati, Ohio | Sept. 8-11, 2022
First-Round Notes
Sept. 8, 2022
Course Setup: 36-36—72; 6,288 yards (Scoring Average: R1: 71.807)
Weather: Dry weather with mostly sunny skies early becoming partly cloudy, with light winds from the NE and highs reaching near 80F this afternoon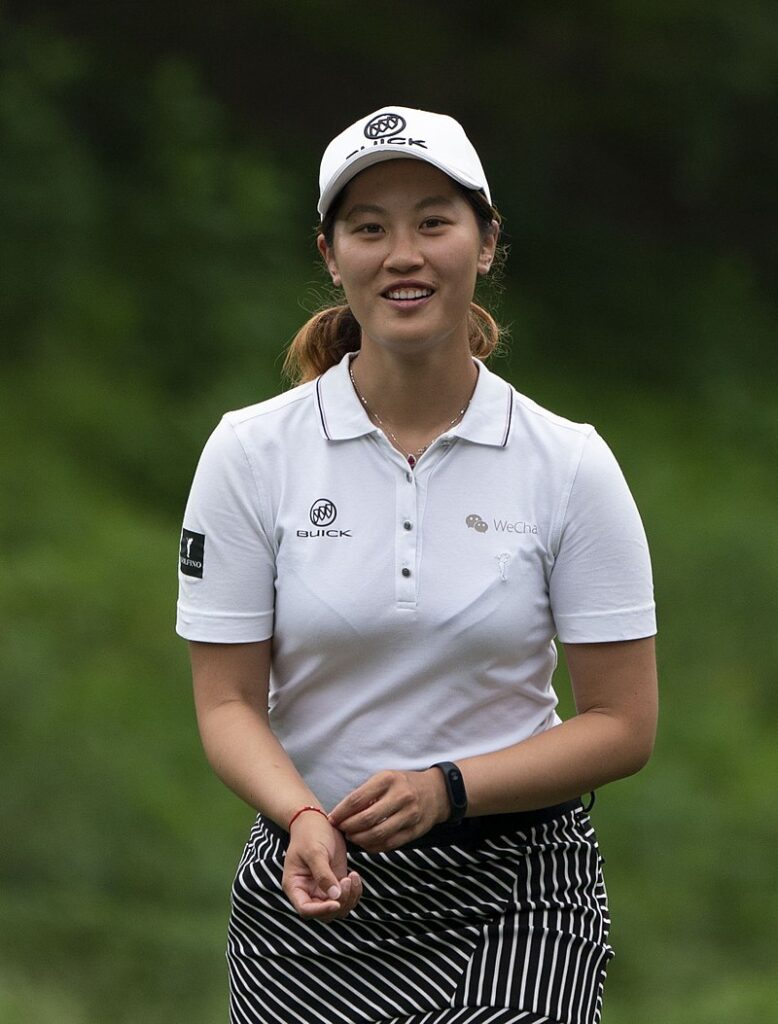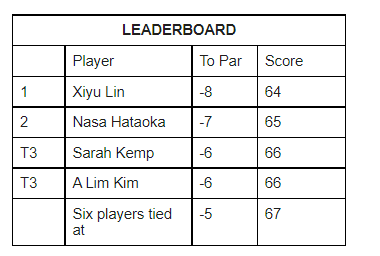 XIYU LIN TAKES 18-HOLE LEAD AT KROGER QUEEN CITY CHAMPIONSHIP PRESENTED BY P&G
After finishing in a tie for seventh at last week's Dana Open presented by Marathon, Xiyu Lin finds herself at the top of the leaderboard through round one of the Kroger Queen City Championship presented by P&G. Lin fired an 8-under 64 on Thursday, carding one bogey and nine birdies, five of which came in her first six holes. The score ties the second-lowest round of Lin's LPGA Tour career – she last shot a 64 at the Honda LPGA Thailand earlier this season – and was good enough to give her a one-shot lead through the opening 18 holes.
"It's nice to start with three birdies in a row," said Lin, who holds the first-round lead for just the third time in her career. "The first hole, the approach shot, the fairway was still a little bit wet so I'm just glad I got the distance right. Then the second hole, I rolled a putt in from outside of the green. And then third hole I knock it close again and make birdie. That was a dream start. You can't ask for a better start. So I just told myself (that I) need to keep going."
Lin has been playing some solid golf this season, notching two other top-five finishes in addition to last week's T7 result, including a solo second in Thailand in March. Ahead of the week at Kenwood Country Club's Kendale Course, Lin ranked fifth in birdies (273), sixth in greens in regulation (76.12%) and 10th in scoring average (69.84). But despite all that success the nine-year Tour veteran is still looking for that elusive first win, and while there is plenty of golf left to play in the Queen City, Lin is aiming to become the ninth Rolex First-Time Winner of the 2022 season.
"I guess a little more trust in myself, because I've been working on the same thing for years and I put in hard work, so I just think I need to trust myself more and believe in myself, that I deserve to be out there and in contention and everything," she said. "I mentioned during COVID that that was the time I realize I'm not one of the young kids anymore on Tour. So I feel a little bit tight on time. I'm definitely trying my best to chase my first win out here."
Someone who is no stranger to winning on the LPGA Tour is Japanese native Nasa Hataoka. The Rolex Women's World Golf Rankings No. 9 carded a 7-under 65 to kick off her week in Cincinnati, making eight birdies and one bogey, including five in six holes from Nos. 11-16, and sits one back of the lead with 54 holes to go. Hataoka was pleased with her putting and iron-play, but thought she could work on what she's doing off the tee.
"I think I was able to manage the course. It's not very long, so I was able to hit my 3-woods really well," said Hataoka who hit 12 of 14 fairways and 16 of 18 greens on Thursday. "I still do need to adjust my tee shots, but other than that, my irons and putting are good. I have to keep that going."
Aussie Sarah Kemp and 2020 U.S. Women's Open presented by ProMedica champion A Lim Kim are tied for third after carding matching 6-under 66s. Kemp made eight birdies and two bogeys during her round and hit 13 of 14 fairways and 14 of 18 greens, a solid ball-striking day that was critical to her success on the greens.
"I just hit it really solid. I had a lot of wedges that I hit inside ten feet and I made them. I don't think I holed a putt over maybe like 16 feet today, so I hit it really solid. I had a lot of good looks and I rolled them in," said Kemp who needed just 26 putts to get the job done on the Kendale Course. "I think I hit all but one fairway. You can hit it at the pins and you're not going to get much roll. It's kind of hitting and stopping. It's actually a really nice golf course. I've really enjoyed it. The greens are running awesome."
Six players sit in a tie for fifth at -5, including #LPGAMom Katherine Perry-Hamski,major champion Sei Young Kim and LPGA Tour rookies Atthaya Thitikul and Hye-Jin Choi. Fourteen-year-old Monday qualifier Gianna Clemente carded a 2-under 70 (T31) in her third consecutive LPGA Tour appearance and 36-year-old Paula Creamer aced the par-3 8th in just her second start since becoming a mother, en route to an even-par 72 (T64).
SEI YOUNG KIM CONTINUES STRONG PLAY WITH OPENING 67 IN CINCINNATI
Major champion Sei Young Kim feels like the momentum is finally swinging in her favor. The 12-time LPGA Tour winner got off to a hot start at the inaugural Kroger Queen City Championship presented by P&G with a 5-under 67 to head into the second round in a tie for fifth. Starting the day on No. 10, Kim made six birdies and one bogey on the par-4 seventh and is feeling comfortable thus far on a brand-new course.
"Hole 2nd and the 3rd hole I got the birdies. Gave me a good vibe," said Kim, who also hit every fairway today at Kenwood Country Club for the first time since the second round of the U.S. Women's Open presented by ProMedica at Pine Needles. "I had good confidence so I was able to play more relaxed. Good start."
Kim still works towards her yearly goal of winning three times in a season, even if her last visit to the winner's circle was at the 2020 Pelican Women's Championship, a month after her maiden major championship victory at the KPMG Women's Championship. Since her last victory in Belleair, Kim's notched three runner-up performances: once in 2020 at the CME Group Tour Championship, and twice in 2021 at the LOTTE Championship and Pelican Women's Championship, where she lost in a four-way playoff in her title defense after Nelly Korda birdied the first extra hole.
Entering this week, Kim has earned four top-10s in 13 events played, with three of those results coming in her last six appearances on Tour, including her season-best finish of a tie for fifth at the KPMG Women's PGA Championship. In that same span, she's been hitting more than 76% of her greens in regulations and is averaging 1.44 strokes gained tee to green per round, according to KPMG Performance Insights. The game is building, and Kim feels it – and now it's about continuing the momentum she's been hoping to create all season.
"Beginning [of the] year, I wasn't good play what I want…KPMG, my play is getting consistently," said Kim, who is teetering on passing the $12 million mark in career earnings. "I got good confidence from there so I'm very looking forward to the end of the year tournaments.
"I just want to overcome the my limit the play. So I want to go higher, higher, higher."
THE SMILING GRIT OF SARAH KEMP
It doesn't matter if you see her fighting for the lead at an LPGA Tour event or grinding over a 4-footer for birdie to beat me at Orange Tree, her home club in Orlando where she lives just left of the 10th fairway with her wife Lisa Cornwell: Sarah Kemp will always wear the kind of broad and infectious smile that you end up mimicking, whether you mean to or not.
Whether she is up and down, having the year of her career or struggling to keep her card, Kempy, as she is known to everyone in the game, always wears that smile while displaying relentless grit, battling week after week, season after season. Her demeanor presents the kind of dichotomy that makes you lean in and want to learn more.
She is like a grinning bull terrier – adorable, athletic, and aggressive enough to take off a couple of your fingers if you get too cozy.
On Thursday at the Kroger Queen City Championship presented by P&G, needing to good week to improve her position in the Race to the CME Globe, Kempy fired an opening 66 to put her in a good spot with 54 holes remaining this week and only five more domestic events on the calendar before the CME Group Tour Championship.
"I just hit it really solid," she said. "I had a lot of wedges that I hit inside ten feet and I made them. I don't think I holed a putt over maybe 16 feet today, so I hit it really solid. I had a lot of good looks and I rolled them in."
For more, please visit https://www.lpga.com/news/2022/the-smiling-grit-of-sarah-kemp
PAULA CREAMER CARDS FIRST-ROUND ACE, MAKES $20,000 DONATION TO ST. JUDE CHILDREN'S RESEARCH HOSPITAL
"So nice she did it twice," said Will Haskett on the ESPN+ stream when Paula Creamer's tee shot on the 155-yard, par-3 8th found the bottom of the cup for an ace, just two holes after the Pink Panther dunked it for eagle on the par-4 5th. The hole-in-one added even more color to Creamer's rainbow of a scorecard – she recorded an ace, eagle, birdie, bogey and double bogey on Thursday to post an even-par 72 – and while she wishes there were more circles and fewer squares next to her name, she wasn't too critical of her first-round play.
"It was about 104 and I hit a 52, and one bounce and I think it kind of danced around the hole and then went in. And then the hole-in-one was on No. 8. It was 155 and I hit a little 7-iron and was a perfect shot. Both of them were straight at the flag, nice little release, and went in," said Creamer who is making just her second LPGA Tour start since having her daughter, Hilton, in January. "I hit my irons really well today. I made a lot of putting mistakes and had some mental errors here and there. Unfortunately, my scorecard is a roller coaster. But that's golf."
Creamer's last ace on Tour came at the 2015 Coates Golf Championship on the sixth hole of Golden Ocala Golf Club in Ocala, Florida. Today's hole out marks the 24th of the 2022 season and will provide a $20,000 donation as part of the CME Group Cares Challenge to St. Jude Children's Research Hospital, which is leading the way in how the world understands, treats and defeats childhood cancer and life-threatening diseases. A total of $480,000 has been raised so far this year for St. Jude and Creamer was happy to add her name to the list of donors for the first time since the challenge's creation.
"That's awesome. That's really cool that I'm able to do that," she said. "Makes you want to go make more holes in one. They're hard to come by, but hopefully, that helps a family, a child, anybody. I feel very honored that I'm able to do that for them."
PLAYER NOTES
Rolex Rankings No. 34, Xiyu Lin (1, 64)
She hit 13 of 14 fairways and 13 of 18 greens with 23 putts
Lin's 64 is one off her career-low 18-hole score (63), which she recorded in the third round of the LPGA Drive On Championship at Crown Colony
This is her lowest first-round score since a 64 at the Honda LPGA Thailand
This is Lin's 19th event of 2022; she's recorded three top-10 finishes, including a season- and career-best runner-up result at the Honda LPGA Thailand
This is her ninth season on the LPGA Tour; she's made $2,786,814 in career earnings and has notched 15 top-10 finishes
Lin is a two-time Olympian representing the People's Republic of China; she finished 38th at the 2016 Rio Olympics and T9 at the 2020 Tokyo Olympics
She was on Team China at the 2016 International Crown
Lin is a two-time Ladies European Tour winner, winning the 2014 and 2015 Sanya Ladies Open, co-sanctioned by the LET, Ladies Asian Golf Tour and the CLPGA
Along with the Sanya Ladies Open wins, she's won five times on the CLPGA
Rolex Rankings No. 9, Nasa Hataoka (2, 65)
She hit 12 of 14 fairways and 16 of 18 greens, with 27 putts
Hataoka's 65 is her lowest 18-hole score since a 65 in the first round of the Cognizant Founders Cup
This is her 20th event of 2022; she has earned one win at the DIO Implant LA Open as well as five additional top-10 finishes
This is Hataoka's sixth season on the LPGA Tour; she has six wins on Tour
She represented Japan in the 2020 Tokyo Olympics, finishing T9
Hataoka was a member of Team Japan at the 2018 UL International Crown
She has six JLPGA victories, including four major championships on that Tour
As an amateur, she won the 2016 Japan Women's Open championship, becoming the first am and the youngest champion to win a major on the JLPGA
SOCIAL MEDIA: #DRIVEON
Tournament: @QueenCityLPGA (Twitter), @queencitylpga (Instagram), @QueenCityChampionship (Facebook); #queencitylpga
LPGA Tour: @LPGA and @LPGAMedia (Twitter), @lpga_tour (Instagram)
TV TIMES (all times Eastern on Golf Channel)
Friday, September 9 – 4 p.m. – 7 p.m.
Saturday, September 10 – 2 p.m. – 5 p.m.
Sunday, September 11 – 2 p.m. – 5 p.m.
STREAMING TIMES (all times Eastern on NBCSports.com, GolfChannel.com and NBC Sports App)
Friday, September 9 – 4 p.m. – 7 p.m.
Saturday, September 10 – 2 p.m. – 5 p.m.
Sunday, September 11 – 2 p.m. – 5 p.m.
ESPN+ FEATURED GROUP STREAMING TIMES
Friday Featured Groups
Lexi Thompson/Jessica Korda/Atthaya Thitikul | 8:36 a.m. ET
Pavarisa Yoktuan/Jennifer Kupcho/Ashleigh Buhai | 8:47 a.m. ET
Marina Alex/Alison Lee/Gaby Lopez | 1:14 p.m. ET
Anna Nordqvist/Harigae/Khang | 1:25 p.m. ET
*ESPN+ coverage of Saturday and Sunday rounds will follow a similar schedule, determined when pairings and tee times are announced.
COURTESY LPGA TOUR COMMUNICATIONS