NHL Public Relations
September 7, 2022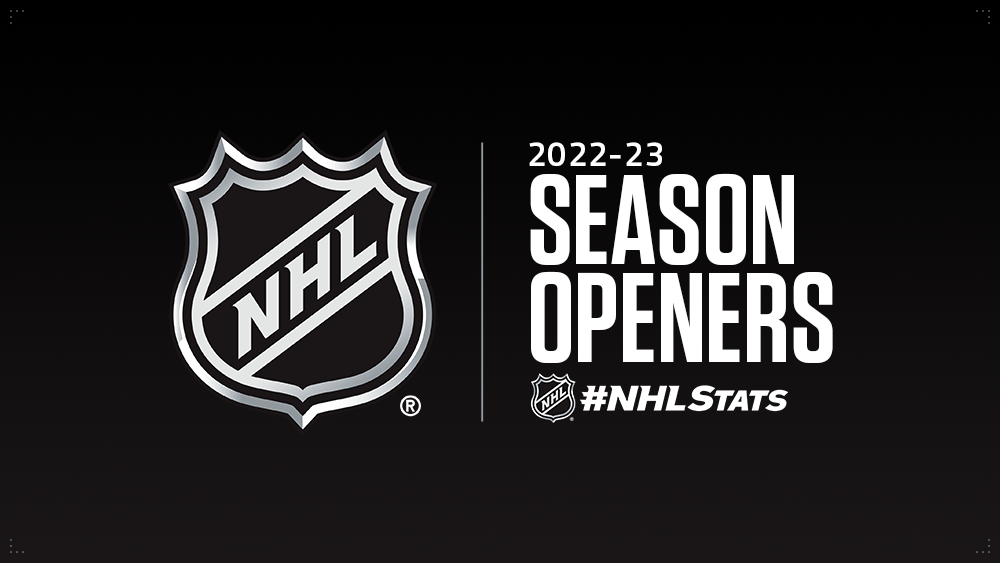 The 2022-23 NHL season opens Oct. 7-8, 2022 in Prague, Czechia for the 2022 NHL Global Series before the puck drops in North America starting with a doubleheader on Oct. 11, when the Tampa Bay Lightning visit the New York Rangers and the Los Angeles Kings host the Vegas Golden Knights. The Colorado Avalanche will compete in one of six games the following day on Oct. 12 when they raise their third Stanley Cup championship banner to the rafters prior to a game against the Chicago Blackhawks.

Download the PDF for a list of single-game highs by NHL teams, skaters and goaltenders during season-opening games. A list of each team's all-time record in home openers, as well as the date and opponent of their 2021-22 home opener is also included in the attached PDF.
The NHL's all-time standings in season-opening games can be found on records.nhl.com:

* Season Opener Standings, Overall
* Season Opener Standings, When Opening at Home
* Season Opener Standings, When Opening on Road

ALL-TIME RECORDS IN SEASON OPENERS
The Avalanche will start a season as defending champions for the third time, following a win to start the 2001-02 season (Oct. 3, 2001: 3-1 W at PIT) and a loss to begin the 1996-97 campaign (Oct. 4, 1996: 4-2 L at STL). Overall, Colorado holds the second-highest points percentage in season openers in NHL history (min. 10 GP).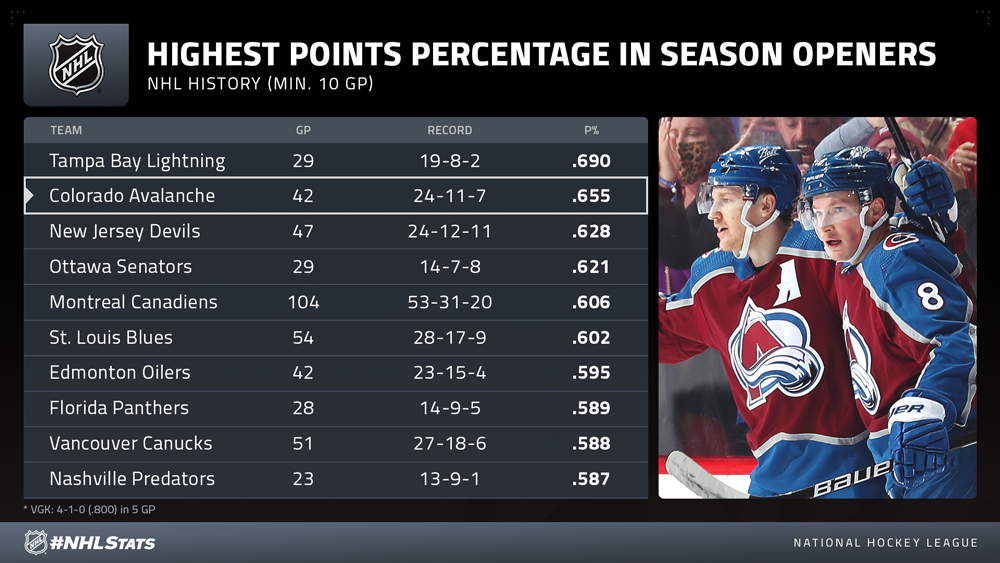 * Defending Stanley Cup champions are 59-26-16 (101 GP) in season openers in NHL history, including a 4-4-2 mark over the last 10 years and an 8-7-5 clip over the past 20. (There was no Stanley Cup champion in 1918-19 due to the influenza epidemic. A non-NHL team won the Stanley Cup in 1924-25).

MORE SEASON-OPENING #NHLSTATS ENTERING 2022-23

* Washington, who squares off with Boston to open their campaign (Oct. 12), and Toronto, who opens against Montreal (Oct. 12), each have won five straight season-opening games dating to 2017-18 – the longest active stretch in the NHL. Only three teams have posted a longer stretch that began in the 1990s or later: Tampa Bay (7 GP from 2014-15 – 2020-21), San Jose (7 GP from 2010-11 – 2016-17) and Detroit (6 GP from 1999-00 – 2005-06).

* The Capitals also own the NHL's longest active point streak in season-opening contests (8 GP; 6-0-2 since 2014-15). Should they extend the run to nine games in 2022-23, Washington would become the 10th team in NHL history to have a point streak of at least that length in season-opening games.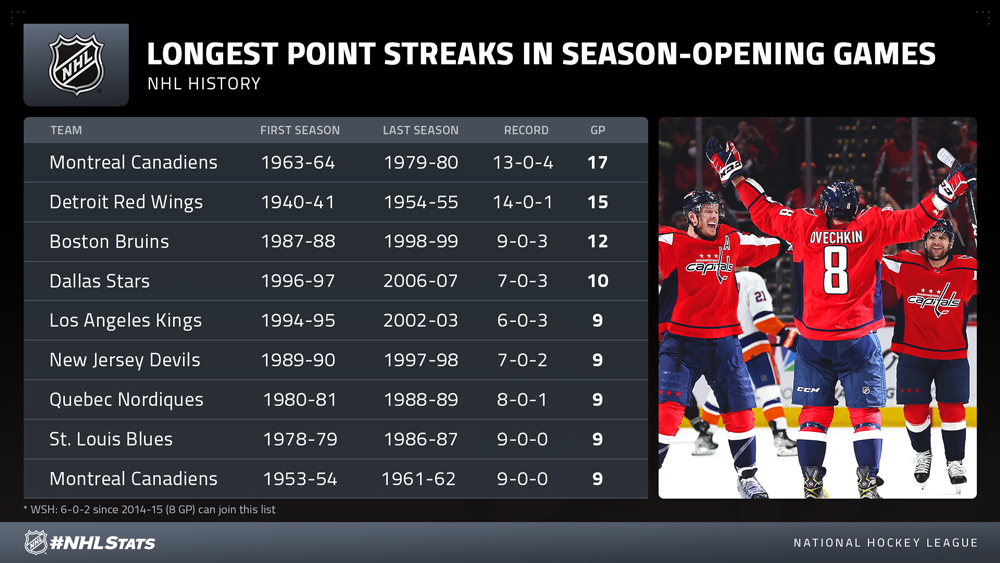 * Three of five victories during Toronto's active winning streak in season-opening games have come against Montreal (2021-22, 2020-21 & 2018-19). The 2022-23 campaign will mark the 20th in which the longtime rivals have been opponents in a mutual season-opening game – the highest such total in NHL history, ahead of the Canucks-Flames, Blackhawks-Red Wings and Canadiens-Bruins (all at 11).

* Another pair of Canadian teams will go head-to-head when the Oilers and Canucks each open their season Oct. 12. The 2022-23 campaign marks the fourth consecutive in which Edmonton and Vancouver will meet in each club's first game of the season; the Oilers hold a 2-1-0 advantage (VAN: 1-1-1).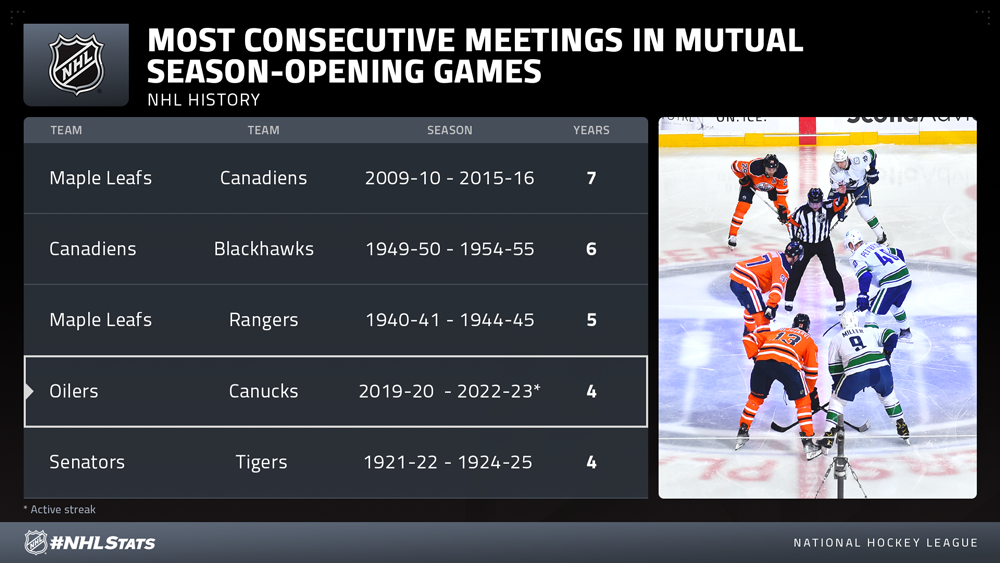 * Capitals teammates Alex Ovechkin and Nicklas Backstrom enter 2022-23 as the active leaders in goals (13) and assists (15) in season openers, respectively. Only two players in NHL history have scored 14 career goals in their team's season-opening games: Michel Goulet (14 in 13 GP) and Dino Ciccarelli (14 in 16 GP). There are 11 players in League history with at least 16 career assists in such contests.

* Minnesota goaltender Marc-Andre Fleury owns an all-time record of 10-6 in his team's season-opening games. Should he backstop the Wild past the Rangers on Oct. 13, he would surpass Curtis Joseph (10 in 13 GP) and Martin Brodeur (10 in 18 GP) for the most such wins in NHL history. Should Fleury, the third-winningest goaltender in NHL history, register a shutout in that contest he would tie Glenn Hall (3 SO in 11 GP) and Jacques Plante (3 SO in 12 GP) for the most in season-opening games in League history.

* Jets forward Kyle Connor is coming off a career-high 47 goals in 2021-22 and enters 2022-23 with a goal in each of Winnipeg's past four season-opening games dating to 2018-19 – the longest active run in the NHL. With a tally against the Rangers on Oct. 14, Connor can become the 12th player in NHL history to score in at least five consecutive season-opening contests – the only active player to do so is Cam Atkinson.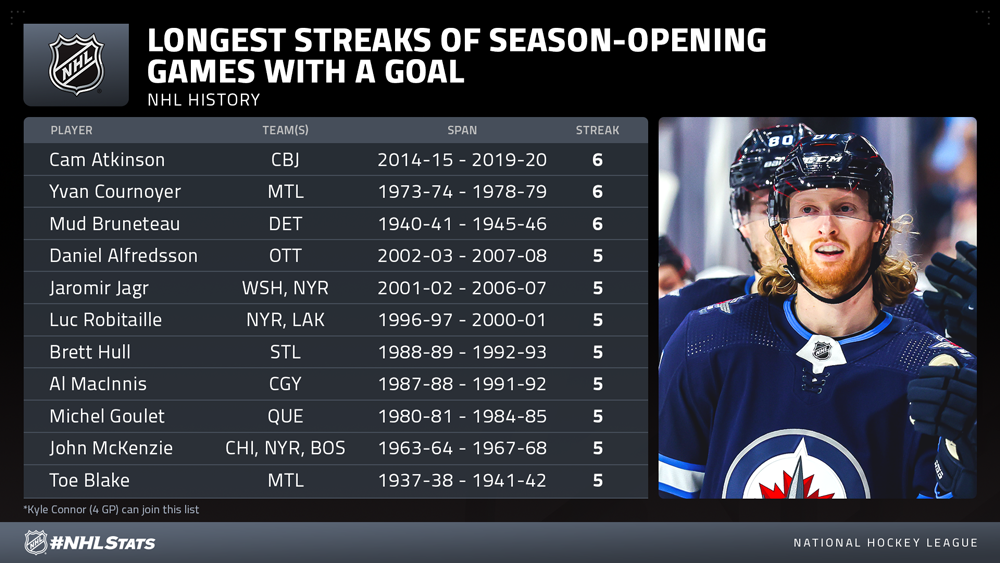 * Maple Leafs defenseman Morgan Rielly collected a career-high 58 assists last season and enters his 10th NHL season with a point in each of Toronto's past six season-opening games. Should he find the score sheet against the Canadiens on Oct. 12, Rielly would become the seventh blueliner in League history to register a point in seven or more consecutive season-opening contests.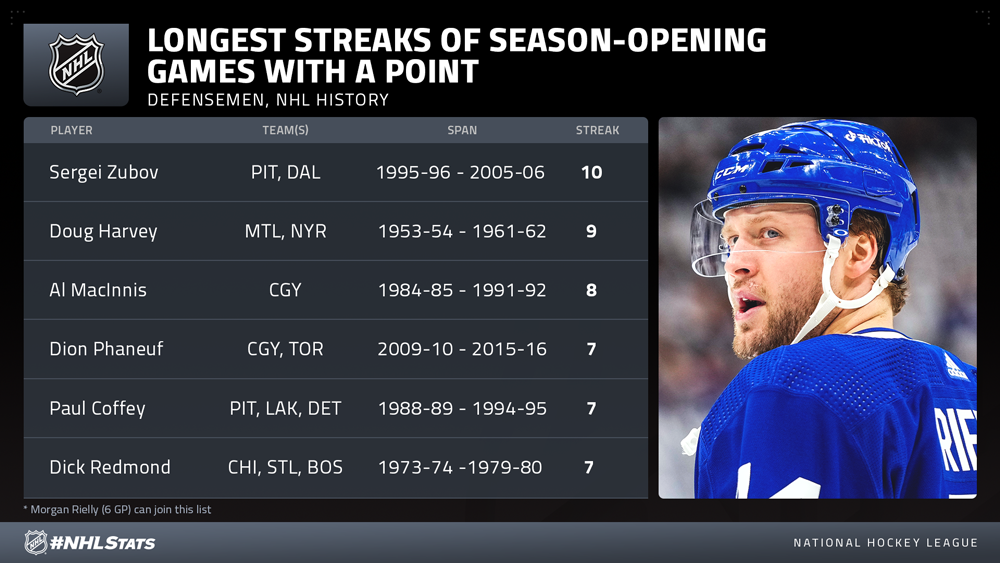 ALL-TIME RECORDS WHEN OPENING THE SEASON AT HOME
* The Panthers hold the NHL's best points percentage when opening the season at home (.917), having yet to lose a game in regulation over 12 contests (10-0-2).

ALL-TIME RECORDS WHEN OPENING THE SEASON ON THE ROAD
* The Senators hold the NHL's best points percentage (.647) when opening the season on the road (min. 5 GP); they are 9-4-4 in those contests. Without a games played minimum, the Golden Knights hold that distinction, winning their only such contest in their inaugural campaign (Oct. 6, 2017 at DAL).
COURTESY NHLmedia.com