NHL Public Relations
September 7, 2022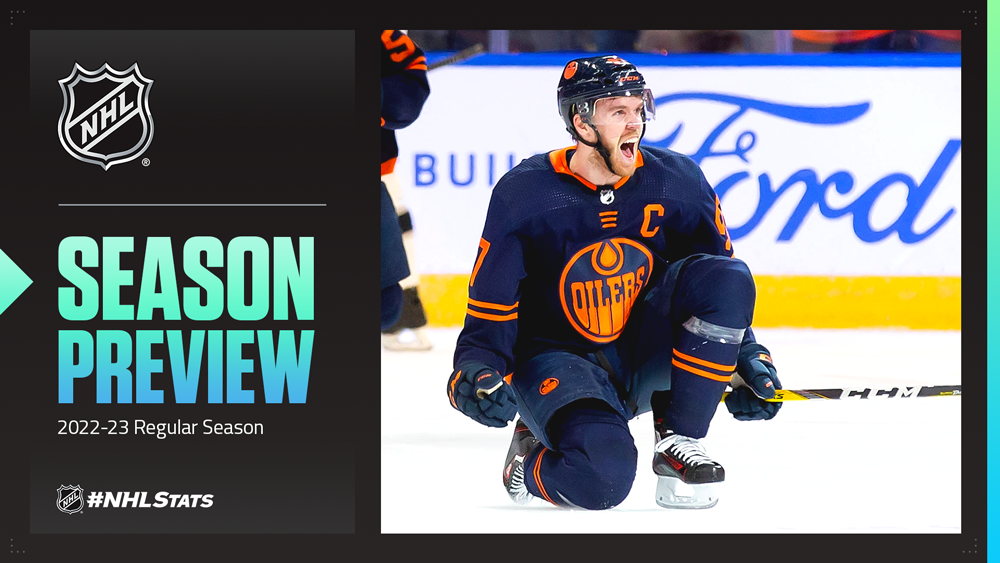 RETURN TO OVERSEAS ACTION DROPS FIRST PUCK OF 2022-23. . .
On the heels of a season that witnessed 6.3 goals per game played – the most in an NHL season since 1995-96 (6.3) – the 2022-23 regular-season schedule begins Oct. 7 when the Sharks and Predators clash for the first of back-to-back games at O2 Arena in Prague, Czechia as part of the 2022 NHL Global Series.

* This is the fifth time in NHL history that opening day will include at least one regular-season game played outside North America. The other instances came in 2010-11 (CAR at MIN: Oct. 7, 2010), 2008-09 (NYR at TBL: Oct 4, 2008 & PIT at OTT: Oct. 4, 2008), 2007-08 (ANA at LAK: Sept. 29, 2007) and 1998-99 (SJS at CGY: Oct. 9, 1998).

* Nashville also will begin its regular-season schedule overseas for a second time, after starting their third NHL campaign (2000-01) with a back-to-back set against Pittsburgh at Saitama Super Arena in Saitama, Japan on Oct. 6, 2000 and Oct. 7, 2000. Overall, 23 different clubs have started their regular-season slate overseas: San Jose is set to do so for the third time (also 1998-99 & 2010-11), tying Anaheim (1997-98, 2007-08 & 2011-12) for the most among all teams.

* More notes are available in the #NHLStats Pack: 2022 NHL Global Series ahead of the League's return to action outside North America for the first time since 2019.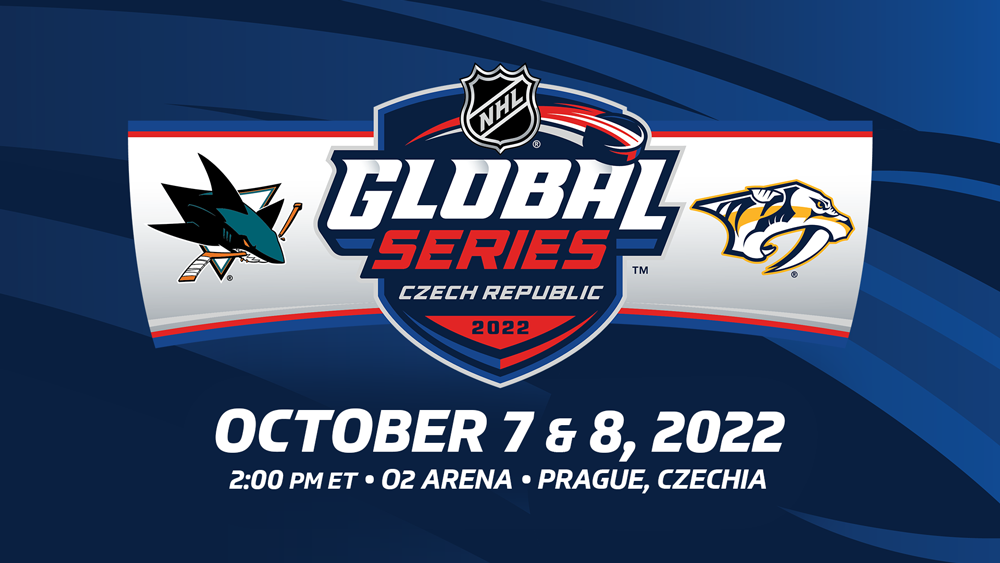 . . . WITH OPENING NIGHT IN NORTH AMERICA TO FOLLOW SHORTLY THEREAFTER
The first 2022-23 regular-season games in North America will be played Tuesday, Oct. 11 as part of a doubleheader on ESPN, followed by a six-game Wednesday with another set of doubleheaders on Sportsnet and TNT. Following a 10-game slate on Oct. 13, all but three clubs will have played their first game of the season – the exceptions being Detroit (Oct. 14), Winnipeg (Oct. 14) and St. Louis (Oct. 15).

* A rematch of the 2022 Eastern Conference Final will open the two-game Tuesday when newly-minted Rangers captain Jacob Trouba welcomes Steven Stamkos and the Lightning to Madison Square Garden. In the second contest, Phil Kessel is expected to continue his "Ironman" streak and make his Golden Knights debut in a Pacific Division clash against the Kings at Crypto.com Arena.

* The second night of the schedule in North America will showcase a pair of all-Canadian showdowns. First, the Maple Leafs and Canadiens will meet in a mutual season-opening game for an NHL-best 20th time followed by the Oilers and Canucks in Edmonton as Connor McDavid enters the 2022-23 campaignthree points shy of 700 in his career.

* Meanwhile on TNT, the Bruins and Capitals open the night at Capital One Arena as Alex Ovechkin (780) continues his pursuit of Gordie Howe (801) for second place on the NHL's all-time goals list. The defending Stanley Cup-champion Avalanche host the Blackhawks later in the evening and will raise the third championship banner in franchise history to the rafters of Ball Arena.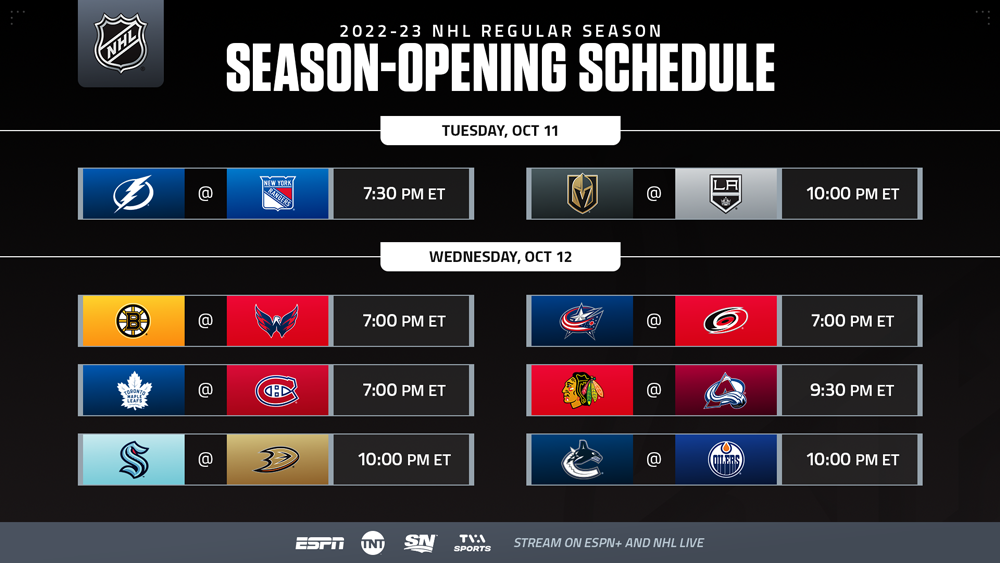 SETTING THE STAGE: SEASON OPENERS
A handful of players and teams look to continue their strings of success on opening night, with each club set to play its first game by Oct. 15. Click here to read a detailed overview of stats for teams, players, head coaches and NHL records in season-opening games, including notes on the Avalanche, Capitals captain Alex Ovechkin, Wild goaltender Marc-Andre Fleury and Maple Leafs defenseman Morgan Rielly.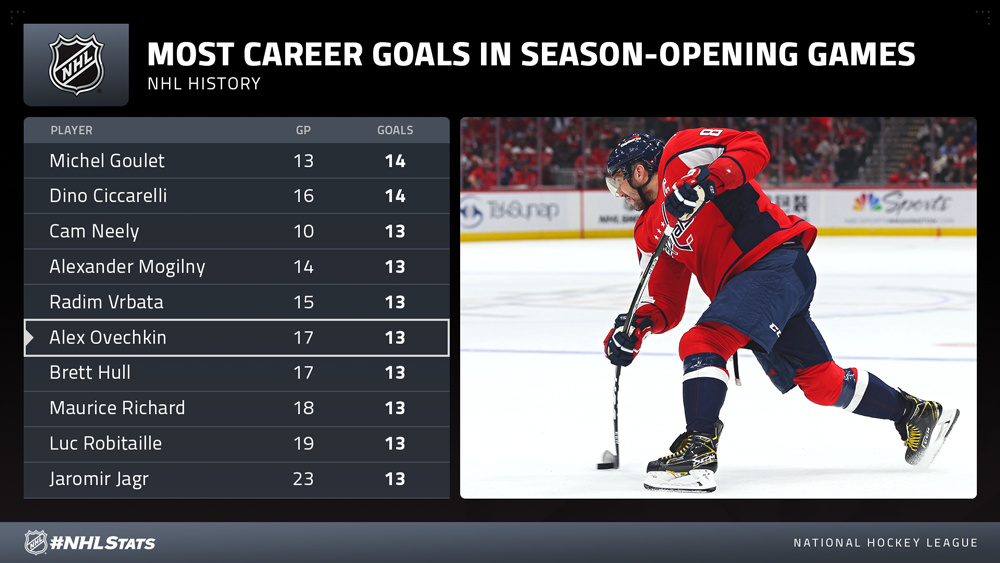 AWARD WINNERS EYE REPEAT PERFORMANCES
The reigning Hart Memorial and Maurice "Rocket" Richard Trophy winner Auston Matthews and the reigning Art Ross Trophy winner Connor McDavid will look to build on their memorable 2021-22 campaigns and continue to hit career benchmarks in rare company.

* After becoming the first U.S.-born player in NHL history to register a 60-goal season in 2021-22, Matthews can become the ninth different player in NHL history to register consecutive 60-goal campaigns, and the first since Pavel Bure (1992-93 – 1993-94). The Maple Leafs forward can also become the second active player to record at least four straight 40-goal seasons – he would join Capitals captain Alex Ovechkin (2005-06 – 2009-10).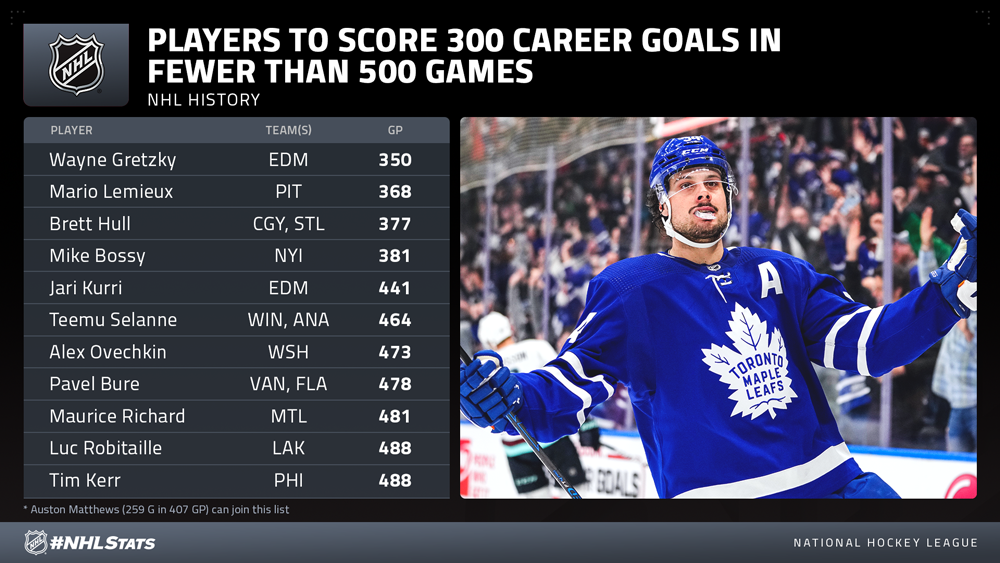 * The 2021-22 campaign saw McDavid (44-79–123 in 80 GP) lead the League in points for the second straight season, giving him the opportunity to become the first player to win three consecutive Art Ross trophies since Jaromir Jagr (1997-98 – 2000-01). A 100-point campaign in 2022-23 would mark McDavid's sixth, tying him with Sidney Crosby for the most among active players and trailing only Wayne Gretzky (15x), Mario Lemieux (10x), Marcel Dionne (8x), Peter Stastny (7x) and Mike Bossy (7x) atop the all-time list.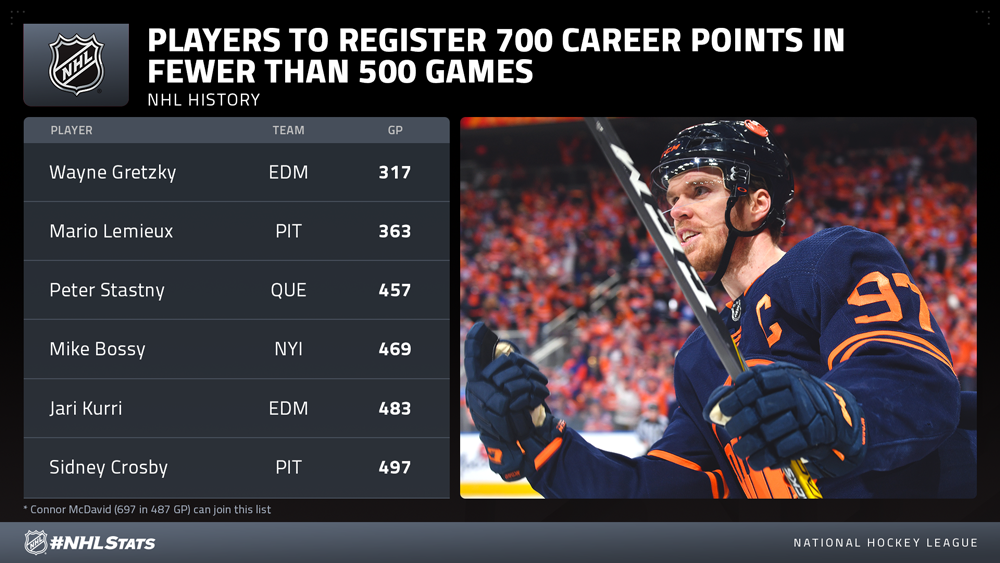 * Should Matthews and McDavid lead the NHL in goals and points again, respectively, it would mark the first time in NHL history that two different players simultaneously finished atop the categories in three consecutive seasons. Of note, there are three occasions that featured the same player lead the League in goals and points in three or more straight campaigns: Wayne Gretzky (4 from 1981-82 – 1984-85), Phil Esposito (4 from 1970-71 – 1973-74) and Gordie Howe (3 from 1950-51 – 1952-53).

MAJOR MILESTONES ON THE HORIZON
Veterans across the NHL will be approaching major milestones in 2022-23 – a full breakdown is available in the #NHLStats Approaching Milestones document, with highlights below:

* After matching the NHL record with his ninth 50-goal season in 2021-22, Capitals captain Alex Ovechkin (780) sits 21 goals shy of tying Gordie Howe (801) for second place in NHL history as he pursues Wayne Gretzky's all-time record of 894. Ovechkin can climb the all-time lists for 20-goal seasons (17), tie the record for 30-goal seasons (16) and overtake Gretzky for the most 40-goal campaigns (12) in League history.

* Wild goaltender Marc-Andre Fleury (939 GP) will be playing in his 19th NHL season and has a chance to surpass Curtis Joseph (943 GP), Ed Belfour (963 GP) and Terry Sawchuk (971 GP) for fourth place on the all-time games played list. With 61 more appearances, Fleury will become the fourth goaltender in League history to hit 1,000 career games. Fleury (520) also is 32 wins from surpassing Patrick Roy (551) for the second-most wins in League history.

* After completing the tenth 82-game season of his career, Phil Kessel joins the Golden Knights – his fifth NHL team – with an active stretch of 982 consecutive regular-season games played. Should he continue that run, Kessel would be in position to tie Keith Yandle for the longest "Ironman" streak in League history – a mark Yandle set last season – when Vegas plays Toronto (one of Kessel's former clubs) on Oct. 24. Kessel could then break Yandle's record Oct. 25 when the Golden Knights visit the Sharks – it would be the second time an NHL games played record falls in a matchup between those clubs as Patrick Marleau overtook Gordie Howe for the all-time lead on April 19, 2021. Kessel also needs 18 straight outings to become the first player in NHL history to skate in 1,000 consecutive games – a mark he would hit Nov. 17 against the Coyotes, his most recent club.

STAR POWER ON THE MOVE FOR 2022-23
Johnny Gaudreau (40-75—115 in 82 GP), Jonathan Huberdeau (30-85—115 in 80 GP) and Matthew Tkachuk (42-62—104 in 82 GP) each recorded their first career 100-point campaign last season and are looking for similar results while suiting up for new teams in 2022-23.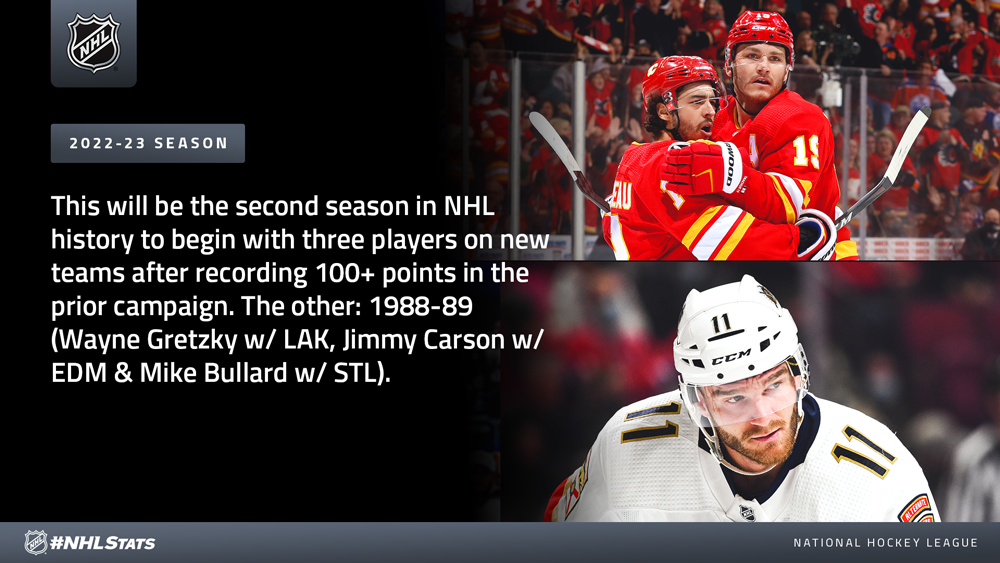 * Huberdeau and Tkachuk became the second pair of players to be traded for each other following 100-point seasons from both skaters, with the only other instance occurring between Wayne Gretzky and Jimmy Carson leading into the 1988-89 campaign. Both players ended up scoring 100 points with their new teams in the subsequent year.

* Gaudreau (CBJ), Huberdeau (CGY) and Tkachuk (FLA) can join a short list of players in NHL history to record 100-plus points for different teams in consecutive seasons. To date, only Gretzky (149 in 1987-88 w/ EDM & 168 in 1988-89 w/ LAK), Carson (107 in 1987-88 w/ LAK & 100 in 1988-89 w/ EDM) and Mike Rogers (105 in 1980-81 w/ HFD & 103 in 1981-82 w/ NYR) have done so.

* A 100-point season for Gaudreau in 2022-23 would make him the first player in Blue Jackets history to reach the mark, as the current record is 87 points set by Artemi Panarin in 2018-19.

EYEING A RETURN TO THE PLAYOFFS
The start of a new campaign marks a clean slate and new championship aspirations for all 32 teams, including those looking to secure a spot in the 2023 Stanley Cup Playoffs after missing last season.

* The Senators enter 2022-23 with a pair of veteran forwards added to their core of top-four point getters from 2021-22 all 24 or younger: Alex DeBrincat (41-37—78 in 82 GP) and Claude Giroux (21-44—65 in 75 GP). Ottawa, with the hopes of returning to the Stanley Cup Playoffs for the first time since 2017, also added Cam Talbot to the helm after resigning the team's leading goal scorer Josh Norris (35-20—55 in 66 GP). Talbot registered 32 wins with Minnesota last season and has participated in postseason play each of the past three years.

* Reigning Calder Trophy winner Moritz Seider (7-43—50 in 2021-22) and teammate Lucas Raymond (23-34—57 in 2021-22) are looking to build off strong rookie campaigns and help Detroit reach the postseason for the first time since 2015-16. With the offseason additions of Ben Chiarot, Ville Husso and David Perron – with the latter leading the Blues in scoring during the 2022 Stanley Cup Playoffs – Detroit will look to end the franchise's second-longest playoff absence in the NHL's expansion era (since 1967-68).

* Two seasons removed from their trip to the Stanley Cup Final, the Canadiens eye a return to the playoffs after landing Sean Monahan, Evgenii Dadonov, selecting Juraj Slafkovsky with the No. 1 pick in the 2022 NHL Draft and acquiring Kirby Dach, the third-overall pick in the 2019 NHL Draft to complement their pair of young stars Nick Suzuki (21-40—61 in 2021-22) and Cole Caufield (23-20—43 in 2021-22).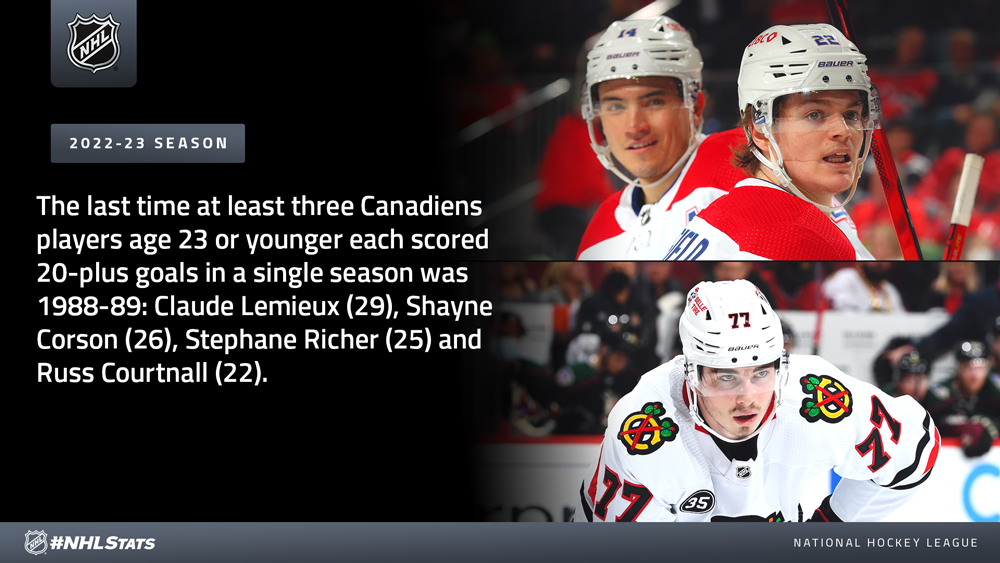 COURTESY NHLmedia.com