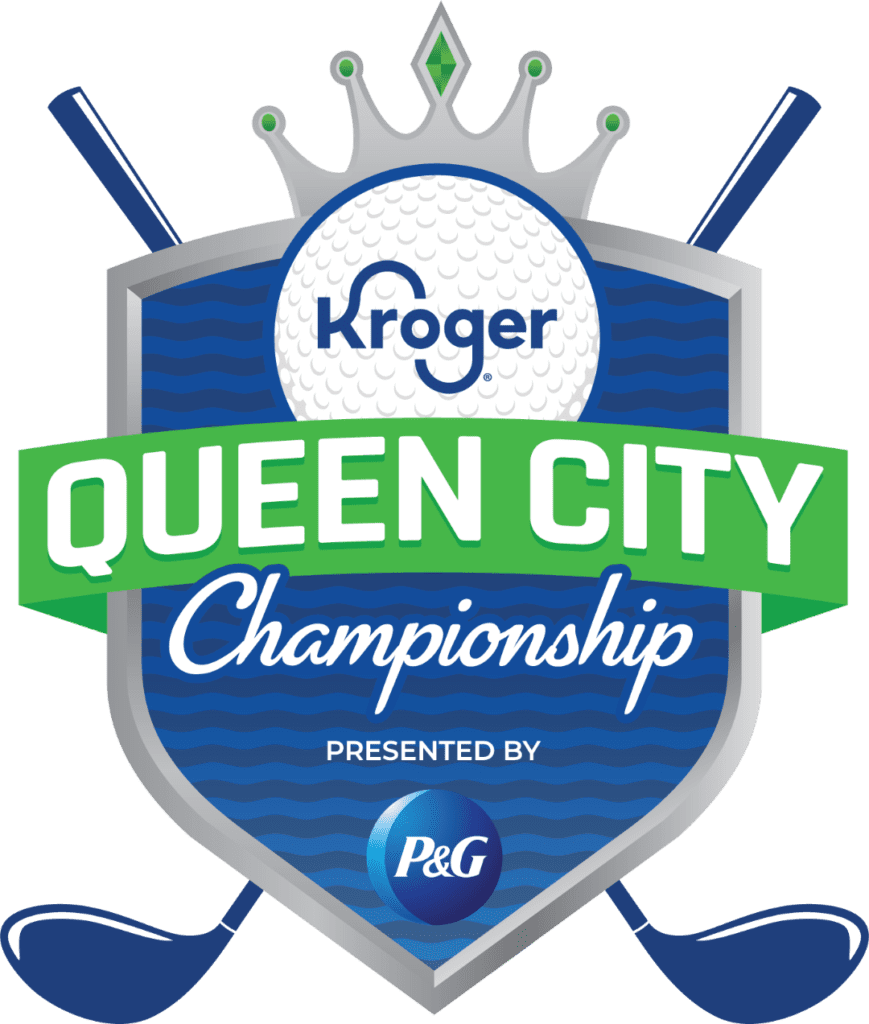 Kroger Queen City Championship presented by P&G
Kenwood Country Club (Kendale Course) | Cincinnati, Ohio | Sept. 8-11, 2022
Wednesday Pre-Tournament Notes
Sept. 7, 2022
JESSICA KORDA KEEPING THINGS IN PERSPECTIVE WITH END OF SEASON IN SIGHT
It's been quite a busy travel schedule for Jessica Korda, with the 29-year-old American visiting the Czech Republic, Spain and Canada over the past few weeks. She also made the trek to New York City to watch younger brother and No. 52 in the ATP rankings, Sebastian, compete in the U.S. Open at Arthur Ashe Stadium in Flushing Meadows. But the most meaningful pit stop for Korda was her time spent in Atlanta with friend and fellow Tour pro, Jane Park, whose daughter Grace was celebrating her second birthday. Grace suffered brain damage from seizures spurred by a virus last year, and Korda said the Monday night event felt like a true sense of community as several other LPGA Tour players also made the trip.
"I haven't seen Jane in such a long time and obviously Grace has grown so much. She's definitely the biggest two year old I've ever seen," said Korda. "The only thing that really defines them is resilience. The love and the support system they have around them is amazing. It's just such a different life. Seeing Jane smile and Pete smile was awesome, and getting to interact with Grace was phenomenal. Always trying to raise awareness about them and for them and just try to help them in any way possible."
Korda then made her way to Cincinnati, Ohio and Kenwood Country Club for the inaugural Kroger Queen City Championship presented by P&G, a new stop on the LPGA Tour calendar and one that Jessica's husband, Johnny, was disappointed to miss as a Cincinnati Bengals fan. Kenwood was soaked through with rain earlier in the week and was closed for play on Monday and Tuesday, but Korda was able to see the back nine on Wednesday during the shortened nine-hole pro-am and was liking what she saw despite the damp conditions.
"The fact I had 4-iron into the first hole was a real shock on a par-4," she said. "For me, it was more just trying to see the golf course, and then the conditions are obviously secondhand. I know they redid the golf course three years ago and some of the greens were actually pretty firm, which I was really surprised about. With how much water we have on the actual golf course, to then not see your golf ball spin back on the greens was very interesting, because I was expecting massive rip back and we didn't see that today at all."
The 2022 season has been full of ups and downs for Korda with the six-time LPGA Tour winner carding five top 10s including a solo second at the Chevron Championship while also battling various injuries throughout the year. But she's figured out how to have success in spite of the struggles, and Korda said that she tries her best to keep things in perspective, especially considering what she's watched Park go through over the past year and change.
"It's kind of just been like this for the last couple years, just trying to manage my injuries. It's something I've had to do my entire career, and so I just take each day for what it is and manage through it. It's just golf. Injuries come and go and I'll get through it, figure it out. That's just how I always have. But this kind of stuff is more important," said Korda. "I don't think I'm ever going to be able to imagine what (Jane's) going through day-to-day. You go from being a golfer to a mom to a mom that plays golf, to having your life flipped upside down.
"The way that her and Pete have been able to just manage their life, they're just so resilient. They find the happiness in each day, which I know is tough, and it's tough to watch them go through that. But this tour is a family, and just the same as they kind of took me in when I was a rookie. You make friendships out here for life."
LUCY LI WITH YET ANOTHER PRIME LPGA TOUR OPPORTUNITY AHEAD AT THE KROGER QUEEN CITY CHAMPIONSHIP PRESENTED BY P&G
Lucy Li wasn't originally planning on traveling to the Kroger Queen City Championship presented by P&G, but she hadn't been thinking she would be competing at the Dana Open presented by Marathon last week either. Li converted a coveted sponsor's exemption at the CP Women's Open into a T9 finish, earning herself a spot the next week at Highland Meadows Golf Club, and made the most of the opportunity. After holding both the 36- and 54-hole leads for the first time in her young Tour tenure, Li ultimately finished in a tie for fourth, her second-consecutive top-10 finish, and had to change travel plans yet again to include Cincinnati and the Kroger Queen City Championship presented by P&G as she nabbed one of the last spots in the final field thanks to the T4.
"It was my goal in Canada to top 10 into the next tournament, and so being able to do that, sneaking in the top 10 there and getting a start the next week and leading the tournament definitely surpassed my expectations," said Li. "It was really nice to kind of be in contention on the LPGA. Just knowing I could be there in that position and compete on the LPGA, it was something I already believed in, but just proving that to myself."
It's not Li's first time in the Queen City. In 2021, Li missed the cut at the Prasco Charity Championship at TPC River's Bend while competing early in her Epson Tour career. Since then, she's won twice in 2022 on Epson, and in her last appearance at the end of July at the FireKeepers Hotel Casino Championship, she finished in a tie for 13th. Fast forward to now and Li comes to Kenwood Country Club with quite the momentum. According to KPMG Performance Insights, Li's strokes gained numbers were spectacular the first three days in Sylvania, as she was +10.45 tee to green, +1.82 off the tee and +1.43 in putting from Thursday to Saturday. Although she faltered a little in her final-round 70, she's still going full speed ahead in yet another opportunity with nothing to lose and lofty goals in her head for the future.
"My goal after I locked up my card was to try to get as many starts out here as I could, kind of get myself prepared for next year, work on my world ranking. Fingers crossed, kind of like long-term — like kind of — sorry, more of an out-of-reach goal is maybe getting into the Solheim Cup next year if I play well enough," said Li. "Really day-to-day try to do my own thing and not try to think about."
JUBILANT HOMECOMING FOR JILLIAN HOLLIS
As she waited for the weather to clear on Tuesday before rolling a few more putts at Kenwood Country Club, Ohio native Jillian Hollis was asked if her family was coming down to Cincinnati to watch as she plays in the Kroger Queen City Championship presented by P&G this week. "They'd better be," the 25-year-old said. "I think I've got parents, cousins, friends, everybody coming out. They haven't texted me yet about how many tickets they need. But it's coming."
Hollis is upbeat before making only her fifth start on the LPGA Tour this year. That's because she is healthy, happy, and coming off a win at the Circling Raven Championship on the Epson Tour the last week of August.
"I've been hitting it pretty well all year, and I think my putting has just finally — like everything has come together, and I made a lot of putts this week, hit a lot of really good shots around the green, as well, and that's where you score," Hollis said. "I was able to shoot some really low scores. It was a lot of fun. I just had a great time that week and played well on top of it."
For more, please visit https://www.epsontour.com/news/2022/jubilant-homecoming-for-jillian-hollis.
KPMG PERFORMANCE INSIGHTS – KROGER QUEEN CITY CHAMPIONSHIP PRE-TOURNAMENT INTELLIGENCE PACK
KPMG Insight of the Week
In her win last week at the Dana Open presented by Marathon, Gaby Lopez putted excellent all week – but her ball striking seemed to flip a switch once the weekend arrived. A look at Lopez's strokes gained breakdown in rounds one and two compared to her last two rounds, when she racked up 14 birdies: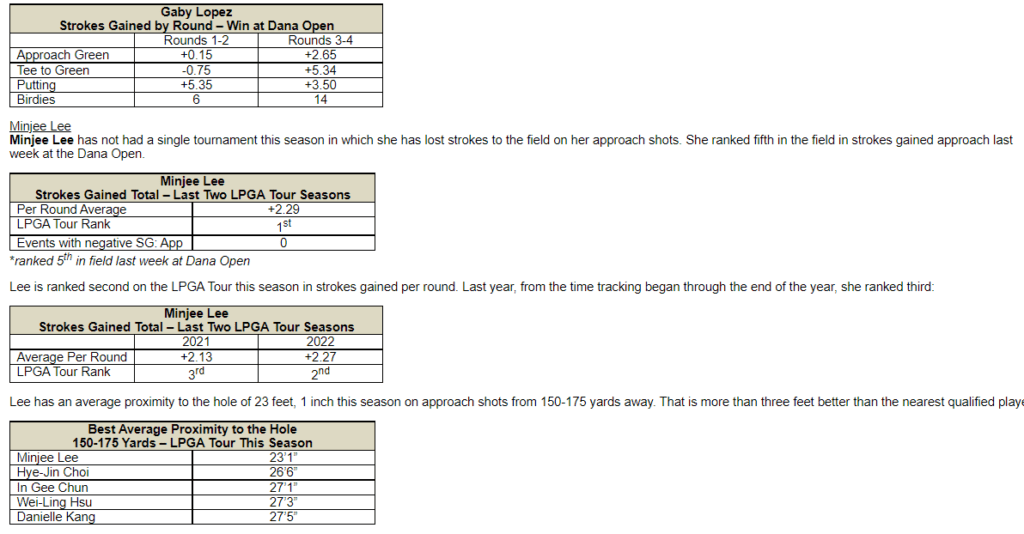 For more from KPMG Performances on the Kroger Queen City Championship presented by P&G, click here: https://lpga.box.com/s/kxaqx98t3x9y4y58pi6mfrqb4t2oi8sd
SOCIAL MEDIA: #DRIVEON
Tournament: @QueenCityLPGA (Twitter), @queencitylpga (Instagram), @QueenCityChampionship (Facebook); #queencitylpga
LPGA Tour: @LPGA and @LPGAMedia (Twitter), @lpga_tour (Instagram)
TV TIMES (all times Eastern on Golf Channel)
Thursday, September 8 – 4 p.m. – 7 p.m.
Friday, September 9 – 4 p.m. – 7 p.m.
Saturday, September 10 – 2 p.m. – 5 p.m.
Sunday, September 11 – 2 p.m. – 5 p.m.
STREAMING TIMES (all times Eastern on NBCSports.com, GolfChannel.com and NBC Sports App)
Thursday, September 8 – 4 p.m. – 7 p.m.
Friday, September 9 – 4 p.m. – 7 p.m.
Saturday, September 10 – 2 p.m. – 5 p.m.
Sunday, September 11 – 2 p.m. – 5 p.m.
ESPN+ FEATURED GROUP STREAMING TIMES
Thursday Featured Groups
Brooke Henderson/Paula Creamer/Minjee Lee | 8:36 a.m. ET
Leona Maguire/Stacy Lewis/Sei Young Kim | 8:47 a.m. ET
Ally Ewing/Hannah Green/Andrea Lee | 1:14 p.m. ET
Paula Reto/Sarah Schmelzel/Angela Stanford | 1:25 p.m. ET
Friday Featured Groups
Lexi Thompson/Jessica Korda/Atthaya Thitikul | 8:36 a.m. ET
Pavarisa Yoktuan/Jennifer Kupcho/Ashleigh Buhai | 8:47 a.m. ET
Marina Alex/Alison Lee/Gaby Lopez | 1:14 p.m. ET
Anna Nordqvist/Harigae/Khang | 1:25 p.m. ET
*ESPN+ coverage of Saturday and Sunday rounds will follow a similar schedule, determined when pairings and tee times are announced
COURTESY LPGA TOUR COMMUNICATIONS