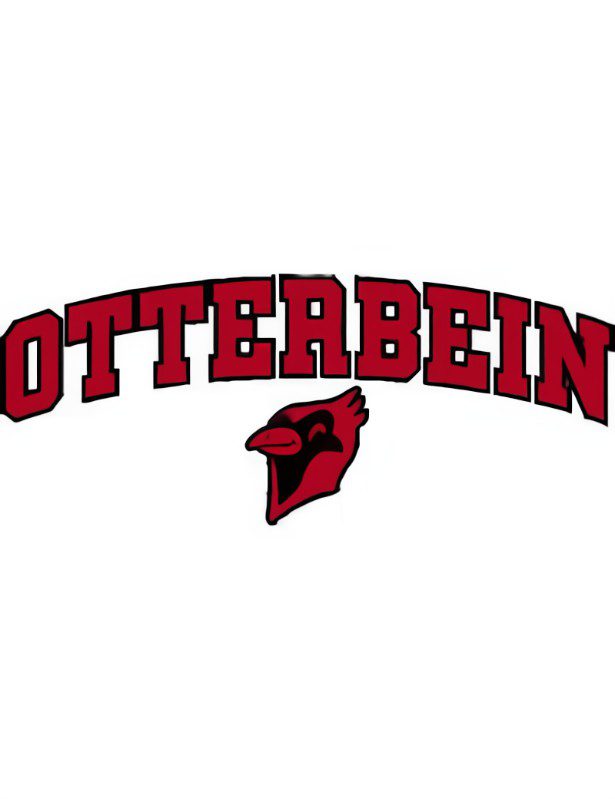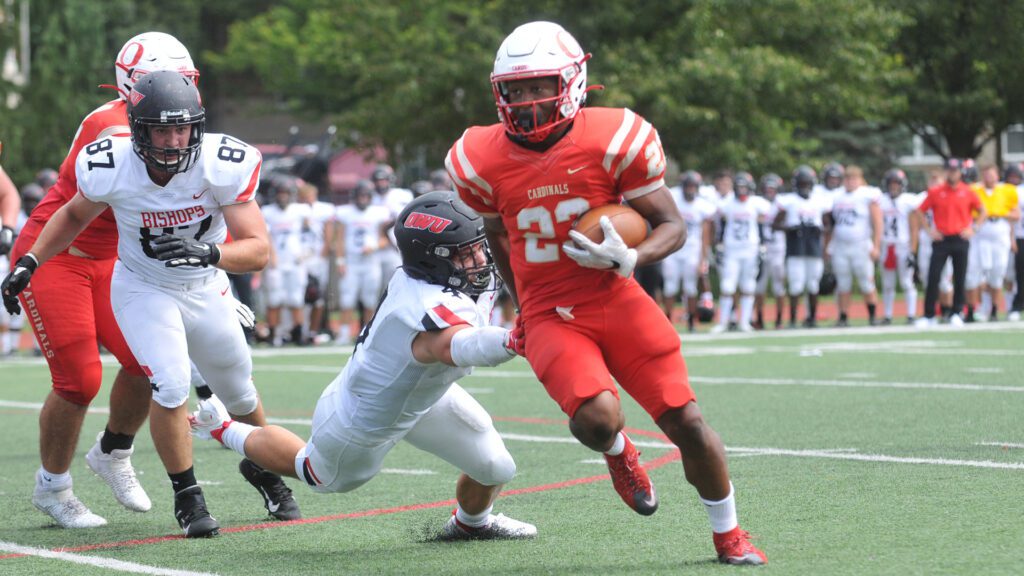 9/3/2022 
DELAWARE, Ohio – Both sides of the ball made plays at critical times, and the Otterbein Football team eventually held on for an important 21-13 victory to launch its season just up north Saturday afternoon at Ohio Wesleyan.
The Cardinals received a huge rushing day from All-OAC back Siraj Muhammad, who carried 22 times for 149 yards and a pair of scores to lead the way. Otterbein gets revenge on the Battling Bishops as a result after a disappointing 32-28 defeat last September in Westerville.
HOW IT WENT DOWN:
Otterbein, with junior quarterback Eason Hardouin making his first-career start behind center, marched right down the field on its opening possession with an 11-play, 81-yard scoring drive. Hardouin connected with new tight end Christian Pataky up the seam for a great catch, followed with a perfect 18-yard pass to the right corner of the end zone for Armani Burton.

OWU (8-2 last season) got on the scoreboard with a big play in the second quarter, as a phantom QB keeper around the right side ended up being an 88-yard touchdown pass up the sideline to a wide open receiver.

The Cards answered right back with sophomore Kaden Doup coming in to take the snaps. He engineered a 10-play, 68-yard scoring sequence… hitting Pataky over the middle and later watching Muhammad get pushed in by his entire offensive line for a 4-yard score.

Ohio Wesleyan used the big play to score again in the closing minutes before intermission, getting a 55-yard catch and run up the visitor sideline where Josh Hurst tip-toed his way to stay in bounds. The extra point was missed.

Neither team scored in the third quarter despite a few decent chances, including OWU missing a chip-shot field goal from just 26 yards.

Otterbein carried that momentum into the early stages of the fourth quarter, embarking 72 yards (in just eight plays) and watching Muhammad maneuver his way in from 10 yards.
The Bishops marched back down the field and got into the red zone. Max Bruckner came around the edge for a huge sack on third down, but was whistled for a facemask penalty and life was injected back into the home crowd…

Despite the adversity, Otterbein's defense answered the call to hold the Bishops on downs. Then, behind Muhammad and a pass interference penalty moments later, the Cards bled the clock down to just 22 seconds.

Ohio Wesleyan went razzle dazzle on the game's final play, but Bruckner and Tayon Howard blew up any potential laterals to promptly end the day.
INSIDE THE BOX SCORE:
Otterbein dominated time of possession, ending up with the ball for almost 38 minutes from start to finish.

Total yards were almost identical at 345-341. The Cards held a sizeable 193-83 edge in rushing while OWU (thanks to those two big plays) ended up with a 258-152 aerial advantage.

Muhammad now has 292 yards rushing against OWU in the last two meetings. Jordan Bost-Floyd and Ahjay Cody complemented him nicely with six carries each.

Jayland Desue led a rotating group of Otterbein receivers with four grabs for 50 yards.

Sophomore linebacker Zach Hymer, making his first college start, paced the defense with nine tackles. Five other teammates made five stops, including fifth-year end Nick Cipriano coming up with a pair of timely sacks.

Otterbein was 7 of 16 on third down while holding the Bishops to just a 3 of 14 output.
COURTESY OTTERBEIN ATHLETIC COMMUNICATIONS